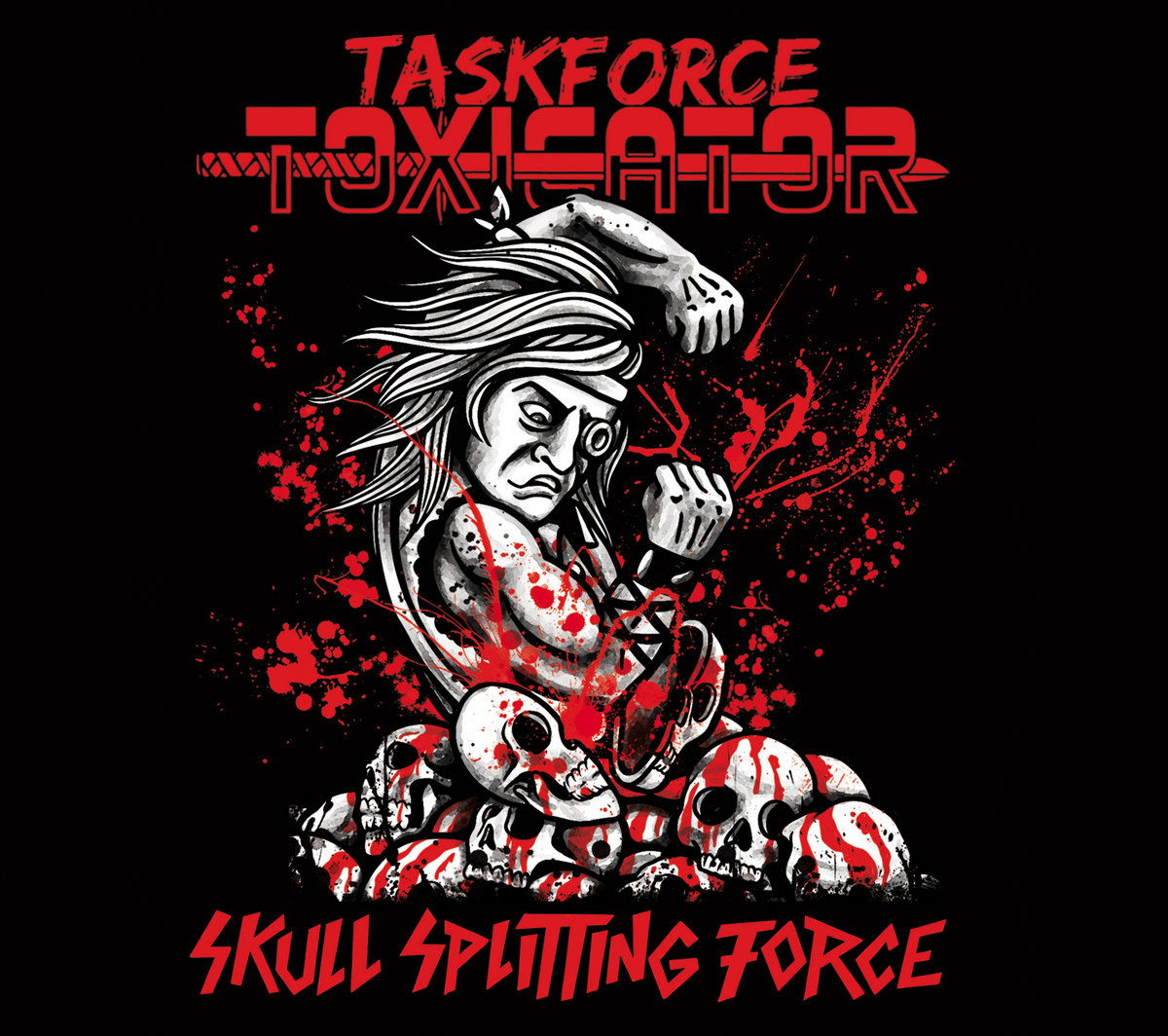 TASKFORCE TOXICATOR - SKULL SPLITTING FORCE
Country: Germany
Year: 2023
Label: Independent
The German thrashers TASKFORCE TOXICATOR are back with their new compilation release ''Skull Splitting Force''. It is an awesome compilation CD which contains the already sold out EPs ''Taskforce Toxicator'' & ''Reborn In Thrash''. But there are more extras in this CD. It comes with 2 brand new songs, new artwork (bloody killer!) and an 8-page booklet which contains lyrics for the first time. TASKFORCE TOXICATOR is a really hard working band and I'm really wondering why a record label hasn't approached them yet..hey people, promoters, record labels, managers outhere..are you fucking deaf ??? Anyway... I think it is a matter of time and someone will grab them for his record label very soon. You can read a very interesting interview that we had with the guitarist Dominik Rothe (Hail my friend!!!) HERE & for his another awesome side project HERE. TASKFORCE TOXICATOR is a wild thrashing band (a wild thrashing machine I would say!) and their songs are gonna make you to thrash your room as I have wrote for the ''Reborn In Thrash'' EP HERE. As I mentioned above, the compilation ''Skull Splitting Force'' contains 2 brand new songs. The opening track is ''Mindbreaker''. A fast song with awesome guitar riffs, great passionate guitar solos, technical parts by the rhythm section (drums & bass) & bloody screaming vocals. The second song is ''Two Stroke Killing Machine''. Oh Gee!! I have only two words for this song: PURE THRASH!! Thrashing raging drum parts with furious guitars ripping everything like razor blades and screaming vocals that there's no tomorrow!! If you are not familiar with TASKFORCE TOXICATOR (you'll better be!) then get this compilation, so you can feel, see & hear the killer music from this great band! It is an ideal soundtrack for your hard-thrashing wild nights! It will be out on 14th of April 2023. So boys & girls check the merch of TASKFORCE TOXICATOR and make sure that you get a copy! THRASH TIL DEATH!!!
TASKFORCE TOXICATOR are:
Fabian Koch - Vocals
Dominik Rothe - Guitar
Lars Wenning - Guitar
Oliver Frank - Bass
Lysander Gerding - Drums
Discography:
Skull Splitting Force (Compilation - 2023)
Live Oppression (Live Album - 2022)
Reborn In Thrash (EP - 2021)
Taskforce Toxicator (EP - 2018)
By Steve the Filthy Dog.
TASKFORCE TOXICATOR CONTACT:
https://www.facebook.com/taskforcetoxicatormetal/
https://www.instagram.com/taskforce_toxicator_metal/
https://taskforcetoxicator.bandcamp.com/album/skull-splitting-force
http://taskforce-toxicator.com/