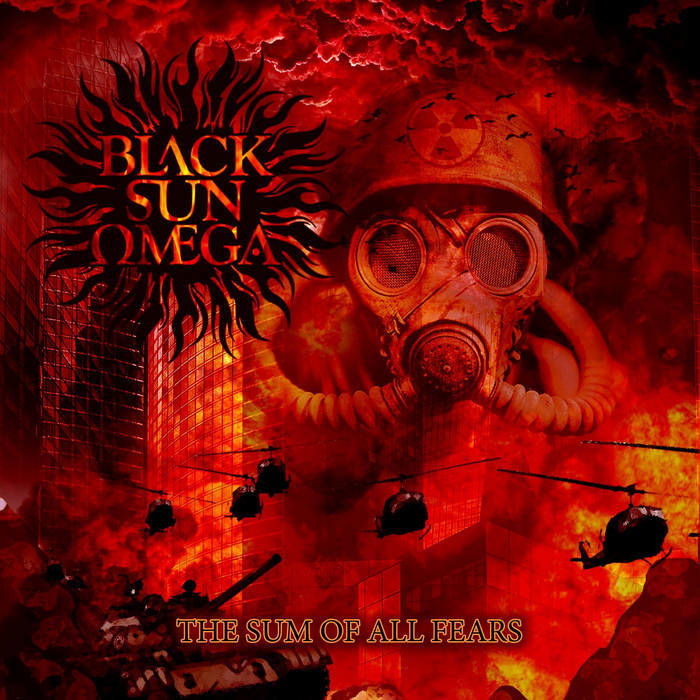 BLACK SUN OMEGA - THE SUM OF ALL FEARS
Country: Greece
Year: 2020
Label: Independent
Black Sun Omega is a Thrash Metal band from Patras, Greece.
Their music style is a mixture of modern Thrash Metal with Core & Death Metal elements blended in. The technical experience of the band members can be easily perceptible.
But let the music talk!
The album has a ''Street Metal Attitude'', a combination of elements from the past and the present of the Thrash metal scene. The songs are fast and aggressive but they have their own identity.Melodic solos in the songs and powerful, technical drums will catch your attention.The vocals are raw, the vocalist spits the words out of mouth!!! And this is something that I personally liked a lot.
Songs like ''Fightback'', ''Ground Of God'', ''Start Your War'', ''The Score'', ''Down My Sight'' & ''Inner Antichrist'' are the perfect samples of the album.Thrash metal songs from which I can ''hear'' ' familiar influences like ANNIHILATOR / THE HAUNTED / ANTHRAX / SLAYER / EXODUS. The melodic side of the band is expressed in the song ''The Whore Of The Babylon'', a mid-tempo song with melodies and aggression together. Great tune with a refrain that stucks in your mind!
The guitar parts of Alex Zegk & Nestor Konstantopoulos are really great, so I bet that they have spent lots of hours bleeding their fingers on their guitars.Petros Haritos is such a technical drummer that makes me feel that his playing leads the songs on a higher level.Blast beats inside the songs seem to be in a smart collaboration with the bass. Leonidas Karagiannis, the Bass player (also: band member of SHADOWGRIN, another great metal band from Patras) adds notes of perfection with his technical playing.As I already mentioned the vocals are raw, they remind me of Lemmy sometimes, and make the band differ from other thrash metal bands.I recommend you to check DECIMATOR's (UK Band) song RAIDER, where I found similarities in the vocal section.
Generally I really enjoy the debut of BLACK SUN OMEGA and I cannot understand why they released this CD on their own. They have the songs and the skills in order for a record company to have them in its roster.On the other hand, they deserve a respect for this private press.
The production of the album is crystal, solid and heavy. The cover artwork is a classic Thrash metal, war-influenced cover.
The CD is in a beautiful Digipak package with a 16 page booklet and 1 Bonus track!
So, if you wanna taste a piece of kickass Thrash/ Death Metal stuff, choose the BLACK SUN OMEGA CD for your collection.
By Steve the Filthy Dog.
CONTACT:
https://blacksunomega.bandcamp.com/releases
https://www.facebook.com/blacksunomegaband