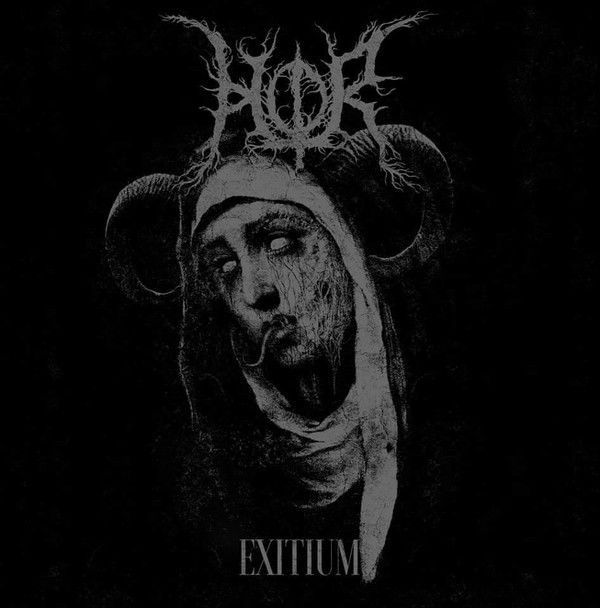 HOR - EXITIUM
Country: Greece
Year: 2019
Label: Sanit Mils Records
HOR is a new Black Metal band from Athens.
Ophion (Guitars) and Throne (Bass / Vocals), with a help of a session member on drums.

The band seems to have influences from the Norwegian Black Metal sound from the 90s, so you are not going to hear modern or symphonic Black Metal shit.
On 22. November 2019 they have released their debut album ''Exitium'' which contains 4 songs of Pure Black Metal Holocaust with total length 34 minutes.

The 1st song is the ''Birth of Tragedy''. After an about-one-minute-lasting intro, the storm comes.
Fast drumming with blast beats, evil screamings, riffs with the classic Norwegian ''cold'' feeling.

The 2nd song is ''The Misanthrope''. Mid-tempo track with atmosphere and little melody.

The third song is the ''Time ( A Cold Shadow of Death)''. This is the shortest song of the album: 6:31 minutes!
Just as ''The Misanthrope'' track, it is a mid-tempo song in the veins of Darkthrone with a fast beat ending.

The last & longest song of the album is the ''Exitium (Pt.1 Mourning for Sun, Pt.2 Conquering Chaos)''.
One more time, here you will listen true Black Metal riffing with slow & fast parts, but without any surprises or modern elements.

Generally, the album is very good and it is a MUST for every true lover of the Norwegian's 90s Black Metal sound.
It is released on CD via METAL THRONE PRODUCTIONS & on Limited Edition Vinyl (only 100 copies) via Sanit Mils Records.

By Steve the Filthy Dog.
CONTACT:
HOR: https://www.facebook.com/HORblackmetal/
SANIT MILS RECORDS: https://sanitmilsrecords.com/
METAL THRONE PRODUCTIONS: https://metalthroneproductions.webs.com/