!!!GERMAN THRASH ATTACK!!!
We had a conversation with Dominik Rothe (Guitars). Enjoy!
Welcome to the FILTHY DOGS OF METAL Webzine.
Tell us a few things about TASKFORCE TOXICATOR (Members, Starting Year etc).
We started out in the beginning of 2017. The previous band of our other guitar player Lars, our former drummer Sascha and me had just broken up and we three wanted to continue making music together. So we quickly decided to form a new band which then became Taskforce Toxicator. I asked my very close friend Oli, if he was interested in playing bass and lucky for us, he agreed. Shortly after that Fabi wrote me a message because he had heard that we were looking for a singer. We only had loose contact before that, but at the first rehearsal everything just fit together perfectly. So we started rehearsing a set and two months after the formation of the band we went do Israel for a tour of ten days with five gigs. Our good friends Black Sachbak organized that for us. It was an insane experience and a lot of fun. Those ten days really weld the band together. One year later we released our first EP. It was around that time that Sascha told us he would leave the band because some developments in his private life and job situation would no longer allow him to give the band the time it deserves. We spent a whole year looking for a new drummer that fit to us. Then Lysander came along the way. When he came to our rehearsal room for the first time, we only played one song together and asked him if he wanted to join the band right away. His precise drumming just blew us away and on a personal level we connected with him quickly. After that we played a little tour here in Germany, to show everyone that we are back with full force and now we see the release of our second EP "Reborn In Thrash", which we are very proud of.
You have recently released your EP ''Reborn In Thrash''. What is the feedback from your audience as well as from the press?
So far the reactions were absolutely amazing. We got some insanely positive reviews, a lot of people wrote us messages about possible interviews and we get orders from all around the world on a daily basis. In the next weeks "Reborn In Thrash" will arrive in Belgium, France, Finland, Japan and the US amongst others. We never expected the EP doing so well. It's absolutely crazy, but we are very thankful for the support we're getting from the fans and the press.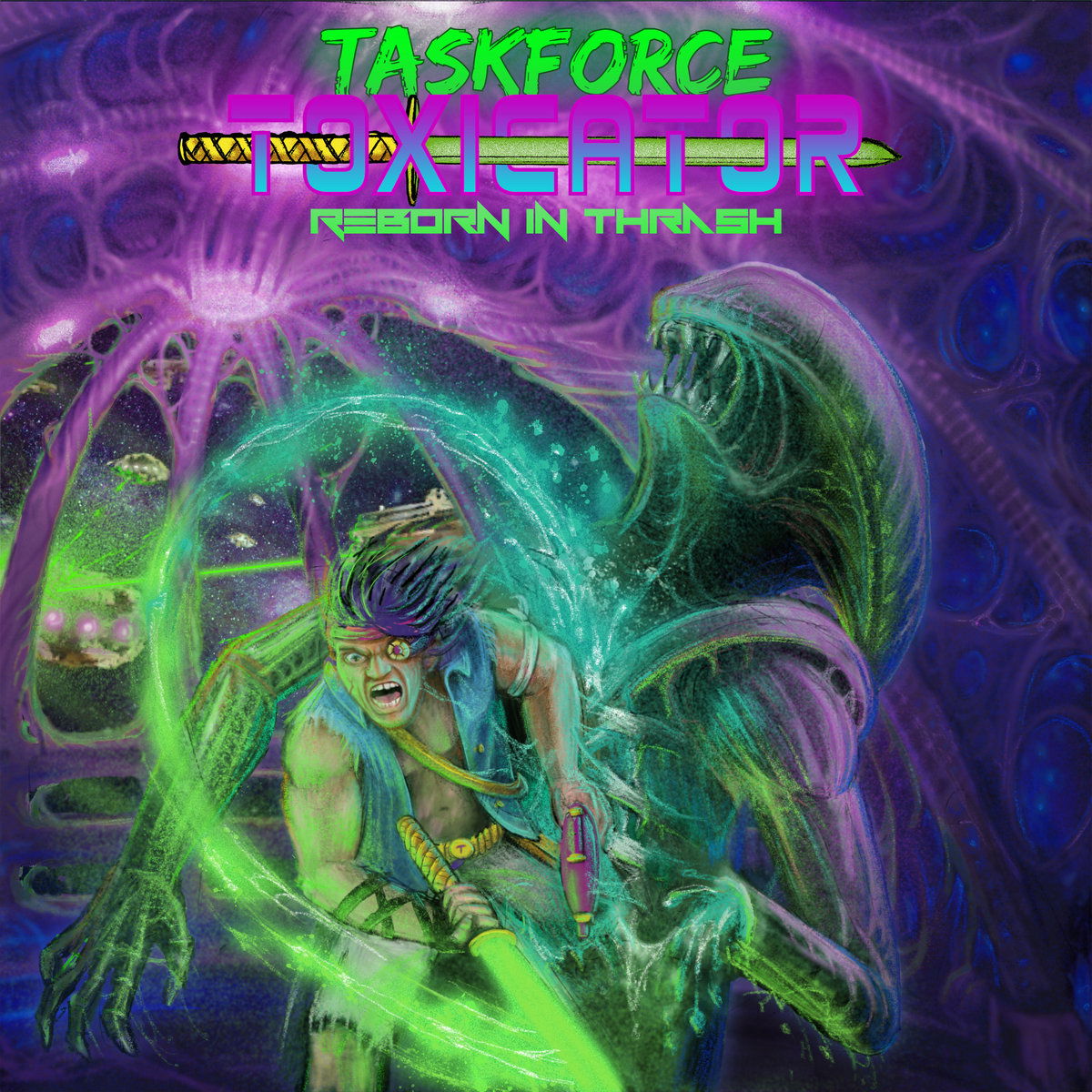 Label or DIY and why?
Until now we did everything completely DIY. Only for the recording process of both our EPs we asked other people for their expertise, because it's always good to have a neutral perspective from outside the band on the songs and the sound. But we are publishing our music completely by ourselves. The booking is in Fabi's hands and Oli is the mastermind behind all our videos. But we are definitely interested in working with a label for a future album, to spread our music even further around the world.
Do you prefer Vinyl, Tape, CD or Digital Format and why is that?
To me vinyl is the best way of listening to music. But I also own a lot of CDs and some tapes. And sometimes I even listen to music in a digital format. All of those formats have their good and their bad sides to them. The digital format is probably the most comfortable one for listeners. But it's also the one that leaves the least amount of money to the artists themselves. So that's a big negative there. Personally I love vinyl because putting it on the record player is kind of a ritual. You also have these big artworks, where you can really see every little detail. And in the end it just sounds a little more real to my ears. I hope we can do a vinyl release in the future, too. Until now it wasn't possible due to financial reasons.
Your music style is Thrash Metal. Which are your main influences (Favourite Artists / Bands etc.)
The first four Metallic albums are definitely a big influence. I think those records are something we all in the band can agree on. But a lot of other bay area thrash legends like Death Angel, Exodus or Testament also had a big influence on our sound. And I think in the general attitude of Taskforce Toxicator you can also see some influences from old school hardcore bands like Sick Of It All for example. We all like some crossover thrash like Municipal Waste once in a while, too. I think that has an impact on our music as well, especially when it comes to gangshouts and stuff like that. Then there is classic heavy metal. Stuff like Iron Maiden may not be highly present in our sound. But when it comes to the more melodic parts in our music, those original British heavy metal bands left their mark on us.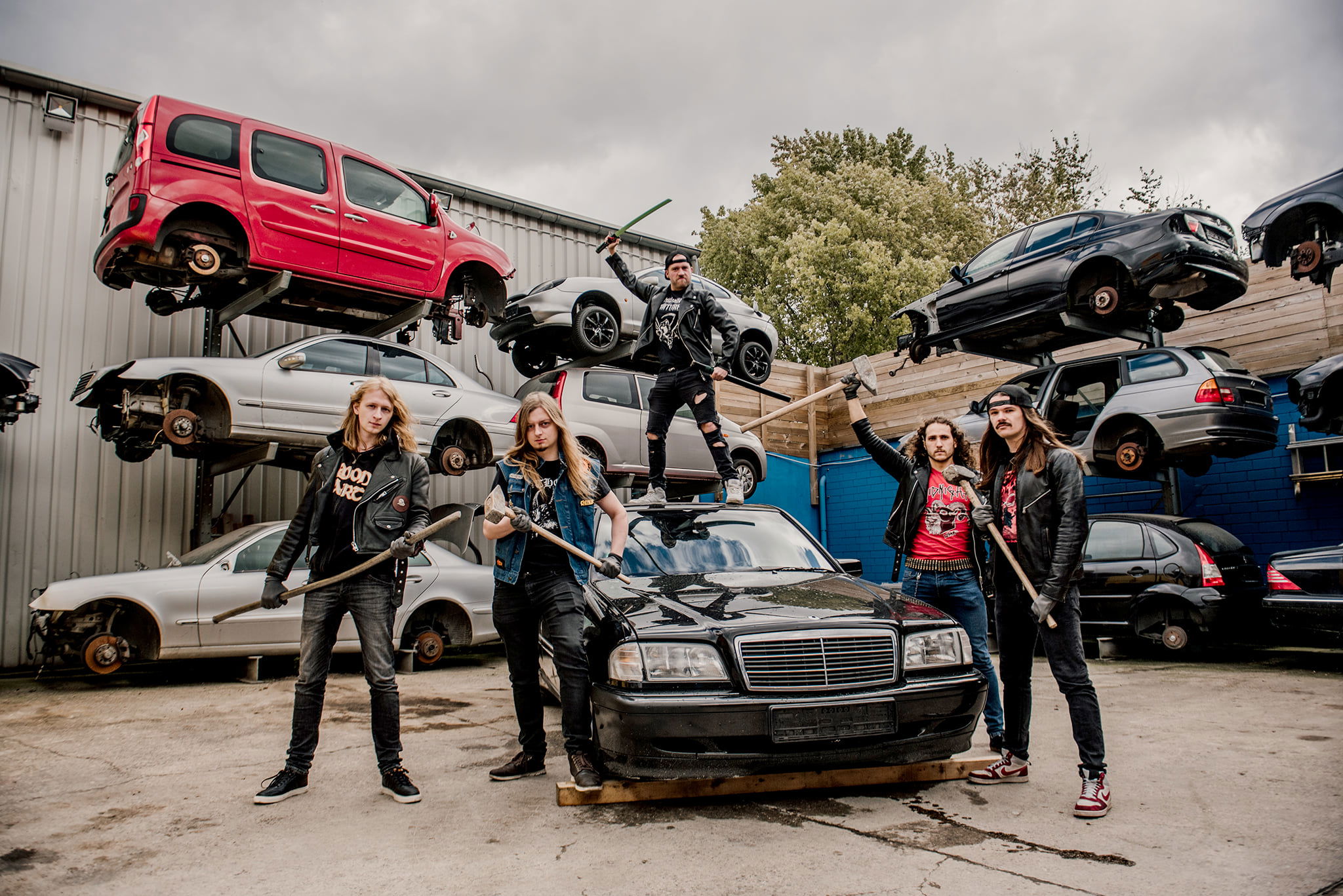 Which things, do you think, a Band should sacrifice in order to succeed?
Have you ever sacrificed anything in your life for a better future of your Band?
Without sacrifices a band will never get anywhere. What you are willing to sacrifice in the end differs from person to person of course. To me there isn't much I wouldn't do to get the band forward. In the past friendships and romantic relationships have often suffered from the time I put into the music. Some of them even ended because of that. But that's fine. Being in a band gives you a sort of satisfaction that you can get nowhere else. When we enter the stage and people go crazy to our music and sing the lyrics, that's the best feeling in the world. I'd like to keep my job of course, because I need something to eat and a roof above my head. But everything else has to be put aside, if it is necessary to get the band forward.

Describe your ideal live show as a performance Band. Have you already experienced that?
The ideal live performance is more than just some people playing their songs on stage. There should be some show elements instead. This is possible even on an underground level. For example we have our singer pull out a laser katana for the song "Oppressor" which is about said weapon. Or when we play "Breaking The Walls", an alarm siren goes off before that to get the crowd excited. Some people even called our show a circus because of those elements. They thought it was silly. But even if it seems silly to some people, it still leaves a lasting impression on them. And that's what a gig should be, something that the people who were there remember for a long time if not the rest of their lives. I think we are on a good way in regards to the entertainment factor of our shows. But there is always room for improvement of course and we are constantly working on that. When it comes to a perfect example on what a band should bring on stage, I have to mention Iron Maiden. They way in which they make the crowd go crazy every night is just impressive. They have great, iconic show elements that the people love, they are very charismatic and they play together very well. You can't get better than Iron Maiden when it comes to doing shows.

Which attributes, do you think, that a new Thrash Metal Band should have in order to gain identity and be unique?
The most important aspect to gain your own identity as a band is to present the band in a coherent way. What I mean by that is that music, lyrics and the overall visual presentation should blend together perfectly. Each of these pieces is equally important to make a band unique. When people see a band photo, the immediately need to get, what the band is about in terms their sound and attitude. The lyrics and the music on the other hand should always accompany each other. If you have an aggressive sound, the lyrics need to be aggressive as well.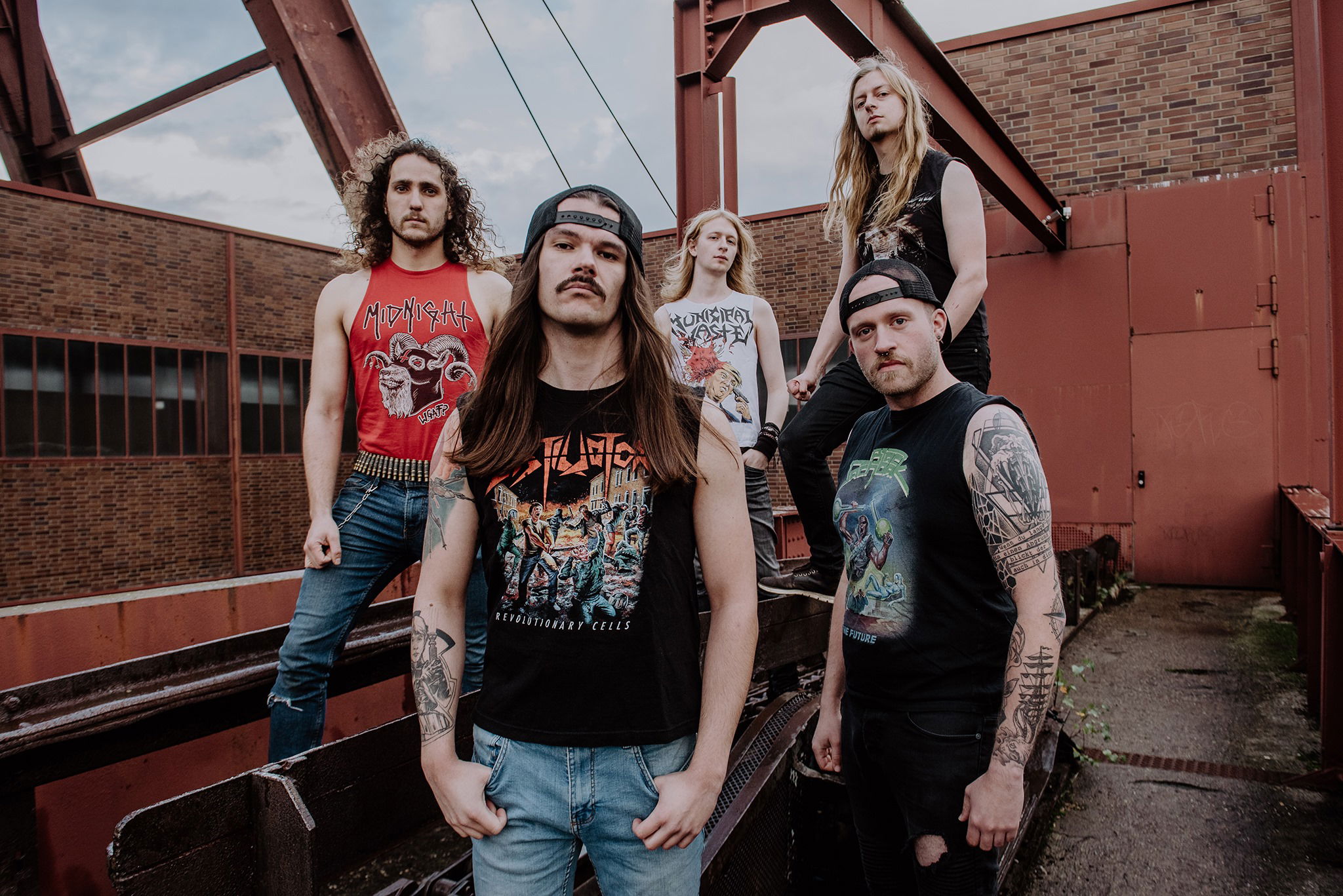 Do you believe that Bandcamp and other Digital Platforms help the new Thrash Metal Bands? Which, do you think, is the ideal way for a Band to promote its work?
I think those digital platforms are a cool way to distribute your music without the support of a label. People can access your music very easily and that's how it should be. It's also cool that fans can always write you messages on bandcamp for example, so that you get in direct contact with them rather quickly. But I think if you want to make it big time, a professional label and promotion agency are still the best option to go for. They almost always have a network of contacts that you just won't get access to otherwise. But speaking in more general terms, it is very important to always be present. I often see bands who don't post on their social media channels on a regular basis. I think that's a big mistake. In these fast paced times people tend to forget about a lot of things very quickly. You need to do as much as possible to keep their attention and social media is a good tool to do so.
Tell us a few things about the New Underground Metal Scene in Germany (Bands, Fanzines, Webzines, Metal Clubs etc.)
We have a lot of young and hungry metal bands here in Germany. Space Chaser, Pripjat and Dust Bolt are spearheading a new thrash movement here and bands like Futurephobia, Devastruction, Rezet, Skeleton Pit, Suicide Of Society and many more are following. So thrash never gets old here, I guess, haha. When it comes to printed fanzines, we still have some of them here. I would highly recommend looking up Totentanz and Way Up for everyone out there who understands German. Both of these magazines feature many new und unknown bands besides some well known acts. They also have professional layouts that are very close to the quality of magazines like Rock Hard or Metal Hammer. In terms of Webzines I think metal.de, powermetal.de and time-for-metal.eu are the most important ones from Germany. But there are countless others. The club scene here is very much alive. You can see a metal show every week, sometimes even almost every day, especially in the ruhr area, where I live right now. If you every get the chance, check out Matrix in Bochum and Turock and Don't Panic, which are both in Essen. The FZW in Dortmund has some cool concerts, too.
Do you know anything about the Hellenic Metal Scene?
Suicidal Angels are one of the bands from Greece that we love very much. I think they also had somewhat of an influence on our sound. Then there are Rotting Christ for the black metal heads in our band, so mostly Lars and Fabi, haha. But they are an amazing band, too. A few years back I discovered Bio-Cancer through the German Deaf Forever magazine. That's some brutal thrash, that I enjoy still to this day. Also Gus G. is an amazing guitar player from Greece. I saw him multiple times when he played for Ozzy Osbourne and he really impressed me with his sound, tone and feel. And then there is the Up The Hammers Festival. I didn't have the chance to go there yet unfortunately, but it has an amazing line-up every year I would very much like to visit it someday.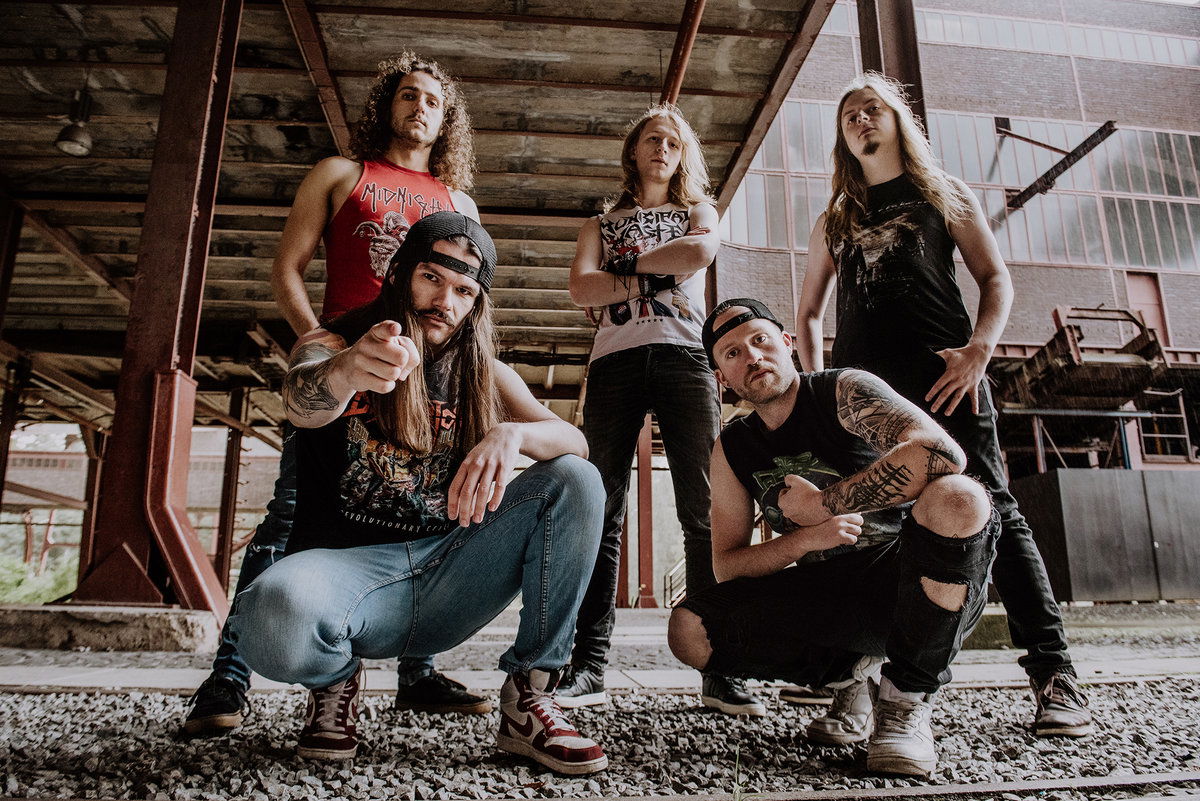 What are your future plans?
At the moment we are completely focusing on promoting the EP. But we definitely want to get back on stage as fast as possible. But of course the corona situation has to lighten up a bit to make this possible. Besides that a full length record would be the next step for us in the long run. We already have a lot of songs written for a possible album. So hopefully it will take shape soon.
Thank you very much for your time & Keep up the good work! The closure is yours.
Thanks a lot for this interview and your interest in our music. We really appreciate the support. I hope everyone who read this enjoyed the interview and we can see each other at clubs at festivals all around the world again as soon as possible.
By Steve the Filthy Dog.
Photo Credit: Janine Ulbrich
TASKFORCE TOXICATOR CONTACT:
https://www.facebook.com/taskforcetoxicatormetal/
https://taskforcetoxicator.bandcamp.com/
https://www.instagram.com/taskforce_toxicator_metal/
http://taskforce-toxicator.com/