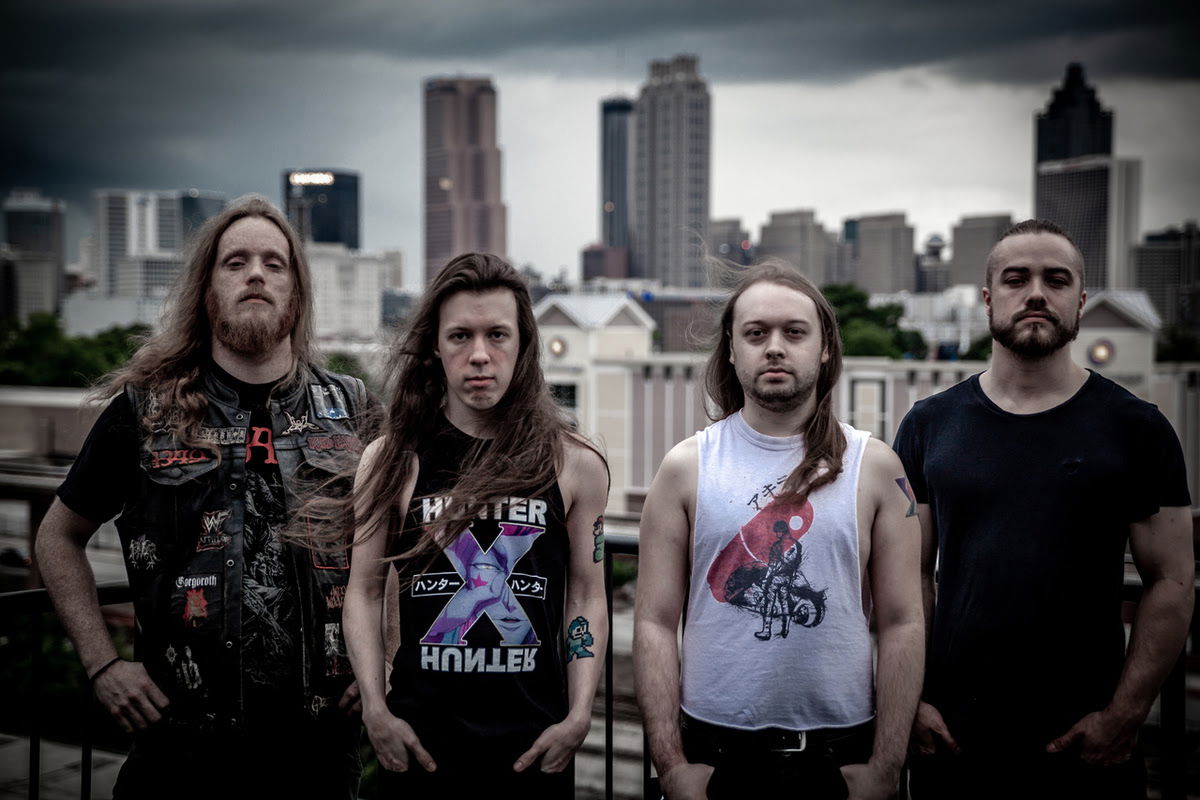 !!! US POWER THRASH/MELODIC DEATH METAL !!!
Welcome to the FILTHY DOGS OF METAL Webzine.
1. Tell us a few things about PALADIN (Members, Starting Year etc)
We're a power metal band from Atlanta. That's the simplest way to put it, anyway. We also have elements of thrash metal, melodic death metal, and 80s hair metal. Our music places a big emphasis on guitar playing and we use clean operatic style vocals as well as harsh vocals. We formed around April of 2015 from the ashes of another band that I played guitar for. There's myself (Taylor Washington) on guitar and vocals, Alex Parra on guitar, Andy McGraw on bass and backing vocals, and Nate McKinney on drums.
2. You have recently released your New Album ''Ascension''. What is the Feedback from your audience as well as from the Press?
Feedback has been very positive across the board. We've done interviews with publications like Metal Hammer and Revolver, our music video for Shoot for the Sun has gotten almost 80k views on Facebook to date, we hit 100k Spotify streams within the first week of release. Those are things I never expected would happen. Everything has exceeded my expectations so I've been pretty overwhelmed, not to mention very busy.
3. You are a US Power/Thrash Metal Band, but your sound is very close to European Power/Thrash Metal Bands like HELLOWEEN / IRON SAVIOUR / IN FLAMES etc.
Which are your main influences (Favourite Artists / Bands etc.)
Musically, we draw inspiration from bands like Children of Bodom, Angra, Galneryus, Nevermore, Racer X, and Iron Maiden, to name a few. As a vocalist I'm heavily influenced by Fabio Lione (Rhapsody), Russell Allen (Symphony X), Daniel Heiman (Lost Horizon), Bruce Dickinson, and Dio. For guitarists, I would say Paul Gilbert, early John Petrucci, Kiko Loureiro (Angra), Syu (Galneryus), Nuno Bettencourt (Extreme), and Ty Tabor (King's X).
4. Do you prefer Vinyl, Tape, CD or Digital Format and why is that?
I prefer digital for the convenience, but of course it's always satisfying to have something tangible to hold in your hands and look at. I don't have a record player but vinyl is still cool to me because you get the nice big cover art and lots of bands are doing colorful designs for the actual vinyl disc these days, us included. I get that cassettes are cheap to produce and still scratch that physical media itch for most people, but I'm not a fan.
5. How did your cooperation with Prosthetic Records occur and how many copies were pressed?
Prosthetic were at the top of our list of labels to work with. One of my good friends in Atlanta, Randy Drake (bassist for Fozzy), told me he was friends with Steve, the A&R guy from Prosthetic. He sent over our stuff, Steve liked it and got in contact with me, and here we are! The first pressing of the vinyl was limited to 500 copies. It's translucent blue with purple and white splatter. Apparently it's almost sold out! We've already settled on the design for the next pressing.
6. Label or DIY and why?
Both have their advantages. Even with label support we're still really busy. I couldn't imagine doing literally everything ourselves. Distribution, production, and PR are all fields that I'm completely inexperienced in and the label handles almost all of that themselves. I'm the type of person who exhaustively researches everything that I take interest in or get involved with. I'd be driving myself crazy trying to learn as much as I could about all the different business aspects so I could make informed decisions. Labels also have a certain amount of clout, you could say. Established labels have working connections with all kinds of media entities and other companies, so you don't have to worry about building a network from the ground up.
7. Describe your ideal live show as a performance Band. Have you already experienced that?
I think the most important thing for a live show is to look like you're having fun. If the audience sees you having fun then they'll be having fun. Fun is infectious! We don't have any gimmicks or stage moves or anything, we just headbang and smile and make dumb guitar faces. My between song banter is loose and off the cuff. I don't take it very seriously and I don't have many scripted parts, which is sometimes to my detriment, but I like when people take a more personal approach to stage banter so that's what I tend to do.As far as actual shows go, I just want everything to work and to be able to hear myself on stage. I love playing outdoor shows, as long as it isn't freezing cold or raining.
8. Tell us a few things about the New Underground Power/Thrash in Atlanta, Georgia scene. (Bands, Fanzines, Webzines, Metal Clubs etc.)
There really is not much of a power metal scene in Atlanta. The only active power metal bands I can think of besides us are Theocracy and Halcyon Way. You would think there would be more considering ProgPower USA is held here every year but sadly that is not the case. The Atlanta metal scene is mostly more abrasive styles like thrash, death, black, etc.
9. Do you know anything from the Hellenic Heavy Metal Scene?
I'm really not familiar with the Greek metal scene or with Greece at all! The only Greek metal musicians I know of are SepticFlesh, Firewind, and Wardrum. Actually I recently toured with SepticFlesh in the US while I was filling in on guitar duties for Arsis. I think that was the first time I'd met anyone from Greece in person.
10. What are your Future plans?
We have several Atlanta shows planned throughout the year, a short week long run in August for the southeastern US, and we're sorting through tour options for the fall. We have no plans yet to come to Europe but we hope to make it over there next year.
11. Thank you very much for your time & Keep up the good work! The closure is yours.
Thank you so much! Keep on rockin' in the Greek world!
By Steve the Filthy Dog.
https://www.facebook.com/paladinatl/