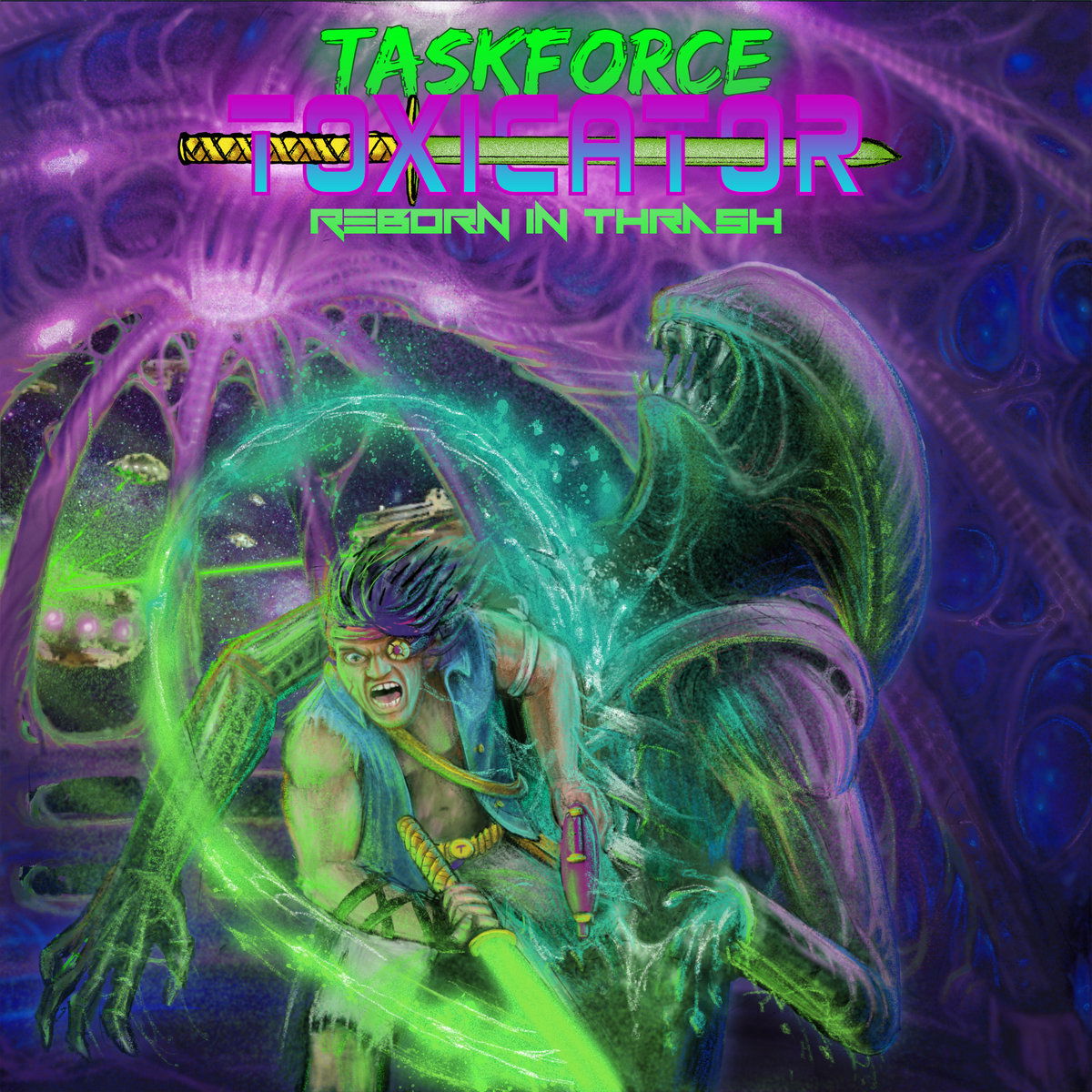 TASKFORCE TOXICATOR - REBORN IN THRASH
Country: Germany
Year: 2021
Label: Independent
Oops..what we have here?
The title of the EP is called ''Reborn in Thrash''. The band hails from Germany. So...what else you can ask, just for pure old school thrash metal!!!
The EP Reborn in Thrash contains 5 songs:
1.Reborn In Thrash
2.Space Maneuver
3.Genetic Failure
4.Alien Facemelter
5.Oppressor
The opening track is the ''Reborn In Thrash''. So.. badass song!! Pounding rhythm section (Bass & Drums) and great riffs from the guitars that cuts like razors! The vocals are aggressive & raw in the vein of Municipal Waste. Amazing solo with a warm and old school guitar sound!!
The second song is the ''Space Maneuver''. Powerful song with solid heavy guitar work from Dominik Rothe & Lars Wenning with an amazing solo in the middle of the song, that reminds me a little bit of Megadeth & Annihilator. Ideal song for mosh pits and crowdsurfing.
The third song is the ''Genetic Failure''. Is the mid-tempo song of the EP. Aggressive vocals influenced by the American 80s Hardcore scene (Cro-Mags), powerful and technical guitar work. Heavy & technical drumming from Lysander Gerding!
Next we have the ''Alien Facemelter''. Fast song ala Slayer with a catchy refrain that stucks in your mind.The riffs are heavy as fuck. The vocals are raw & Fabian Koch spits the words out of mouth which I really loved it!!!
Last song of the EP is the ''Oppressor'' (my favorite). Raw & fast thrash tune. Here, the rhythm section (Bass & Drums) are like a possessed bulldozer!!! The bass work of Oliver Frank is going to explode my block!!! Aggressive with a ''fuck you'' attitude vocals & with an amazing solo in the middle. The ideal song to end this beautiful release and of course the ideal song to thrash your room!!!
Generally, I really enjoy the work of Taskforce Toxicator & from my side I wish them all the best & of course to have a record deal very soon, so their music will be spread around the world.
The CD released in Digipak version and to 100 copies only on cassette.
A must have for the old school thrashers around the world!
By Steve the Filthy Dog.
TASKFORCE TOXICATOR CONTACT:
https://www.facebook.com/taskforcetoxicatormetal/
https://taskforcetoxicator.bandcamp.com/
https://www.instagram.com/taskforce_toxicator_metal/