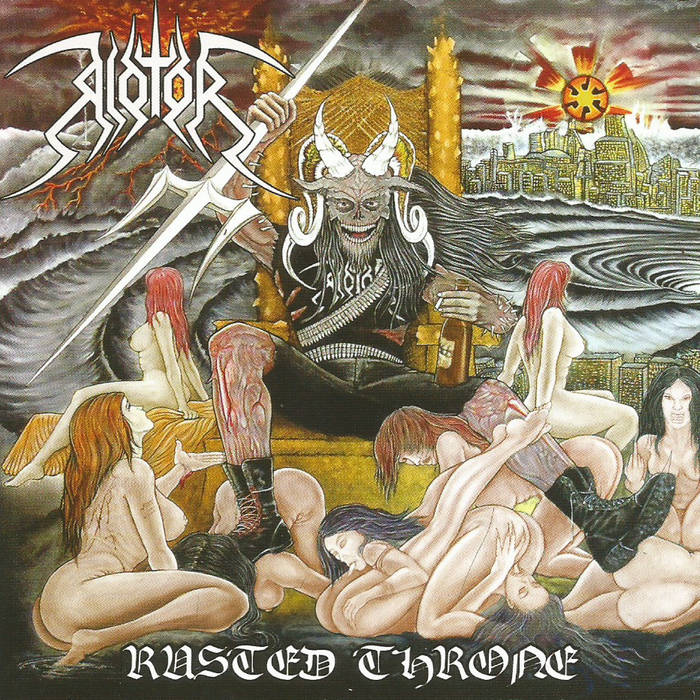 RIOTOR - RUSTED THRONE
Country: Canada
Year: 2015
Label: Inferno Records
Riotor is a sick Death/Thrash Metal band from Quebec, Canada. Always the metal scene of Canada had amazing bands. Riotor keep the Canadian metal flag high!''Rusted Throne'' is Hellish album! Powerful songs of old school thrash metal. Blast beats on the drums, brutal vocals and guitar riffs that cuts like razors!!!The album from the beginning to the end is superb!!!It is an ideal album to thrash your room when you hear it.
The production is raw but at the same time crystal clear. It comes also with a sick and filth cover art work which it tells you straight in your face ''Sex, Drinks & Metal'' (like Sarcofago says!).
The album contains 11 songs:
1.Intro/Nightmare Is My Life
2.Rusted Throne
3.Learning To Hate
4.Desintegrator
5.Into The Riot
6.Thy Drunken Sinner
7.Destroy To Create
8.Narcotic Death
9.Flesh Desire
10.Metal Salvation
11.Triumph Of Sorrow
The CD released to 500 copies on standard jewel case, 500 copies in Digipak version and to 100 copies only on cassette.
A must have for the old school filth thrashers around the world!
By Steve the Filthy Dog.
RIOTOR CONTACT:
https://www.facebook.com/riotor/
https://www.facebook.com/InfernoRecs/