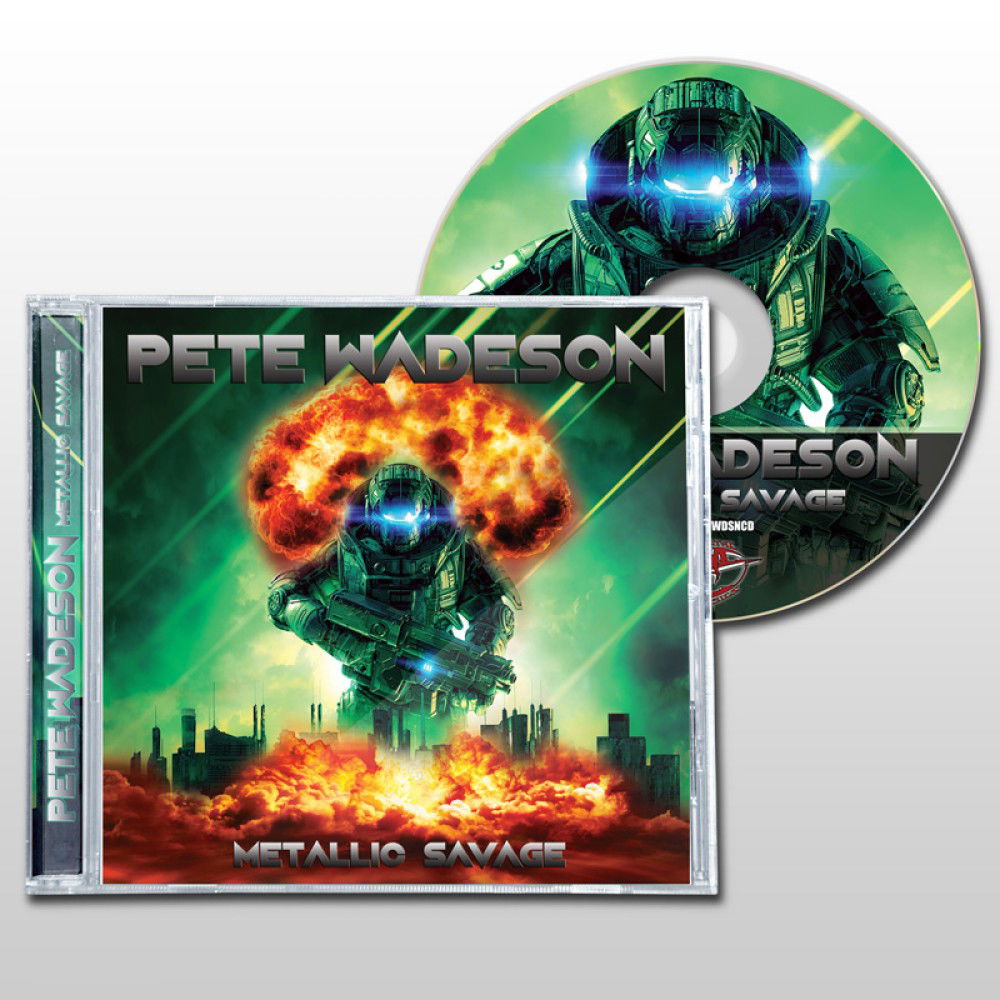 PETE WADESON - METALLIC SAVAGE
Country: UK
Year: 2023
Label: Cult Metal Classics
Wow!!
What we've got here!! The first compilation solo album by Pete Wadeson (TRÖJAN & TALIÖN). You can read and learn more things about this great musician HERE and HERE. ''Metallic Savage'' is an instrumental album with furious and aggressive guitar work with fast songs. Of course, the melodic side is not missing. Check the ''Solitary'' (what a sentimental song!) or listen to the KILLER solo in ''Schizo Phreniac (Mad Mix also shredds!!!)'' and it will blow your mind off!!! Other awesome songs on this album are: ''The Rage'' an 8 minute long, mid-tempo song with a true heavy metal sound together with a beautiful rhythm section (drums and bass were done here, excellent work!) and a creepy/horror intro, in the beginning! ''The Traveler'' is a heavy metallic ballad (it is very rare nowadays to listen such a beautiful song like this) with passionate guitar solos that makes you wanna take your car and runaway from your daily boring life! ''Angry At The World'' together with ''Leeches on my Back'' & ''Speed Of Light'' are the speed metal songs of the album with killer shredding guitar solos and fast double bass drumming (Great job Pete!)! Also, you can hear on this CD, the demo version of ''Thrill Of The Chase'' plus the classic edition from the compilation Metal For Muthas '92 and the original full unedited version. The album ends with the ''Biomechanoid'' a song that is the ideal soundtrack for a science fiction movie with a post-apocalyptic atmosphere.The album contains 13 songs and it is a limited edition of 500 copies. The CD comes with a 12-page booklet with liner notes, rare press clippings and pictures.
Generally, the instrumental guitar albums are sometimes a little bit boring to the generic metalheads, but ''Metallic Savage'' is an album that flows like water, the composition is so fucking heavy, fast and melodic. It will satisfy your metal appetite 110%! So, metal maniacs out there get your copy from Sonic Age/Cult Metal Classics and take a metallic savage journey to the magical music world of Pete ''Guitar Mayhem'' Wadeson!
Tracklist:
1. Schizo Phreniac
2. Angry At The World
3. The Solitary
4. Leeches On My Back
5. Speed Of Light
6. Thrill Of The Chase (Original Demo Version)
7. The Traveller
8. Angry At The World (Vicious Version)
9. Schizo Phreniac (Mad Mix)
10. Thrill Of The Chase (Metal For Muthas '92 Compilation Version)
11. Thrill Of The Chase (Metal For Muthas '92 Full Unedited Version)
12. The Rage
13. Biomechanoid (RoboCop Mix)
By Steve the Filthy Dog.
GET YOUR COPY HERE:
https://www.sonicagerecords.com/_shop/index.php?route=product/product&path=155&product_id=72416
PETE WADESON (TROJAN/TALION) CONTACT:
https://www.facebook.com/TrojanTalion-UK-Metal-107267975433376