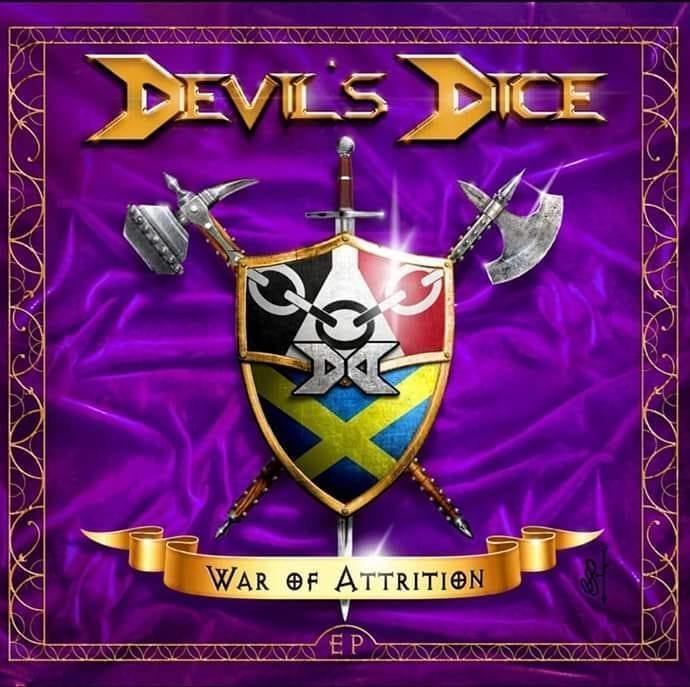 DEVIL'S DICE - WAR OF ATTRITION
Country: United Kingdom
Year: 2020
Label: Independent

Devil's Dice is a melodic metal / hard rock band from the midlands, UK.
After their 1st full-length album ''Libertarian'' in 2015 they are back with their new EP ''War Of Attrition''.
The EP starts with the same title song ''War Of Attrition''. Pounding rhythm section (Bass & Drums) and a great riff from the guitar that sticks in your mind.Εspecially the solo is really tough and melodic in the middle of the song which reminds me of the great double guitar of IRON MAIDEN.In my opinion the refrain would be better played in a higher scale. Besides that, it is a very good and promising song.
The second song of the EP is ''Confessor''. I think is the ''catchiest'' song of the album.
A song which has all the elements for a live concert, such as a refrain that the fans and the band can ''play'' together.The voice of Matt Gore is really great here with passion and melody.Great double melodic solos on the guitars and a feeling straight from the 80s.
The third song of the EP is ''Martyrs in Crime''. The track starts with a really beautiful drum and bass tempo (which reminds me a lot of THIN LIZZY's ''Holy War''). The double melodic guitar work is the highlight of the song as well as the groovy bass and drums. The vocals give the power that the song needs and the guitar work is superb.
The fourth song of the EP is ''Red Light Rage''. A song that comes from the glorious days of the 80s.Catchy riff ala SAXON and inspirated from the heroes of the 1st wave of NWOBHM. Imagine a small club somewhere in the UK. The year is 1979 and the guys of the band play in a full of sweat crowd, full of smoke from the machines and the cigarettes. The red and blue lights on the stage cover the band and the crowd is gettin' wild with the song. This is the picture that the ''Red Light Rage'' song brings to my mind.
The EP ends with a cover song ''The Hellion/Electric Eye''.Very well played by the band showing a big respect to JUDAS PRIEST.
Despite the fact that Devil's Dice's main influences are bands such as IRON MAIDEN,SAXON, JUDAS PRIEST, THIN LIZZY, they filter those influences with their own style.
You can find the CD in a beautiful Digipak package whose cover artwork is really great.
At this point we should also mention the excellent production by Bob Cheel.
So, if you wanna taste a piece of kickass Hard 'n Heavy stuff, choose the ''War Of Attrition'' EP for your collection.
By Steve the Filthy Dog.
CONTACT:
https://devils-dice.bandcamp.com/
https://www.devils-dice.co.uk/index.html
https://www.facebook.com/DevilsDice.uk/
https://www.instagram.com/devils_dice_uk/
https://twitter.com/devils_dice_uk