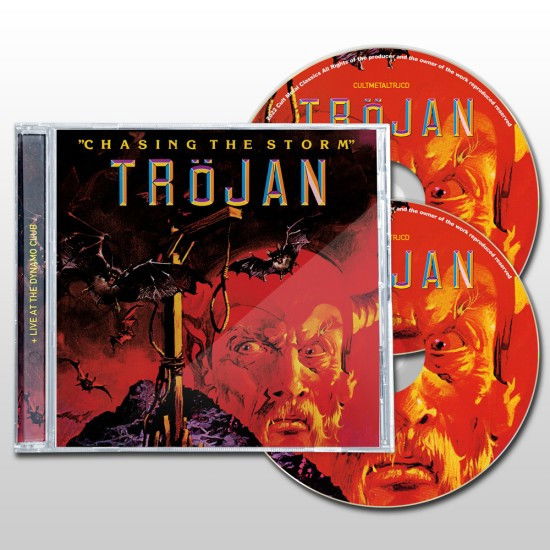 TRÖJAN - CHASING THE STORM
Country: UK
Year: 2022
Label: Cult Metal Classics
If for any reason you don't know who TRÖJAN are then stop reading this review right now. OK, I'm just kidding, let's not be so harsh, of course there are new generations who are looking for old and quality bands that were lost in the passage of time for many different reasons, but their work remained unchanged over time. Fortunately, there are records labels out there like Cult Metal Classics that re-release excellent albums from the past such as TRÖJAN's album ''Chasing the Storm''.
The internet and social networks in general have never been my thing, but OK, we live in 2022 so we have to follow technology too. That's how I met Pete Wadeson (the internet brought us closer, right, my friend Pete?) with whom we have exchanged many emails so far. Apart from being an amazing guitarist/composer & generally a great artist, Pete is also a very respectable, positive and approachable person which had the kindness to answer my questions for an interview that we had, which you can read HERE.
Pete was so kind that he send us TRÖJAN & TALIÖN's CDs reissues from Cult Metal Classics. The double CD deluxe edition of ''Chasing the Storm'' comes in a beautiful slipcase with 16 page booklet (lyrics and tons of rare pictures), a bonus demo song ''Bring on the Night'' (AAAARRRRGGGGG what a song!!! So fucking powerful, check also the official lyric video) and the 2nd CD is a live show from the old n' glory days at Dynamo Club. It is a limited edition (only 500 copies) & for the vinyl maniacs it is released in the very limited quantity of 300 copies total (150 in standard black & 150 in Orange/Red Mix Transparent Vinyl). So maniacs, you know what to do, right??? Oh Gee!!! It is an excellent reissue!!
Now, what can I say about the ''Chasing the Storm'' album? I have only 4 words to say: METAL TO THE BONE!!! The album is so classic that every TRUE headbanger out there must have his collection. Their music is a mixture of classic heavy metal and speed metal. Listen to the songs ''Tonight We've Got It Made'', ''Only The Strong Survive'', ''Hypnotized'' (Graem's vocals are amazing!!), ''Aggressor'' (Holy fuck, the guitar solo shreds!!) & of course the heavy metal hymn ''Chasing The Storm'' will blow your fucking head off!!
Τhe whole band plays loud and furious like there's no tomorrow! In my humble opinion this album is the definition of heavy metal and it is so sad that TRÖJAN left us only one full length studio album (I don't forget the demos which are so badass!!!). Of course they haven't stopped but they have continued with a different name TALIÖN (HERE, you can read the review of ''Killing the World'' album).
So, girls & boys out there, here is your chance to listen and to feel what true heavy metal is. TRÖJAN's music will possess you for sure! Guaranteed top notch heavy metal at its best. More words are not necessary.
Don't forget to check their official Youtube channel (you will find there metal treasures!!!) and keep your eyes open for their upcoming shows at the well-known heavy metal festivals in the EU. There will be a helluva show from Pete and his gang! Be there - You've been warned!!!
By Steve the Filthy Dog
TRACK LISTING:
CD1 (Chasing The Storm)
1. Chasing The Storm
2. Tonight We've Got It Made
3. Only The Strong Survive
4. Hypnotized
5. Backstabber
6. Icehouse
7. Take No Prisoners
8. Hot 'N Ready
9. Help Me
10. Aggressor
11. Bring On The Night (Bonus Song)
CD2 (Capturing The Storm - Live At The Dynamo Club)
1. Backstabber
2. Tonight We've Got It Made
3. Only The Strong Survive
4. Hypnotized
5. Take No Prisoners
6. Hot 'N Ready
7. Help Me
8. Icehouse
9. Aggressor
10. Chasing The Storm
Graeme Wynatt - Vocals
Pete Wadeson - Guitars & Backing Vocals
Eddy Martin- Bass
Sam Hall - Drums
CONTACT:
https://www.facebook.com/TrojanTalion-UK-Metal-107267975433376