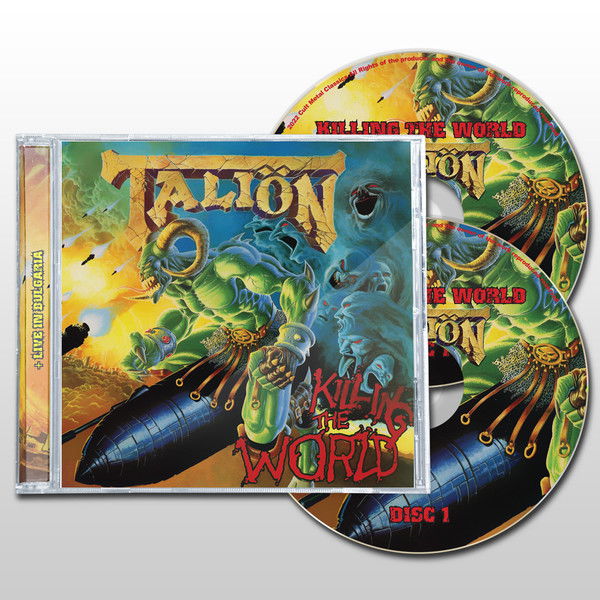 TALIÖN - KILLING THE WORLD
Country: UK
Year: 2022
Label: Cult Metal Classics Records
The history of TALIÖN started when the amazing heavy/speed metal band TRÖJAN changed their name and the two members, Graeme Wyatt on Vocals & Pete Wadeson on Guitars continued the metal legacy by giving to the music world the amazing ''Killing The World'' album. The first time that I listened to TALIÖN was in 1990 when I bought the compilation ''Vile Vibes'' from Peaceville records.
In this compilation there were bands mostly from England and some from the USA. These bands were the new rising power of the metal community (OK, in that compilation you could also find some crust/punk stuff), bands like PARADISE LOST / AUTOPSY / CONFESSOR / DOOM & more. Among them there were two bands that had made a very positive impression on me, TORANAGA and TALIÖN (who could have thought that after more than 30 years I would review their ''Killing The World album...ha ha ha!!!). Also, the CD edition of this compilation contains 6 more bands. Anyways, let's talk about TALIÖN right now.
''Killing The World'' was released in 1989 by Major Records (a subsidiary of Peaceville Records, and was distributed through Revolver / The Cartel) on vinyl and CD (quite rare and expensive in comparison to vinyl). Anyway the music of TALIÖN is so fucking awesome!!! It is a mixture of speed / power & thrash metal! The compositions are so powerful that the listener feels them like iron fists hitting his face. The guitar work of Pete Wadeson is so fucking awesome. Listen to the rhythm guitar's riffs of ''Killing the World'', ''Sanctuary'', ''Laws Of Retaliation'' & ''Premonition'' and you will understand what I'm talking about! Pete is a killer shredder guitarist with inspiration & authenticity. He has his own identity & unique sound on the guitar. His guitar solos are like burning flames. Check the instrumental song ''Speed Thrills'' which is a Speed Metal hymn. !!!TOTAL METAL!!! I must also mention that besides the talented Pete Wadeson, TALIÖN has a really great vocalist (Graeme Wyatt).
His voice is wild, passionate & very characteristic. He has made a great vocal work for the album from mid-range to high-pitched vocals. Listen to the great ''Screamin' For Mercy''. So fucking awesome!!! In the rhythm section you will listen Phil Gavin on bass. Yes, Phil from the killer band WOLFPACK (Do you remember the album ''Total Head Removal''? Such a great LP with a badass cover artwork!!!). His bass lines are heavy and give to the songs the loudness that will make your speakers blow!!! Last but not least is the drummer Johnny Lee Jackson (ex- BADGER / TRÖJAN, who also played drums on the awesome demo tape ''Playing with Fire'' of PETE WADESON in 1987). His playing is powerful, solid & technical. Lots of fast double bass drumming that will blow your mind!!! So, you can realize that we are talking about killer band members that produced high quality music dedicated to the metal world!! You can read HERE a very interesting conversation that we had with Pete Wadeson.
Cult Metal Classics reissue (and remastered) ''Killing the World'' album on double CD which comes in a deluxe slipcase, 16 pages booklet with lyrics & rare photos, four demo songs + 5 live tracks recorded at the Plovdiv Amphitheatre in Plovdiv close to the Capitol city of Sofia in Bulgaria on the 27th of July 1990 (a real treasure right?) in a limited edition of 500 copies. For the vinyl maniacs it is released in the limited quantity of 300 copies total (150 in standard black & 150 in Solid Green/Transparent Lemon Yellow Bi-Colour Vinyl).
So metal maniacs out there check the amazing album of TALIÖN and keep your eyes open for their upcoming shows at the well-known heavy metal festivals in EU. They will be a helluva show from Pete and his gang! Be there - You've been warned!!!
By Steve the Filthy Dog.
TRACK LISTING:
CD1 (Killing The World)
1. Killing The World
2. Sanctuary
3. Living On The Edge
4. Speed Thrills
5. Laws Of Retaliation
6. Screamin' For Mercy
7. Premonition
8. Killing The World (Demo)
9. Living On The Edge (Demo)
10. Sanctuary (Demo)
11. Screamin' For Mercy (Demo)
CD2 (Live In Bulgaria)
1. Killing The World
2. Sanctuary
3. The Punishment Befits The Crime
4. Living On The Edge
5. Screamin' For Mercy
Graeme Wynatt - Vocals
Pete Wadeson - Guitars & Backing Vocals
Phil Gavin - Bass
John Lee Jackson - Drums
CONTACT:
https://www.facebook.com/TrojanTalion-UK-Metal-107267975433376