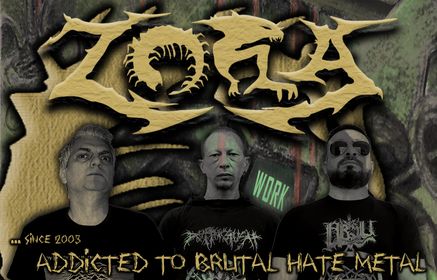 !!!BRUTAL HATE METAL FROM ITALY!!!
Welcome to the FILTHY DOGS OF METAL Webzine.
Tell us a few things about ZORA (Members, Starting Year etc).
Tat0: Hallo and thank you very much for this space on FDOM ! Zora is a death metal band that screams its hatred from the deep south of Italy, Calabria. The band was born in 2003, with the intent to have fun playing the music we have always followed, Extreme Metal, and to vent everything that makes us angry. Over the years we have made various productions, and there have been some line-up changes, for ten years now the band is formed by Glk Molè on guitar (also involved in Glacial Fear, Lupercalia and Bastards), Giampiero Serra on drums (also involved in Deathcrush and Infernal Goat) and I at the voice and at the bottom (also involved in Glacial Fear, Antipathic, Defechate, Throne of Flesh, Unscriptural, Spyral Wopunds), a training now established and very close-knit.

You have recently released your album ''Soul Raptor''. What is the feedback from your audience as well as from the press?
Tat0: Soul Raptor is our third full length, for us very important, but above all very felt and we are really satisfied. Those who knew Zora appreciated it, and we also received several positive feedback from new listeners, and this is making us really happy, as it means not to betray the trust of those who have been following us for a long time and also manage to do the curiosity of other new listeners . We also received several reviews and dedicated spaces on zines and magazines in the sector, in short we can not complain at all.
Label or DIY and why?
Tat0: We have always been in favor of DIY, but we do not disdain the labels, we have had self-produced releases and releases with labels in the past, the difference is in the distribution, because of course a label has many more channels. we always send our promos to labels when we make a production, but this does not mean that we wait months and months to get an answer, if it goes well in a short time we agree with the label that we consider to be more serious and adequate, Discarding before all those who ask the band for money, for us it is the most important parameter to distinguish a good label from those who have only interest in bringing money to themselves. In case no label should reply we self-produce the work without any problem, it also happened that after having self-produced an our album some label wanted to reprint it, and it's fine also this.
Do you prefer Vinyl, Tape, CD or Digital Format and why is that?
GLK: Vinyl & tape followed by CD, we consider digital only for promotional purposes. The vinyl for the object itself as an art form (the cover, the inserts, the colors), the tape for a matter of nostalgia of a time in which we recorded everything (not for nothing was the preferred format in the world of self-productions/diy), the CD for audio quality.
Your music style is Death Metal. Which are your main influences (Favourite Artists / Bands etc.)
Tat0: We all come from a background ranging from death thrash to black metal, in every facet to the most extreme forms, and we are all part of other projects also always belonging to the extreme metal, this is the our imprintig, bands like Bolt Thrower, Obituary, Deicide, but also Voivod, Absu, Suicidial Tendencies, Slayer and many others represent what we have always listened to and whether we like it or not they affect our music pleasantly.
Which things, do you think, a Band should sacrifice in order to succeed? Have you ever sacrificed anything in your life for a better future of your Band?
GLK: I don't know, in the past I gave up for many years to go to eat a pizza because the next day I had a huge amount of packages that had to be shipped all over the world (I'm talking about 25/30 years ago) and the shipping costs were colossal. At the moment I wouldn't feel like imposing any waivers on anyone in the band, at bottom we are over 40 years old and we enjoy doing what we do, we do other job and We don't have glory's dreams anymore!
Describe your ideal live show as a performance Band. Have you already experienced that?
Tat0: Of course, we have done many live show to date, even outside our country, I don't think there is an ideal context, after all when you play metal the context is created by itself being a kind of niche, we appreciate both the big stage and the live in the pub, no problem, the important thing is that you have fun.
Which attributes, do you think, that a new Death Metal Band should have in order to gain identity and be unique?
Tat0: I think it has to play its own music and that is recognizable at first listening, today many bands aim exclusively to the production and to the powerfull sound, and put musical ideas in the background, this makes all bands look the same and flattens the scene, or it tends to play the same things heard over the years, without ever trying to do anything personal.
Do you believe that Digital Platforms help the new Death Metal Bands? Which, do you think, is the ideal way for a Band to promote its work?
Tat0: I believe that digital platforms are an extra channel to promote the music, but this must not take the place of physical support. There is a big difference between having a like on a mp3 song uploaded on the internet and having a CD sold, because in the CD sold there is a real interest in those who buy it, and a lot of passion for music. Bands should not miss anything to promote their music, every road is good, and none channel should be discarded in favor of some other channel
Tell us a few things about the New Underground Metal Scene in Italy (Bands, Fanzines, Webzines, Metal Clubs etc.)
GLK: In Italy the underground metal scene has always been prolific both in the field of death, thrash, black, in recent years there are many more dark/doom horror bands than in the past and this is good because even that slice of the scene manages to say its on the international scene. There are always too few paper fanzines, now they are almost all on the web (and it is not always good) while the clubs are of a different level compared to past years, obviously with a distribution that sees them mainly in the center north with some good exceptions in the south of the country. Making names is always difficult because you risk to forget someone, but surely I can quote you ABYSMAL GRIEF , ELECTROCUTION , DOOMRAISER , SHORES OF NULL , GARGOYLE , BRETUS, SCHIZO , KRIGERE WOLF , but there are really many those that I have liked in recent years.
Do you know anything about the Hellenic Metal Scene?
GLK: In the past (I always talk about the 90's) I have been in contact with Panos of Decapitated zine/Wipe out rec that introduced me to some Greek bands, in the exchanges we did at the time he introduced me to Death Courier, Rotting Christ, Necromantia, Necromancy and others, and for a strange fate thing I found myself a few years ago collaborating with Manos (Ego death/Necromancy), for a vocal backing that did in Greek language on a song of my project LUPERCALIA, a great person and an experience that we will probably repeat in the future!!
What are your future plans?
Tat0: At the moment we are waiting to do some live show, but this is not the our priority, our priority is to continue to make music and to promote it, and we already have in mind another shot in a short time, we are working.
Thank you very much for your time & Keep up the good work! The closure is yours.
Tat0: Thank you for this nice chat, and for the interesting questions you asked us, we hope to have contributed to bring interest in FILTHY DOGS OF METAL. If someone wants to listen to our works can find them on our page zora.bandcamp.com, let us know what you think, and keep screaming always, or start to do it !
By Steve the Filthy Dog.
ZORA CONTACT:
https://www.facebook.com/Zoraband/