!!!TECHNICAL THRASH/DEATH METAL FROM ITALY!!!
Welcome to the FILTHY DOGS OF METAL Webzine.
Tell us a few things about MISCREANCE (Members, Starting Year etc).
The bands started as Atomic Massacre in 2013 with just Andrea F., Tommaso and Emiliano. The style was a bit different from now, something more classic in the vein of Slayer, Kreator and Sodom. With this name we managed to play quite a lot around Italy and we also opened for the German band Darkness, with only one EP out at that time! A few years later Andrea G. joined us and together we created the actual base of the band that still works nowadays. It was around 2017 that we came to the decision to change the name to Miscreance, as the previous name had a context more belonging to another band and both because the music with us had essentially "grown up". In 2018 we recorded our first demo From Awareness to Creation, originally released only on cassette and reissued on vinyl only last year. Although we've always had a good response from everyone, unfortunately since then a variety of misadventures and a succession of various singers, kept us stuck only in the rehearsal room composing. Luckily the band resisted to this demotivating period and we took over the situation when Andrea F. decided to try singing, allowing us to recover the enthusiasm and record both the split with Vile Apparition last year, and the next in line debut full-length Convergence.
In 2021 you released the split EP with the Australian death metallers VILE APPARITION. What was the feedback from your audience as well as from the press?
From what we have seen so far the split was received very positively by everyone. For us it was already incredible to have received this proposal of collaboration from our marsupial friends Vile Apparition which made us enthusiastic and gave us a lot of motivation in a difficult period for the band as mentioned above. We'll never finish to thank also Sean from Desert Wastelands who supported us and allowed to reach a wider audience than we already had.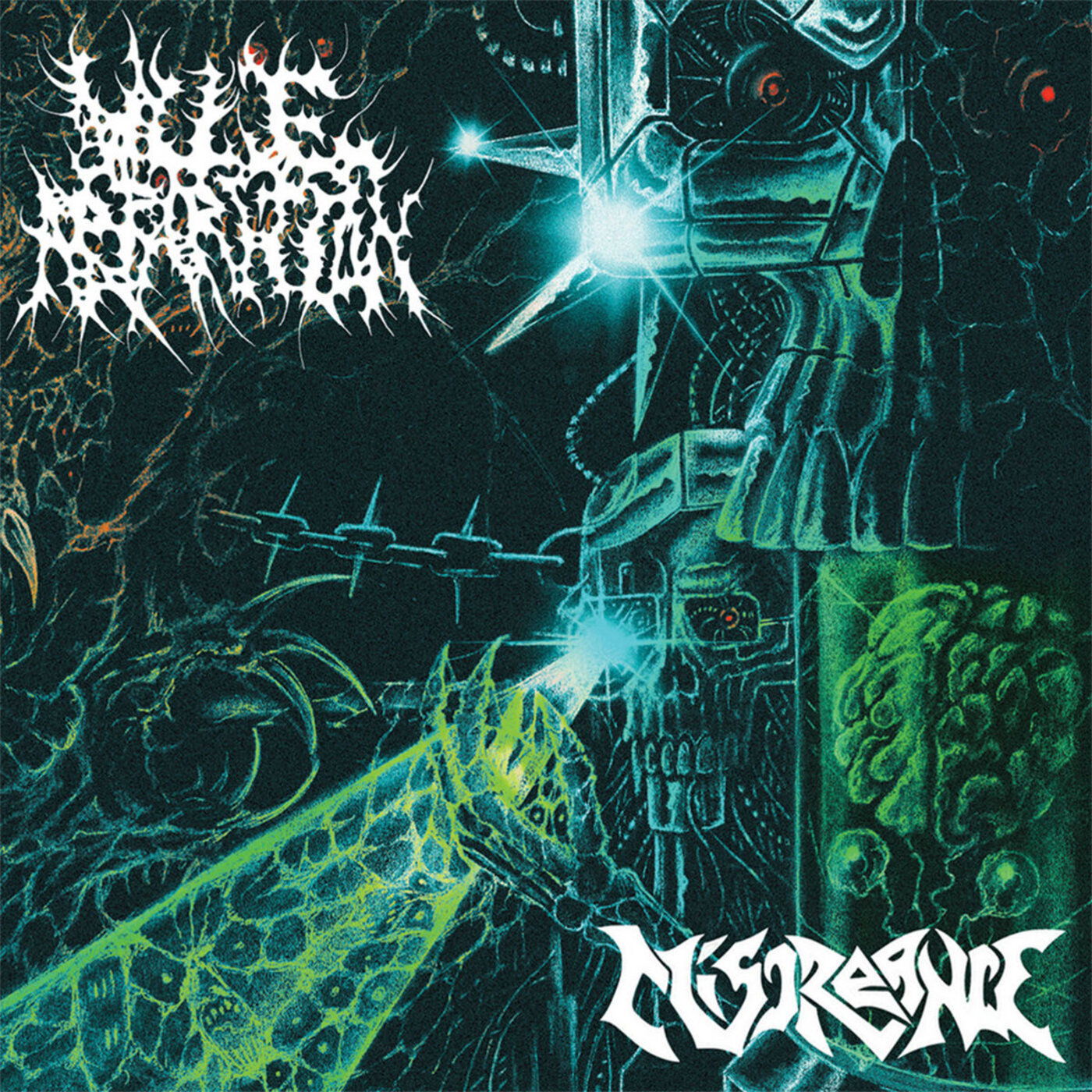 Label or DIY and why?
DIY is certainly a starting point, but the support of a label makes the difference nowadays. With internet it might seem easier to make a name for yourself without the support of a label, but it's really easy to remain unknown, considering the multitude of bands that exist today. Especially because people who use social media are always "distracted" and often see content without actually seeing it...
Do you prefer Vinyl, Tape, CD or Digital Format and why is that?
We have all always been great accumulators of music in physical format, especially Vinyl. Only recently, some of us have moved a little closer to the use of digital listening platforms, but our preference is still for the good old turntable. Liquid music is certainly convenient and above all allows you to discover many old and new bands, but holding a cover in your hand, leafing through the inserts and discovering bands just reading to the "thank lists" as well is a completely different immersion in what you are listening to.
5. Your music style is technical Death Metal. Which are your main influences (Favourite Artists / Bands etc.)
Our influences are not voluntary, they're just a reflection of what we listen to everyday. Some songs might sound a little different from others, even in the same release. Taking our demo "From Awareness to Creation" as a reference: "Cryogenic Dream" was written during a time where we listened a lot of Hexx, Sadus and Invocator, while Alchemy has a more Atheist vibe. Apart from the ones mentioned above, we're obviously stick with all the technical thrash/death scene of the late 80s/early 90s, like Obliveon, Pestilence, Death, Hellwitch, Dark Angel, Nocturnus... It's difficult to include something else as an influence in the way we play, but some song structures or arrangements might belong to the total worship we have for RUSH.
Which things, do you think, a Band should sacrifice in order to succeed? Have you ever sacrificed anything in your life for a better future of your Band?
We don't like to use the word "Sacrifice", unless we're talking about the Canadian band. Everything you put in your project (time, money, patience...) must come naturally, as you feel the urge to make your project grow under every aspect. Surely, there have been many difficult moments, and even rehearsing isn't always that easy as some of us come from different cities far away from the others, but passion and dedication always made the difference!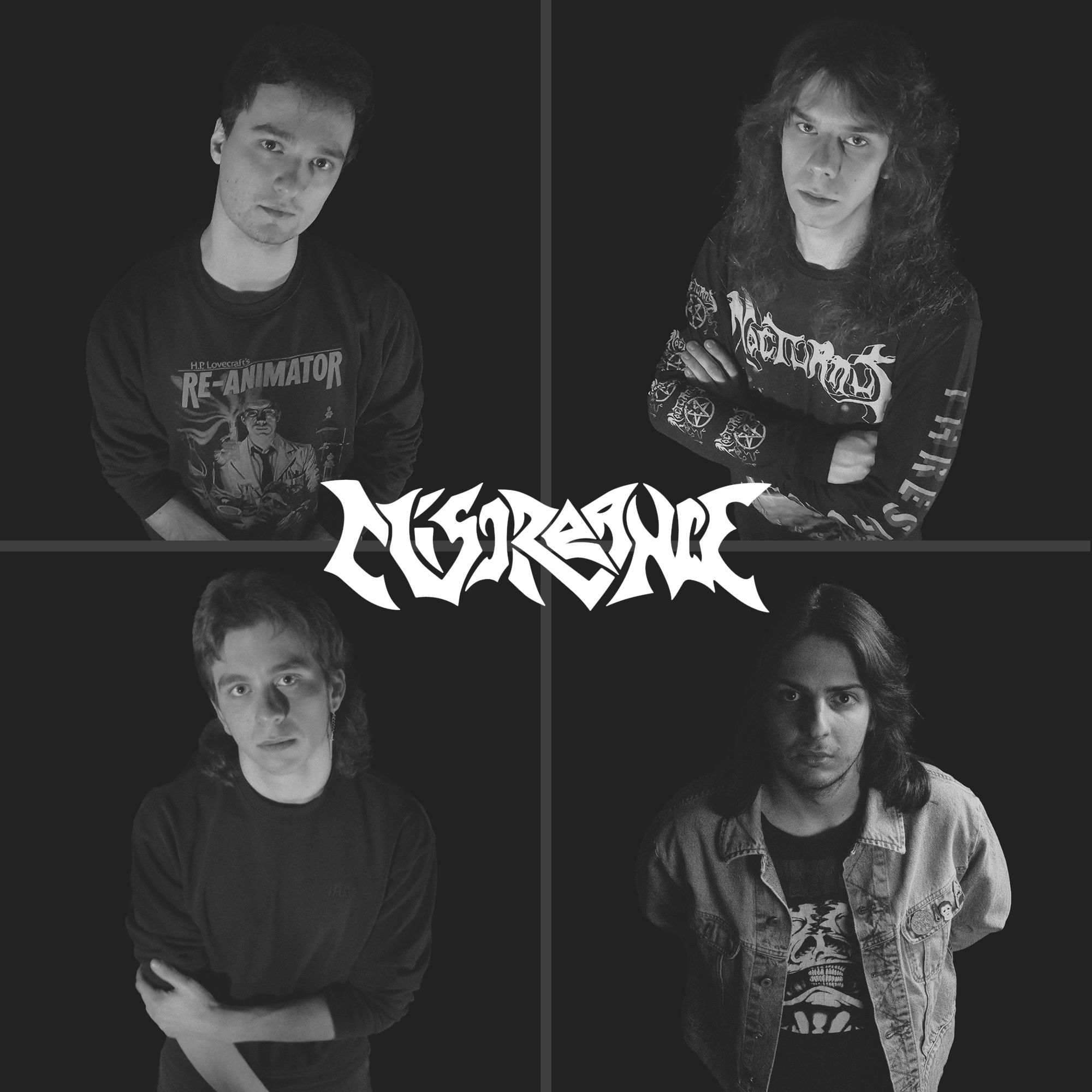 Describe your ideal live show as a performance Band. Have you already experienced that?
Dream gig? To open for Dark Angel and get drunk before even starting. However, we only played once under the name Miscreance and that was for opening to Messiah, most of our live shows were done under "Atomic Massacre". With the full-length release we hope to get back on track as soon as possible.
Which attributes, do you think, that a new Death Metal Band should have in order to gain identity and be unique?
Creativity, to focus on little details, don't schematize yourself in "RIFF A-RIFF B-CHORUS-RIFF A", even if you're not a "technical" band. And to listen something outside death metal, even to catch a slightly different atmosphere than the one of your genre, and we do not mean listening Miley Cyrus, but sometimes we see DM bands that don't even like late 80s thrash 'cause they find it "too soft".
Do you believe that Digital Platforms help the new Death Metal Bands? Which, do you think, is the ideal way for a Band to promote its work?
Even considering what we said in the previous question, digital distribution and social media is clearly the future of death metal (1991's Glenn Benton would probably have had a stroke hearing this) and metal in general. But the concept remains the same: being cool, have cool graphics, cool shirts and cool everything just gives you the advantage of being taken seriously, which is of course very important, and maybe someone will give you a chance listening to your music, but if your music is shit, social media management's not gonna work that much
Tell us a few things about the New Underground Metal Scene in Italy (Bands, Fanzines, Webzines, Metal Clubs etc.)
It's almost all dead here, we're lucky that the few people that still believe in metal put 100% in their projects (zines, labels, promotion agencies...). But we have like the half of the bands we had 4/5 years ago, half of the clubs to play in, many people left the so-called "metal scene" and the situation is not that good, from our point of view.
Do you know anything about the Hellenic Metal Scene?
Not that much really apart some bands that came out some years ago (Suicidal Angels, Bio-Cancer, Exarsis...), or the Historical ones like Flames and Rotting Christ, but we've recently discovered a band called Violent Definition and they definitely deserve a shout!
What are your future plans?
Keep writing a number of riffs directly proportional to the number of beers we will drink. We are having fun to write new material that is going to be very sick, simultaneously we hope to promote the full-length Convergence and also all our other releases as well.
Thank you very much for your time & Keep up the good work! The closure is yours.
Thanks to FILTHY DOGS OF METAL webzine for giving us this space to talk shit, if you want to make your brain cells burn in a celestial voyage, you can follow us on social media at these links:
Bandcamp:
https://miscreance.bandcamp.com/music
Facebook:
https://www.facebook.com/Miscreance
Spotify:
https://open.spotify.com/artist/2v4mzDLx1JSnxzq8CsYDzD?si=pjslvZ2MSsm6q_w5hGGI-w&nd=1
Instagram:
https://www.instagram.com/miscreance_official/
PLAY FAST OR FUCK OFF!!
By Steve the Filthy Dog.