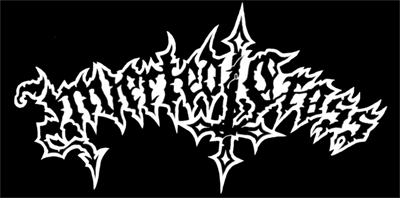 !!!BLACK/SPEED METAL FROM SPAIN!!!
Welcome to the FILTHY DOGS OF METAL Webzine.
Tell us a few things about INVERTED CROSS (Members, Starting Year etc).
Guille: Inverted Cross is a black speed metal band formed in january 1, 2017. The original lineup was Guille Hungover (vocals and bass), Philip Graves (Guitars) and Kevin Hellmaniac (Drums). Two years later Kevin left the band and Chris Carrest started playing the drums with us until now.
You have recently released your demo ''With Evil We Ride''. What is the Feedback from your audience as well as from the Press?
Guille: I think we have a good audience from our scene, for the moment is very good for us. We are in the underground scene and it's a little scene, little but stronger and true!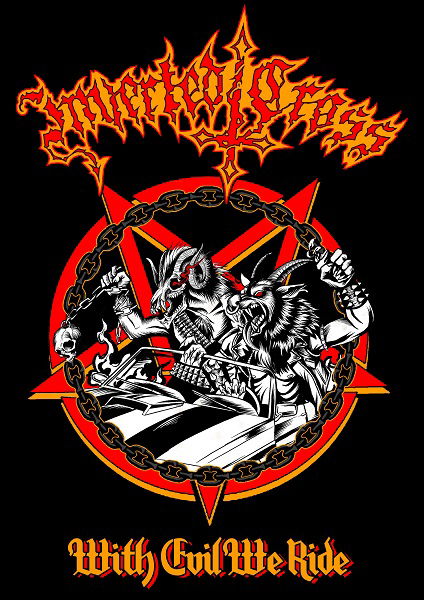 Label or DIY and why?
Guille: By the moment we don't work with any label.
Philip: We prefer a label but we still haven't had an offer to release our works with a label. We hope to release our first LP with a label, this would be killer for us!
Do you prefer Vinyl, Tape, CD or Digital Format and why is that?
Guille: I love the classic formats, Vinyls and tapes, for this reason our demos are only recorded in tape format and I want to make our future first album in vinyl.
Philip: Yes, we love the classic formats, Vinyls or Tapes, also i like the CD format. The important thing is that we can touch our work. To promote the band in the 21st century is necessary to have our work in Digital Format but if we only have our works in this format it's like they don't exist.
Chris: I think vinyl is the best format to hear any kind of music, but nowadays the people prefers digital format like spotify or youtube, everybody listen music most of the time by mobile phone.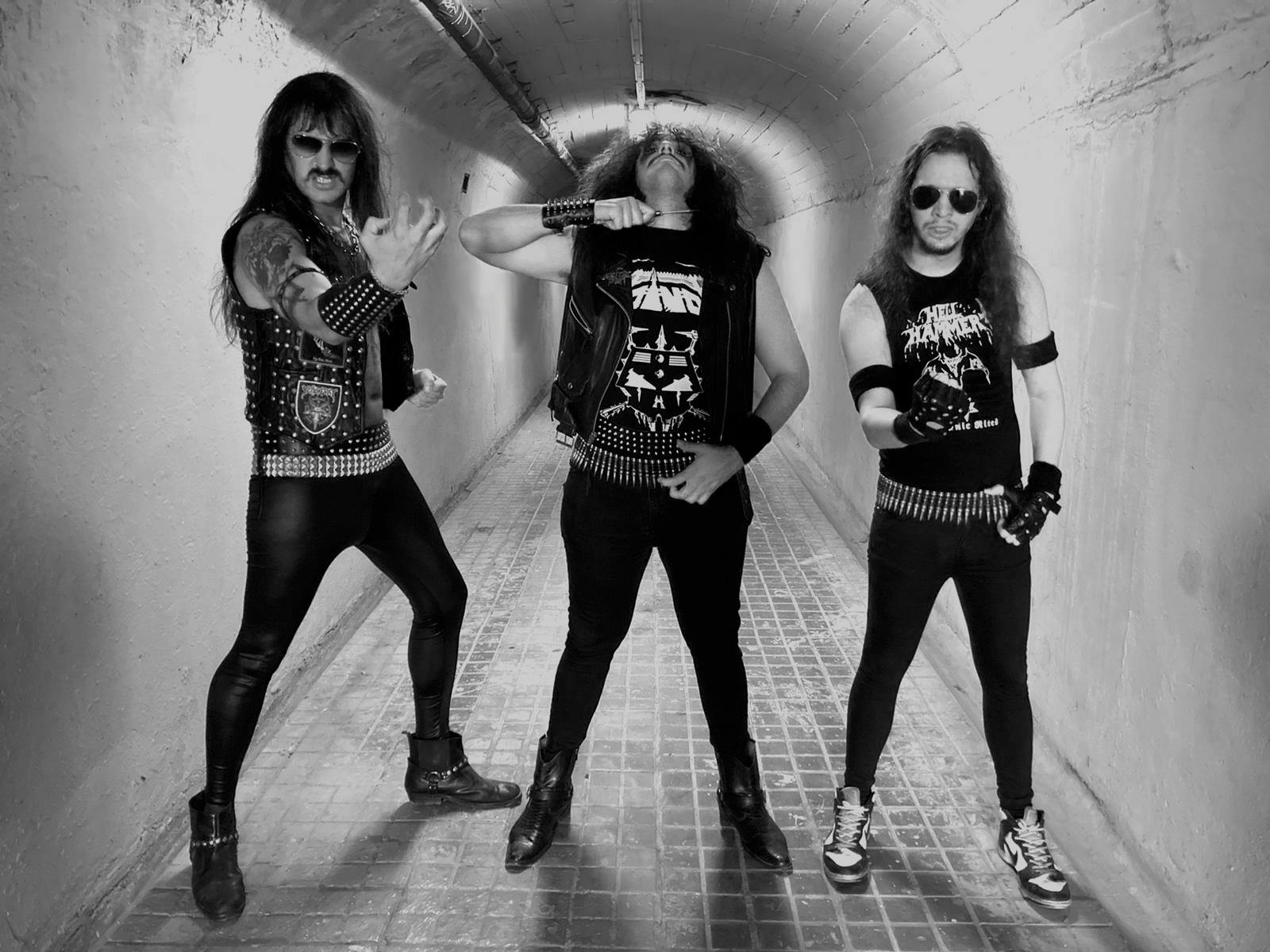 Your music style is Black/Speed Metal. Which are your main influences (Favourite Artists / Bands etc.)
Guille: I love a lot of bands of this genre, and it is one of my favorite music styles. Starting with classic bands like Venom, Celtic Frost, Hellhammer, Bathory, Beherit… 90's first black thrash bands like Nifelheim, Gehennah, Desaster… And actually bands of the genre like Omega, Nocturnal, Power from Hell, Witchtrap…
Philip: I also love this genre. My favourite bands are Celtic Frost, Venom, Bathory, Desaster, Nifelheim, the first Destruction or Sodom works ("Sentence of Death" and "In The Sign of Evil" EPs) and other bands that influenced to us are NWOBHM bands like Raven, Warfare, Tank… Speed Metal bands like Exciter, Razor, Evo, first Running Wild albums… We love Heavy Metal with bands like Mercyful Fate, Judas Priest, Agent Steel, Vicious Rumors… And personally i like Rock'n'Roll, 70/80s Disco, 80s Pop, Post Punk...
Chris: I listen all kind of metal genres but I love the old sound of Obsessed by Cruelty by Sodom also the sound of actual bands like Mgla, Tsjuder or Midnight. But the way I play drums in Inverted cross are more like Dave Lombardo of Slayer, he is the awesome and I try to the same more or less. Other bands that influence me are NWOBHM (Tank, Tokyo Blade, Deathwish..) and Thrash Metal (Sodom, Exodus, Violent Force…) Also I love rock and roll bands like Motorhead or Kiss (my favourite band).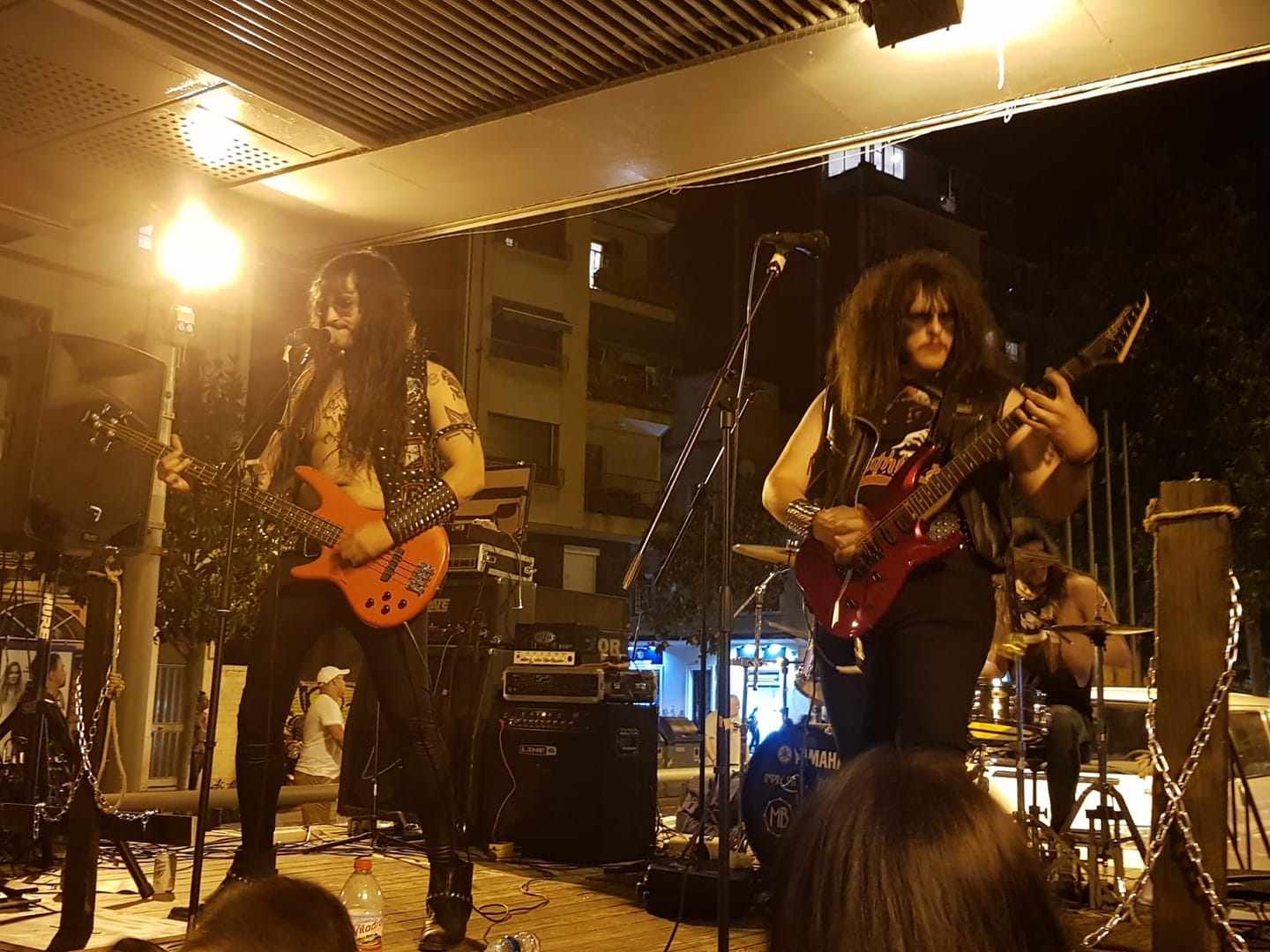 Which things, do you think, a Band should sacrifice in order to succeed? Have you ever sacrificed anything in your life for a better future of your Band?
Guille: This is a difficult question, I think you need to sacrifice a lot of time for practise with your instrument and compose new songs. And more time playing with all the band, playing the same songs a fucking lot o time hahaha. The sacrifice is only a wasted time, because when we are playing together we enjoy and drink, all the band are friends and it's very nice to spend time with these guys!
Philip: I think that if you like playing in a band and your band members are friends this is not a sacrifice. Personally I have sacrificed many time that I would have dedicated to study or work for recording new material and I also have rejected work offers because working hours didn't allow me to have time for rehearsal or play concerts.
Chris: I think the same as Philip, for me isn't a sacrifice. All I do for music is for my own fun and later if the people like the band is awesome. Maybe the money is a problem because the music is too expensive but at the end of the day you are happy to spend the money on this.
Describe your ideal live show as a performance Band. Have you already experienced that?
Guille: One of my dreams is do a show like Venom shows, that's fucking amazing! Big stages to do an amazing show. I never played on a big stage, but I enjoyed it with the people in our shows, we don't need this to do our jobs, when we get up to the stage we do the best we can do, and the people know it.
Philip: I prefer to play in front of fifty motivated people than playing in front of thousand static people, and of course, i love play with bands that they are humans and good people, i hate play with "rock stars", i have seen bands underground with an arrogant behavior and big bands that they are amazing people, only. I only ask respect and equality, all we shit in a cup, no one is more than anyone.
Chris: I experienced playing in medium stages in the past in another band opening for bands like Riot or Hardline and it's amazing but the people are a little cold. I prefer a small stage with all the people getting crazy with us in our songs.
Which attributes, do you think, that a new Black/Speed Metal Band should have in order to gain identity and be unique?
Guille: In this genre it's impossible to make something new, but we try to make some different style, trying to make riffs Speed and Heavy with some dirty… For the moment all our songs are very different between them, and we try to make some new and don't abuse the old material, without losing the essence of the band.
Philip: Nowadays it's very difficult to have an own identity, Metal music exists since fifty years ago. I think that it is possible to achieve being unique but it's very difficult.
Do you believe that Bandcamp and other Digital Platforms help the new Black/Speed Metal Bands? Which, do you think, is the ideal way for a Band to promote its work?
Guille: In this age the internet is very important to promote the bands and Bandcamp is a very nice website for this. Bandcamp is like a little shop for buying your music and the people can listen to the music before buying. Social sites are very important too, and are the best sites to show your work to all the world.
Philip: Yes and not, the times have changed and we haven't any other remedy to adapt to it, it's true that the Digital Platforms helps bands because the people can listen to us very easy and thanks to Bandcamp we have had orders of many countries. But on the other hand the people are more demanding to listen to bands and with platforms like Spotify or Youtube they are also very saturated with so many new bands, new albums and new songs every day. That is that most people wants to listen short songs and very catchy with the better sound production of the world.
Chris: Is one of the ways nowadays for sharing our music and selling some of our stuff. I think any help like that is good for us or for other bands to show her stuff.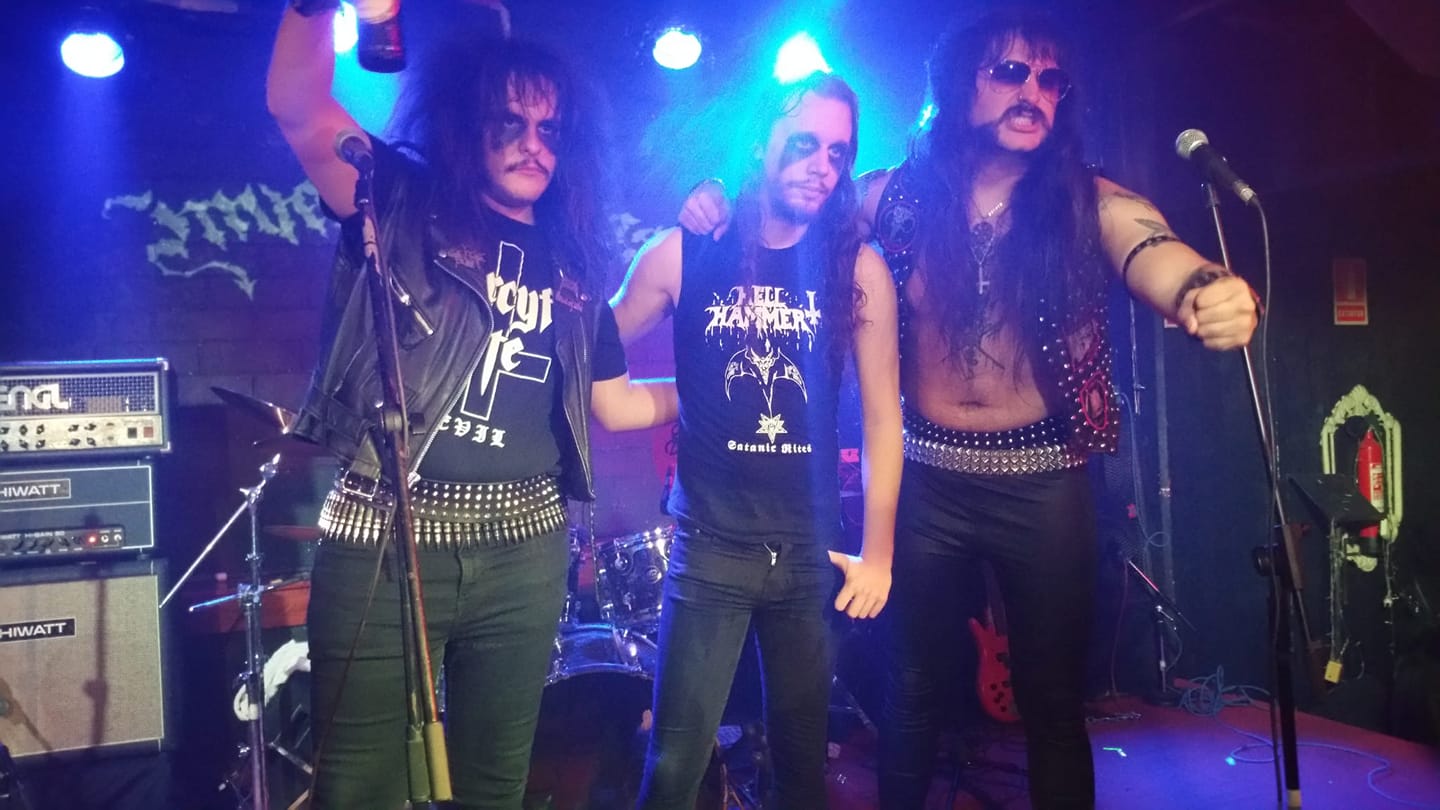 Tell us a few things about the New Underground Metal Scene in Spain (Bands, Fanzines, Webzines, Metal Clubs etc.)
Guille: In Spain we have a nice scene, I'm of two Heavy Metal clubs (Metalcova Barcelona and Metal Bats Valencia), these clubs do dome underground gigs, with Heavy, Thrash and Black Thrash bands. Also we have nice bands of our genre like Körgull the Exterminator, Insulters, Omission, Tümba.... Fanzines I really loved two, Metal Slavers and Gates of Damnation.
Philip: The same of Guille but I add Heavy Metal Clubs like Pounding Metal Union, Mediterranean Metal Maniacs or Metalmeria. And a band of our genre I add Redimoni. Another killer fanzine is Gods of Thunder and of course radio shows like Dskalabra2 Metal Radio, Forjando Acero or Rock Invasion.
Chris: I agree with Guille and Philip, in Spain we have amazing bands in black/speed metal and other genres, bands like Streamer, Wichtower, Hitten, Iron Curtain and many others.
Do you know anything about the Hellenic Metal Scene?
Guille: I know some bands from Greece, one of my favorites is Omega, from your country. I really want to go to your country to see one gig (or play haha).
Philip: Yes, I like very much Sacral Rage or Omega for example, and there was a band named Stinger that I also liked very much. Of course, Up the Hammers festival.
Chris: Honestly I don't know so much about the Hellenic Metal Scene, maybe I need to listen to Omega or other bands who Guille and Philip said hahaha. Always they have a nice taste for music.
What are your future plans?
Guille: We want to make a split with one band of our country this year and after this we want to make our first debut album, I hope it can come out in 2022/2023.
Thank you very much for your time & Keep up the good work! The closure is yours.
Guille: Thank you very much to you for this interview, I enjoyed with this questions! Hailz FILTHY DOGS OF METAL Webzine!
Philips: Thank you so much to you for the support to us and Metal scene around the world!
Chris: Thanks to you and all the metal maniacs in Greece. Keep Supporting fucking Metal!
By Steve the Filthy Dog.
INVERTED CROSS CONTACT:
https://www.facebook.com/InvertedCrossOfficial/
https://invertedcross666.bandcamp.com/