!!!DOOM METAL FROM SWEDEN!!!
We had a conversation with Mik. Enjoy!
Welcome to the FILTHY DOGS OF METAL Webzine.
Tell us a few things about GRIMORIA (Members, Starting Year etc).
Grimoria started in 2016 as a heavy metal band, which slowly turned into doom as we started to acquire a taste for slower riffs and psychedelic drugs. Due to many inconveniences, mainly members going in and out from rehab, the band split in 2017, with no releases at all. It wasn't until July of 2022 when I (Mik) found new members to start over and that's when Karl and Per came into the scene.
You have recently released your EP ''Lost in Shadows''. What is the feedback from your audience as well as from the press?
I think it is very soon to talk about feedback, since we're waiting for the main diffusion channels in youtube to upload our material, but for now the feedback has been pretty good.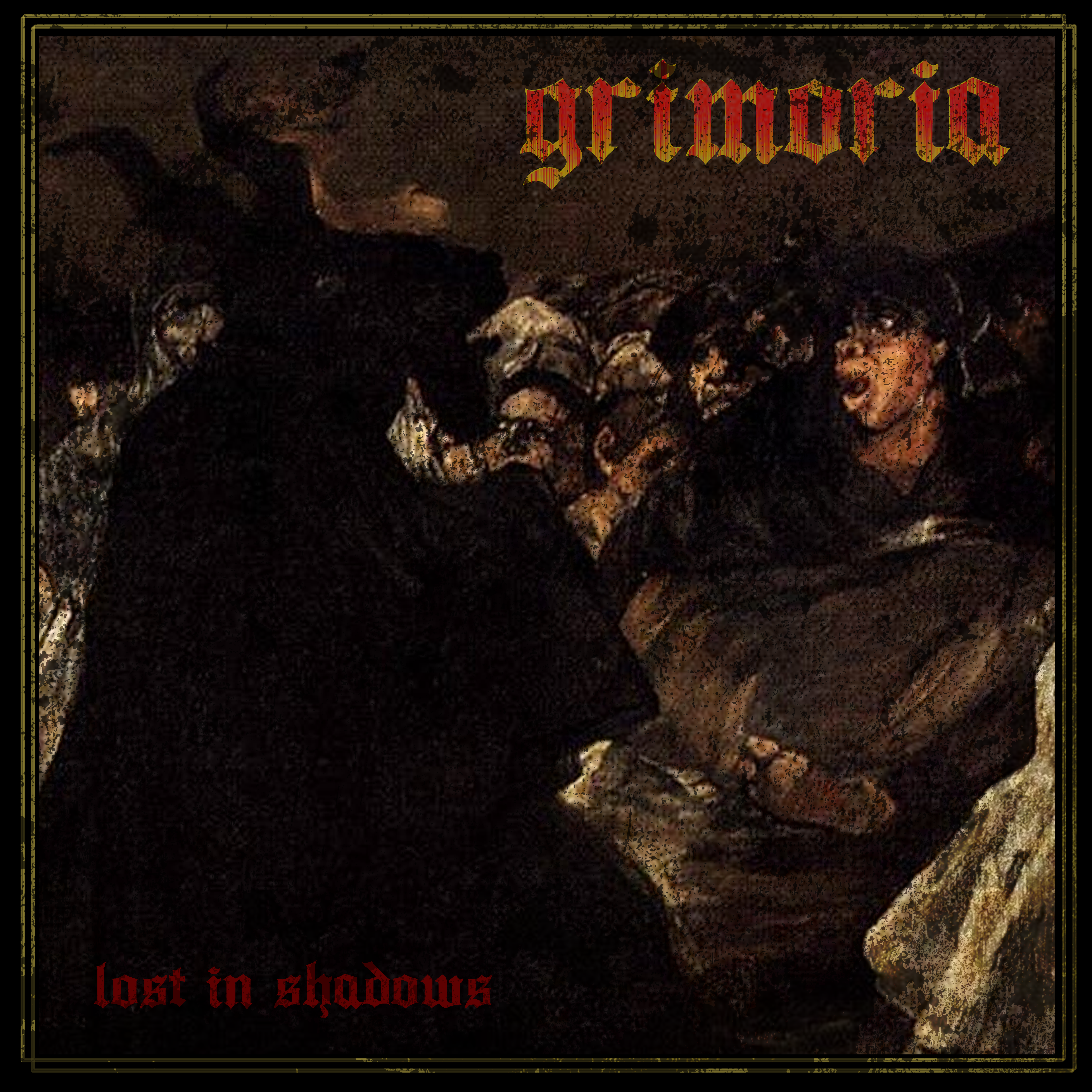 Label or DIY and why?
DIY, just because we haven't had any offers yet.
Do you prefer Vinyl, Tape, CD or Digital Format and why is that?
Every format has its pros and cons, but we love vinyl.
Your music style is Doom Metal. Which are your main influences (Favourite Artists / Bands etc.)
Pentagram, Candlemass, Reverend Bizarre, we also love this band called Gargantuan Blade we recently found.
Which things do you think a band should sacrifice in order to succeed? Have you ever sacrificed anything in your life for a better future for your band?
We try to not screw our personal lives while doing this, but honestly it's pretty hard. No girlfriend or wife would understand why you would prefer spending your time with two stinky metalheads instead of going to a dinner with her parents, lol. It's just a different way of living, but that makes us happy most of the time.
Describe your ideal live show as a performance band. Have you already experienced that?
We really like DIY shows, in houses, basements or small venues. We have experienced some of that in our past projects. There's something about having drunk people less than one meter from your face while you're performing that adds some romance against barricades between the people and the stage.
What attributes do you think that a new Heavy/Doom Metal Band should have in order to gain identity and be unique?
Well, uniqueness is not the trademark for doom metal nowadays honestly, but I would say know the rules of your genre very well in order to break them (or respect them) with criteria.
Do you believe that Digital Platforms help the new Heavy/Doom Metal Bands? Which, do you think, is the ideal way for a band to promote its work?
Absolutely. There's youtube channels and magazines playlists that condensate all the people that want to hear new music in this style, and they do great work without charging the bands a single buck. You wouldn't dream about having more than 1k views if it weren't for those guys, so kudos to them.
Tell us a few things about the New Underground Metal Scene in Stockholm, Sweden (Bands, Fanzines, Webzines, Metal Clubs etc.)
Well, there's a lot of those angry, depressed guys with b&w makeup around the underground scene, you know, the black metal pals. A lot more than just talentless metalheads who like to smoke tons of weed and play slow riffs like us. But I've been out of the scene for a while so we'll see as soon as the gears start to turn and Grimoria start to play live here. Though there's this Swedish band I love, but they're from Malmö, Moon Coven.
Do you know anything about the Hellenic Metal Scene?
There's a few bands that are quite big that I know of, Acid Mammoth and Naxatras as examples. I really like Greece because it has this kind of Latin American vibe in a really good way among the European bands, a more visceral thing, I don't know how to explain this well but I think you'll get the idea, it's that human/beast/bloody thing you feel in the music when hearing Sepultura, per example.
The last 3 years, worldwide in the world, we have faced many dark, strange & new situations in our everyday life (covid, lock-down etc.) Did all of this affect you positively or negatively?
Actually here in Sweden was kind of chill with covid compared to other parts of the world, but we were affected as everyone else, as you've said, it was very dark times, with lots of room for tyranny. We're always against governments forcing people by violence so yes, it was kind of a bummer. Good thing those times seem far away for everyone in the world.
What are your future plans?
Continue doing music, maybe rent an old house for the three of us where we can make music without anyone complaining, I just hope that doesn't add some Mayhem vibes to the band, lol.
Thank you very much for your time & keep up the good work! The closure is yours.
Thanks to you, and cheers to all the metalheads around the world, keep on rockin!
By Steve the Filthy Dog.
GRIMORIA CONTACT:
https://www.instagram.com/grimoriaband/
https://grimoriaband.bandcamp.com/album/lost-in-shadows