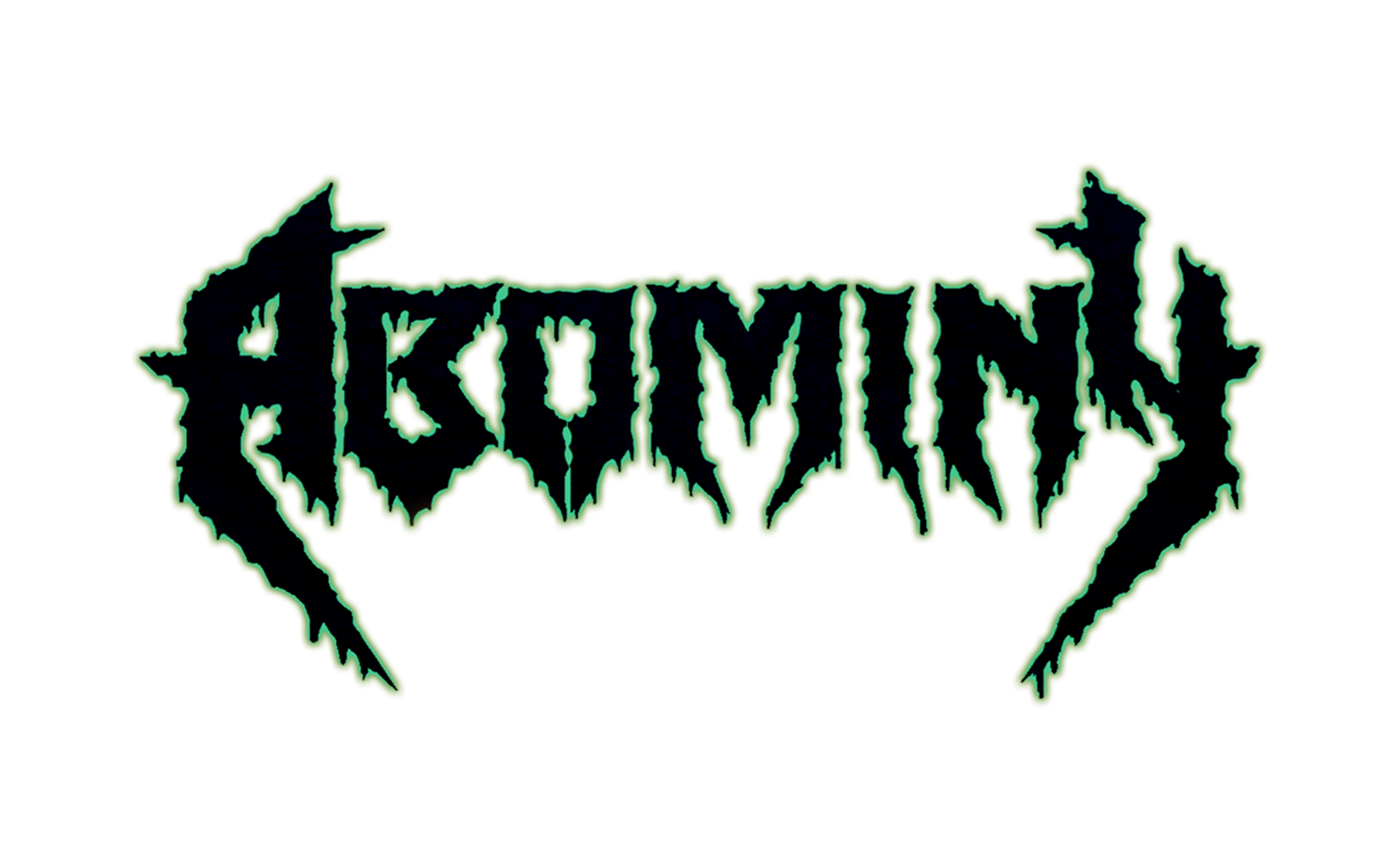 !!!DEATH METAL FROM CHILE!!!
We had a conversation with Seba (Guitars). Enjoy!
Welcome to the FILTHY DOGS OF METAL Webzine.
Tell us a few things about ABOMINY (Members, Starting Year etc).
Abominy began in January 2020, in the city of Santiago, Chile, when me, Seba (guitar) and Gringo (drums) decided to make a new project uniting all the roots of old death and thrash metal we grew up with. So we started creating the first demos, with a fucking pandemic on top of us, but with a clear objective and no time to lose. After a couple of months we decided it was time to look for the missing members. The first to arrive was Lleras (guitar), who had played in a death metal band about 20 years ago with me, and he was living in Santiago. Then, we found Victor (bassist and vocalist) on social networks, he had made a post where he offered himself as a bassist, and without knowing much more we invited him to an audition. When he arrived at the rehearsal after playing the songs we had sent him, Victor said "I can sing too, let's connect the fucking sound system for the vocals and I'll show you". What we heard was just what we were looking for, so he won the spot immediately.
You have recently released your EP ''Miseria, Odio y Caos''. What is the feedback from your audience as well as from the press?
The reception we have received has been extremely good. We only released that EP on digital platforms, this time we didn't release a physical edition of that work since those songs were always thought of as part of the LP. As the coronavirus shit put us in quite difficult moments in 2021, where basically we couldn't rehearse due to the confinement decreed by the government, and the delay of the LP was evident, we said "what the fuck, let's release the songs we have ready as an EP". That decision allowed that in this year 2022, when we could finally start playing live, people would know the repertoire of songs and not get to discover our music. They already knew the aggressiveness of the Abominy beast. The physical edition of this work will be part of the LP that we will present in a few more months.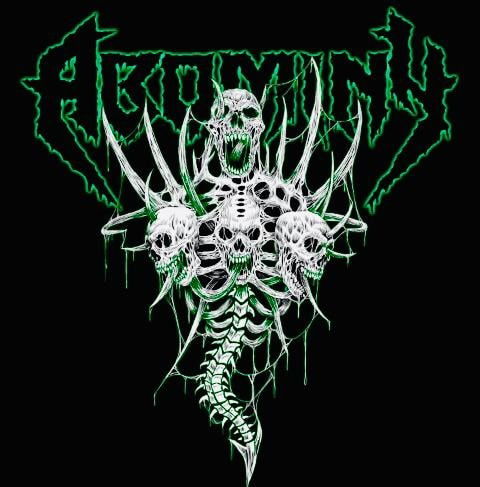 Label or DIY and why?
We released the first EP with the national label Antitesis Records, from Puerto Montt, and it helped us a lot to directly reach people who are thousands of kilometers away from our city. The support they gave us was completely valuable, and when nobody knew us, and without the possibility of playing live to show our music, it was undoubtedly the best option. Regarding the composition and recording of our music, we do everything ourselves. Everything we've recorded has been done using our home studio and we won't change that, we won't go and spend our fucking money in a place where they tell us how we should sound, or what instruments or gear we should use. Regarding the future LP, if it will be released by a label or DIY, it's not something we have decided yet, both options have pros and cons, I think a factor that plays in our favor is that we have managed all the merchandising of the band ourselves, and we have many friends who will certainly give us a hand if we need some advice to edit our work without a label. If I had to decide today on how to release the LP, I would say "what the fuck, let's do it ourselves", we have sent copies of our first work to Europe and Japan, so fortunately we can reach any part of the planet.
Do you prefer Vinyl, Tape, CD or Digital Format and why is that?
I love the physical format of the music, beyond the sound, it is much more valuable to be able to look at the art, read the content, and thus understand the context of the album. For me the graphic part, the story described in the book, the words of thanks that usually appear, the order of the songs, or the logos of the sponsors that are part of the physical work give you information to know the people behind the music, the time it was recorded, the gear used, and the reality of the band at that time, and to be able to have that record forever is wonderful. It's like time stands still and you can relive it every time you review the content of the physical format.About the digital I think it is also extremely useful, I remember when you were in the car with a backpack full of CDs and cassettes to be able to play them in the personal stereo or in the vehicle, what an uncomfortable shit, besides how little care was taken, the CDs or cassettes always ended up scratched with the tape outside, but without a doubt digital format only give you a part of the history.
Your music style is Death Metal. Which are your main influences (Favourite Artists / Bands etc.)
Our main influences as a band are Slayer, Dismember, Hypocrisy, old Sepultura, Death, which is basically what we grew up listening to, although in the creation of the songs it is impossible to eliminate the contribution of what you listen to at that precise moment. For example, lately I've been listening a lot to Lik, Swedish death metal band, and that contributes a lot in my creations, either in the way of composing, or in the sound they use. Personally I'm a guitar nerd, and when there's some aspect of sound that I like I look for the gear they use, and pedals and all that, it's like doing musical reverse engineering. The rest of the band also has super varied metal influences, and of course it all helps when we get the ideas together.
Which things, do you think, a Band should sacrifice in order to succeed? Have you ever sacrificed anything in your life for a better future of your Band?
We are already quite old in general, almost all of us are around 45 years old, and each of us with a backpack of more than 20 years as part of the metal scene playing in bands, no doubt that has given us the necessary wisdom to be able to carry this project in the best possible way. I remember when I was younger, and drinking was as important or even more important than the show, that personally cost me the departure of bands that I esteemed very much. But as you get older the pieces fall into place, for me music is a vital part of my life and I enjoy composing and playing live, and without a doubt now my focus is on delivering a good, entertaining show, where those who experience it can say "shit I had a great time listening to these guys". A funny story at our last show, after we finished playing a pretty adult guy came up to me and said "I live next door to the venue, and I always listen to much softer music, but I never had the courage to come. Today I got off the bus and when I was opening the door of my house I heard some metal music that reminded me of the bands I listened to when I was young, and I said fuck it and closed the door and came to listen to you guys and it was the best thing that happened to me that day", that kind of experience is what gives sense to everything I do musically. So basically what would a band have to sacrifice to be successful, everything ego related, and everything that is not musical.
Describe your ideal live show as a performance Band. Have you already experienced that?
An ideal show I think is the one that has all the technical aspects that you require as a band and you can have the support of a team to ensure that every aspect is controlled, and that the defined schedules are met. Regarding the line up, where you can share with bands that you admire and where their members make you feel like you're at a barbecue with friends. And regarding the audience, the best show is where you see them motivated, shouting every song and moshing all around. Until now, the vast majority of the shows have been self-managed, so the first 2 points we make sure happen, and fortunately, we have had a lot of support from the audience, I can't complain at all.
Which attributes, do you think, that a new Death Metal Band should have in order to gain identity and be unique?
Identity is a concept that is quite difficult at this time, how you can try to influence your work without becoming a copy of the bands you admire so much, and how you manage to stand out among thousands of bands (funny fact, a study that was done in 2018 indicated that Chile had in that year 118 metal bands per million people, the first place in South America). What we have done with Abominy is to ensure that the technical level of our presentations is optimal, that requires that almost everywhere we do shows we take our amplifiers to ensure we have our sound, and we use Captor X to ensure consistency of sound between a venue and other. If the amplification meets the technical specifications, we bring our in-ear monitoring system. Now we are implementing our own lighting system in order to improve the visual part of the show. Regarding the sound, it is also a challenge to get out of the current generality of the metal sound. We are in a generation that references Ola Englund for sound (I'm not saying it's bad, but the trend is that many people will have a similar sound if they come from that school), and in a world where it is possible to buy a Peavey 5150 that someone sells in Greenland. To avoid falling into that generality, we have blended the old chainsaw sound of the Boss HM2 with the aggressiveness of amplifiers that best suit our needs (including EVH 5150, Peavey 5150, Rivera Knuclehead, Headrush) and with that, achieve a sound that will differentiate itself in both live and studio situations. Our drummer also does his thing, bringing his trigger modules to each show with the sounds we use on the recordings. All of this undoubtedly helps you in some way to achieve your own identity as a band.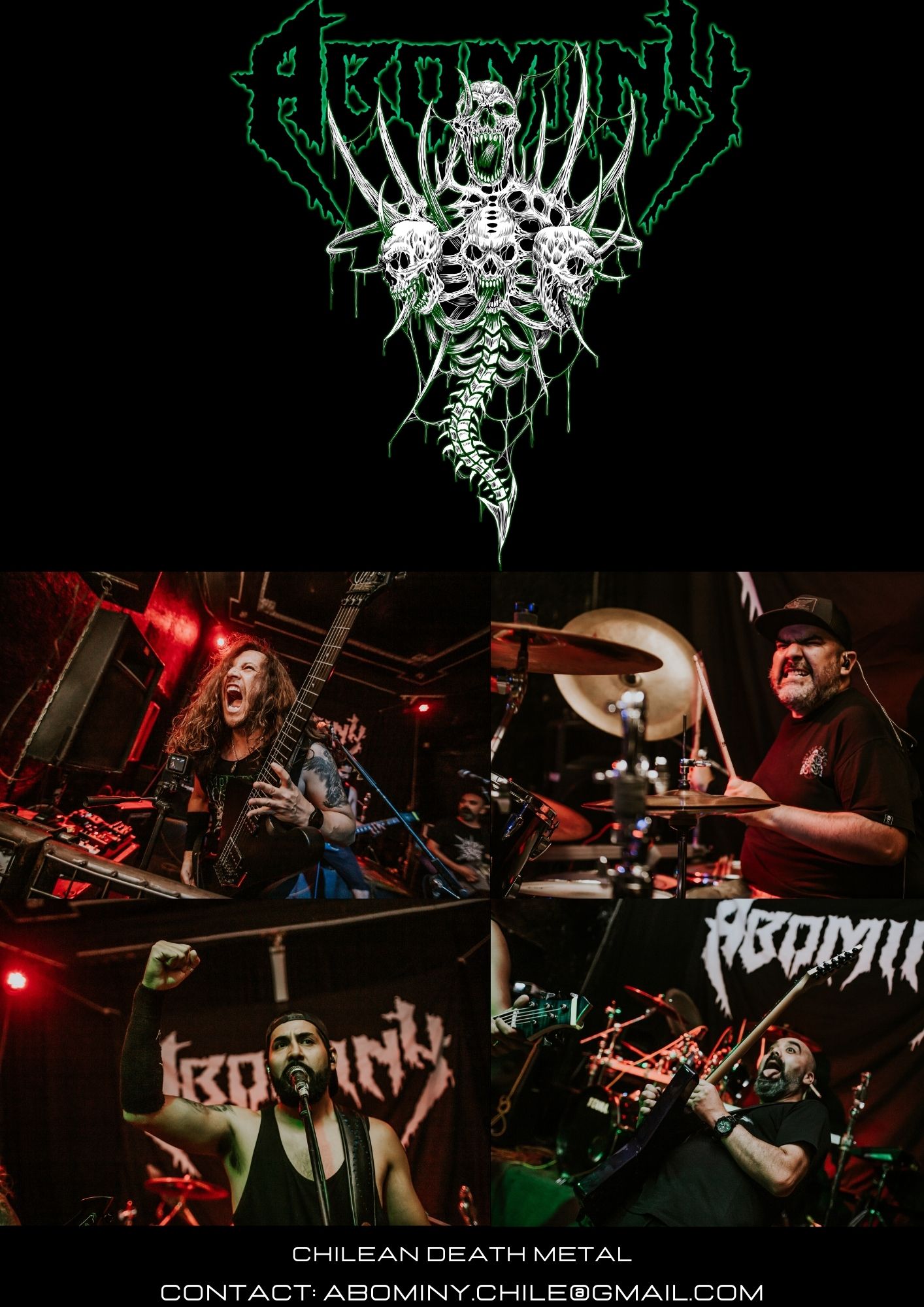 Do you believe that Digital Platforms help the new Death Metal Bands? Which, do you think, is the ideal way for a Band to promote its work?
I certainly believe that digital platforms are a significant help. As I mentioned before, now when you go in the car, you don't change the CDs, you listen to the playlists that the platform's algorithm gives you, and that helps people you to bring new audience. In my day to day, I must talk with people from many countries, and if someone mentions that he is a metalhead, I immediately send him the link so that he can listen to the band, in a matter of seconds you have already managed to get another person to know your work even if he is at the other side of the world. That is the value of digital platforms.Now if we talk about the payments for the number of views, they are real shit.I don't think there is a magic recipe to promote your band, there are many tools available and you have to spend time to understand the value of their use, but without a doubt, I believe that the constant work of creating a loyal audience starts locally, and then you start the expansion.
Tell us a few things about the New Underground Metal Scene in Chile (Bands, Fanzines, Webzines, Metal Clubs etc.)
Chile has a diverse and very active underground scene, every weekend there is a concert somewhere, which can sometimes be detrimental as the public is divided. Currently there are several venues that serve as a platform for metal bands, it is up to you if you accept the agreement they offer, which is usually beneficial only for the venue, because of that, DIY is one of the most active ways there is now to spread metal, producers and bands no longer depend on locals, now public spaces are sought such as squares, parks, vacant lots under highways, everything that has the potential for use, and that does not disturb the tranquility of the neighborhood where it is located , is a potential place for metal bands to perform. Of course, along with the bands, there are many people who actively promote metal, without having bands, the zines are still distributed (check out Grind Sessions, awesome zine) there are others like Proglotida Gravida, which in addition to the literary part, they edit material in physical format of the bands that are part of the written edition. There are also YouTube channels such as Demonio Errante or Locura Eterna that upload videos of bands at different events, and thus many people who support the underground scene in different ways. Regarding bands, lately we have played quite a lot with the friends of Superfix, a new groove metal band, they have just released 2 singles, and I look forward to their album. One of my favorite bands from Chile is Soulrot, a death metal band with a chainsaw sound, they are fucking brutal and a constant source of musical inspiration.
Do you know anything about the Hellenic Metal Scene?
Of course there are some bands from Greece that are on my playlist, Nightrage is one of my favorites, aggressive and melodic death metal, a pleasure to listen to. Christoffear is another band that I follow, I really like the way they compose. A couple of days ago, a band named Bitter Loss, appeared on a playlist, aggressive as fuck! a real pleasure to hear about. Above Us the Waves, is another metal band from Greece, they do a more modern metal, with hardcore elements at times, but definitely a very good band. In my youth a lot of my friends were skaters, so besides metal, I listened to a lot of hardcore and punk, so this band reminds me of bands like Strife and Walls of Jericho, but brought to the present.
What are your future plans?
We are in full promotion of our 2 EPs, trying to play live as much as we can, and finishing up the new songs that will go on the LP. We have about 10 demos of songs and we are deciding which ones will be part of that work, many of those songs were made last year and listening to them now do not seem as impressive as when we created them, so we have been leaving some aside to make way to new ideas. It would be a dream to have the LP finished this year, I´m not sure that we can achieve that but we are trying hard to do it.
Thank you very much for your time & Keep up the good work! The closure is yours.
Thank you very much for your support! It is impressive that our music has reached your country, and to be able to have this opportunity to tell you a little about Abominy.If you want to know more about the band, or acquire our merchandising, write to us at abominy.chile@gmail.com or find us on digital platforms, and let's keep the flame of metal alive. Stay metal, greetings from Chile.
By Steve the Filthy Dog.
ABOMINY CONTACT:
https://www.facebook.com/Abominy/
https://www.instagram.com/abominy.chile/
https://abominy.bandcamp.com/releases
https://www.deezer.com/us/artist/98017072?autoplay=true
https://open.spotify.com/artist/39s7gNi5cSkUVspNVxqaZe