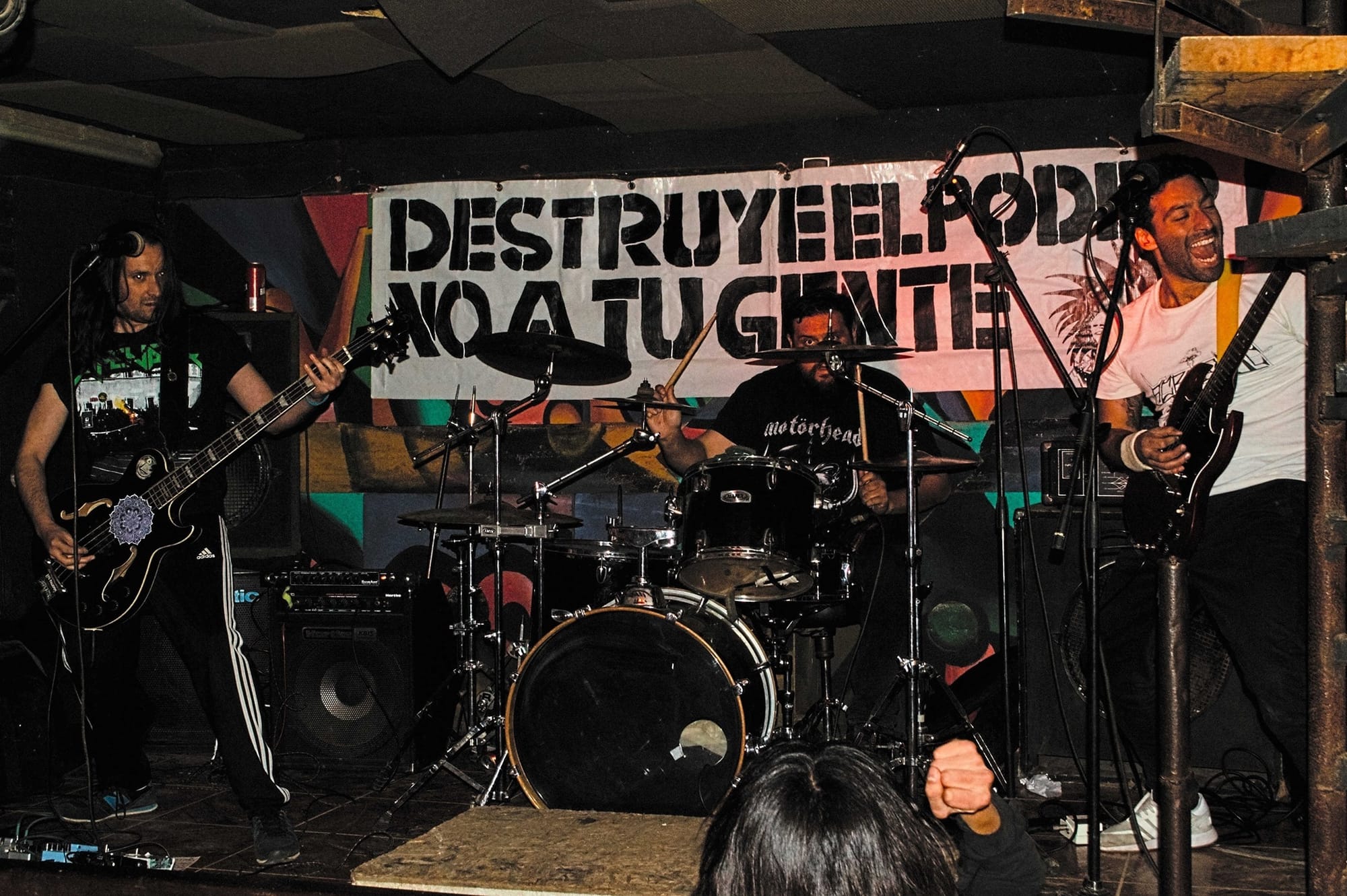 !!!NOISE THRASH ATTACK FROM CHILE!!!
We had a conversation with Pelao Attack (Bass/Vocals). Enjoy!
Welcome to the FILTHY DOGS OF METAL Webzine.
Thank you very much for the chance to answer this interview, we feel very grateful about this.
1. Tell us a few things about ACROSTIC (Members, Starting Year etc).
Acrostic started in late 2001 formed originally by Janito Attack (guitar), Pablito Attack (drums), Chascón Attack (ex vocals) and me (Pelao Attack) with I joined about 2 weeks late before the guys started rehearsing.
We were already friends back then and very young (I was about 15 years old back then) and we decided to execute old school thrash metal and crossover cause that sound was forgotten and dismissed, and we felt and still feel a true communion with this old sound. We became a trio on 2003 and since then we played together, with some troubles in the line up until 2009 when we split up. We came back playing in 2011 to support Whiplash (US) playing in Chile, and since then we decided to make a record and keep playing until now. Through the time we accepted the fact that other schools influenced our way of making music, so we keep a very wide view, but caring that old sense for thinking in music.
2. Your last work was the album ''Sincretismo-Posguerra''. Have you prepared anything new since then?
Right now we are rehearsing and preparing the second "demo" for the new 2020 album, wich is basically an advance to visualize arrangements and decide how to record finally the tracks for the album. We don't pretend to release that demo as an official thing, but we pretend to send some copies to labels and seek the chance to close a deal and release the album outside Chile, that would be awesome.We are putting many work and dedication on that. I would like to mention that we are looking for a reedition of the "Sincretismo - Posguerra" album outside Chile as well, so everybody that hasn't listened the album yet can check it out.
Meanwhile, we are not playing that much, but stills we got some concerts confirmed to play, we love doing it.
3. Label or DIY and why?
We have been a DIY band for long time, and the labels we worked with are very underground too (Underground Defenders Recs and Dissonant Death Recs, both from Chile), so we don't consider ourselves a mainstream band. I believe that everybody has different purposes and talents for doing things…some are very good being distributors, some making sound engineering and making bands sound good, some are good stage managers, some very good label owners and some true musicians…
I mention this because I been trading music for many years, but I don't consider myself a distro or label dude, so a label that can make the distribution work is a very helpful thing. And there are people who love doing it, but I don't haha. My thing is to make music, write some texts and make art (I love collages, and the "Sincretismo-Posguerra" layout insert was entirely made for myself).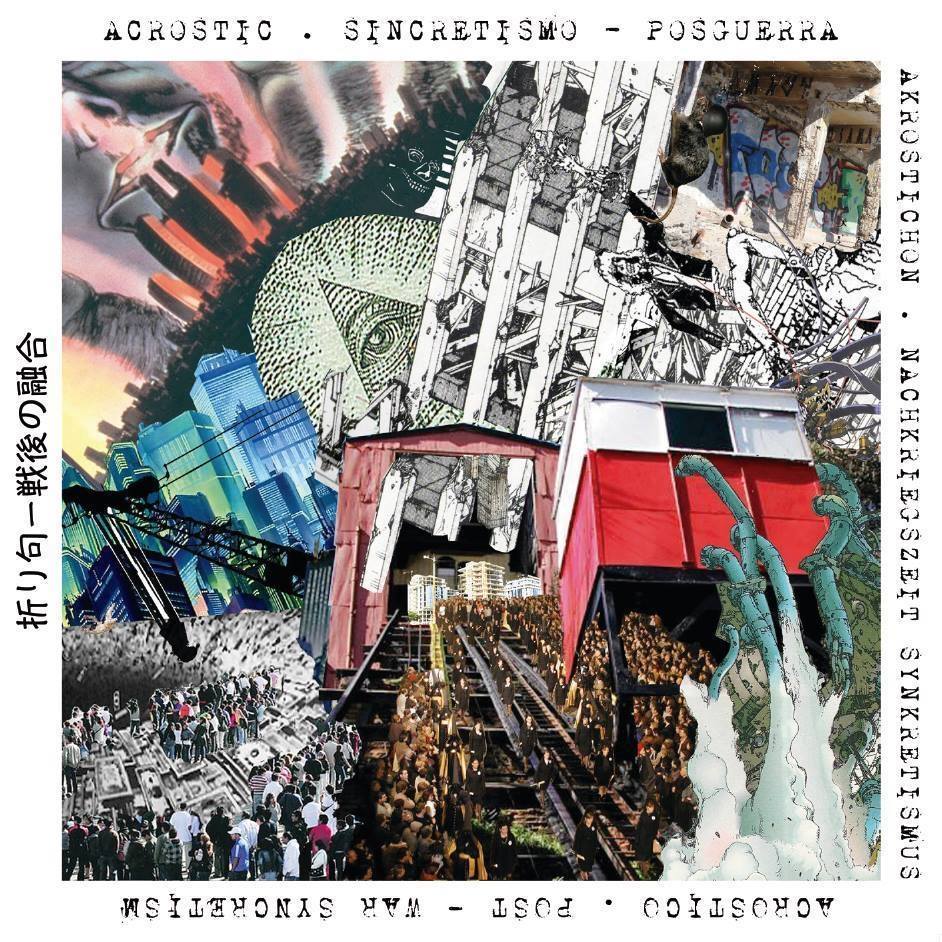 4. Do you prefer Vinyl, Tape, CD or Digital Format and why is that?
I love vinyls, I got many, but CDs are good for me anyway. I like tapes too, I have many as well, some nice old jewels.
Nowadays we have the chance to meet new bands worldwide and rescue old forgotten bands and old cool records through digital formats, Youtube provides. I have nothing against digital format, but I know by experience how magical is to listening an album on vinyl, specially if it was recorded by analog methods…is the closest relationship you can establish with the recording session,
is basically traveling through time to that exact moment. listening the "Pleasure to Kill" album on vinyl (combat/noise recs) is a good example for what I try to say!.
5. Your music style is Thrash Metal. Which are your main influences (Favourite Artists / Bands etc.)
Long time ago we self defined our style as Noisethrash because our roots belong to the old thrash metal sound but that tree has many arms such as Crust, hxcpunk, d-beat, even grindcore and post rock!. Therefore, our metal has a strong and deep "Core" spirit. We believe in the communion of the different and many schools of noise worldwide no matter time and space.
We don't try to make the same thing as the bands we listen and love, but I would mention as references Voivod (entirely), Electro Hippies (The only good punk is a dead one album), Sodom (until Better of Dead album), Dropdead (2nd LP), Slayer!! (Old and until the 90's), Siege (U.S), Anthrax, S.O.D., S.O.B. (the Napalm Death 7'' split is magical), Kreator, Destruction (the whole 80`s of them), and our beloved old Chilean Scene and his heroes such as Massacre, Necrosis, Pentagram, Rust, Warpath, Betrayed, Atomic Aggressor, Totten Korps, Sadism demos etc.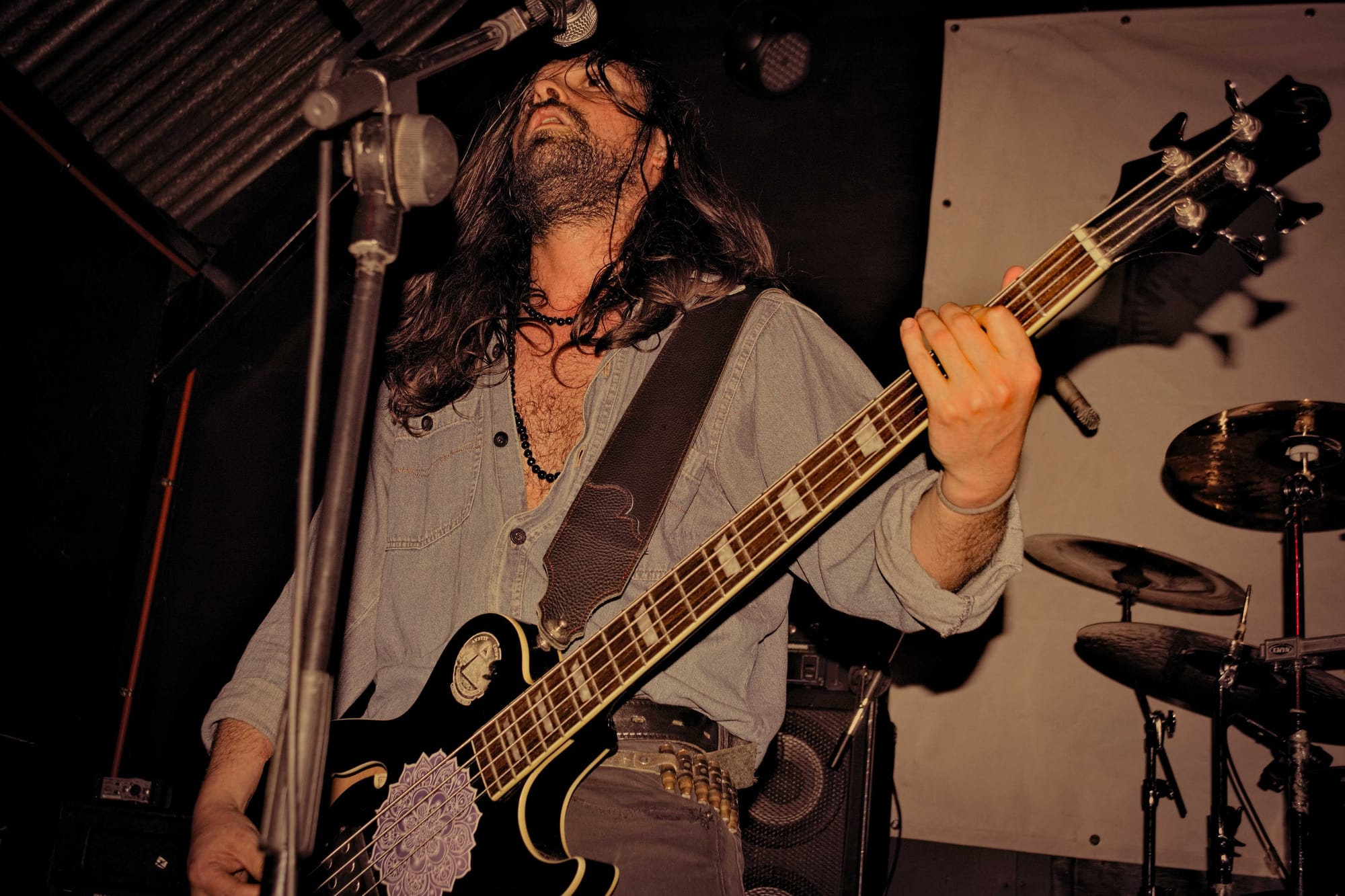 6. Which things, do you think, a Band should sacrifice in order to succeed? Have you ever sacrificed anything in your life for a better future of your Band?
Uff tough question. I`m not sure about what things a band should sacrifice in order to succeed (maybe a big mainstream band must confront something like this, putting in one hand family and friends and the success and fame in the other hand), but is not our case. In our case (in every underground band case I think) the thing is to work and be persistent and patient.
It`s about exercising will no matter what. I became an independent worker in 2013 for the whole purpose of playing music and have the chance to dedicate my life to be creative beside working as a freelance. During that time I recorded three albums and other stuff such as demos and rehearsals (with Acrostic and with other bands I played). Sadly I had to sacrifice that in order to bring security to my family (My woman is my metal partner and we have a daughter together). The whole problem starts with the most important thing in this illusional reality: time. Time is everything, and everything in the end is about how much time are you decided to dedicate for what you say to love.
7. Describe your ideal live show as a performance Band. Have you already experienced that?
We have played live many times, in okupas (squat houses), outside in the woods, small places, and for few times in big places… we have MANY shows on the body and we love doing it. On 2018 we played in the Evil Confrontation Festival in Chile and that was a cool experience, in spite of opening for the whole concert on a Sunday at 12 o clock noon, but the experience was very cool anyway. Maybe we need to win the chance to play again at some concert like that in a better hour, but the fact is that we have played in many different situations so we are prepared to make our stuff wherever we are called to do it, of course with a minimum of precautions and considerations by the organization. We don't ask for excessive facilities, only the fair thing to make our thing the best we can!.
8. Which attributes, do you think, that a new Thrash Metal Band should have in order to gain identity and be unique?
For strange that might sound, I believe that is true important to listen tons of different music besides metal and thrash metal of course. Is important to understand the origin of music that old thrash metal musicians used to listen. Have you ever asked yourself how all the big old bands could create their music? That`s what I'm talking about. Is important to know the influences and even know the context of the music you love… that implicates even to understand what music was considered "the enemy" back then and realize for yourself if its good or no for you. I don't believe in guilty pleasures jaja.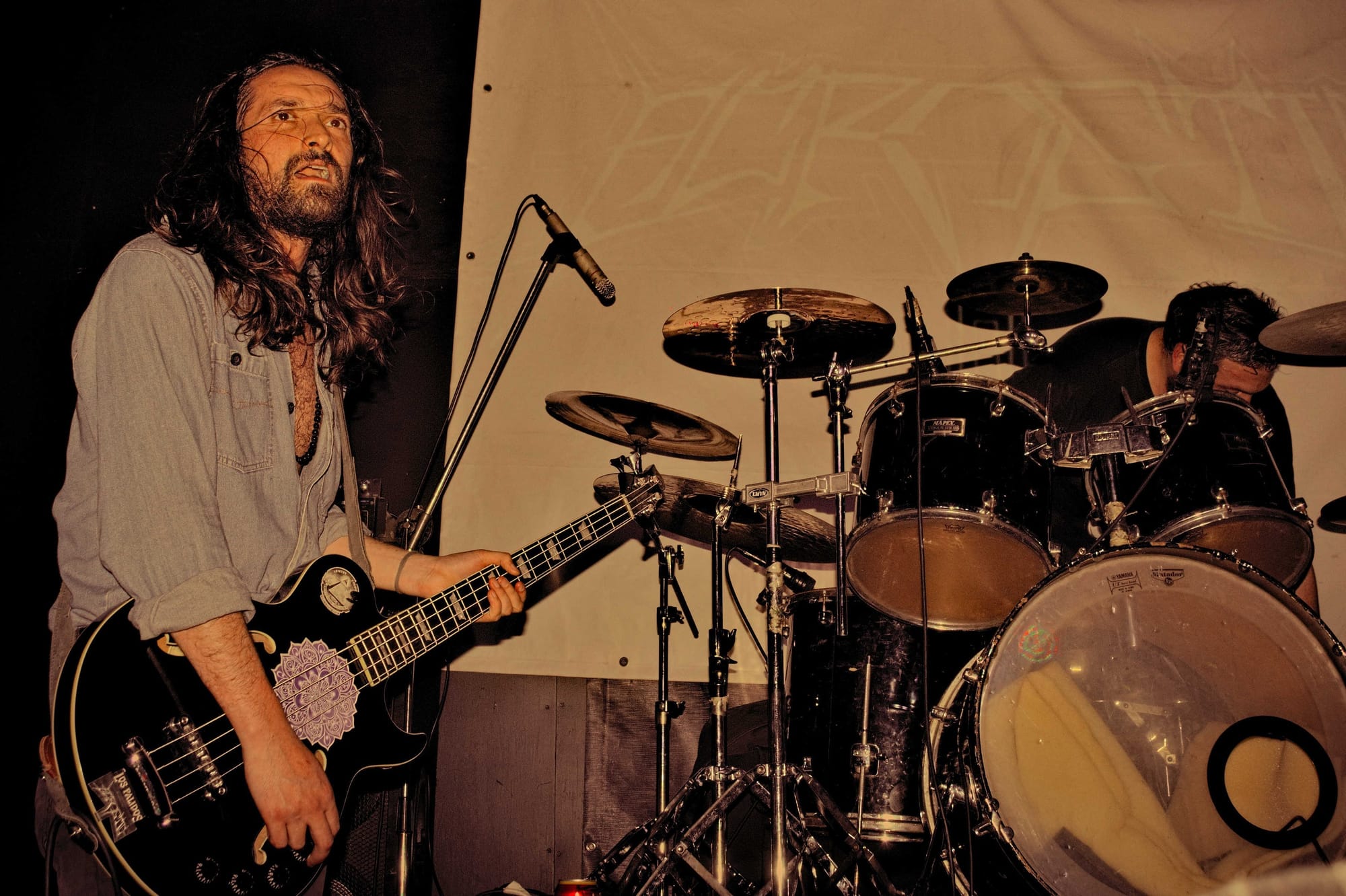 9. Do you believe that Bandcamp and other Digital Platforms help the new Thrash Metal Bands? Which, do you think, is the ideal way for a Band to promote its work?
Bandcamp is fine and offers a good interphase to promote bands and allows to upload tracks with very good sound. I realized that some youtube channels such as "NWOOSTM" kept lot o attention, I would say that`s the best way to promote thrash metal virtually. We got our album on Spotify through CD Baby, but the promotion haven´t been too wide, even being in many platforms. Tape trading is maybe less wide than the internet outreach but is still very effective!.

10. Tell us a few things about the New Underground Metal Scene in Chile (Bands, Fanzines, Webzines, Metal Clubs etc.)
Chile is a very diehard country, has a true primitive spirit, and has to do with our history (our origins as country and the develop through centuries until these crazy days), our etnics. Chile has also a deep connection with the old school (Chile lives an eternal love with music from the 70's and 80`s for example, that never decreases). In that sense, Chile is a very good space to promote old school sound bands, and metal of course is not the exception. In the last 15 years Chile has been visited by so many international metal bands, bands you thought you would never see live, that's very cool. Our metallic prehistory is very mythical and I consider it heroical, considering that when metal started in Chile (1984/1985?) we were in the middle of a military dictatorship, and being a banger was about exposing yourself to be beaten by the cops or worst than that, by intelligence agency.Fanzines in Chile are very old and that tradition stills work and is very strong, but I wouldn't say that is massive. Metal in Chile has many different scenes and some shows mix them and some are dedicated to exclusively one type of scene. There are very good shows live and the facilities and standards for playing has increased very much in comparison with the old days. We have tons of amazing bands from very different kind of metal styles, and many has released at least a demo, but you definitely can find a trading scene. Black metal scene here is very strong and bands have many hi standard productions by labels such as Proselytism, Apocalyptic prods (to say a few, there are more!). If I have to mention something bad, that would be the gossip and the extreme artificial difference that some establish among the scenes. We are very lucky for having the chance to participate and play in concerts with very different bands. We don't mind those differences really.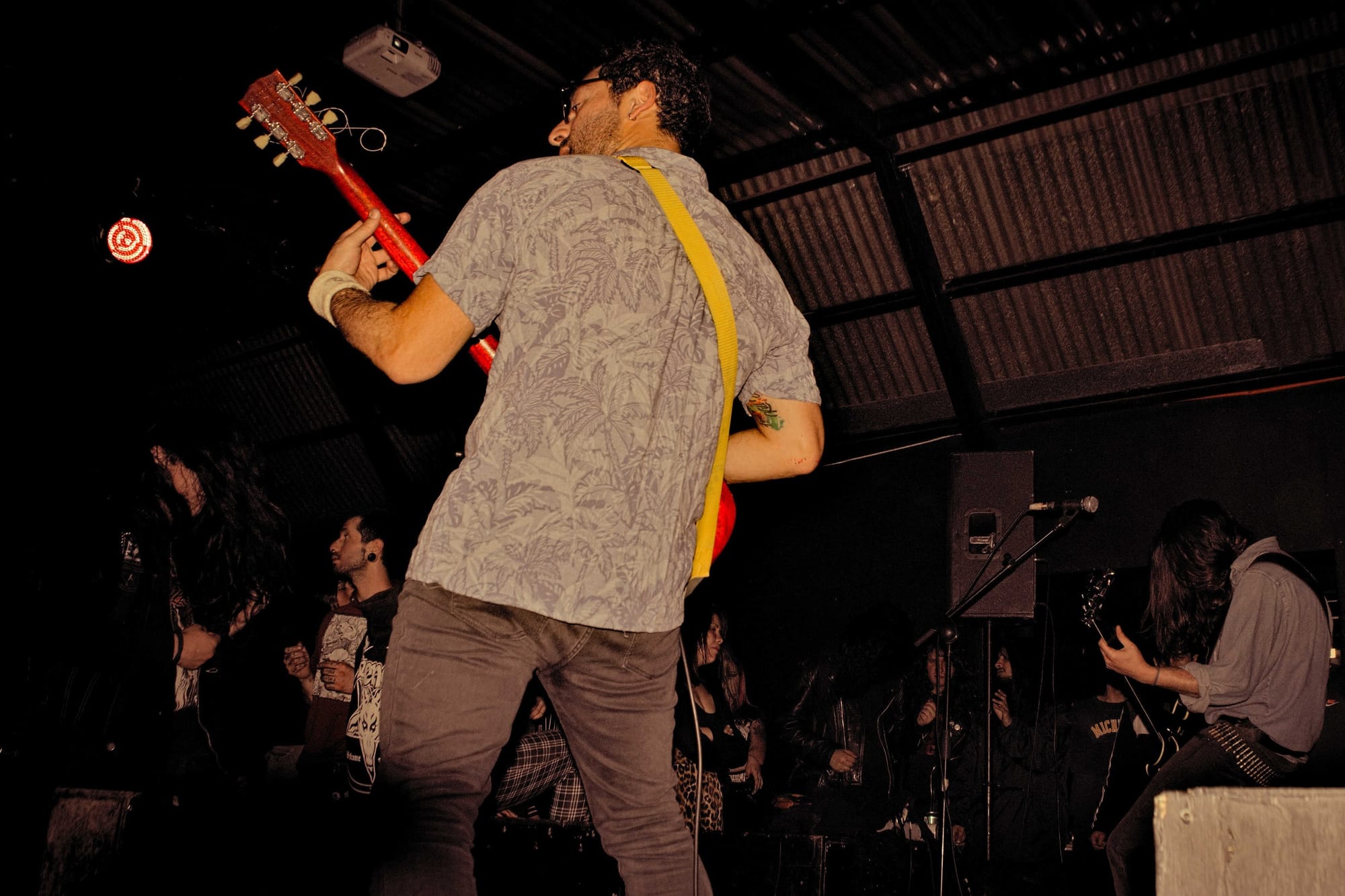 11. Do you know anything about the Hellenic Metal Scene?
Of course, we were very influenced in our beginning by Flames (band) "the Last prophecy" album is an amazing lp, amazing work.
I personally enjoy Unholy Archangel and Dead Congregation (Grave of the Archangels, amazing album). Varathron and Kawir also came to Chile a few time ago (Dead Congregation too).
12. What are your future plans?
Releasing our next new album this year (2020) and hope to release it in every format as possible (including a 12'' version, that would be killer). And hoping to travel as much as possible outside our city to promote and share our work with everybody that enjoys what we do. A tour outside Chile would be amazing, but that belongs to the dreams not yet released.
13. Thank you very much for your time & Keep up the good work! The closure is yours.
Thank you very much again for this chance to answer and promote our work and our history, we hope to got some copies soon traveling through the old lands of Pitagoras and Plotinus.
Hail Filthy Dogs of Metal!
Best wishes
NOISETHRASH ATTACK.
By Steve the Filthy Dog.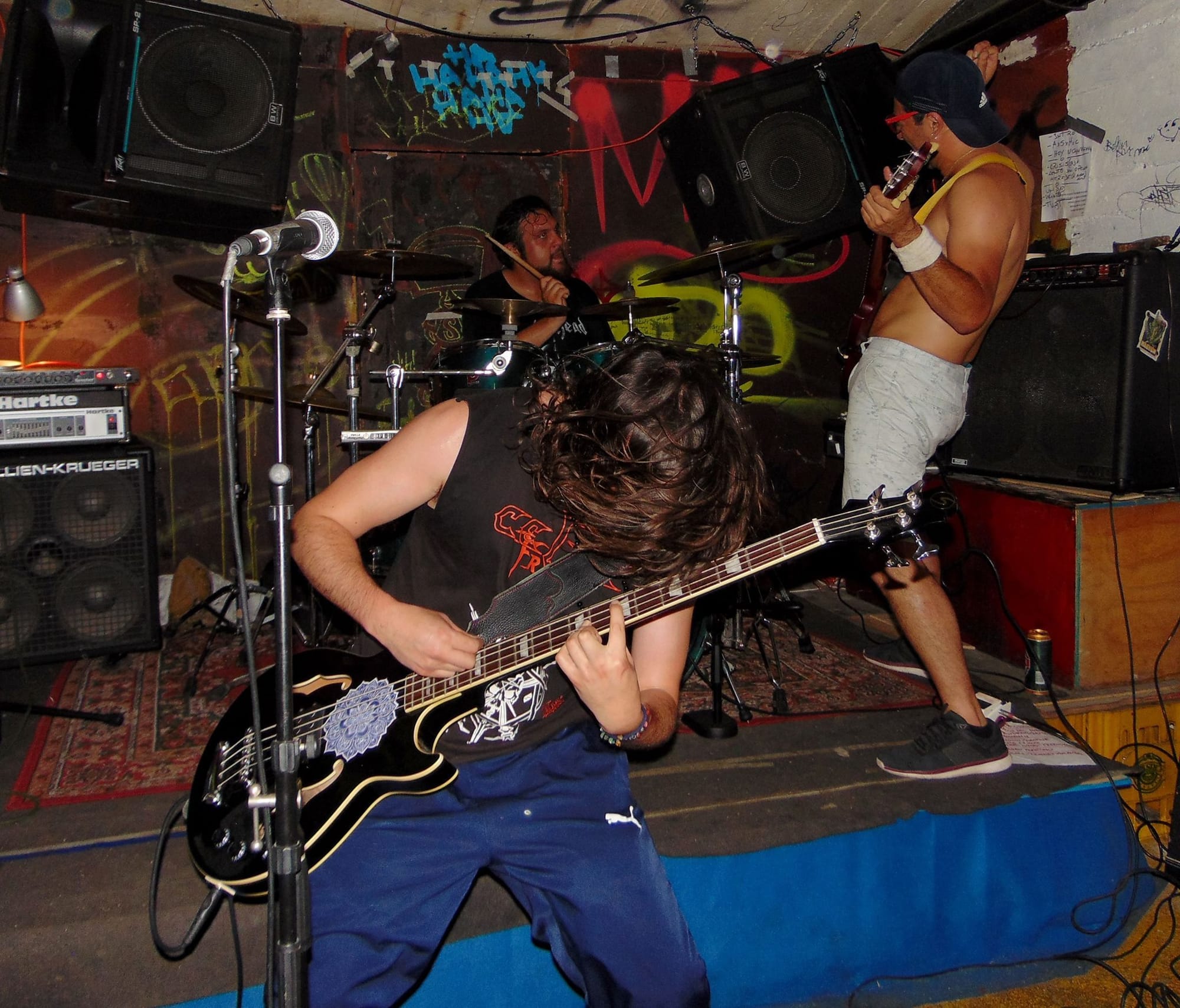 ACROSTIC CONTACT:
https://www.facebook.com/noisethrash/