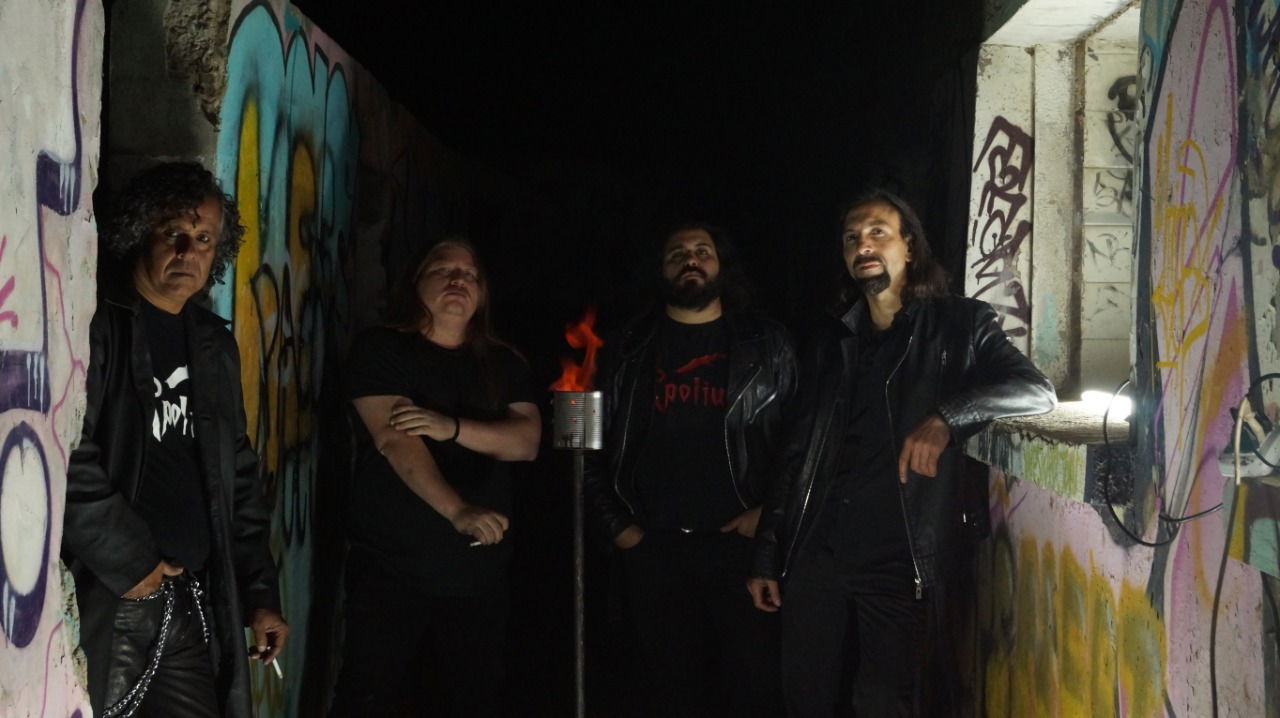 !!!CHILEAN HEAVY METAL!!!
We had a conversation with APOLIUM. Enjoy!
Welcome to the FILTHY DOGS OF METAL Webzine.
1. Tell us a few things about APOLIUM (Members, Starting Year etc).
Marco Pincheira (Lead guitar): For me the band started when we got together for a rehearsal, and I took a half song that I had at that moment, now it´s called "Birth of venus", and we started to play it, the other guitar follow and then all the band… for me that moment was the starting year for Apolium… 2015 I think.
Marco Sandoval (drums): Apolium is formed in May 2015, with a clear idea of making Heavy Metal. For the beginning, I only knew Iván Peña, since with him we had shared experiences in another band of a similar style.
Ivan Peña (Vocals): In 2015, the idea of forming a band that made a proposal of metal music emerged, without having a clarity of style within the genre, what we wanted to do, simply, was music, no matter of being pigeonholed in a metal shed, if you listen to the album, you will see very different songs from each other. We were 5 members, but one of them retired, looking for other musical spaces within the genre. We are currently 4.
Cristian Zuñiga (Bassist): My Name is Cristian Zuñiga, I am 31 years old, I am the bass player of the band and I am part of Apolium from the beginning. Apolium is a heavy metal band, the opportunity to belong to it, was born with the proposal of the vocalist (Mr. Iván) through a phone call, without even invited me a beer ... The proposal took me by surprise, so my answer was that I would support patching in the band for a while, that means I´m still patching (joke). What I highlight most about the band is virtuosity, tolerance, concern and the effort of the members, which are the pillars of Apolium.
2. Recently you have released your new album. What is the Feedback from your audience as well as from the Press?
Marco Pincheira (Lead guitar): Thanks first to Anderson Tiago for the support to our album uploading it to his chanel NWOTHM Full albums, for me it´s an honour to be there with all the guys who are adding a Little brick to our beloved Heavy Metal, the feedback are great, much better than we expected. That my guitar riffs sound like a 80 metal band makes me think that i´m on the right path.
Marco Sandoval (drums): I think the reception of the general public has been quite good. I have noticed that people appreciate the fact of listening to a more classic heavy metal, with music that is friendly to the ear, and that recognizes that the band is putting together its own style with a definite stamp.
Ivan Peña (Vocals): We have had a good reception, in general terms, we have not been free of criticism and we value them, because with them we can improve what needs to be improved; Our first appearance has been on different platforms and in them good opinions are collected, as well as many specialized media, they have been interested in contacting us, to achieve greater dissemination. Grateful of you for this space that allows us to get to know a little more.
Cristian Zuñiga (Bassist): In the short time of the release of the álbum it has been possible to observe a very good reception by the public, the foreigner being more prominent than the local… however I am very happy for the acceptance we have had.
3. Label or DIY and why?
Marco Pincheira (Lead guitar): we are more like a DIY band, but we are open to consider a label in the future.
Ivan Peña (Vocals): We have worked our LP in a recording studio, our interest has always been to generate as professional a job as possible, so when we started, the decision to work with a studio was spontaneous.
Cristian Zuñiga (Bassist): The disc was made in a record studio, called "Santuario Sonico", we dedicate a lot of time, passion and money; in the realization of the disc and make it as professional as possible, presenting a quality work.
4. Do you prefer Vinyl, Tape, CD or Digital Format and why is that?
Marco Pincheira (Lead guitar): I like the old stuff, but nowadays the digital format it´s a better distributor.
Marco Sandoval (drums): Obviously, all broadcast formats are welcome, since we want the band to reach the largest number of people, for that, we must be able or open minded to arrive with the format that the public wants.
Ivan Peña (Vocals): Actually, I don;t have an opinion about it, I think that all formats are valid, we see that there are many people who have a special interest in any of them, in tastes there are no laws, everyone values a format for different reasons: sound, collections, styles in underground culture, etc.
Cristian Zuñiga (Bassist): Personally I prefer the CDs and digital files, the compact discs capture all the sounds as it was recorded, which is why they have the total sound obtained from the mastering of the songs; the digital format is also a very good alternative since the technology is accessible to the public; The acquisition and reproduction of Apolium's music or songs can be easily expanded, and can become known worldwide.
5. Your music style is Heavy Metal. Which are your main influences (Favourite Artists / Bands etc.)
Marco Pincheira (Lead guitar): Well there is Running Wild, I learned how to play guitar with Running Wild songs, there is also Black Sabbath and Manowar.
Marco Sandoval (drums): My main influences are Accept, Krokus, Kingdom Come, Grave Digger, Primal Fear, Judas Priest, Iron Maiden.
Ivan Peña (Vocals): I think we are in the heavy metal line, our influences are diverse in rock and metal styles, I think this makes our music feed on different styles, enriching our looks on the songs that we compose, personally, I am a Follower of Kiss and Judas Priest, in addition to other bands: Wasp, Accept, also from national bands: Eternal Thirst, Iron Spell, Battlerage, among others.
Cristian Zuñiga (Bassist): My main influences were born at age 12 with: Mercyful Fate, Iron Maiden, Slayer, these bands were the ones that opened the path of metal, especially the disc that exploded in my head when I heard it "Dont break the oath "From Mercy, this triggered the desire to start playing the melodies of the great Timi Hansen (RIP) - bassist of the band.
6. Which things, do you think, a Band should sacrifice in order to succeed?
Have you ever sacrificed anything in your life for a better future of your Band?
Marco Pincheira (Lead guitar): Time, Money, Girlfriends, Family, band members… this is the way… but somewhere in time you´ll find the way to put some balance of the force.
Marco Sandoval (drums): Obviously, the sacrifice must be continuous, in my case, many times I must sacrifice time with my wife and my children, because we must record, rehearse, compose or any activity related to the band. That is a very important aspect that must be considered by each member of the band.
Ivan Peña (Vocals): When you take the challenge of working in a band, beyond style, I think you assume a series of costs: personal, family, economic, labor; That is why it is important that all this effort be paid off: that people like your work, that you can project beyond your country. If that is achieved, the effort was worth it.
Cristian Zuñiga (Bassist): I believe that you have to sacrifice time, money and this is followed and will continue to be done in order to achieve what you want as a band.
7. Describe your ideal live show as a performance Band. Have you already experienced that?
Marco Pincheira (Lead guitar): Well Ideal show would be at Wacken! And nope, I haven´t experienced that… yet!
Marco Sandoval (drums): My ideal show will always be to play in places that have a powerful sound, with a generationally varied audience
Ivan Peña (Vocals): An ideal show for me, is to have an enclosure that houses a lot of public, a stage that meets all the necessary conditions, to be able to deliver to them the best of us, that people sing your songs, I think every band dreams of a moment like this and if we add to be part of a festival and share stages with consecrated bands, it would be perfect, you have to work to achieve it, it is not impossible.
Cristian Zuñiga (Bassist): The ideal show would be on a giant stage, good sound equipment, volume at all it can takes, see people enjoying, especially singing and headbanging the songs at full speed.
8. Which attributes, do you think, that a new Heavy Metal Band should have in order to gain identity and be unique?
Marco Pincheira (Lead guitar): Play with the heart, feel and live what they play, using a metronome would´t be a bad idea
Marco Sandoval (drums): The search for your own style is very important when it comes to show, a band can be very simple in terms of musical composition, but if it does not show something attractive to the eye, it becomes a band more.
Ivan Peña (Vocals): Uff difficult question, personally, I think that in metal is difficult to find a new sound, if we see the current bands, many remake a base metal sound that has been going on for years, even us. What would make a difference is the attitude, the speech with which a band stands in front of an audience.
Cristian Zuñiga (Bassist): I think you should play what you like, find your own identity. We as Apolium, we try to do that, I mean, we play what we like, we create new sound, we mix styles, since we all have different visions and musical preferences, but with a good conversation, a cold beer, some brainstorming… we come to Create songs that identify us.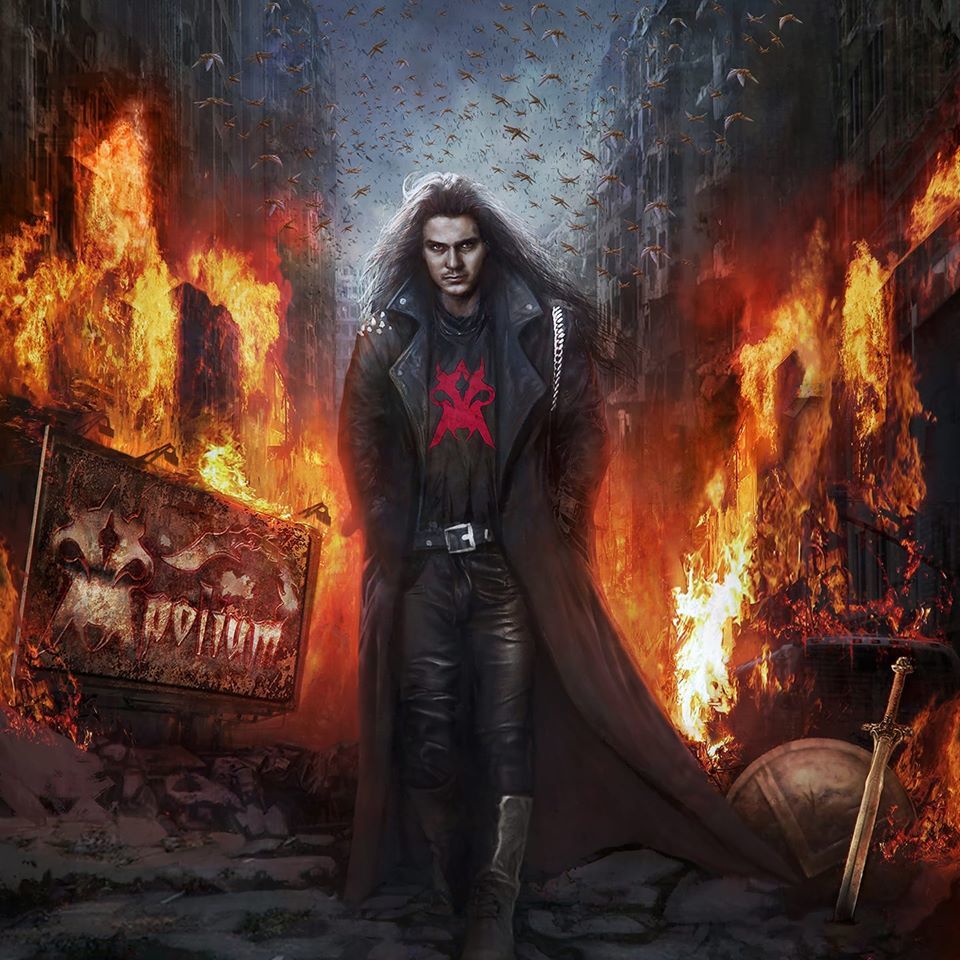 9. Do you believe that Bandcamp and other Digital Platforms help the new Heavy Metal Bands? Which, do you think, is the ideal way for a Band to promote its work?
Marco Pincheira (Lead guitar): Platforms do help a lot!, if you know how to use it. You have to cover the basics, Spotify, Itunes all where your music can be found it´s a good platform.
Marco Sandoval (drums): Obviously they help, those of us who have been in music bands for some time, we know the help these applications provide. Compared to about 15 or 20 years ago, we only had tape recorder machines. Now you upload a video on YouTube, you can immediately make yourself known worldwide.
Ivan Peña (Vocals): Today, all platforms are useful tools for dissemination, which does not change or subtract that you can continue working in traditional formats: Vinyl, CD, tape, etc.
Cristian Zuñiga (Bassist): The digital way is a very popular source of distribution, as I said earlier the internet and technology help bands like us to expand and make ourselves known.
10. Tell us a few things about the New Underground Heavy Metal Scene in Chile (Bands, Fanzines, Webzines, Metal Clubs etc.)
Marco Pincheira (Lead guitar): The Underground in Chile started long ago with bands that show that we can do some pretty good heavy metal. This last years has grown in particular for the great bands that we have, there is a powerful sound and most of us respect what we do.
Marco Sandoval (drums): Today the scene in Chile has bands of an excellent level, often nothing to envy in terms of composition or sound to large bands. We could name among these bands Eternal Thirst, Heiligen, Iron Spell, Lucifer Hammer, SteelRage or Battlerage.
Ivan Peña (Vocals): There is a lot, a lot of activity around heavy metal, many bands have emerged that are permanently taking out material, there are many media that follow the heavy metal scene, in social networks people specialized in the style, during the week many concerts are made in different Local scenarios, it is very gratifying to see that this movement is very much alive and with great exponents.
Cristian Zuñiga (Bassist): In Chile the staging is varied as there are bands: heavy, speed, thrash, death, black; So you can find very good bands for all styles. In Santiago de Chile. There are very marked places where metal is played, within you can find: "Bar Oxido", "Mi Bar", "Rock y Guitarras", "Bar de Rene", "Bar 38", "Arena Recoleta"; just to name some in which different concerts are made. Website Chileanmetal.net is a platform that shows different bands from all over Chile and is a very good page.
11. Do you know anything about the Hellenic Metal Scene?
Marco Pincheira (Lead guitar): I know a few bands from it, I like very much Marauder, the greek revolution begins!! Some serius shit!. In fact you can find we made some songs to tribute some stories like Odiseo, Battle Formation base on "300" the spartan film.
Marco Sandoval (drums): I don´t know it.
Ivan Peña (Vocals): It is a vigorous scene with many styles: heavy metal, power, thrash, death, black; We cannot fail to mention the great Rotting Christ; personally, a band that catches my attention for its mythological and epic theme is Sacred Blood.
Cristian Zuñiga (Bassist): I don´t Know it.
12. What are your future plans?
Marco Pincheira (Lead guitar): I´m working on the second album, hope to be ready this year 2020, keeping the same heavy metal seal that the first Disc. And also we are preparing some alive shows very soon.
Marco Sandoval (drums): The main idea is to work this year 2020 in the composition of the second LP, accompanied by audiovisual material. Obviously, one as a musician, aspires to take his music internationally in some massive festival.
Ivan Peña (Vocals): To remain linked to the world of music, to the world of a band, the feeling of being able to make the music that you like, is incomparable, more when you do the damn heavy fucking metal, nothing compares to this. We have to keep going
Cristian Zuñiga (Bassist): My plans around music is that with the launch of the disc in digital format and once recovered from an intervention I had in my arm, to start with the songs of the second disc and reach with Apolium the international market.
13. Thank you very much for your time and Keep up the good work! The closure is yours.
Marco Pincheira (Lead guitar): Thank you for giving this platform to us heavy metal bands. Keep the heavy metal flaming.
Marco Sandoval (drums): To close this interview, it is always necessary to thank those who support us in this, to thank my wife and my two children, who are the ones who must understand the work that this entails. Second, everyone´s invited to listen to our album, on the different platforms on which it is. Apolium is coming for you!
Ivan Peña (Vocals): Thank you very much for inviting us to participate in your site, we are very grateful for your interest and excellent treatment, see you. A hug from here, Chile.
Cristian Zuñiga (Bassist): Thank you for the interview, for the interest in our band and work; Waiting for one day not too far away, you sponsor us and invite us to play there (jajaja). I say now goodbye with the pure Chilean heavy metal.
By Steve the Filthy Dog.
APOLIUM CONTACT:
https://www.facebook.com/Apolium-834456789973791/