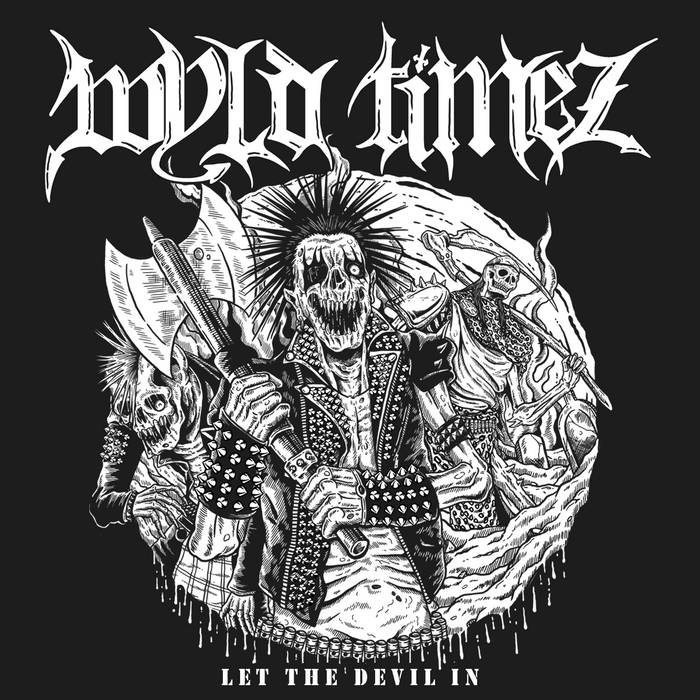 WYLD TIMEZ - LET THE DEVIL IN
Country: USA
Year: 2022
Label: Road Rat Records
WYLD TIMEZ hailing from Cleveland, Ohio. ''Let the Devil In'' is their brand new EP and for this release I would say only 3 words '' PUNK FUCKING METAL''!!! The man behind WYLD TIMEZ is the multi-talented J. Void. We had a conversation with him for their previous EP ''Wyld Timez'' which you can read it HERE. The First song of the EP is ''Devil Woman''. Oh man!! What a great riff is that? Powerful guitars with fast drums and the screams from J. will tear your ears!! Great opening song!! Second song is ''Burn''. Aggressive fast double bass drumming, with loud screaming guitars & together with the bulldozing bass will crush your bones into million small pieces. FUCK!!! This song is so badass!! Check it out motherfuckers!!! Third song of the EP is ''86'D'' . Oh Gee!!! What a song!!! Amazing!! Passionate old school pure speed metal with many classic heavy metal elements (especially in the middle of the song!) that will make your blood boil!!! The guitar work of J. is so fucking awesome and the sound that he used in the guitars are hellish!!! Fourth song is ''Death From Above''. Solid playing here like a concrete fist with great punk/crossover guitar solo phrases that will give you goosebumps & make you bang your head till they will bleed!! In the continue we have ''Thunder & Steel''.This song comes from the depths of hell!! Awesome sound, freshy and with all the metallic elements. The main riff is sharp like a razor and the sound of the guitar is killer, with solid bass, bombastic drumming & nasty evil vocals. One of the highlights of the EP, together with ''Devil Woman'' & ''Burn''. Last song of the EP is ''Whiskey Suicide''. Heavy rough guitars with classic rockin' riffs, awesome beats on the drums and wild singing from J. Void! The ideal soundtrack for an endless heavy (metalpunk!) night drunk with Whiskey!!! Produced, engineered, written and recorded by J. Void . Additional guitar solo on ''Thunder and Steel'' by Serge Streltsov. Additional drum tracking by Thom Tadsen. Mastered by JB Van Der Wal. Album art & logo by Nanu Nano Design. So, if you are a maniac of VENOM, MOTORHEAD, WARFARE, GBH, MIDNIGHT etc.. then WYLD TIMEZ are here for you mutha! !Grab ''Let the Devil In'' EP or rot in the mainstream shit! You've been warned...
''LIVE AND DIE FOR SPEED''
By Steve the Filthy Dog.
WYLD TIMEZ CONTACT:
https://wyldtimez.bandcamp.com/
https://www.facebook.com/wyldtimez/
https://www.instagram.com/wyld_timez/