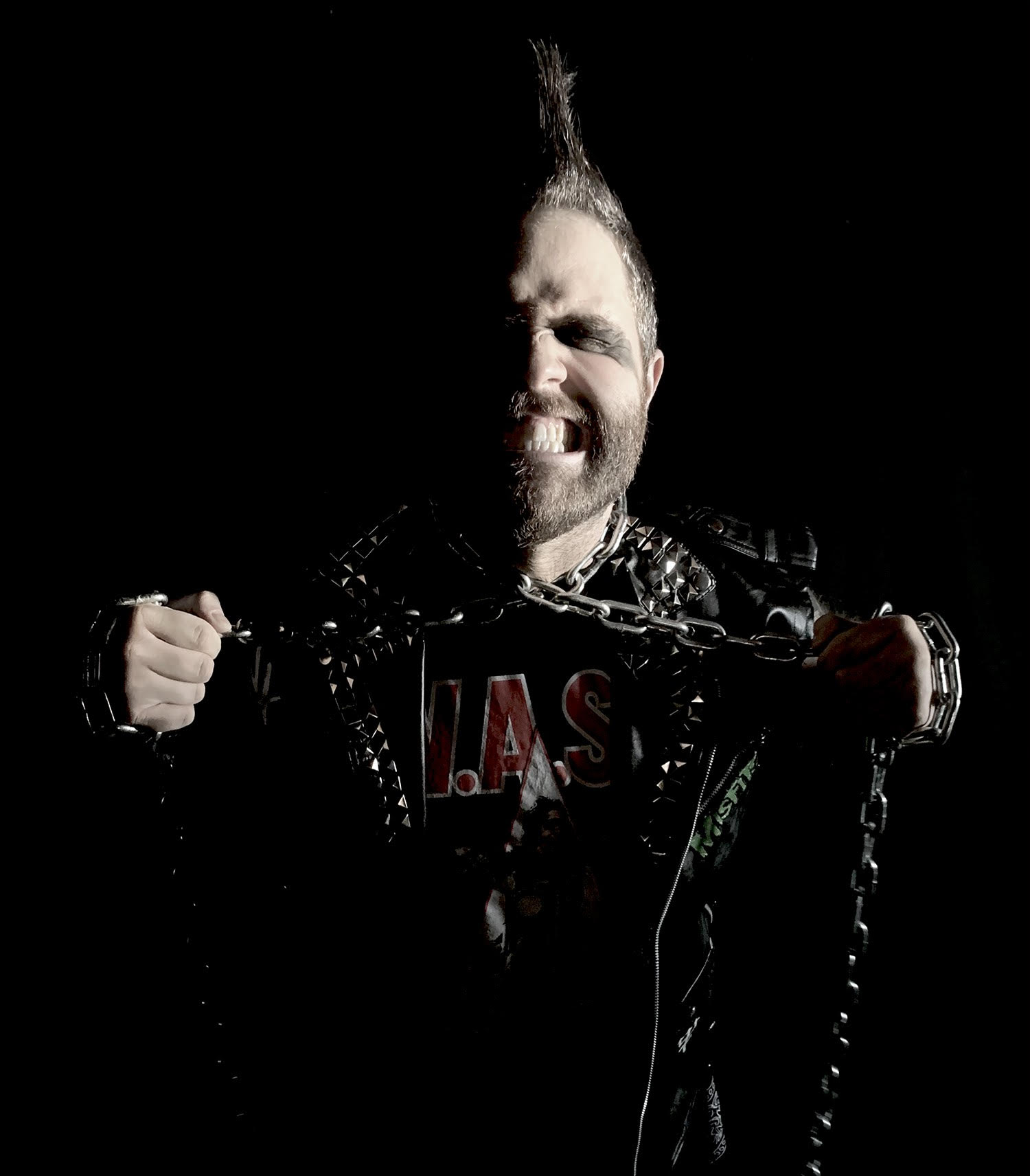 !!!WHISKEY FUELED METALPUNK FROM THE USA!!!
We had a conversation with J VOID. Enjoy!
Welcome to the FILTHY DOGS OF METAL Webzine.
Tell us a few things about WYLD TIMEZ (Members, Starting Year etc).
Wyld Timez has been in the works for quite some time. The initial launch started in 2020 during the covid pandemic. I felt like the name was appropriate and people could use something that may remind them of better times, I think that's where the sort of 80's inspired sound comes from. It's just myself (J) that writes and records everything, as the project is largely a "solo" endeavor, for lack of a better word.I have a few really good people that assist me with performances; Luis from Drogheda and Dom from Burial Oath have been extremely helpful in getting the live piece off the ground.

You have recently released your new album ''Wyld Timez''. What is the Feedback from your audience as well as from the Press?
So far so good - things have been largely positive. I am extremely grateful and humbled by the amount of support and praise it's garnered. It's still so weird to me that it is what it is. I really just wanted to put my thoughts and feelings on paper, and create something I wanted to hear myself. To see it move the way it has is incredible, especially since I'm just some dude writing music in a dirty basement, and having a good time with good people. I can't thank the supporters enough.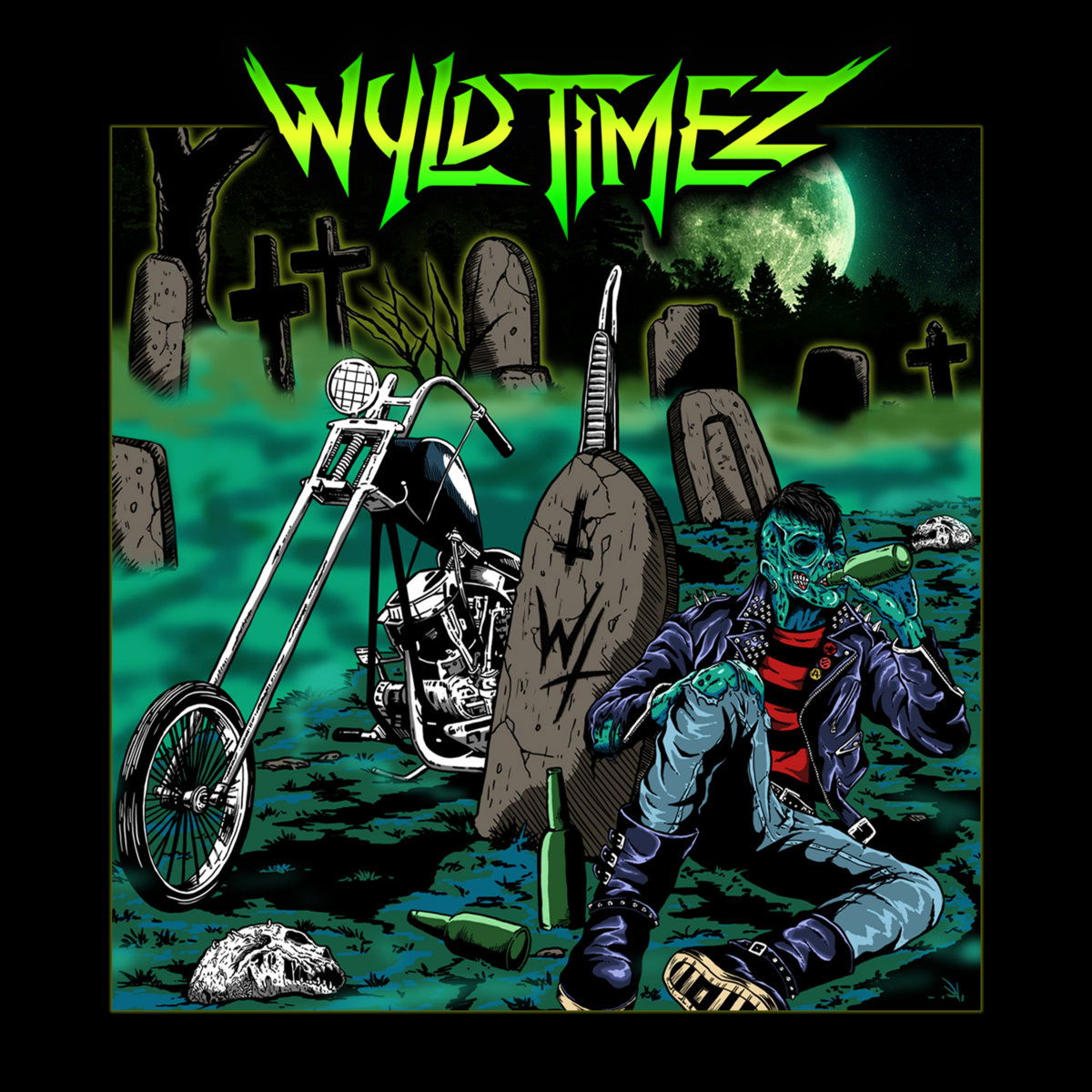 Label or DIY and why?
Really good question, and I think it's loaded. Obviously Wyld Timez is on Roadrat Records, and Dom who runs the label has been instrumental in the success for this thing. While he helps with the distribution and promotion, a lot of the videos and web design have all been done with our own hands, so I think we sort of have one foot in and one foot out in the DIY/Label debate. For most larger deals to reach a broad audience, you have to sign your rights away essentially, and I'm not really willing to do all that. Roadrat really believes in the music - and when you find someone like that; that's willing to do their best and hustle for you, that's the kind of deal you want to take advantage of.

Do you prefer Vinyl, Tape, CD or Digital Format and why is that?
Hand over fist a vinyl guy! I still collect CD's as well. I'm probably the only guy on earth seeking older vehicles to keep my CD player! Vinyl is just about the experience. I love listening to records from start to finish, I think it should be done that way. But I'll take anything I can get my hands on, really. Anything to show support for fellow artists and labels. Physical formats are always best.

Your music style is MetalPunk. Which are your main influences (Favourite Artists / Bands etc.)
You know I didn't really consider it "Metal Punk" until somebody close to me said that's what it was. I just went into the whole thing trying to have fun and blend a multitude of genre's and influences. If I had to pick my favorites artists, you'd likely get an odd mixture of 80's glam and 90's Black Metal bands, some of which have influenced Wyld Timez for sure. As far as influences, I'd largely have to give that one to Motörhead - there's just nobody who's done a better job musically in my opinion. I would also throw Van Halen and Misfits in there, along with the darker acts such as Vanik, Midnight, and Venom. King Diamond, too! It would be disingenuous of me not to mention those bands.
Which things, do you think, a Band should sacrifice in order to succeed? Have you ever sacrificed anything in your life for a better future of your Band?
That's a interesting thought for me. If you want to go the distance, you largely have to sacrifice an immense amount of comfort and stability - I certainly have to an extent in a past life. Money, relationships, jobs, etc. - and certainly not to the extent that others have. I don't necessarily agree with it. Every good artist, and of course I say that subjectively, should have a shot without giving up everything that helps them live a quality lifestyle. If we had less people spending their money on a $5 cup of coffee and instead invest that back into an artists, we'd likely see more success for those underground bands without signing those aforementioned sketchy deals from the big time labels.
I'd rather spend my money on a piece of art that lasts forever. But to each their own!

Describe your ideal live show as a performance Band. Have you already experienced that?
That's something entirely subjective to the artist and the kind of music it is, I think. There's a "ceremonial" approach, largely seen in the black metal community, that I think works very well depending on the type of atmosphere those artists want to create. Having played that type of music as well, I think that approach works best. Bands like Wyld Timez are more about the personality and connection to the audience. If you come to a show, I'd like it to be personal, energetic, and I'd like the listener to know who I am and what we're all about before they leave. There's no layers here, other than the lyrical content. What you see is absolutely what you get in our regard - uncensored and unfiltered.

Which attributes, do you think, that a new MetalPunk Band should have in order to gain identity and be unique?
This is a question that I think is way out of my depth, being that I'm not sure "originality" is totally a concept of its own anymore. Pardon the long winded answer here -Everything has been done. There's some that do it better, and there's some that add this influence or that influence, but to me, music is music, and I just want to have a good time. I think having fun is number 1, and being genuine is number 2. I think people will see that - if you're not yourself people will see through it. If you're transparent, approachable and honest, and you're having a good time doing it, listeners and followers will naturally gravitate. But maybe I'm not even the right guy to answer the question? Who knows?

Do you believe that Bandcamp and other Digital Platforms help the new MetalPunk Bands? Which, do you think, is the ideal way for a Band to promote its work?
Yeah I think so. I'm not even sure I'm the guy to give a definitive answer on this one either, though? Bandcamp is a fantastic tool - easy to host music, promote, release and handle distribution through. As far as promotion, I'm just doing the best I can with the hand we've been dealt; being in a world of online platforms and a severe slow down in live performances and travel. But again, I think a genuine personality will be more accepted than the "Hollywood" mentality. Patience and humility go far - and to be completely vulnerable, it took me several years of doing things the wrong way to discover and learn that. I would also argue that type of mentality and maturity comes with age, though. Maybe, maybe not? I'm sure there are people out there with a much better understanding of how to make it work, and if anyone has advice to send my way I'm all ears!
Tell us a few things about the New Underground Metal Scene in Cleveland,Ohio, USA (Bands, Fanzines, Webzines, Metal Clubs etc.)
It's funny, for a long time Cleveland has been considered the city of rock n roll here in the states. There are a handful of really great promoters, bands and clubs out here helping us. But I would still argue politics plays a huge roll in success here, as it does anywhere.If you're not cool with this person or that person, you don't get booked. It's a real issue everywhere, though. Everyone is in it for the money, instead of being in it for the right reasons. We all do this because we love it, and at some point the dollar signs became far more important that the passion.I would say the best example of doing things right is a club called Now That's Class - they're here because we are, and they give us bands a platform to do what we want and like to do. The Foundry does a great job as well. Grateful for those who have given all of us a stage to play on and stay young.As far as music, I've always been into the death metal/black metal/punk scene. There are so many good artists in those underground communities it'd take me forever to list!
Do you know anything about the Hellenic Metal Scene?
Honestly not too much. Personally, I dive hard into underground bands. I pay very little attention to where they're actually from until it's time to pay for shipping! It's always been about the music for me. If I like it I'll listen! Send some bands my way - I'd love to check them out!
What are your future plans?
I just want to perform again. It's been a while. We've been getting our fix by doing small jam sessions in the basement to 5 or 6 people during parties but it doesn't compare to playing out. Until then, I'm finishing up the second record, and hoping to do a slew of covers from some of my favorite artists. I'm not really sure and I certainly wouldn't say anything is carved in stone. If it takes another 18 months to perform regularly again, I'd say a hell of a lot can happen.
Thank you very much for your time & Keep up the good work! The closure is yours.
Thank you for reaching out and just a profound thank you once again to those who have supported this or have been a part of it. Lastly, take a few minutes every day and build each other up, support your local/favorite musicians and support the underground. Be selfless and have fun. Cheers!
By Steve the Filthy Dog.
WYLD TIMEZ CONTACT:
https://wyldtimez.bandcamp.com/releases
https://www.instagram.com/wyld_timez/