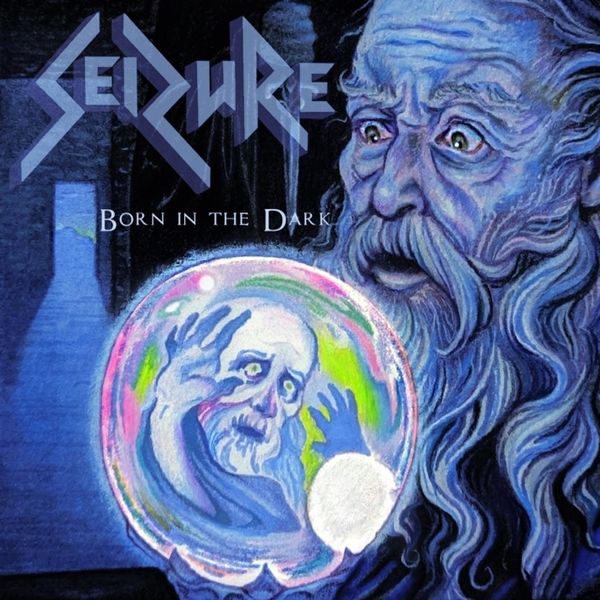 SEIZURE - BORN IN THE DARK
Country: USA
Year: 2021
Label: Independent
SEIZURE is a Speed/Thrash Metal band from Los Angeles, California, USA. In my humble opinion the band deserves to sign a contract with a record label. This is easily understood from the opening songs of the ''Born In The Dark'' album.
The album contains 10 songs:
1. Judgment
2. Phantasm
3. Born in the Dark
4. Crystal Ball
5. The Message
6. Dear Boss / From Hell
7. Holy Relics
8. Hunting Season
9. Lowlife
10. Djinn's Curse
SEIZURE play a fantastic Speed/Thrash Metal combining the emotion of old MEGADETH (1988 - 90 era) with the power of METALLICA, EXODUS and TESTAMENT. Actually Joey Love's voice (and his guitar riffs of course) sound a lot like Dave Mustaine. All songs of the album are fantastic covering the whole spectrum of the American 80s & 90s Speed/ Thrash Metal scene. Highlights of the album are the songs: ''Phantasm'', ''Born in the Dark'' (Check the video clip), ''Crystal Ball'', ''Holy Relics'', ''Hunting Season'' & ''Djinn's Curse''. Also, I must mention here the fantastic guitar work of Joey Love together with Ira Black IV & of course the amazing rhythm section of Ezra Behrens on bass & Justin Pittman on drums. The production of the album is crystal clear and it has a really beautiful cover artwork with dark & magic atmosphere made by Lydia Chase.
Producer: Ira Black III
Co-Producer: Joey Love
Engineered by: Adair Daufembach
Generally SEIZURE is a band which is not afraid to show to the audience their main influences such as MEGADETH / METALLICA / EXODUS / OVERKILL or even sometimes influences from PANTERA. However, they filter those influences with their own style. Support SEIZURE and buy the ''Born in the Dark'' album (I am one of the lucky ones to have the album fully signed by the band in my collection, thanks mates!) because they deserve it.
By Steve the Filthy Dog.
SEIZURE CONTACT:
https://www.instagram.com/seizure.ban...
https://www.facebook.com/seizureoffic...
Youtube: https://youtube.com/channel/UCEAWG0oL...
Spotify: https://open.spotify.com/artist/6LjNu...
iTunes: https://itunes.apple.com/us/artist/se...
Apple Music: Seizure on Apple Music