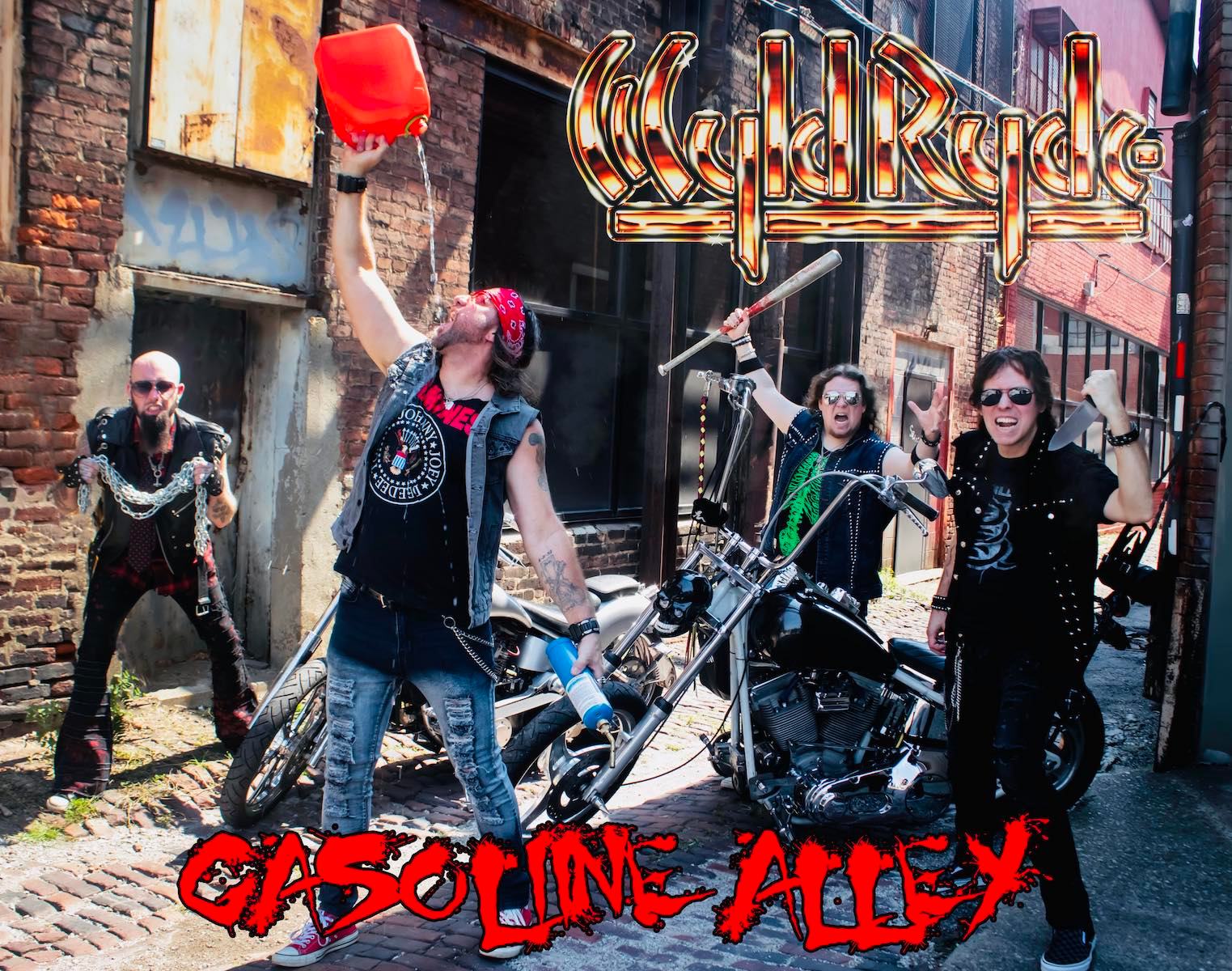 WYLD RYDE - GASOLINE ALLEY
Country: USA
Year: 2021
Label: Independent
WYLD RYDE is a kick-ass Hard Rock/Heavy Metal band from Louisville, Kentucky that formed in 2017. Their first release was the EP ''City Street'' which was released back in 2018. On 17th of December 2021 they are back with their newest album ''Gasoline Alley''. You can learn more infos about WYLD RYDE HERE. The first impression that the listener takes from the cover artwork is that WYLD RYDE is a badass motherfucking hard 'n' heavy metal machine that is gonna blow you away with their kick-assing street metal music!! Four hard and wild rockers dressed in denim and leather with spikes, holding in their hands knives, chains & baseball bats ready for a street fight like real gang members, inside a dangerous alley with their motorcycles drinking gasoline!!THIS IS FUCKING AWESOME!!! The album starts with the ''Gasoline Alley'' (Check the music video!!). Oh man!! What a song..straight from the glorious 80s era. Double bass drumming, bass lines which are ready to break your spine, catchy guitar riff and a solo that will make you bleed! The vocal lines have a street metal attitude and they are awesome together with the chorus in the refrain! ''Gasoline Alley'' song is a MUST for every hard 'n' heavy metal bar/club in the dangerous and forbidden districts for posers worldwide. Next song is ''Hold On Me''. Heavy song with passionate vocals and a refrain that will stick to your mind ''You Ain't Got Ahold On Me''!! Great tune!! Third song is the ''Alone'' (my favourite song together with the ''Gasoline Alley''). So atmospheric & sentimental track. It is not a typical ballad for crying little pussies. Is a powerful and full of passion song & passion is the secret ingredient that is missing to most of the new bands. The riff in the middle of the song is cutting like a razorblade!! ''Alone'' is a MUST song for every true headbanger, listen to it and you will understand what I mean! ''Six Gun Shooter'' is the fourth song of the album. A Heavy Metal dynamite with powerful guitars, amazing/technical guitar solo and with a great refrain in the vein of ACCEPT! Fifth song is the ''Come And Go''. Is a cover song from Juice Wrld (R.I.P.). I would say that it is a very interesting song, especially lyrically. To be honest to you guys I didn't know who was Juice Wrld. I have been always a metalhead, so I didn't knew anything about this artist or about his work. I heard the original tune and I didn't like it cause it is not my cup of tea, but WYLD RYDE transform the song to their hard rocking style and I must say that it ROCKZ!! Great job guys!! The album ends with a heavy metal hymn ''Don't Say No''. Amazing guitar riff and with vocals that shred your ears!! Powerful song full of energy, rawness and anger!!! So, girls, boys, freaks, maniacs, rockers, bykers and record labels out there, WYLD RYDE are here to bring you quality hard 'n' heavy metal music straight from the dangerous alleys of Louisville, Kentucky! Support WYLD RYDE cause they deserve it!!
WYLD RYDE line-up:
Chief – Lead Vocals & Guitar
Tommy Blitz – Lead Guitar & vocals
Mick Watkins – Bass Guitar & Vocals
Kidd Vicious – Drums
By Steve the Filthy Dog.
https://www.facebook.com/wyldryde2021/
https://www.instagram.com/officialwyldryde/
https://wyldryde.bandcamp.com/music
https://www.deezer.com/en/artist/14947385
https://artistecard.com/WyldRyde