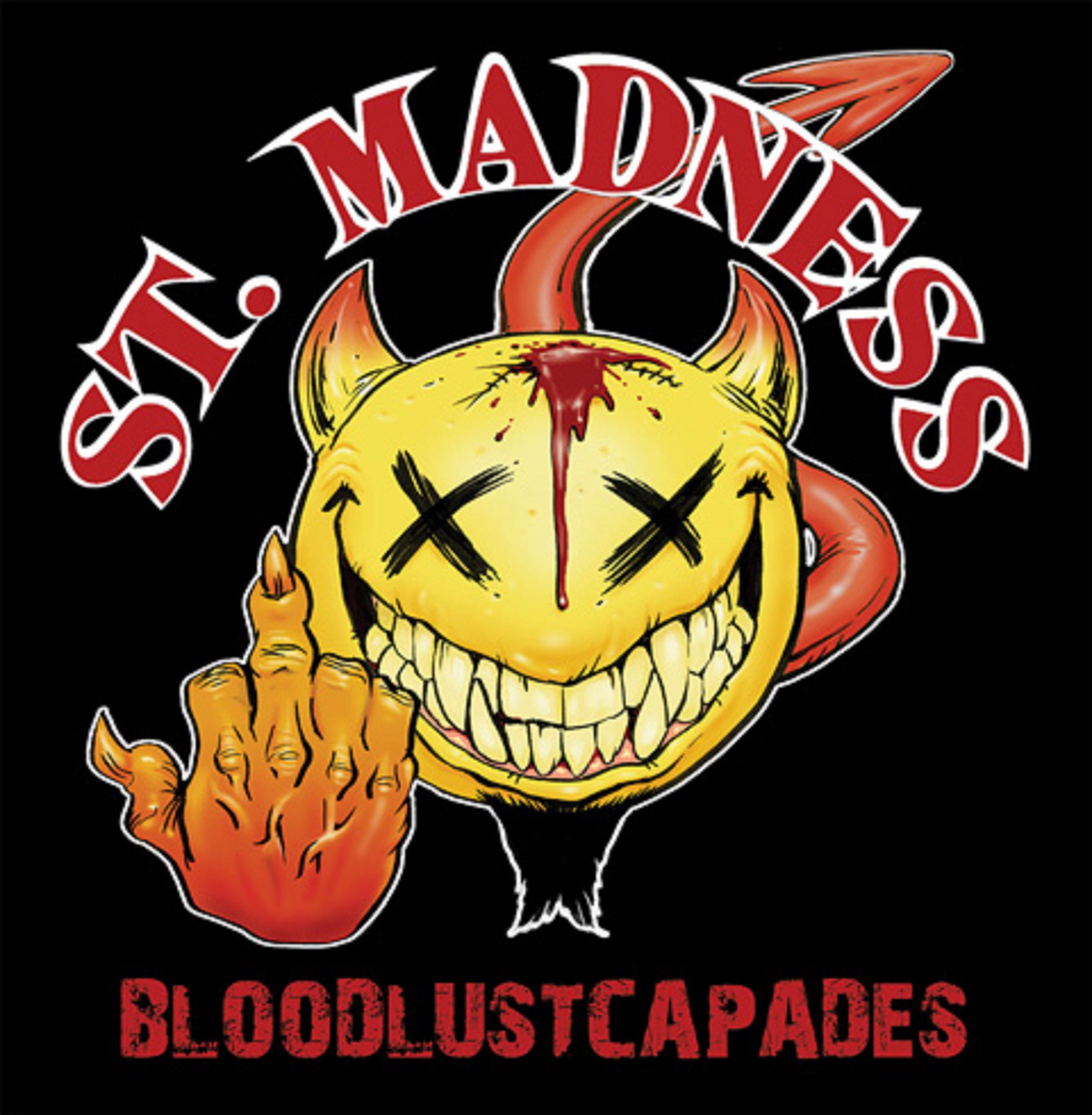 ST. MADNESS - BLOODLUSTCAPADES
Year: 2018
Country: USA
Label: Nasty Prick Records

The history of ST. MADNESS started back in 1993 under the name "Crown Of Thorns," but in 1997 they found out that there was actually a Christian rock group in New Jersey that had trademarked the name in 1991, two years before they started to use it so they changed it to ST. MADNESS. You can read more infos and stories from Patrick "Prophet" Flannery in the interview that he has given to us here. ''Bloodlustcapades'' is the 11th full-length album of the band and I must say that it really rocks my brain out!!! It is heavy as fuck and strong like a bishop of steel!!! Badass songs like ''This Is Your Reality'', ''King Of The Goddam World'', ''Bloodlustcapades'' & ''Day Of The Dead'' are the perfect samples of the album. Also you can hear an awesome cover song ''Folsom Prison Blues'' from the mighty Johnny Cash! The voice of Patrick is so awesome in this song and the listener can realize that his vocal range is so wide!! He can sing powerful metal songs and at the same time melodic and bluesy directly from his heart, well done Prophet!!! Another awesome song of the album is the ''Don't Be Like the Blind''. A song so emotional and hard at the same time with an amazing solo in the middle ala Zakk Wylde. The ideal soundtrack for all the bikers and outlaws out there! Another ''weird'' and ''funny'' song is the ''Made In China''. The guitar riff and the refrain sticks in your mind and you can sing it all day (oh oh oh oh!!!). Another sentimental and awesome song of the album is the ''Walk Your Own Path'', one of my favourite songs of the album! Prophet wrote the lyrics for his son Dylan Neuman, vocalist of EMERALD ISLE. That's why this song is so passionate!!! Amazing!!! Another surprise is the cover song ''Can't Help Falling In Love With You" by Hugo Peretti! OK, this song was covered by many bands and artists (like the king, ELVIS of course & one of my favourite Garage Rock Bands DEAD MOON) but the version of ST. MADNESS I must say that it is the heaviest and happiest that I heard of!! Very nice!!! Another awesome song is the instrumental ''Rigel'' and the album ends with the Hard Rocking song ''He's Riding a Harley in Heaven''. A song with a heavy groovy riff ala OZZY OSBOURNE, BLACK LABEL SOCIETY, ATOMIC BITCHWAX etc. but the ST. MADNESS has their own identity and the vocal of Patrick is so characteristic that you can understand it directly when you hear it! Generally the album ''Bloodlustcapades'' is the ultimate soundtrack for outlaws, bikers, outsiders & misfits! Beware, the album is forbidden for good looking guys (after all nice boys don't play Rock 'n' Roll like ROSE TATTOO used to say) and of course for posers!!
By Steve the Filthy Dog.
ST. MADNESS CONTACT:
https://www.facebook.com/ST-MADNESS-58739248731
https://stmadness.bandcamp.com/merch

https://www.instagram.com/st_madness/
https://www.reverbnation.com/stmadness
http://www.stmadness.com/?fbclid=IwAR1_-vgw5qIfTgBLA6sWVHDje_dFwUgXNYNCa2hA7HBEmttnmoHOX1KC1Fo