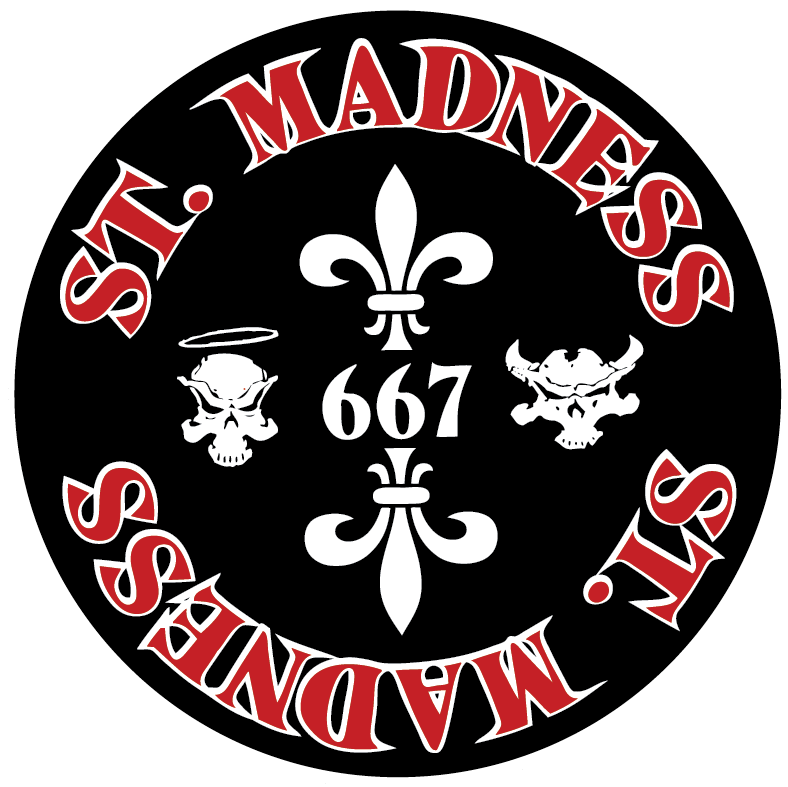 !!!AMERICAN HEAVY METAL!!!
We had a conversation with Prophet (Vocals). Enjoy!
Welcome to the FILTHY DOGS OF METAL Webzine.
Tell us a few things about ST. MADNESS (Members, Starting Year etc.)
ST. MADNESS started in 1993 under the name "Crown Of Thorns," but in 1997 we found out that there was actually a Christian rock group in New Jersey that had trademarked the name in 1991, two years before we started to use it. The CD we had out at the time was called, "The Spiritual Visions of St. Madness" so Marge (our manager and my lady) and I did a worldwide search with our attorney to see if anyone had the name, "ST. MADNESS." It was available, so we trademarked the name on the spot and have been "ST. MADNESS" ever since. Our current CD, titled, "BLOODLUSTCAPADES," was released in March of 2018 and is the bands 11th full-length CD. Over the years we have had a number of very talented members in the band. I am the founder and my stage name is "Prophet." I am the vocalist and write all of the lyrics and I produce all of our records, most of them with Larry Elyea of Mind's Eye Digital Studios in Phoenix, Arizona who I have worked with since 1996.

In 2018 you have released your album ''Bloodlustcapades." What was the feedback from your audience as well as from the Press?
The reviews from the press have been really great!!! I really can't remember the last time that one of our albums / CD's have gotten a bad review. I'm not bragging ('cause I hate braggarts), I'm just being honest. I don't mind getting bad or unfavorable reviews 'cause it's all a part of the process of putting your art out there into the public eye. Not everyone is going to like what you do, but we have been very fortunate the last several years.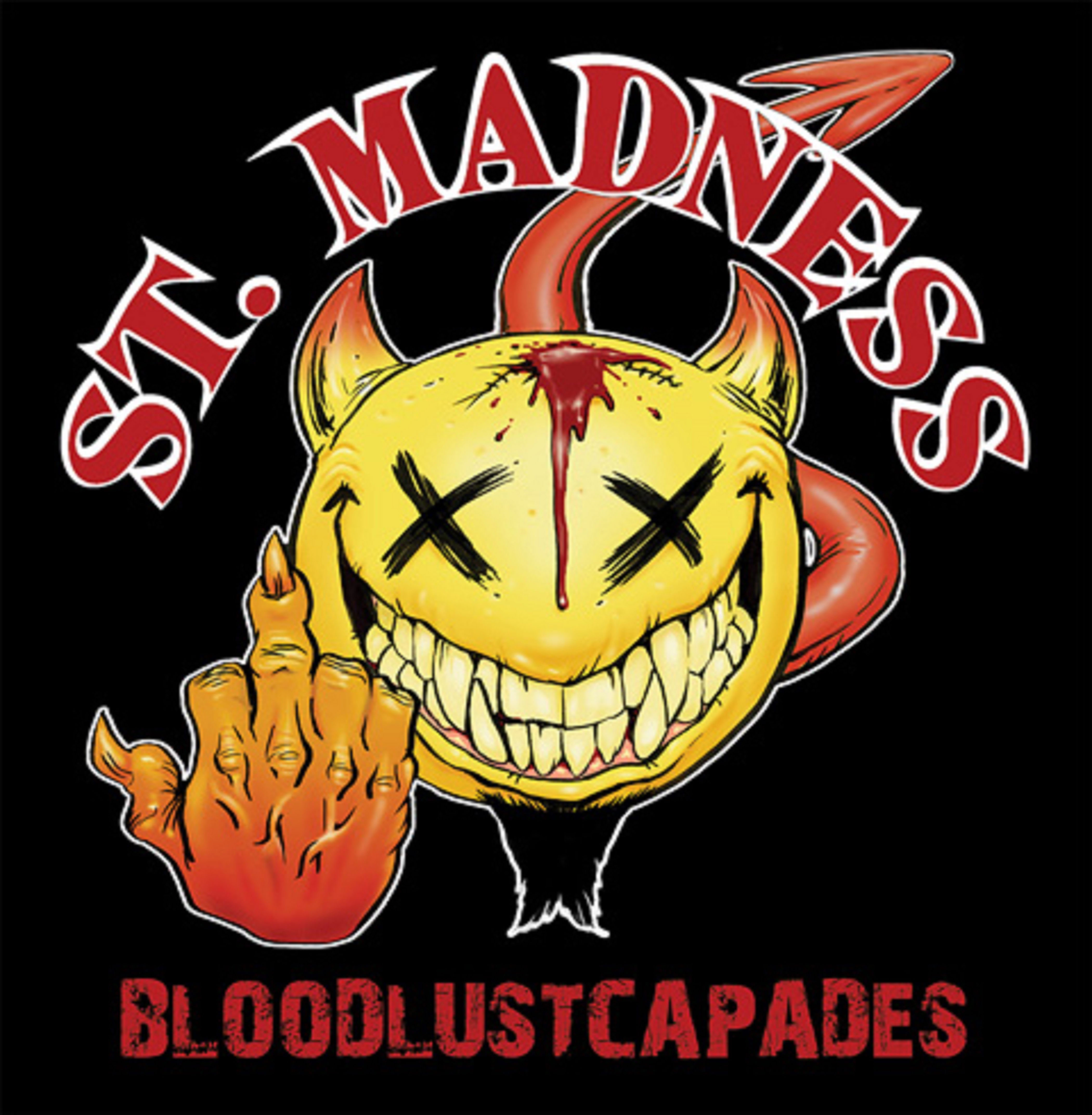 Label or DIY and why?
We are on our own label that I created back in 1994. From 1993 to 1997 the band was known as "CROWN OF THORNS," so when I created the label I wanted the label's name to kinda go with the band name so I came up with "NASTY PRICK RECORDS" because a thorn will give you a 'NASTY PRICK.' I knew that the public would take the label's name the other way, and that's what made it fun.The truth is, I didn't approach many labels to try to get them to sign us. I figured if it was meant to be then they would hear about us and come to a show or something. I hate going out trying to convince some label that they need to sign us. For me it takes all the fun out of being an entertainer. So I also figured that if we were meant to be signed to a big label we would be. Instead, I decided I wasn't going to wait around for some label to maybe come along so I just created "Nasty Prick Records" and we put out our own records for the people who enjoy our music. Maybe it's not as exciting as being on a big label and touring the world all the time, but it's also a hell of a lot less stressful being on our own label and playing shows when we want to play them.⅕ I did contact some labels in the last 28 years on behalf of the band but to be honest, I wasn't very aggressive in my promoting the band to them. The only label that I submitted 4 ST. MADNESS albums / CD's to was to Brian Slagel at "Metal Blade Records" and he turned us down all four times. I have nothing but respect for Brian, he's always been kind and polite to me even though he didn't sign us. Being a band from Tempe, Arizona I just wanted to be on "Metal Blade Records" because both Flotsam and Jetsam and Sacred Reich were signed to or worked with "Metal Blade Records". To me, Brian Slagel is METAL. Being on our own, underground label has given ST. MADNESS an amazing and exciting life none the less. We have opened for or been on the same bill as Van Halen, Monster Magnet, Gwar, King Diamond, Merciful Fate, Flotsam and Jetsam, Sacred Reich, Atrophy, Lynch Mob, Fates Warning, Phil Lewis, Six Feet Under, Death, Destruction, Iced Earth, Black Oak Arkansas, The Misfits and D.R.I etc. St. Madness performed at the 12th & 13th iconic "Milwaukee Metalfests" in 1998 and 1999. In 2013 our CD entitled, "CARNIMETAL" received the "Los Angeles Music Award" for "Metal Album of the Year". In 2014 - ST. MADNESS was the only metal band included in the "TEMPE HISTORY MUSEUM'S" exhibit called, "THE TEMPE SOUND" that was on display for a year.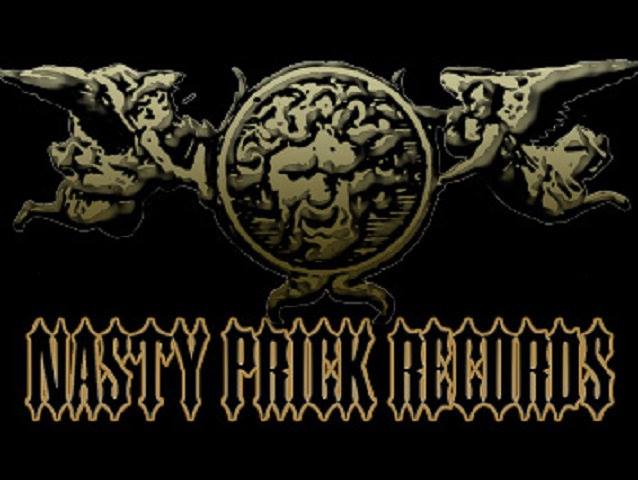 Do you prefer Vinyl, Tape, CD or Digital Format and why is that?
I love the sound of vinyl above all for it warmth and honesty in the tones of the music. There is nothing (yet) like listening to a vinyl record player with great speakers. I actually love all the forms or ways to play music, each one is a different way to enjoy your favorite artists or bands products or what have you.
Your music style is Heavy Metal. Which are your main influences (Favourite Artists / Bands etc.)
Elvis - Black Sabbath - KISS - Pantera - Slayer - Metallica - Ozzy - Megadeth - Ted Nugent - Van Halen - Six Feet Under - DIO - Iron Maiden - Judas Priest - mostly Old School Metal.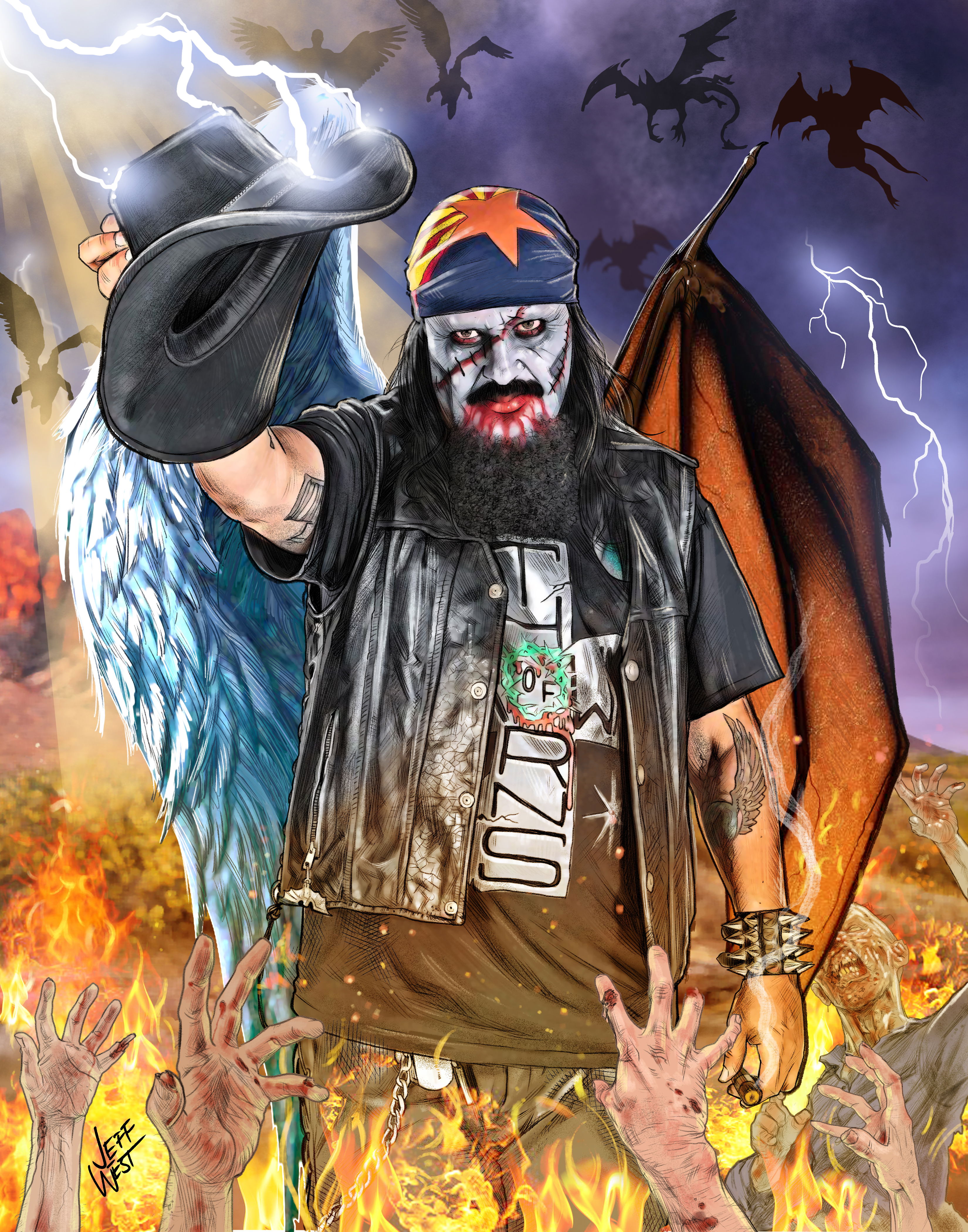 Which things, do you think, a Band should sacrifice in order to succeed? Have you ever sacrificed anything in your life for a better future of your Band?
This is a great question and the answer is that I have virtually sacrificed everything to do this. The biggest thing I have sacrificed is from having any kind of a "normal life" to do this. So has Margie (our manager for 26 years) and my son Josh (our Crew Chief he grew up in this band). We live in the Underground Metal Scene and it's in our blood. The reason we named our 2nd "Best Of" albums, "CARNIMETAL" (released in 2013) is because that is what we are. We are musical carnies who travel around playing metal. Carnies come to town with a carnival and we come to town with Carnimetal. Only certain people can live and last in the music world or music business because it's a very tough place..

Describe your ideal live show as a performance Band. Have you already experienced that?
Yes, many times. To me a perfect show to me is anytime the audience or fans walks away happy. There've been times onstage where it was incredible magic and the energy flows from the band to the people and back again, and it's beautiful. I consider the stage to be a sacred place that I never take for granted. Being up there performing is a privilege, not a right for anyone. Being up there onstage, sharing our music with our fans, is a spiritual experience for me. To this day we still rehearse three nights a week. When someone comes to a ST. MADNESS show we want them to get more than their money's worth. This is our 28th year as a band. Don't tell me that you can't have a great life in the underground because you can, but you have to be willing to work hard.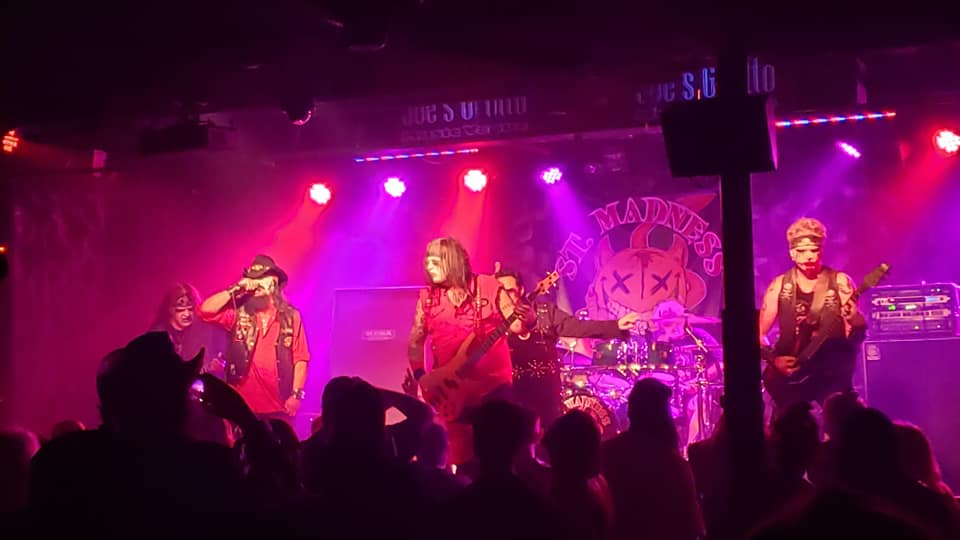 Which attributes, do you think, that a new Heavy Metal Band should have in order to gain identity and be unique?
The answer is in your question - each band needs to find what makes them unique and what can they do to make their band stand out from the pack. Aside from having good music, it helps to find your niche. For me of course the music is what's most important so I think having good songs or material is extremely important. After that figure out what your band strength and weaknesses are and always play to your strengths. Study bands that you admire and learn how they got where they are and learn from all these different lessons that bands and artists have shared in books, documentaries etc. Know your audience.
Do you believe that Bandcamp and other Digital Platforms help the new Heavy Metal Bands? Which, do you think, is the ideal way for a Band to promote its work?
We use Band Camp and it works great, we have 13 albums on there and we allow free streaming of any of our records. I say use what you've got and use what's available. There are all kinds of social media sites out there and radio stations etc There is also Spotify - Reverbnation - Facebook - Twitter, etc., so I say use them all the get the word out around the world about your band. Like I said before, you have to be willing to do the work and sometimes it's very hard work. With music it's like putting your blood or your soul out there on the line for others to judge and enjoy or dislike. You must have thick skin to last in the music universe, plain and simple.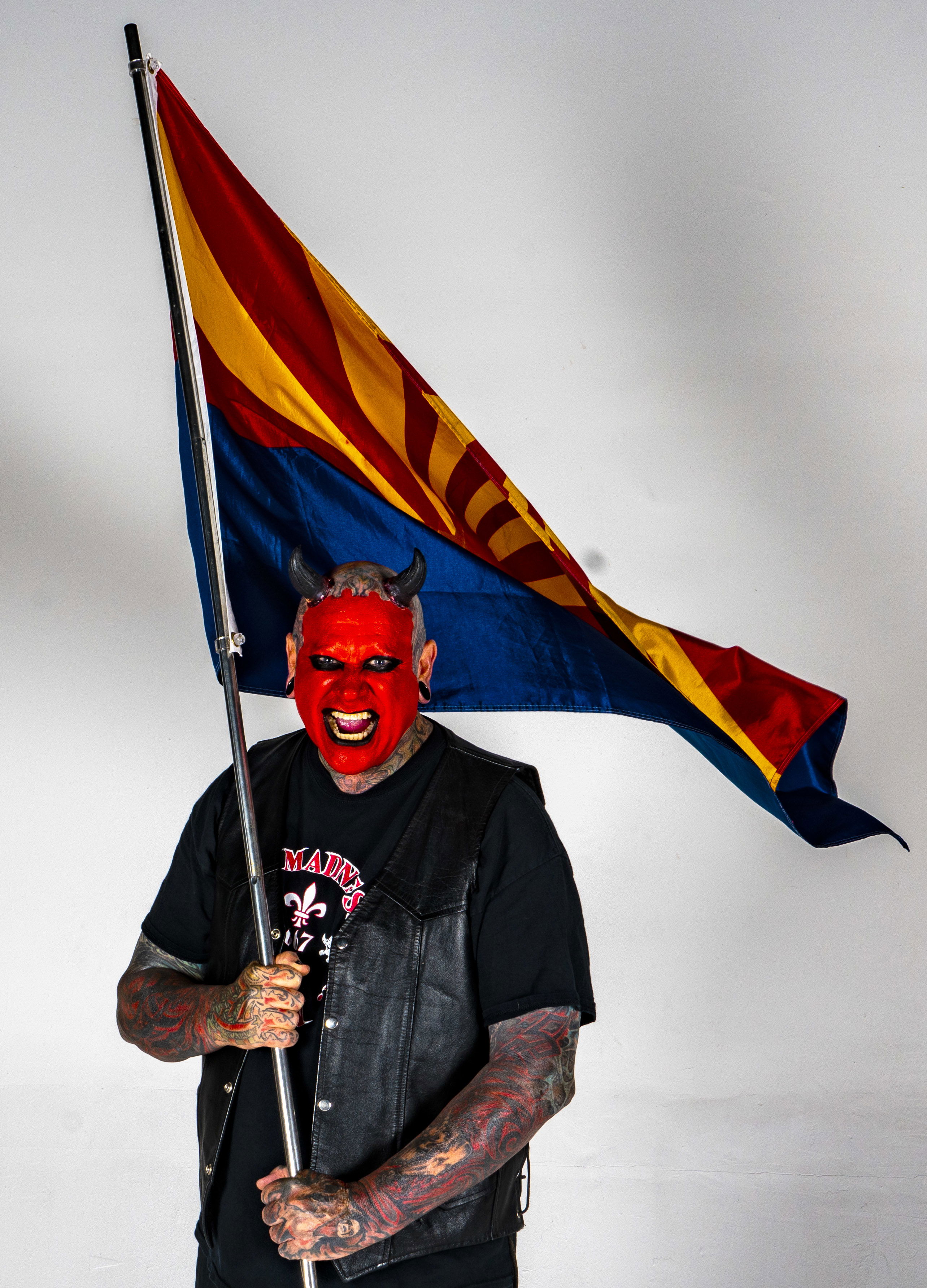 Tell us a few things about the New Underground Metal Scene in Phoenix, Arizona, USA (Bands, Fanzines, Webzines, Metal Clubs etc.)
The metal scene in Phoenix and the surrounding area is booming with some really great bands and artists. I am very proud that ST. MADNESS comes from Arizona where the desert is hot and the bands are fierce. There are several venues that everyone performs at and it's a great scene in general. If this was the 1980's (when Metal Music was king), I am sure that some of these bands and artists would be signed to labels. We are also a family in the scene here, and sometimes, families fight. It all makes for good song writing material. I don't want to name anyone or any venue here because you always hurt the ones you forgot to mention.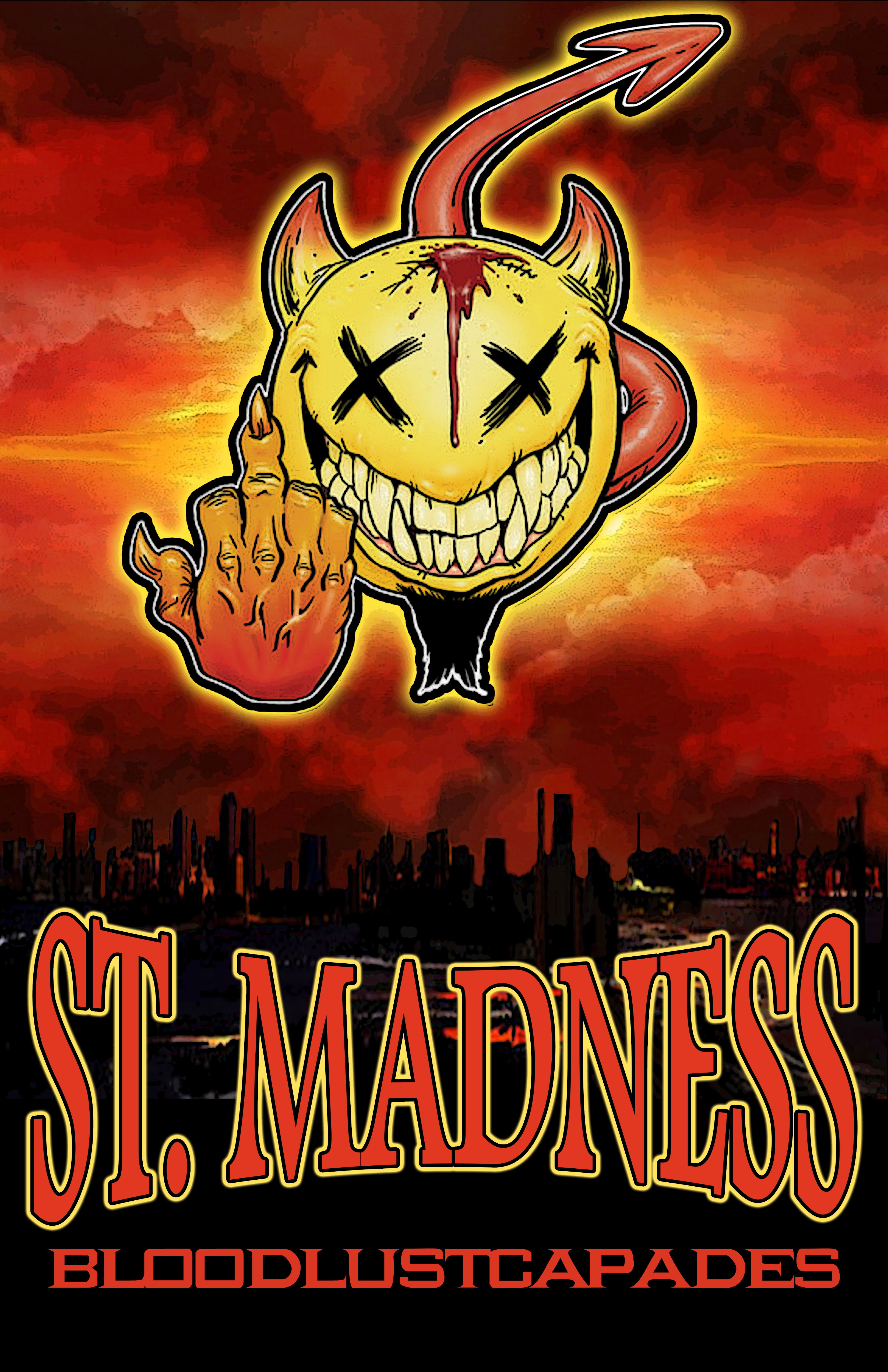 Do you know anything about the Hellenic Metal Scene?
I know a little about it as far as it's a form of "Black Metal" but much of the music is also laced with stories of folklore if you will or tributes to the homeland - Greece. It's very different than say the Eastern European black metal. In Hellenic Metal the music is still influenced by traditional guitar riffage and feel.
What are your future plans?
We have 2 songs written so far for the next ST. MADNESS record, so we will write more songs and play a bunch of concerts. Keep moving forward entertaining people. I also have another (more of a solo project) called, "PROPHET & THE COWBOYS OF APOCALYPSE" and we just released our 2nd full length album / CD in March of 2021. The new record is entitled, "LAST DAYS IN PARADISE" and it's "Americana" style of music. All of the current members of ST. MADNESS took part in this album / CD and 3 former guitar players of ST. MADNESS were also a part of it. Both of these albums / CD's "THE EDGE" and "LAST DAYS IN PARADISE" are amazing and special.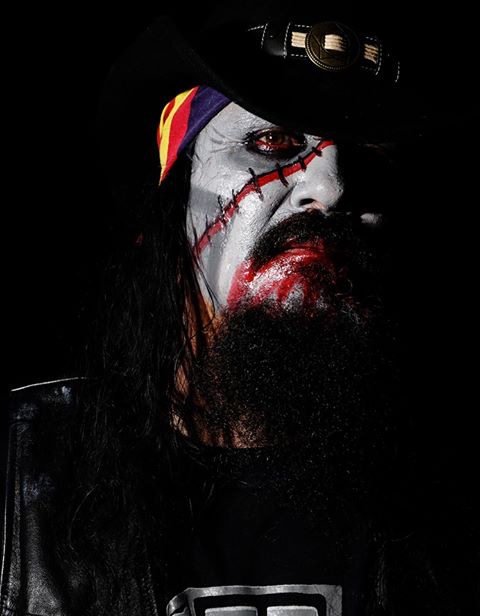 Thank you very much for your time & Keep up the good work! The closure is yours.
Thank you so much for asking for this interview and sharing it with your readers. LONG LIVE THE FANS OF METAL MUSIC!!! \m/
Sincerely,
Prophet / St. Madness
You can check out all of our music here at:
ST. MADNESS - https://stmadness.bandcamp.com/ - PROPHET & THE COWBOYS OF APOCALYPSE - Prophet & The Cowboys of Apocalypse
By Steve the Filthy Dog.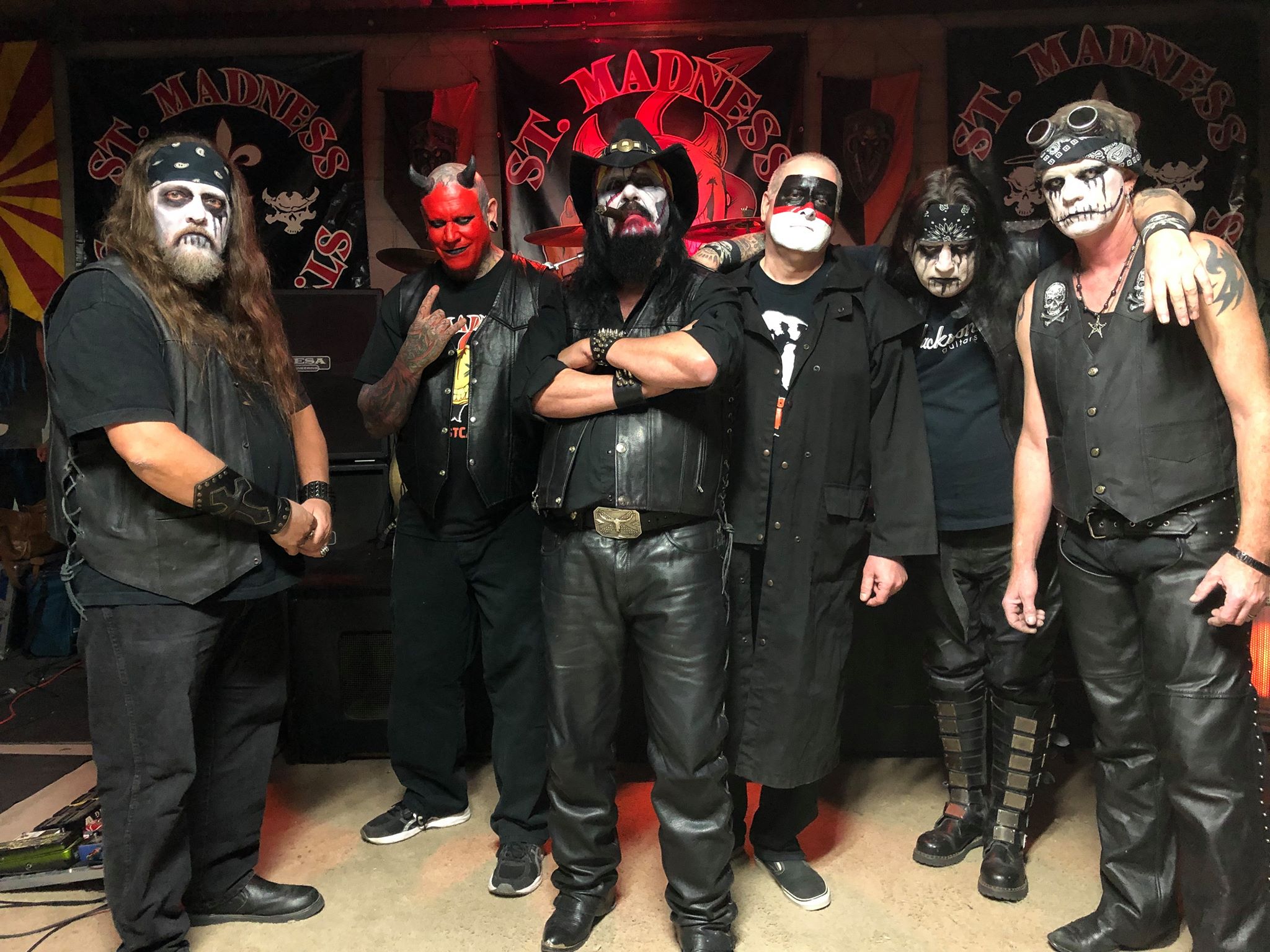 ST. MADNESS CONTACT:
https://www.facebook.com/ST-MADNESS-58739248731
https://stmadness.bandcamp.com/merch

https://www.instagram.com/st_madness/
https://www.reverbnation.com/stmadness
http://www.stmadness.com/?fbclid=IwAR1_-vgw5qIfTgBLA6sWVHDje_dFwUgXNYNCa2hA7HBEmttnmoHOX1KC1Fo