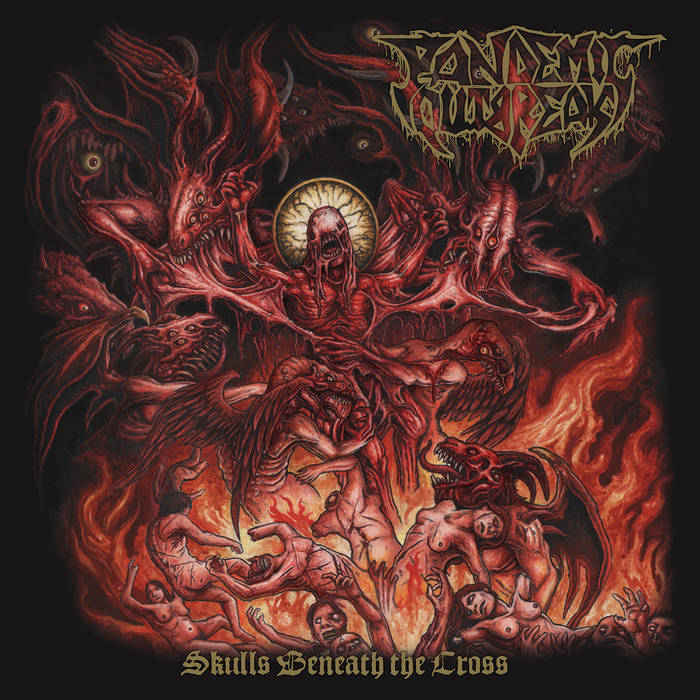 PANDEMIC OUTBREAK - SKULL BENEATH THE CROSS
Country: Poland
Year: 2021
Label: Awakening Records
PANDEMIC OUTBREAK have produced one of the heaviest death metal releases for the year that passed. They formed in Gdańsk, Pomorskie, Poland at the end of 2014. After 2 killer EPs, "Rise of the Damned'' and "Collecting the Trophies" in 2016 and 2018 they gave a masterpiece to the extreme metal community with their first full length album ''Skulls Beneath The Cross''. You can read more interesting things about the band HERE. The Polish metal scene has a lot to give to the metal community with their amazing and very professional bands. ''Skulls Beaneath The Cross'' album is fucking shreds!! The band plays at all speeds with heavy, fast & brutal songs like: ''Along the Stream'', ''Infected Identity'', ''Obliterated Past'', ''Skulls Beneath the Cross'' & ''Into the Realm of Madness''. The whole album is fucking awesome. The guitar riffs are so full and thick, made by Mateusz Mencel & Paweł Snarski (both are playing in the great FRIGHTFUL band!). They are so morbid and sick! The bass lines from Michał Kotwicki are fucking heavy and technically, check the last song of the album ''Into the Realm of Madness''. Now as for the drum parts of Szymon "Rezus" Wójcik what can I say! This dude knows exactly how to kill the drum skins.. he is a skin-beater maniac. Technical playing, super fast double bass drumming and blast beasts from hell. Amazing pro player!!! Last but not least are the brutal vocals of Mateusz Mencel. Oh man, his vocals are so badass!!! Brutal and gore!! Amazing!!! The production of the album is crystal clear and it comes with a beautiful sick cover artwork. The CD it's a limited edition to 1000 copies worldwide and it comes with a 12 pages booklet with lyrics and photos + the amazing OBI which every release of the killer Awakening Records has. So metal freaks, don't be dickheads, make sure you own at least one copy of this masterpiece album ''Skulls Beneath The Cross''. Ideal for fans of SADUS, VADER, PESTILENCE, DEATH , MORBID ANGEL etc.
By Steve the Filthy Dog.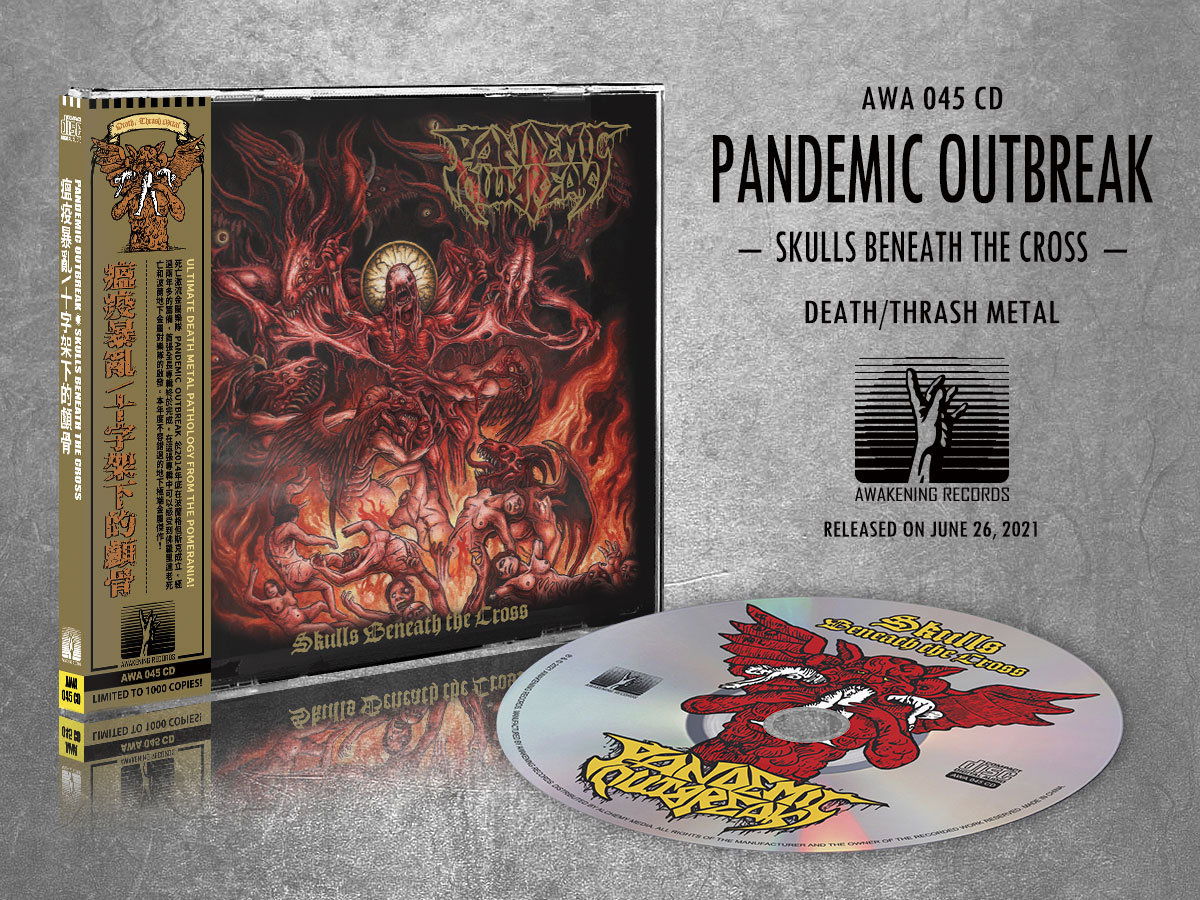 PANDEMIC OUTBREAK CONTACT:
https://www.facebook.com/pxoxdeathrash
https://www.instagram.com/pxox_deathrash/
https://soundcloud.com/user-809707067
AWAKENING RECORDS CONTACT:
http://www.awakeningrecords.cn/
https://awakeningrecordscn.bigcartel....
https://awakeningrecordscn.bandcamp.com/
https://www.facebook.com/awakeningrec...
https://www.instagram.com/awakeningre...