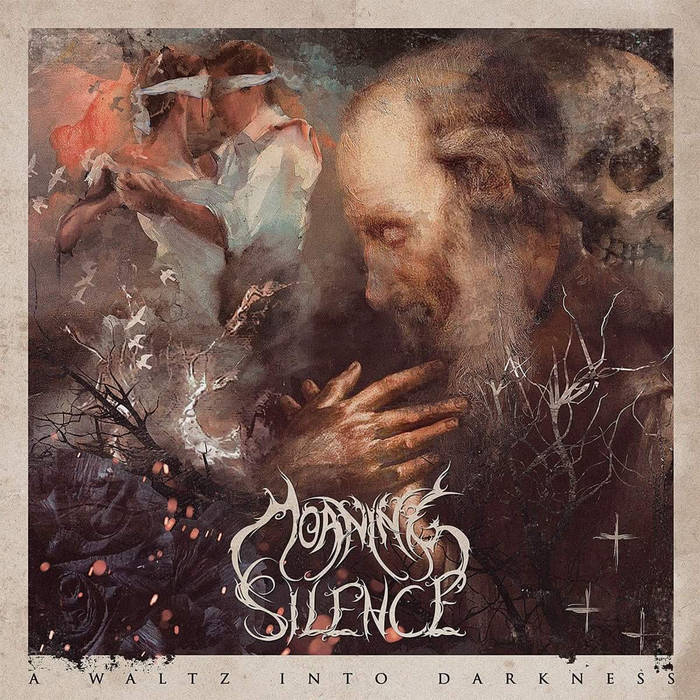 MOANING SILENCE - A WALTZ INTO DARKNESS
Country: Greece
Year: 2020
Label: Symmetric Records
On 5th May 2020 Moaning Silence released their second full-lenght album ''A Waltz Into Darkness''.
They have already released their first Full-Length album ''A World Afraid of Light'' in 2015 and in 2017 they released an EP ''Fragrances from Yesterdays''.Moaning Silence is an Atmospheric Doom Metal band with Gothic elements from Athens, Greece.
The album have 8 songs:
1. Rite of Decay
2. The Silence of the Gods
3. Towards the Sun
4. A Waltz into Darkness instrumental
5. Song for Winter
6. Stormbirds
7. I Am the Sorrow
8. The Lights of Alexandria
The opening track is ''Rites Of Decay''. Atmospheric Doom Metal with beautiful female vocals of Eleftheria Angeloudi and the male vocal parts of Christos Ntounis (also guitars).The other band members are Harry Nakos on Keyboards, Vangelis X on Drums & Antonis Mantis on Bass.
Songs like ''The Silence Of The Gods'', ''Towards The Sun'', ''Stormbirds'' & ''The Light Of Alexandria'' are the perfect samples of the album.The album reminds me (especially the riffs of the guitar), the glorious Hellenic Doom / Death Metal scene from the 90s like, Nightfall, Selefice, Funeral Revolt, Septic Flesh and of course the pioneers, Paradise Lost, Gathering.
Moaning Silence is:
Christos Ntounis: vocals /lead & rhythm guitars
Eleftheria Angeloudi: vocals
Harry Nakos: keyboards
Vangelis x: drums
Antonis Mantis: bass
All keyboards on the album performed by Bob Katsionis.
Recorded at Sound Symmetry Studio, Athens,GR
Produced & mixed by Bob Katsionis
Mastered by Nasos Nomikos at VU Productions, Piraeus, GR
Cover artwork & logo by Graphic no Jutsu
Layout by PVG
You will find the album in a beautiful glossy digipak with full lyrics.
By Steve the Filthy Dog.
MOANING SILENCE CONTACT:
https://www.facebook.com/moaningsilence
https://moaningsilence.bandcamp.com/releases
https://www.youtube.com/channel/UCSXi2widV0NhxVBTQ-A_JYg
https://www.facebook.com/symmetricrecords/