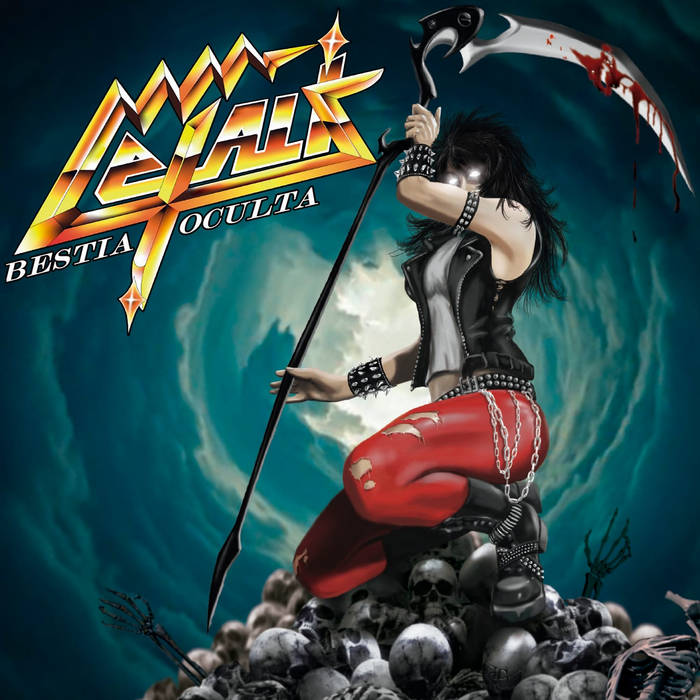 LETALIS - BESTIA OCULTA
Country: Chile
Year: 2022
Label: Independent
It is EVIL, it is HEAVY & it is LETHAL!!
In about two weeks, 2022 will be in the past. In the last 2 years, many bad events have happened all over the world which negatively affect our lives. The only thing we have in this life to keep us alive and healthy is the arts and especially music. The year 22 was productive in the metal scene with great releases from all over the world. Especially in Chile, there were amazing metal releases. Chileans are loyal to true heavy metal, so here we have the awesome speed metal band Letalis.
Their story begins about a year ago (in 2021) when the band members started creating their own songs. Their compositions are wild, strong and heavy, which the listener understands that the band members have experience in the metal scene. We had an interesting conversation with Jacqueline (Vocals) which you can read HERE.
From the first seconds that the disc starts, you are faced with hellish hot metal that will make your speakers explode. Powerful songs with very powerful guitars, beautiful melodies, hellish guitar solos, fast drums, bass that is capable of shaking the foundations of your house and all this together with beautiful and powerful female vocals make as a result an explosive mix that will make you listen to this album for endless hours without stopping where you won't be able to get enough of it. You will ask for more and more... So, boys & girls, many words are unnecessary for this album! It's definitely one of the best I've heard in 2022. If I were to make a list of the best metal albums of this year, ''Bestia Oculta'' would definitely be in first place!
Tracklist:
1. Bestia Oculta
2. Culto a las Sombras
3. Nací para Vencer
4. Escupe Fuego
5. Veneno de Escorpión
6. Máquina de Almas Podridas
7. Lloviendo Sobre el Mar
8. Cráneos
Line-up:
Jacqueline Jara - Vocals
Alejandro Martin - Guitars
Rodrigo Herrera - Guitars
Raimundo Belmar - Bass
Camilo Díaz - Drums
I wish all the best to LETALIS and I'm pretty sure that a record label will approach them and we will see this awesome album on vinyl format! I forgot to mention here that the CD edition is very professional (for a private press!) and it comes in a 12 page booklet with lyrics and beautiful photos in a limited edition of 300 copies only! Also, a big shout-out to the KILLER cover artwork!!! The future of LETALIS is bright for them, so metal maniacs grab this metallic gem as soon as you can. Ideal for fans of ACID, XANDRIL, MESSIAH FORCE, CHASTAIN, EXCITER & more metal giants.
By Steve the Filthy Dog.
LETALIS CONTACT:
https://letalis.bandcamp.com/releases
https://www.facebook.com/Letalis.speedmetal/
https://www.instagram.com/letalis____/
https://open.spotify.com/album/539eCazfOGnnzxNhGq54gc?si=L05i2TJmT0Gb-0I38CiZVQ&utm_source=copy-link&nd=1