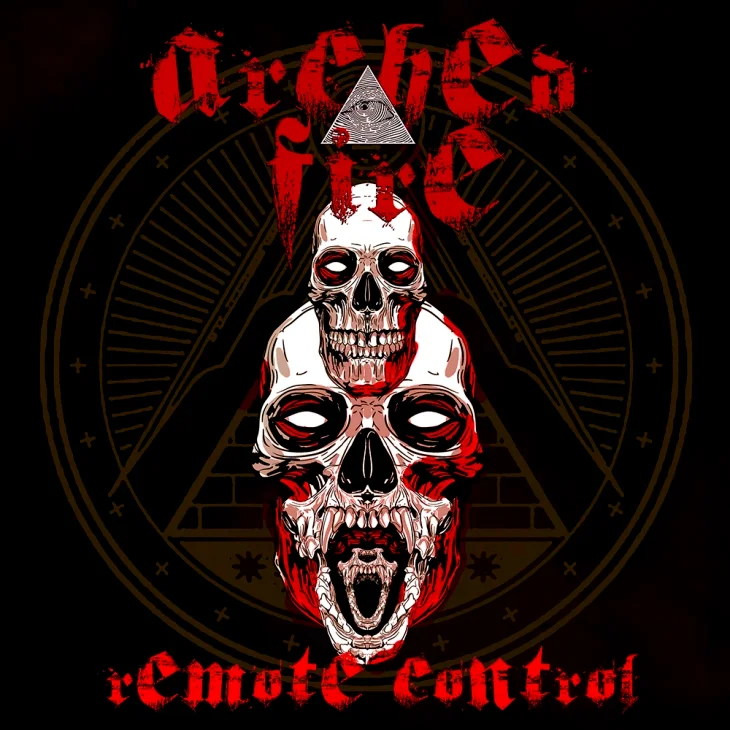 ARCHED FIRE - REMOTE CONTROL
Country: Finland
Year: 2021
Label: WormHoleDeath Records
Finland has always had strong heavy metal scene with great releases such as: SARCOFAGUS, HARD ROCK SALLINEN, RIFF RAFF, CROM, STUD (Mä Haluun Elää is one of my favourite 7'' single), TAROT, PRESTIGE, STONE, STRATOVARIUS & the list goes on & on... The history of ARCHED FIRE starts back to 1989. You can read more infos here. ''Remote Control'' is their first full length-studio album & contains 10 songs:
1. Hindsight 20/20
2. Back on Track
3. Remote-Controlled End
4. Crawling Down
5. ...And Ride Away
6. A.T.W.
7. Wormhole
8. Escape
9. Futile
10. From Dust to Dust
Starting with an intro ''Hindsight 20/20'' (clever idea, not so many bands use intros & outros nowadays in their albums.) & a speed metal bomb explodes from your speakers!! ''Back on Track'' is the speed metal ''bomb''!! (Probably, my favourite song of the album together with the ''Remote-Controlled End'' & the ''Escape'', you should check the lyric video!) Fast song with a beautiful refrain!! Third song is the ''Remote-Controlled End''. Really great composition, fast & heavy with a refrain that sticks in your mind! In the continue we have the ''Crawling Down'', ''...And Ride Away'' & ''A.T.W.''. Classic speed metal composition straight from the glorious 80s but with a new breed! The ''puzzle'' of the album is completed with the four songs ''Wormhole'' (check also the lyric video), ''Escape'', ''Futile'' & ''From Dust to Dust'' (Spoken words part by Esko Valtaoja). The music style of ARCHED FIRE is Heavy/Speed metal in the vein of METALLICA, MEGADETH, TESTAMENT, ANNIHILATOR & sometimes KING DIAMOND! The guitar work of Ari Väntänen & Janne Särkelä is amazing. Hot solos, melodies and heaviness. The cooperation of Mika Rytilahti (Bass) & Aslak Purojärvi (Drums) in the rhythm section is heavy as fuck!! Last but not least the charismatic vocals of Kristian Herkman. Ηis vocals is wild & he can catching high notes as easy as his brutal vocals. His work gives a big boost to the songs of ARCHED FIRE.
Line-up:
Kristian Herkman - Vocals
Ari Väntänen - Rhythm Guitars
Janne Särkelä - Lead Guitars
Mika Rytilahti - Bass
Aslak Purojärvi - Drums
Produced by Arched Fire.
Drums recorded by Teemu Liekkala at Veturitallit Studios, Jyväskylä, Finland. Vocals, guitars and bass recorded by Kristian Herkman. Guitars recorded by Janne Särkelä. Mixed and mastered by Teemu Liekkala. Cover art and design & band photography by Tapio "Papa" Wilska, Chaos Path Graphics.
So, if you wanna taste a piece of kickass Heavy/Speed metal stuff, choose the ''Remote Control'' album for your collection.
By Steve the Filthy Dog.
ARCHED FIRE CONTACT:
https://www.facebook.com/OfficialArchedFire/
https://archedfire.com/
https://open.spotify.com/artist/2rOCJxqnlJYY5DUCDKLhcO