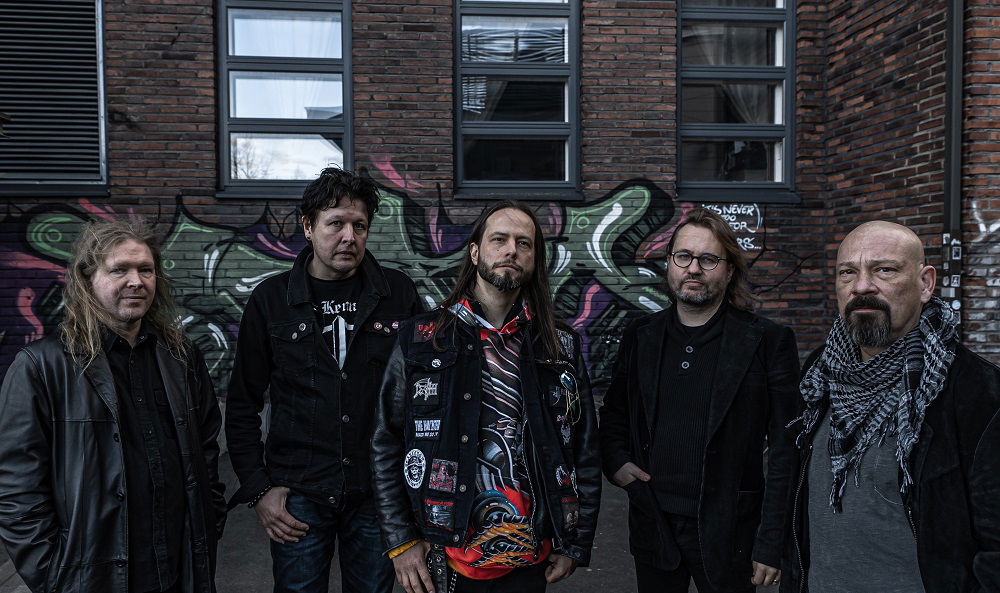 !!!A BLAST FROM THE PAST CAME FROM FINLAND!!!
Welcome to the FILTHY DOGS OF METAL Webzine.
Tell us a few things about ARCHED FIRE (Members, starting year etc).
Ari: The starting year depends on how you look at it. Mika Rytilahti (bass), Aslak Purojärvi (drums, vocals back in the day) and I (guitar) formed Arched Fire–believe it or not–back in the spring of 1989. Janne Särkelä (lead guitar) joined a few months later.
Janne: Arched Fire was my first band ever. I had only been playing guitar for four months before I joined.
Ari: Which was unbelievable. You were great even back then. We played a handful of gigs around our little hometown in Finnish Lapland and wrote a bunch of songs before the band split up in 1990. We were 14–16 years old back then. There are some rehearsal and live recordings from those days, and I always wanted to see what we could do with the tunes we had. The problem was that we lived in different places now.
Aslak: When I bought my house back in 2007, I built a drum and recording room in it, just in case Arched Fire would reunite some day... and for my other bands, of course.
Ari: Then, in 2009, Janne and I got together and made some demos of the old songs, re-arranged and recorded them. Because it was just two of us, the project didn't go very far. We only did the base tracks–no vocals, no leads. But in a way, that was the second starting year. Another ten years passed by and I got in touch with Mika, and we chatted online about how much fun it would be to get Arched Fire going again. Suddenly all four of us were in! I guess the time was right. Mika brought in Kristian Herkman, who turned out to be a fantastic singer, songwriter and lyricist.
Kristian: Mika sent me the demo recording of "Escape" and I started writing lyrics for it. A few days later, I got a message that they had one other guy in sight for the vocals. I recorded the vocals anyway and sent back the demo. A day later, I got a message that I was in the band.
Ari: When we heard what you did with "Escape", we knew it was you we had been looking for.
You are going to release your album "Remote Control". Tell us a few things about this project.
Ari: That's what we agreed to do when we got back together: "let's make an album!" At this point, the demos Janne and I did years earlier turned out to be useful. We started to build on those old songs… Well, you can't really call them "old songs" anymore, because they're so different from what they were back in the day. Old school, yes, and some old ideas, but new songs. And we wrote some brand new ones too. We booked a studio from where Aslak lives and recorded drums there. Then Janne and Kristian recorded the bass, guitar and vocal parts in their home studios. Mika and I went to Kristian's place or their rehearsal room to record our parts.
Mika: I also had a home studio up and running. A hot, sweaty lodge where I tracked some of my bass parts, and Kristian stitched them up at his place.
Ari: Then, when we were ready, Teemu Liekkala–the guy who recorded the drums–mixed and mastered the album.
Kristian: I had known Mika for years from previous bands where we played together. I met Ari for the first time when we recorded the rhythm guitars for Remote Control album. The rest of the band I didn't get to meet until we had a photoshoot in Jyväskylä. It was a quite remotely made album.
Ari: When we went through Kristian's lyrics, we noticed that lot of them are dealing with things like power and control, in different contexts. That's why "Remote Control" felt like an apt title.
Kristian: I think that power and control are in the core of the human mind. The wonders of humanity inspire my lyrics.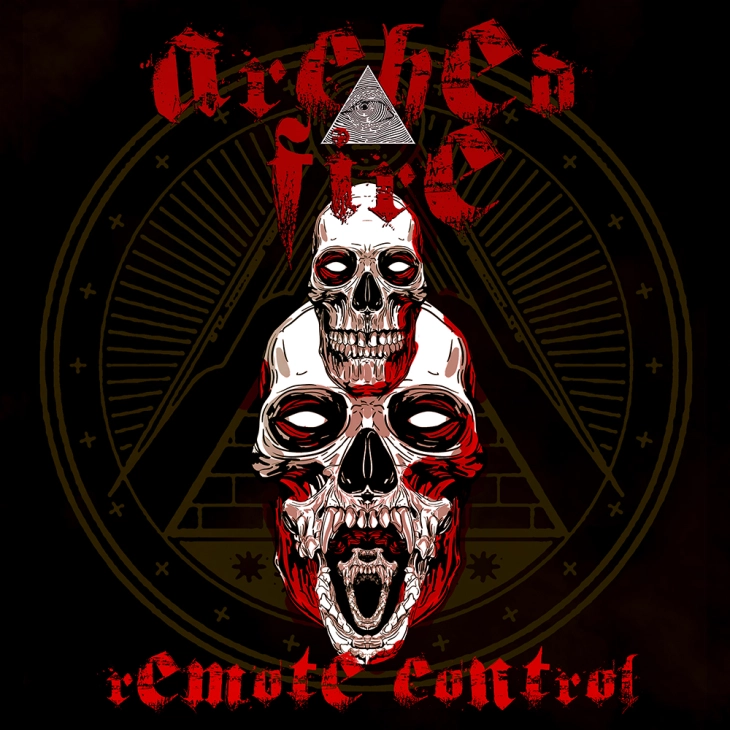 Label or DIY and why?
Ari: DIY all the way, so fat… Well, we haven't really even considered other options. If working with a label makes sense for us and them, why not? I've worked with a couple of indie labels before with my rock bands and gotta admit it's a lot less work that way.
Kristian: DIY, but we chose to use professionals in mixing, mastering, videos, photoshoots and cover art. It's better to collaborate with other people and focus your time on something specific. Label is welcomed if we get a good deal, but we are not currently actively looking for one.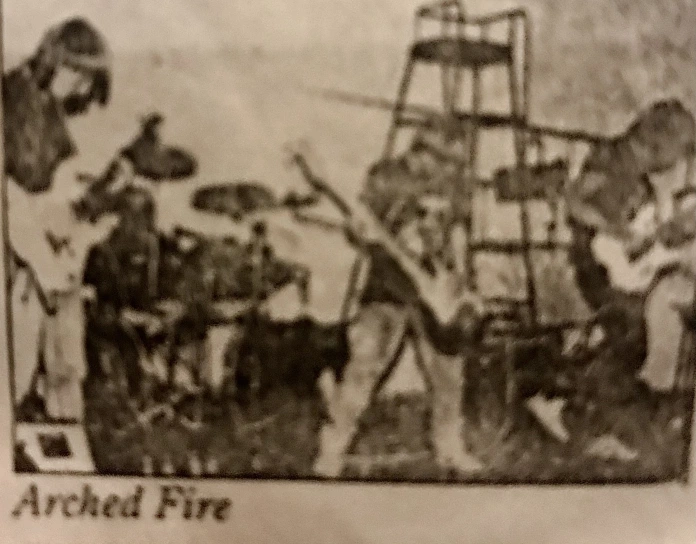 Do you prefer Vinyl, Tape, CD or Digital Format and why is that?
Aslak: I prefer all those formats. I'd like to see us doing all of them, just to frame them all together and hang them on my wall.
Ari: I like physical formats. I only really listen to streaming music when I'm out for a walk or working. I'd love to see "Remote Control" vinyl. And a tape! And CD!
Kristian: Back in the days I used to buy a CD and listen it through while reading the lyrics from the booklet. Streaming services don't currently support that kind of delving into the music.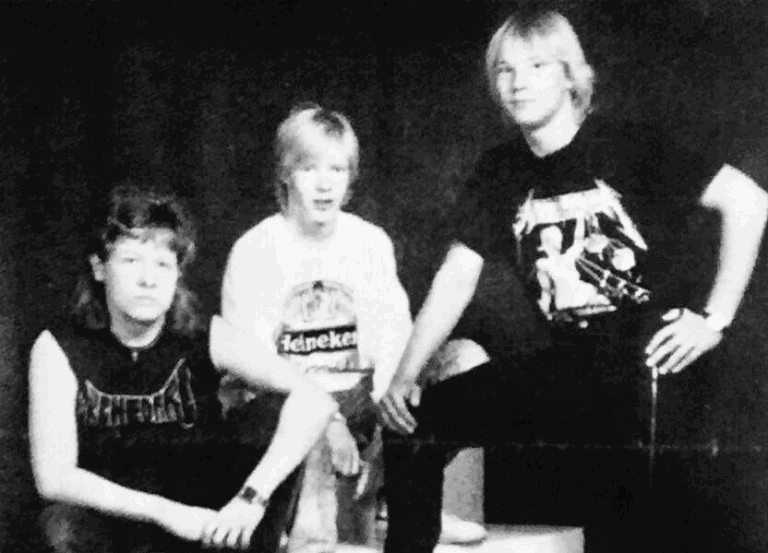 Which are your main influences (Favourite Artists / Bands etc.)
Ari: Back in 1989–1990 when Arched Fire first started there was no way for us to tap into the metal underground, being small-town kids in the middle of nowhere. At first we were influenced basically by the "Big 4" and the rest of the well-known speed/thrash acts that you could read about in music magazines. American bands, most of them. Our favourite Finnish metal band was Stone.
Janne: Stone and their lead guitarist Roope Latvala were a big influence and inspiration to me back then and they still are, of course.
Aslak: All those British grindcore bands of the time were an influence. And King Diamond, of course. In the late 80s a friend of ours, Zuoppi (Sami Suopajärvi) introduced Mika and I to grind and early Black Metal... A whole new world opened to us in that moment. Zuoppi had something like 600 c-cassettes of metal from all around the world. I had known him from birth, but never knew what a collector he was.
Ari: I never got into extreme metal that happened after speed/thrash. I've been listening to a lot of the old speed/thrash stuff lately, and I guess all that still has an influence on me when I'm doing Arched Fire.
Kristian: Rainbow was one of the first bands I listened to. After that Megadeth, Iron Maiden and Judas Priest were soon also my favorites, and I enjoyed various symphonic power and black metal bands and progressive stuff. Later on, I got more into death and thrash metal.
Which things, do you think, a band should sacrifice in order to succeed? Have you ever sacrificed anything in your life for a better future of your Band?
Ari: Virgins and small animals, mostly. No, seriously. What we've been giving to this is some of our time and money. Right now, making a good metal record is a success for us. Getting to do this with each other is as good as it gets. No sacrifices required.
Janne: I'd say all band/music related is a way of life. Always been. So, things go naturally without having to sacrifice anything.
Kristian: You are losing something if you sacrifice. I try to find a way to have it all. Many have sacrificed their health to gain something, and I think that's not worth it. Our song Futile is about that.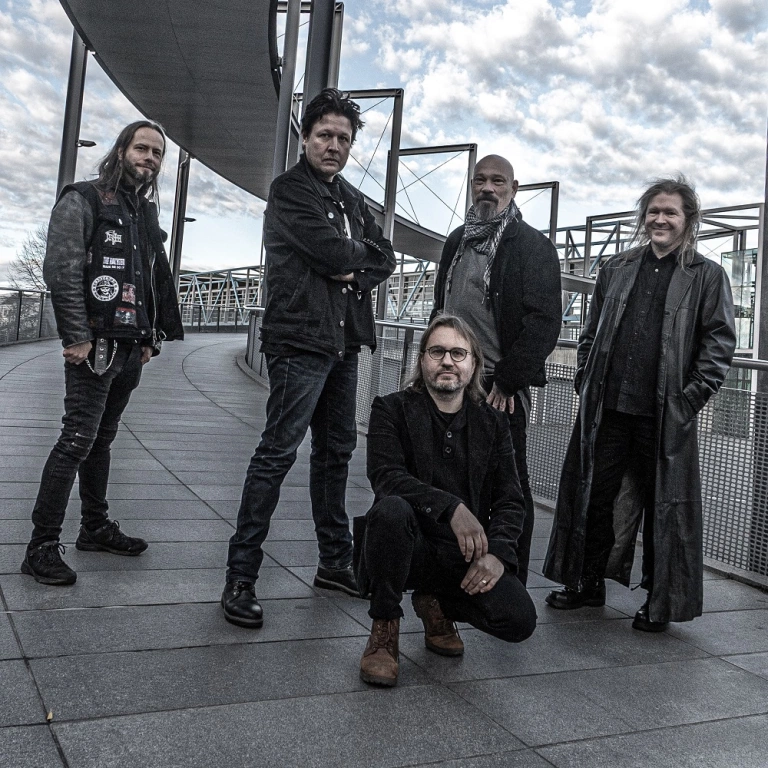 Describe your ideal live show as a performance band. Have you already experienced that?
Kristian: The connection with the audience is the most important aspect. The overall good memorable experience is something that keeps people coming to your shows.
Ari: The last time Arched Fire played a gig was 30 years ago, and it was pretty far from anything ideal, I tell you. I don't know if we'll ever play live again, because the logistics are pretty tricky in our case. But who knows, maybe someone makes an offer we don't want to refuse. If that happens, I'd like to do some small, intense club gigs for people who appreciate this kind of thing.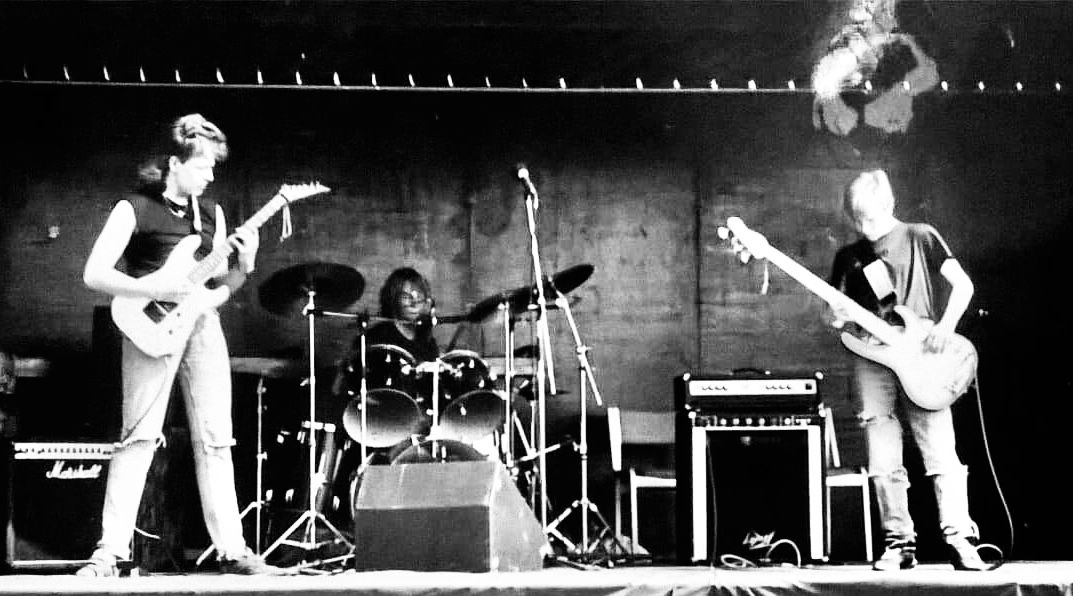 Which attributes, do you think, that a new Metal Band should have in order to gain identity and be unique?
Kristian: Interesting persons who deliver emotions.
Janne: I think it's all about good song-writing and good team spirit. Believe in what you are doing. Listeners have sensitive instincts!
Do you believe that Bandcamp and other Digital Platforms help the new Heavy Metal Bands? Which, do you think, is the ideal way for a Band to promote its work?
Kristian: Yes, they are essential nowadays. And after them will come other ways to stand out. I think that live streaming will become increasingly important. Having your music in games seems to be one good way to stand out.

Tell us a few things about the New Underground Metal Scene in Finland (Bands, Fanzines, Webzines, Metal Clubs etc.)
Aslak: Lutakko, a rock club in my home city Jyväskylä, has a lot of underground metal gigs also for new bands. The local live music association JELMU organizes them.
Ari: I used to live in the city of Turku, and there are associations like Metallihelvetti and Unta.kauan who organize underground events. Turku Saatanalle, the black metal festival, is quite well known. I live in Lahti now and it seems like the legendary rock club Torvi keeps the UG flame ablaze.
Kristian: There were many metal bars in Helsinki, but it seems to me that their number is decreasing. Metal is still quite mainstream in Finland. The Puska festival has more underground bands.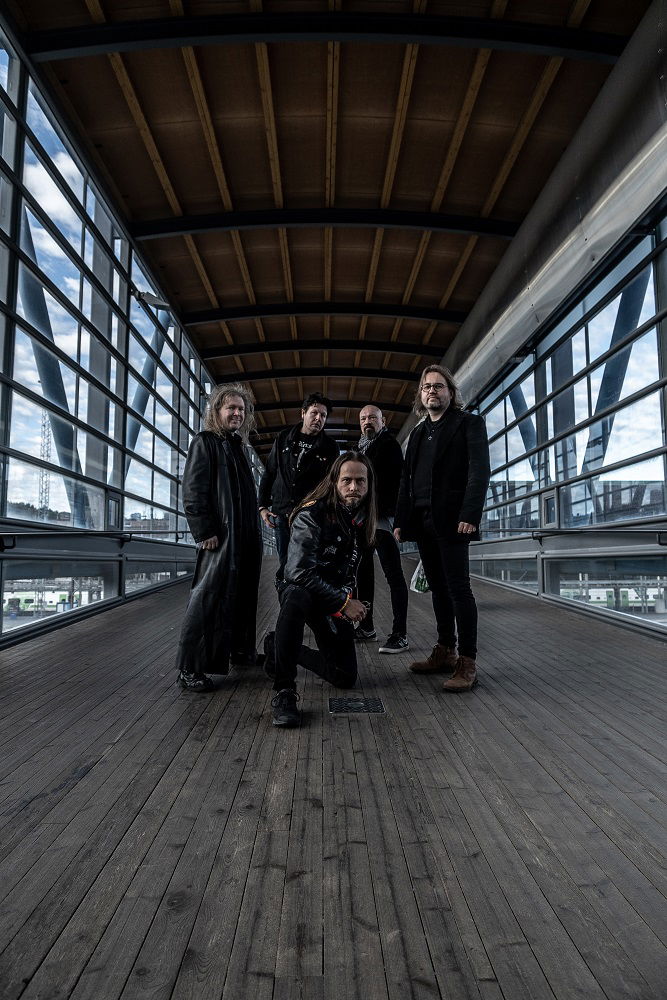 Do you know anything about the Hellenic Metal Scene?
Ari: Can't really brag about knowing the scene over there. I do know a couple of bands, Rotting Christ and Firewind.
Aslak: Astarte, Necromantia, and Thou Art Lord!
Kristian: I know Firewind, Septicflesh and Rotting Christ. It seems there were good bands at the Up the hammers festival in 2020 in Athens.

What are your future plans?
Aslak: They haven't changed a bit since 1989: Tour bus living, gigs all around the world, and beautiful girls... That's what I dreamed about when I was 15. Tattoos I already have.
Ari: I just want to put the record out, watch what happens and then start working on the next one if this still feels as much fun as it does now. Immediate plans: a couple more lyric videos before the album.
Kristian: Make more music.

Thank you very much for your time & Keep up the good work! The closure is yours.
Kristian: Thank you! Check out our website at https://archedfire.com/
By Steve the Filthy Dog.
Photo Credit:Tapio "Papa" Wilska