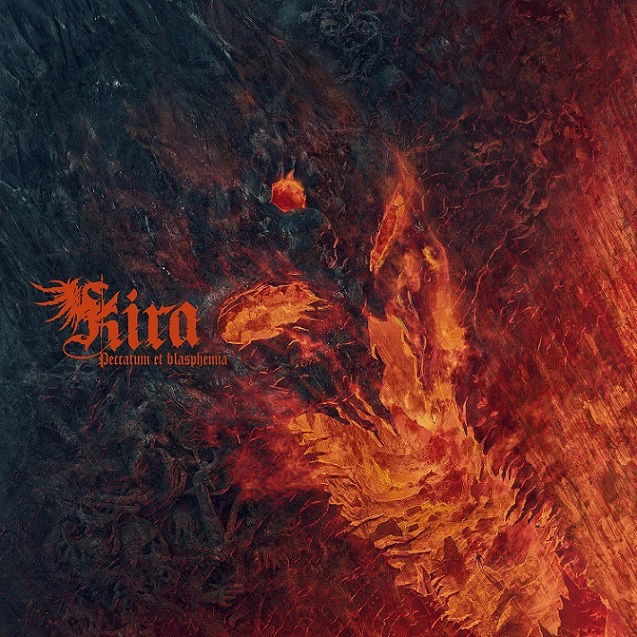 KIRA - PECCATUM ET BLASPHEMIA
Country: Poland
Year: 2020
Label: Ossuary Records
Kira was founded in 2015 in Poland. The album "Ancient Lies" was recorded in 2017. It was published by Krzysztof Mikka's "Tales From Crematoria" and distributed by Putrid Cult. The band Kira unifies musicians with a long musical experience as the entire line-up has already played in various metal bands (Nomad, Ethelyn, Deathstorm, Skullthrone, Abused Majesty, The Growling Stones, Bloodpaint, Egoizm, PeaceMaker, Repossession).''Peccatum Et Blasphemia'' is their second new full-length studio album & it was released in 9th October 2020 via Ossuary Records (Hail Mateusz Drzewicz!). The music of Kira is an old school Black/Death metal in the veins of Bathory, Samael, Grave, Dismember, Entombed & the glorious early 90s Black Metal scene.
The songs are wild, brutal & gore with fast blast beats and hellish riffs.The whole album from start to finish is so fucking great!!! No highlight here, cause the whole album kicks ass!!! I would like mention here that the album contains an amazing brutal cover song of Sodom's ''Silence Is Consent'' from their ''Get What You Deserve'' album!
The album contains 10 songs:
1.Opening the Gates of Hell
2.Lucifer's Herald
3.One Gram of Your Soul
4.Necroscience
5.Temple of Suffering
6.Lord of Hallucinations
7.In the Devil's Embrace
8.The Fearful One
9.Weakness Isn't Breathless
10.Silence Is Consent
Kira line-up is:
Groshek - Drums
Nameless - Guitars
Peter - Bass
Cannibal - Guitars
Hellishdust - Vocals
Guest drums on "Weakness Isn't Breathless" and "Silence Is Consent" by Damian Gwardzik
Guest bass and guitar solo on "The Fearful One" by Witek Nowak
Guest guitar on "The Fearful One" by Seth
Recorded at Nameless Studio, Heinrich House Studio, Seth Studio, AE Studio and Devil Tail's Production in 2018-2019 by Nameless, Heinrich, Seth, Amadeusz and Witek Nowak consecutively.
Edited, mixed and mastered by Witek Nowak at Devil Tail's Production
Front cover and layout by Michał "Xaay" Loranc
Generally, the album is so fucking great and it is a MUST for every true Black/Death Metaller outhere.
It is released on CD (please release it on vinyl too!) via Ossuary Records in limited edition of 500 copies only!
So, buy it now or cry later...
By Steve the Filthy Dog.
KIRA CONTACT: