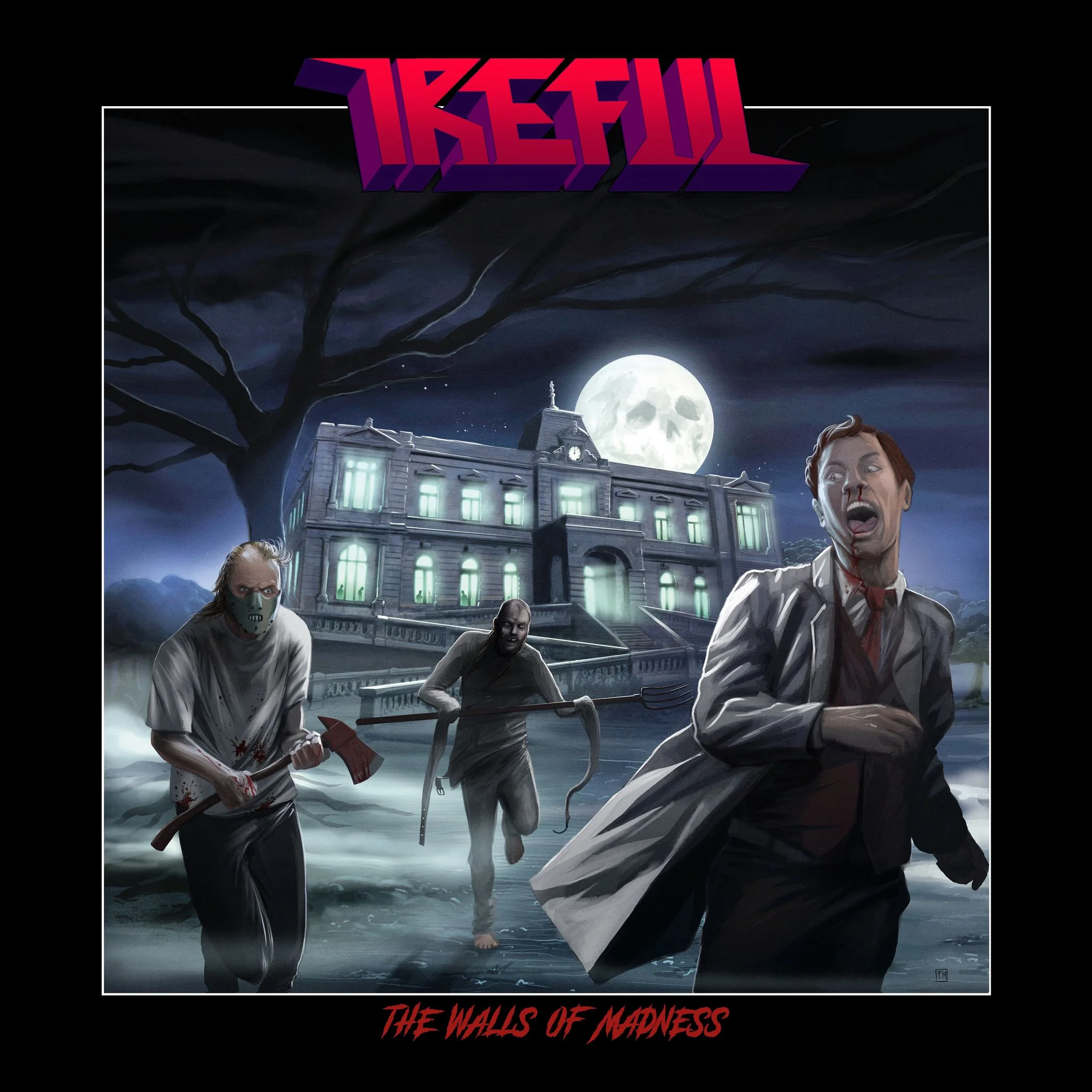 IREFUL - THE WALLS OF MADNESS
Country: Italy
Year: 2021
Label: Defense Records
AAAARRRGG!!! What a blast was that???
Powerful, fast and aggressive thrash metal!!!
Ireful hails from Palermo, Sicily, Italy.The members have a lot of musical experience because they have already been active in various projects like: Eraser, Shock Troopers, Daemonokrat, Hellraiders, Spasticus. Τheir musical sound comes directly from the glorious 80's. Old school Thrash metal. No trendy, no wanna be thrashy, just pure Thrash! Τhe songs on the EP are tight, technically and extremely aggressive. Amazing guitar work by the duo axe-killers M. Thunderbolt & F. MadPig. Especially the solos on the songs ''Fear and Loathing on U-96'', ''Rusty Nail'' & ''The Walls of Madness'' (my favourite!). The rhythm section is a killer. A. Medusa on the Bass & Vio-Ful on Drums plays like they wanna demolish the building blocks. The vocals of A. Medusa are aggressive and they remind me a little bit of Rob Urbinati (Sacrifice) & Paul Baloff (R.I.P. - Exodus).
The EP contains 5 songs:
1. Panzerschreck
2. Fear and Loathing on U-96
3. Sicko's Short Fuse
4. Rusty Nail
5. The Walls of Madness
The CD version released via:
Defense Records / MyThrone Promotion – Poland (500 copies)
Spiritual Beast Records – Japan (400 copies + 2 Bonus tracks ''Rusty Naill'' live version & ''Zombie Attack'' Tankard Cover)
Thrash or Death Records – Brazil (500 copies)
The Cassette version released via:
Life After Death Records - USA (100copies)
The Vinyl version via:
Italian Thrash Attack - Italy (500 copies: 400 copies black vinyl + 100 copies purple vinyl.)
The production of the EP is heavy as fuck!! Recorded at Stratjvari Recording Lab, Palermo. Mixed and mastered at Audiovolt Studio, Florence.
The cover artwork is so badass made by Francesco Montalbano.
Ireful Line up:
A. Medusa - Bass/Vocals
M. Thunderbolt - Lead Guitar
F. MadPig - Lead Guitar
Vio-Ful - Drums
For fans of Vio-Lence, Exodus, Dark Angel, Nuclear Assault, Testament (Legacy era), D.R.I., Deathrow, Tankard etc. So, as you understand ''The Walls Of Madness'' EP, shreds & kills. It is highly recommended!!
Ireful labeled themselves like ''Raw Spaghetti Thrash Metal''. This phrase reminds me...ha ha.. a killer Italian compilation back in 1988 with the amazing title: ''Not Just Spaghetti And Mandolini''. Οf course they not only play perfectly but they also have a very good sense of humor!
The Italians are brothers with the Greeks (of course the whole world are) and I will close this review with this phrase: ''Una Faccia, Una Razza'', dedicated to my metal brothers Ireful.
By Steve the Filthy Dog.
IREFUL CONTACT:
https://irefulthrash.bandcamp.com/releases
https://www.facebook.com/irefulthrash
https://www.instagram.com/ireful_thrash/