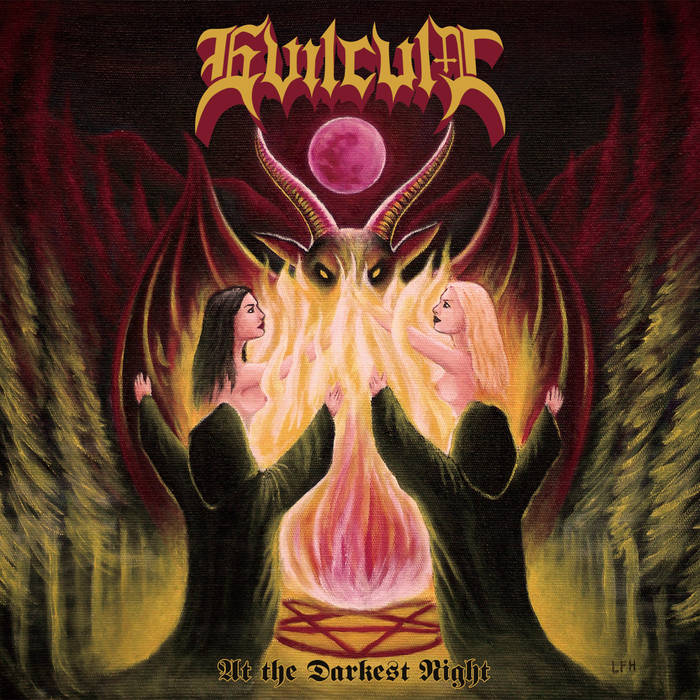 EVILCULT - AT THE DARKEST NIGHT
Country: Brazil
Year: 2020
Label: Awakening Records
Dark entities gave inspiration to EVILCULT and created this evil masterpiece. ''At The Darkest Night'' is an album that from the beginning till the end you cannot stop to listen to it and to bang your head till it bleeds! Old school sound and atmosphere is something that is missing nowadays and I'm so glad about it. Brazil always had (from the 70s) amazing bands from all kinds of heavy music and still continue to produce. EVILCULT is a band that respects and proudly continues the metallic legacy that bands like VENOM, RUNNING WILD, WARRANT, CELTIC FROST gave to the metal genre. I was hooked with their music from the first song that I heard from them & it was the ''Eternal Cult of Darkness'' in 2019 (Hey guys, still waiting for the answers of the interview..ha ha ha!). After 1 year the band has given a black gift to the metal community with the helping hand of the mighty Awakening Records. It is their debut album ''At The Darkest Night''. The album starts with the ''Drunk by Goat's Blood'' & it has a cold and evil riff in the vein of MAYHEM and CELTIC FROST (especially the drum parts!) and then a hellish riff came out from nowhere ala RUNNING WILD to blow your fucking head off!! Passionate pure black speed metal anthem with heavy drumming and a solo that will speak to your heart!! Check also the official video! The album continues in the same awesome old school sound with songs full of black speed thrashing holocaust like: ''Sons Of Hellfire'' (killer riff ala SLAYER from the Show no Mercy era), ''Nocturnal Attack'' (so fucking awesome riff!!), ''Eternal Cult Of Darkness'' (oh boy, this song is so EPIC!!), ''Burning Leather'', ''Army Of The Dead'', ''Unholy Knights'' (what an awesome song is this??) Pure fucking metal!!! ''Necro Magic'' Oh Gee!!! What a song!!! Amazing!! Passionate old school pure black speed metal that will make your blood boil!!! The guitar work of Lucas from Hell is so fucking awesome!! Especially the sound that he has used in the solos (and the main riffs of course!) is pure classic heavy metal!! The vocals are aggressive, evil, full of passion & with amazing metal screamings. The drum parts from ''Mateus Blasphemer'' are hellish!! Powerful playing with double bass drumming and with a sound so warm and pure that only the true (and old) fans of heavy/speed metal can understand! No trigger, no digital, no clear sound, just pure godfucking holocaust!!! ''At The Darkest Night'' album recorded by Matheus Carrer at Cosmic Music Studio & sound engineered / mixed by Matheus Carrer. Mastered by Jean Nightbrëaker. I must give congratulations for the production! EVILCULT is here to blow our brains out with their black/speed metal madness. This release is buy or die and like the ''Awakening Records'' motto written in their OBI ''LET METAL RULE THE WORLD!!! Ideal for fans of SODOM / VENOM / DESTRUCTION / RUNNING WILD / BATHORY.
By Steve the Filthy Dog.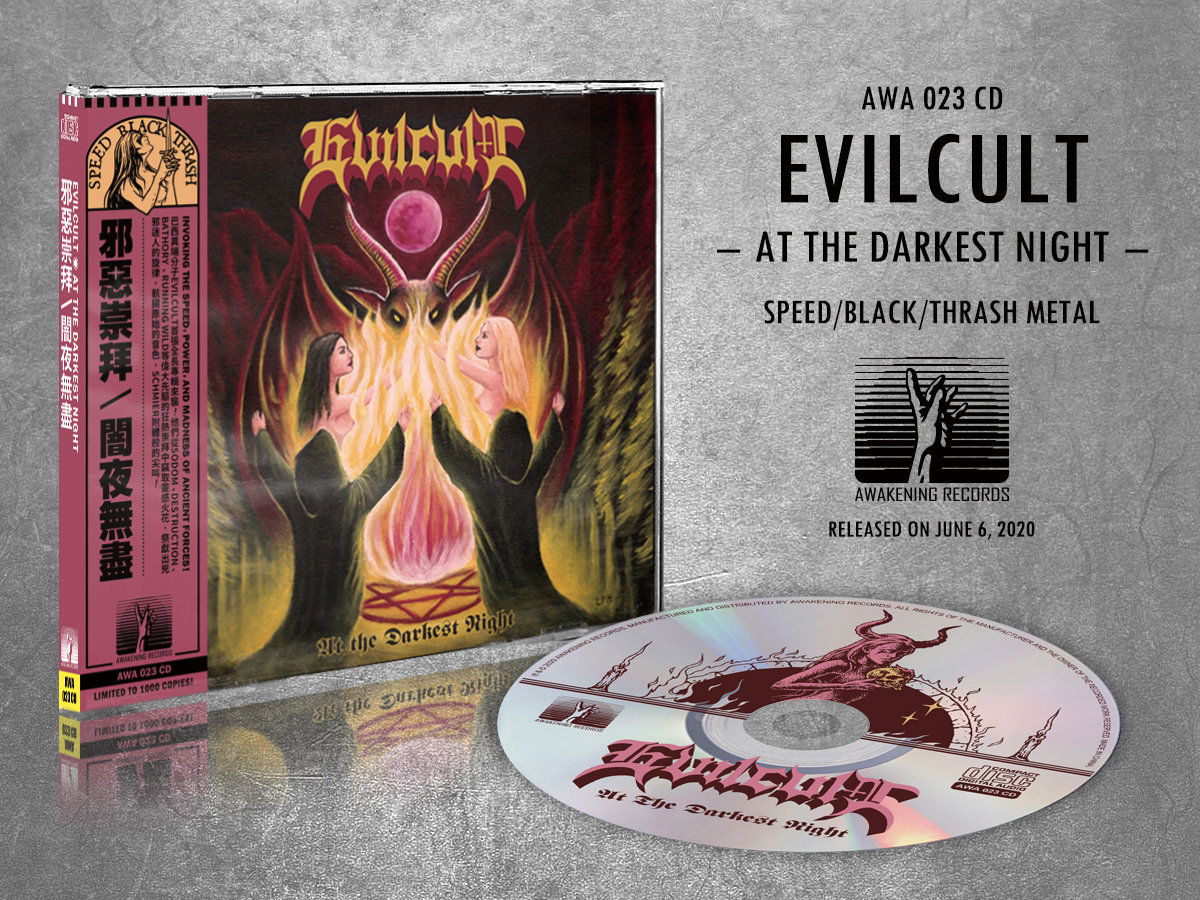 EVILCULT CONTACT:
https://www.facebook.com/Evilcultmetal/
https://evilcult.bandcamp.com/
https://www.instagram.com/evilcult666/
https://open.spotify.com/artist/4EQAZESCE1Uaq6vFGGG6lx
AWAKENING RECORDS:
http://www.awakeningrecords.cn/
https://awakeningrecordscn.bigcartel....
https://awakeningrecordscn.bandcamp.com/
https://www.facebook.com/awakeningrec...
https://www.instagram.com/awakeningre...