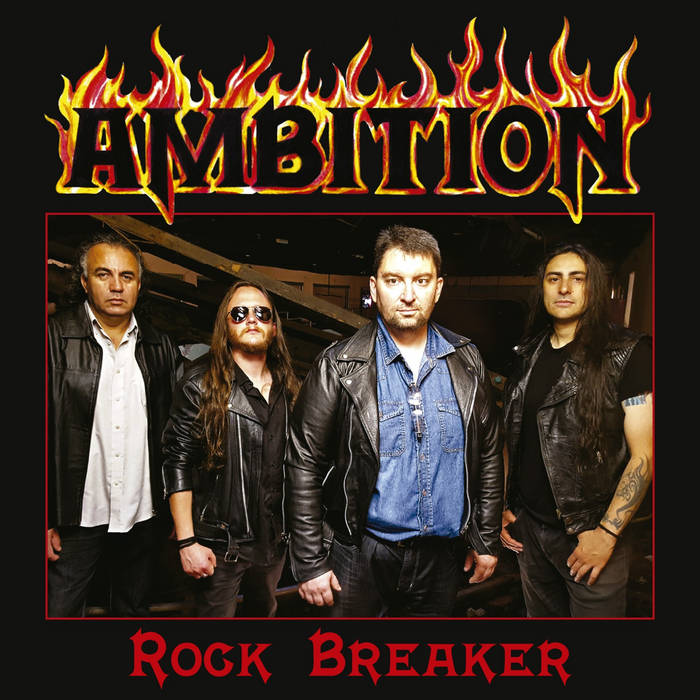 AMBITION - ROCK BREAKER
Country: Brazil
Year: 2020
Label: Inferno Records
Inferno Records (Fabien Rulez!!!) is a Heavy Metal record company based in France, dedicated to true Heavy Metal.The releases of Inferno Records have attitude, passion & of course they are true heavy metal heroes only for the few ones!
One of these bands are AMBITION.They are located in Brazil and they have released so far one 7'' single vinyl, ''Burning Love',' in 2018.Their new full-length album is called ''Rock Breaker''. It is an album that gives a big shout to all the real Heavy Metal heroes from the glorious 70s and 80s!
Oh fuck...what an album is this??It is a Heavy Metal hurricane.
Pure energy, powerful songs and most of all, songs that are composed from the hearts of real dirty rockers, something so rare in these days.
The album smells dirty Heavy Metal with powerful couples, refrains that stuck in your mind and pationated guitar solos.
Killer songs like ''Rock Breaker'', "Finger On The Trigger'', ''Evil Burns'', ''Fight For Your Life'', ''Play The Game'', ''Heroes Die Young''.
True Heavy Metal in the veins of The Rods, Judas Priest, Saxon, Black Out, Chariot, Riot, Picture, Blind Fury and many more from the classic Heavy Metal Heroes.It also contains a beautiful cover of Budgie's Heavy Revolution. Unfortunately (for the vinyl lovers) the album is released only on CD in limited edition of 500 copies!!
So, in a few words the album is forbidden for people that think that Heavy Metal is only a heavy distortion, for people that support this shitty new age scene called N.W.O.T.H.M., for progressive metal audience that wants songs with complicated structure and of course for the ''happy'' power/epic/viking/symphonic bullshit metal fans.
NO TRENDS HERE - ONLY PURE HEAVY METAL STRAIGHT FROM THE GLORIOUS PAST!!!
For sure, Ambition's Rock Breaker is one of my favourite albums of the last 20 years.
IN METAL WE TRUST - IN HELL WE'LL BURN (like Inferno Records motto is!!!).
By Steve the Filthy Dog.
AMBITION CONTACT:
https://www.facebook.com/InfernoRecs/
https://www.inferno-records.net/