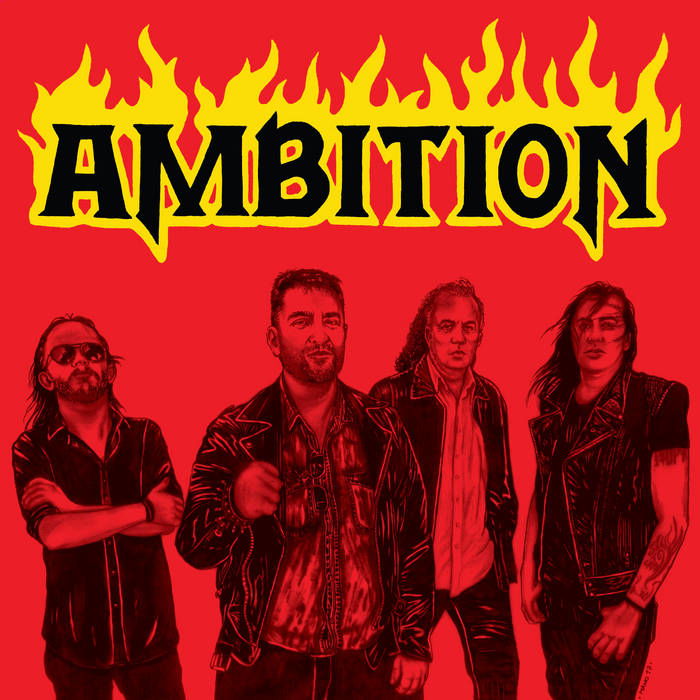 AMBITION - BURNING LOVE / DANGER ZONE
Country: Brazil
Year: 2018
Label: Inferno Records
Here we have the 1st single vinyl of the Brazilian heavy metallers Ambition.I will continue to call them Heavy Metal (they labeled them selves in the interview that we had as a Heavy/ Rock Band,
(''Our only influence is the period from 1975 to 1985, when the bands played a Heavy/Rock without many labels and genres.Bands like AC/DC, Krokus, The Rods, Picture and old Judas Priest.'') cause they have all the elements for this label.They play from their heart, the songs are in the classic heavy metal forms like chorus - refrain - chorus - refrain - solo - chorus - refrain and the end, no bullshit complicated parts on it, no progressive bullshit, no keyboards and not trendy stuff.
Side A has the song ''Burning Love''. A classic Heavy Metal tune and YES!, we go back to the glorious 80s era. The song reminds me the mighty Rods, Picture and a lot of Dutch Black Out (you remember the Evil Games album?).Great song with catchy refrain that stucks in your mind!
Side B has the song ''Danger Zone'' Here this song is more Hard Rockish in the vein of AC/DC, old French Hard Rockers Trust and Accept especially in the double vocals! Generally Ambition is an excellent option for all those who are looking for new bands playing some raw and "in your face" hard and heavy metal!
No trends here - only pure Metal!
The single released on 300 copies (200 black vinyl and only 100 on red vinyl).
Get it before it's too late!
By Steve the Filthy Dog.
AMBITION CONTACT:
https://www.facebook.com/InfernoRecs/