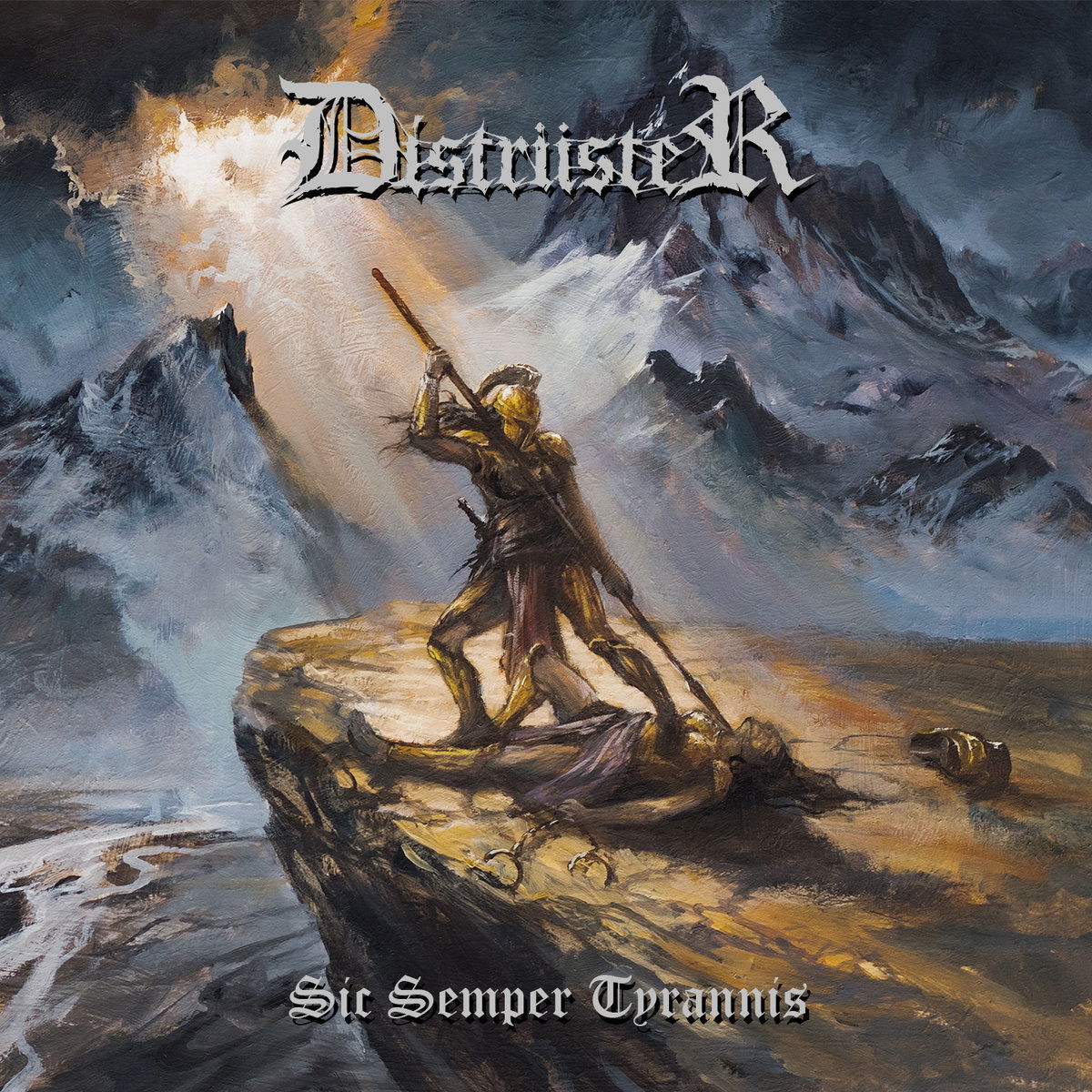 DISTRUSTER - SIC SEMPER TYRANNIS
Country: Poland
Year: 2022
Label: Ossuary Records
The postman rang the bell last Monday morning holding a beautiful package in his hands. I immediately saw on the package the logo of OSSUARY Records (one of my favorite record labels, Hail Mateusz!) so I thought to myself that another great new band enjoys the label's roster. We always have awesome communication with Mateusz and I must say here that the bands on his record label are the hottest in the metal scene right now. Respect to Mateusz and to OSSUARY Records because they always do excellent and professional work! Check the releases HERE. So, like a curious & hungry cat, I quickly opened and I was holding in my hands the debut album by the Polish d-beat metal band Distrüster. Fuck yeah!! The cover artwork was painted by Adam Burke (a well-known artist from collaborating with bands such as Eternal Champion, Vektor, Angel Witch, Lunar Shadow & many many more..) & it is so fucking awesome!! Killer Epic Art! Distrüster's music is a mixture of death metal and d-beat with aggressive vocals and really wild guitar riffs. From the first second that the CD starts, the listener comes face to face with a machine gun. Fast d-beat drumming with the blast beast hits you in the face, loud bass, killer guitar riffs & extreme screaming vocals! Killer powerful songs with the highlights ''Nobody Dare'', ''Die!'', ''A.P.O.S.'' (blast beats to the max) & ''Martyr's Game'' will make you bang your head & thrash out your room! The production of the album is very strong and tough, like the music of Distrüster. I am very glad to see bands with such an excellent debut album like ''Sic Semper Tyrannis'' (thus always to tyrants) & I'm pretty sure that Distrüster's upcoming releases will be better and better! A big bravo to OSSUARY Records &, of course, to the band for the great music!
Track list:
1. Nobody Dares
2. Now
3. Die!
4. To Live Beautifully
5. A.P.O.S.
6. Burning. Open. Wounds.
7. Martyr's Game
8. Over and Over
9. Loyal to None
10. Bullshit
11. Calm Under Fire
Line-up:
Uappa Terror - Guitars / Bass / Vocals
Kosa - Vocals
James Stewart - Drums
Drums recorded by James Stewart in March 2021
Other instruments recorded in No Solace by M., between June and September 2021
Mix and Mastering by M., No Solace, December 2021 - January 2022
Artwork by Adam Burke
Layout and Design by Uappa Terror
Distrüster Logo by Casus Artem
Lyrics by Kosa
Guitar solos by Uappa Terror
Guitar solo in To Live Beautifully by Mscislaw
Riot Shouts by Uappa Terror, Kosa, Syru
The CD edition comes with a standard jewel case and an 8-page booklet (I'm thinking that if it was released on vinyl, it would be awesome) and, of course, for the cassette collector maniacs, it was released in a limited edition of 100 copies only in two color variations (50 navy blue & 50 gold)! So, hurry up motherfuckers!
By Steve the Filthy Dog.
DISTRUSTER CONTACT:
https://www.facebook.com/Distruster
https://www.instagram.com/distrustermetal/
https://distruster.bandcamp.com/album/sic-semper-tyrannis
https://open.spotify.com/artist/18wNfcXFA8DWv0Z7BQ5VQG