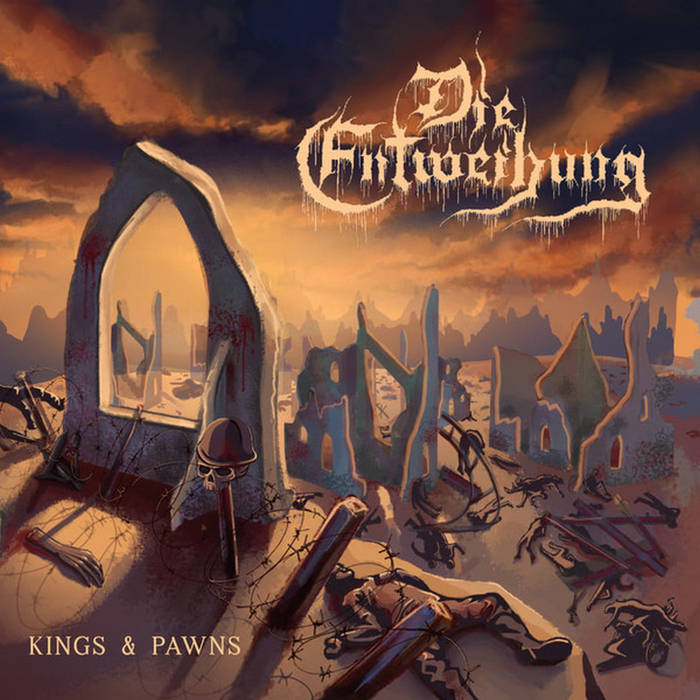 DIE ENTWEIHUNG - KINGS & PAWNS
Country: Israel
Year: 2021
Label: Scorched Earth Records / Wings Of Destruction Production
DIE ENTWEIHUNG 's new album ''Kings & Paws'', was released in January 2021. DIE ENTWEIHUNG has a large discography since 2007 when they were created. This project is the personal band of the Herr Entweiherr ( Денис Терещенко) where he plays all the instruments. His talent is inexhaustible as a musician but also as a composer. Τhe album has many music genres from the area of heavy metal. The listener can detect from classic heavy metal to black metal (especially in the voice). The songs on the album are easy to hear with atmosphere and of course plenty of wildness. Songs like: ''As The Hangover Starts'' (my favourite), ''Kings & Pawns'', ''The Only Thing Worthy To Save'' are the highlights of the album. The production of the album is crystal clear and it has a really beautiful cover artwork war-influenced with dark atmosphere.The booklet is a poster so the cover artwork is more than awesome!! The album also has two cover songs. ''Working Class Hero'' by John Lennon (R.I.P.) & ''Sons of Moon and Fire'' by Der Gerwelt (Russian Black Metal Band) dedicated to the memory of Aarbreck (aka Dmitry Abramov R.I.P. ) both played under the music filter & prism of DIE ENTWEIHUNG. Featuring Alexander Ivanov (JINX), Alena "Dark Zero" (NOCTURNAL PESTILENCE), Anton "Shirl" (TALES OF DARKNORD).
The album contains 9 songs:
1. Away Into The Night
2. The Moustached God
3. As The Hangover Starts
4. Confrontation
5. Kings & Pawns
6. The Nonsense Games
7. The Only Thing Worthy To Save
8. Working Class Hero*
9. Sons of Moon and Fire*
Support DIE ENTWEIHUNG cause they deserve it.
By Steve the Filthy Dog.
DIE ENTWEIHUNG CONTACT:
https://entweihung.bandcamp.com/
https://entweihung.jimdofree.com/