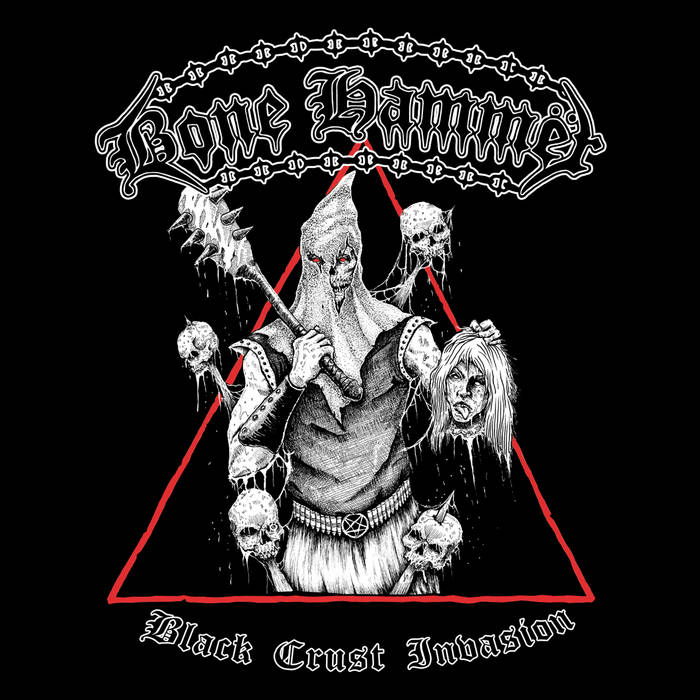 BONEHAMMER - BLACK CRUST INVASION
Country: Argentina
Year: 2019
Label: Awakening Records
''Black Crust Invasion'' is the first full length studio album from the Argentinians maniacs BONEHAMMER. The title as you realize says it all!! The black invasion rising from the songs of BONEHAMMER and the ancient evil spirits will haunt you and your beloved ones. I know that the band is working very hard to product the most evil, cult and black/speed metal for the listener to hear and they doing it so fucking great!! You can read more about BONEHAMMER HERE. Ódnüfak (Thunder Bass and Vomiting Voice) and his killing company of Onahíram (Chainsaw Guitar / Cathedral Piano / Dark Chorus and Lysergic Flute) & Alaph (Atomic drums and Voodoo Bongo) are experienced musicians with other killer Argentinian metal projects which you must listen to: FEEL THE KNIFE, METALEPSIA, VELOCIDAD 22, VULCANOR, ORGULLO FISURA, AORTA & MAKINACION. The music of BONEHAMMER is so evil, dark, occult and heavy. So fucking great!! Black speed metal anthems like: ''Dark Pagan Cult'', ''Shadows Of Darkness'' (EPIC song!!!), ''Children of the Lie'' (so fast and evil!!), ''Living A Rotting Nightmare'' (Occult atmosphere inside a Pagan Ritual!!), ''Victims Of War'' (the vocals reminds me U.D.O. from ACCEPT being possessed by evil spirits!!) ''Invocation'' (For those who feel the darkness of the night), ''Hammerson'' is a song dedicated to all straw hearted wolves out there with an amazing solo in the middle!! ''Overture of Evil'' (don't listen to it when you are alone), ''Possessed'' & ''Reborn In Hell'' are songs that will make you will bang your heads till they will bleed!! ''Blues Of Perversion'' is a song ''tribute'' to the mighty MENTORS, forbidden for innocent & virgin minds!! The last song is a ''hidden'' cover song of March ör Die from the badass MOTÖRHEAD! The album was produced by BONEHAMMER (top notch production!), Recording and mixing by Gregorio Kochian at Recrear Studio (June ~ July 2019) & Mastering by Carlos Soutullo. Also, the cover artwork is fucking great made by Emiliano Albelda. So, all true black speed metal punks out there, BONEHAMMER' s album is for you! It will make your ears bleed, your head will break and your heart and spirit will travel to the deepest mystical abyss!
By Steve the Filthy Dog.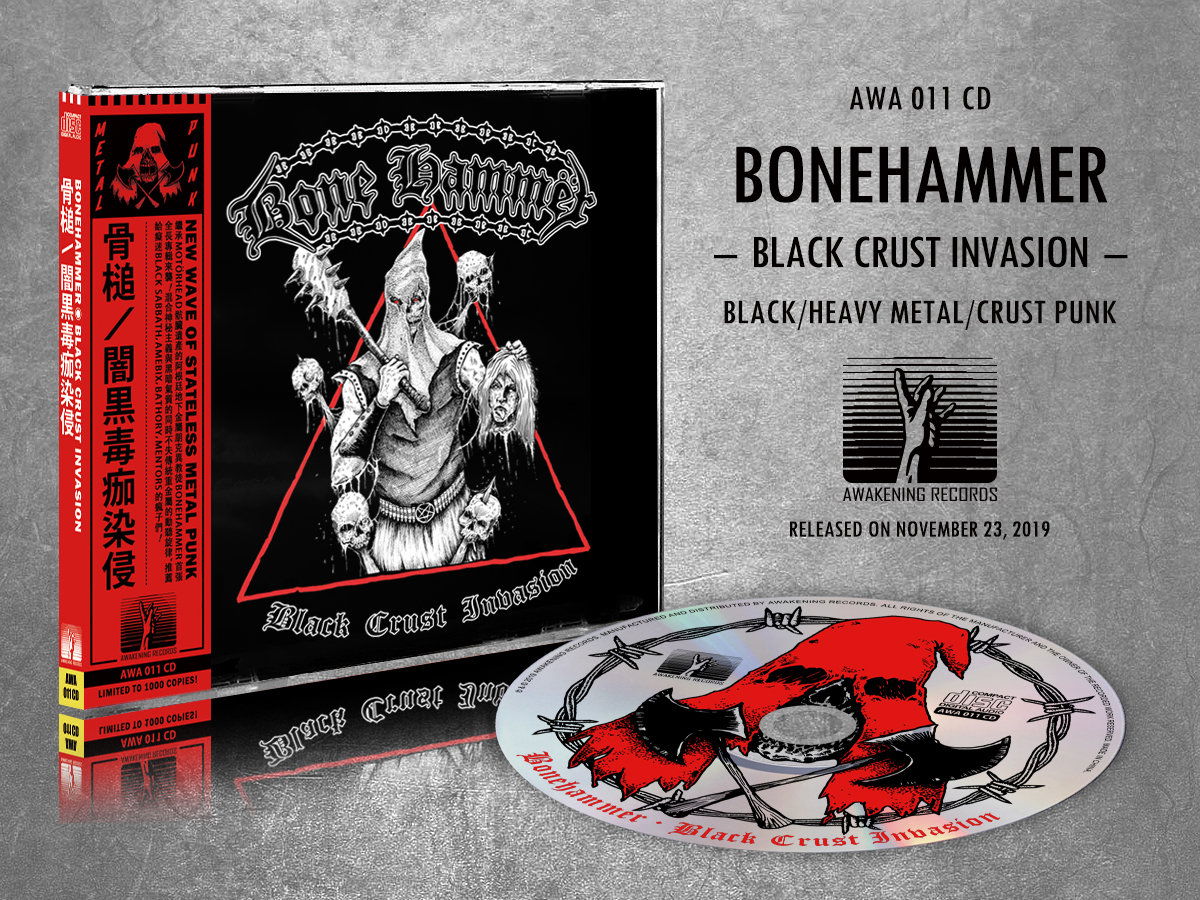 BONEHAMMER CONTACT:

https://bonehammerblackcrust.bandcamp.com/

https://www.facebook.com/Bonehammer-114936406534038/
AWAKENING RECORDS CONTACT:
http://www.awakeningrecords.cn/
https://awakeningrecordscn.bigcartel....
https://awakeningrecordscn.bandcamp.com/
https://www.facebook.com/awakeningrec...
https://www.instagram.com/awakeningre...