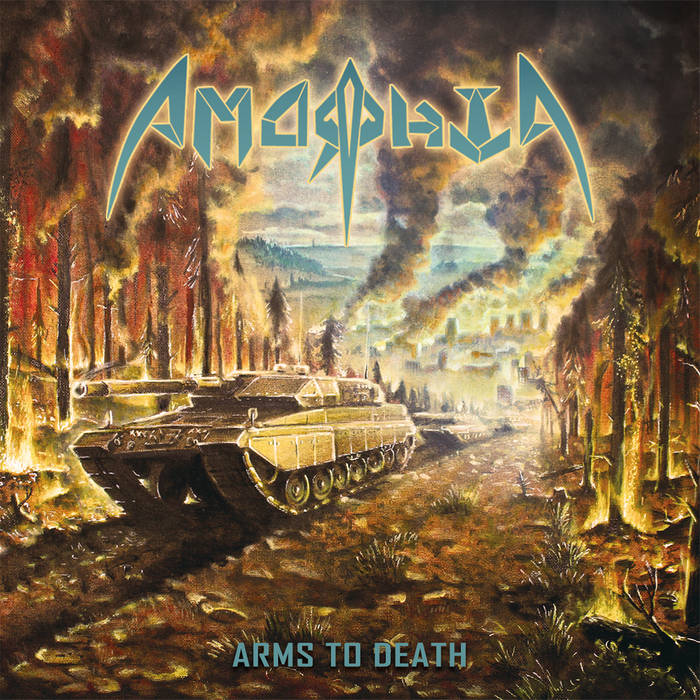 AMORPHIA - ARMS TO DEATH
Country: India
Year: 2019
Label: Awakening Records
The thrash metal maniacs AMORPHIA hailing from India and Indian's metal scene is really hot with amazing bands like ILLUCIA, AGAINST EVIL, SABOTAGE,CARNAGE INC, VILE IMPALEMENT. AMORPHIA belongs to this awesome scene. ''Arms to Death'' released one year before (in 2018) as a self-release with different cover. Of course the amazing crew (Hail Wang & Li) of AWAKENING RECORDS grab the chance to have them in their roster and released it in 2019 with different cover (killer war-influenced cover artwork) + 1 bonus tracks (''Master Of Death'') and the album contains 10 thrashing anthems:
1. Intro
2. Necromancers
3. Army Of Evil
4. Toxic Death
5. Camp 22
6. Nuclear Warfare
7. Arms to Death
8. Airborne
9. The Lieber Code
10. Master Of Death
Also, we had a chance to have a conversation with them and you can read it HERE. Their music is wild and they are thrashing rage without limits. Powerful drumming with ripping riffs that gonna make your brain crazy & break your neck from the hellish headbanging. Dynamic songs like: ''Necromancers'', ''Army Of Evil'' (my favourite), ''Nuclear Warfare'', ''The Lieber Code'' are the highlights of the album. The production is really good, heavy and clear. Drums were recorded at Jam Music Conservatory Kochi. Guitars, bass and vocals were recorded at home (amazing work, well done boys!!!). The album was mixed and mastered at Foster Black Productions in Mumbai and this CD edition from AWAKENING RECORDS is a limited edition to 1000 copies! So, thrash metal maniac fans of KREATOR, SODOM, DESTRUCTION, SACRIFICE, SLAYER this album is for you and as it is written in the OBI of the CD: ''VIOLENT THRASH ASSAULT FROM THE ARMY OF EVIL''!
AMORPHIA CONTACT:
https://amorphiathrash.bandcamp.com/album/arms-to-death-2018

https://www.facebook.com/Amorphiathrash/

https://www.instagram.com/amorphia_thrash/

https://soundcloud.com/amorphiaindia

AWAKENING RECORDS:
http://www.awakeningrecords.cn/
https://awakeningrecordscn.bigcartel....
https://awakeningrecordscn.bandcamp.com/
https://www.facebook.com/awakeningrec...
https://www.instagram.com/awakeningre...