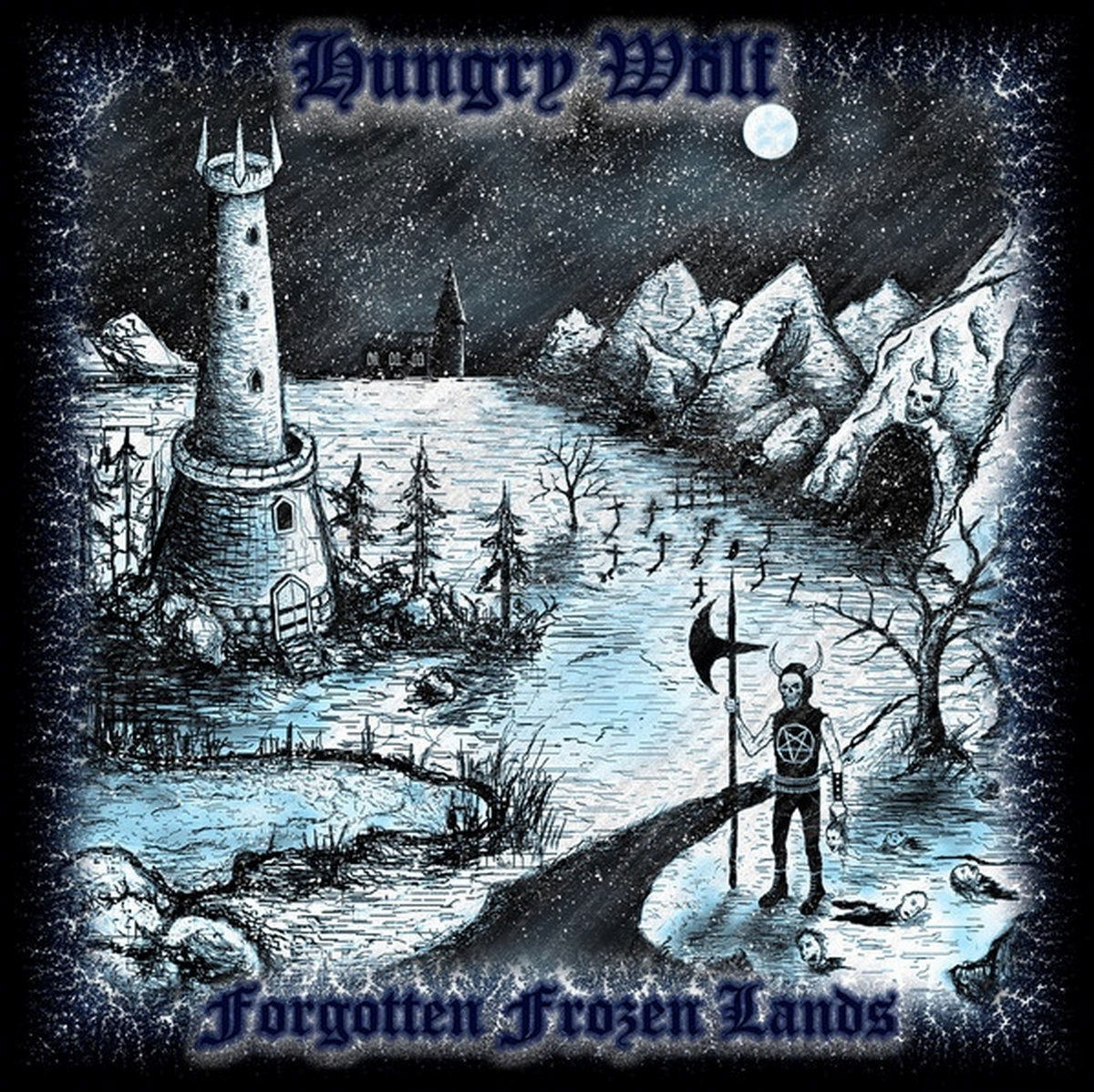 HUNGRY WOLF - FORGOTTEN FROZEN LANDS
Country: Russia
Year: 2021
Label: Grotesque Sounds / Wings Of Destruction Production
The latest full-length studio album of HUNGRY WOLF is the ''Forgotten Frozen Lands'' & it contains 13 songs:
1. Into The White
2. Satanic Halberd
3. Down To The Ground
4. Beer Drinkers & Grave Robbers
5. Black Mighty Tower
6. Abandoned Chapel
7. Skeletal Dungeon
8. Forgotten Frozen Lands
9. Far Winds Of Plague
10. The Great Journey In Scandinavia
11. Cries From The Coffin
12. Smell Of Silence
13. Frost Of A Midnight Sun
Here we are dealing with a very strong, raw and heavy band from Russia. Judging by the cover, you understand that you are going to dealin with a true band. The extreme cold we see on the cover, the severed heads from a cult-figured skeleton (with a pentagram on his black t-shirt!) put you straight in the mood that this album should fucking shreds..And YES! ''Forgotten Frozen Lands'' is an amazing album. It fucking shreds! Full of agressiness, raw Black 'n Roll with MetalPunk elements. From the first song till the last you're gonna bang your head till it bleeds (or open..ha ha!!). Powerful songs like ''Into the White'', ''Satanic Halberd'', ''Black Mighty Tower'' (my favourite, together with ''Frost Of The Midnight Sun''), ''Forgotten Frozen Lands'' are gonna make your speakers explode! Powerful black riffs in a punk atmosphere with fast heavy drumming combined with a depressive mood. All these explosive elements make a super dangerous & dynamic material ready to explode like a burning Molotov on the asphalt! Boys & girls, you gonna love this album, it is for sure ''Buy or Die'' release (I know ''Bye or Die'' is a little bit cliche nowadays!) Also, it contains an amazing cover song from ANTI-CIMEX ''Smell of Silence'' which is so fucking great played!!! Of course the whole album shreds & it has a street fucking Black MetalPunk attitude. The Russian metal scene is amazing and of course with the help of Wings Of Destruction Production, HUNGRY WOLF's CD is on my CD Player more than 3 days there, stuck on the repeat! It is highly recommended for fans of BATHORY, ANTI-CIMEX, DRILLER KILLER, MOTORHEAD, VENOM etc.
By Steve the Filthy Dog.
HUNGRY WOLF CONTACT:
https://hungrywolf666.bandcamp.com/?fbclid=IwAR3-wIZf0HEAFvcW35t3soZH0K00UUBpjHhf6yUwEc5KSIQrHJVIHH8GqPc

https://www.facebook.com/HungryWolfKrigets
https://www.instagram.com/hungry.wolf.band/

https://vk.com/hungrywolvesband