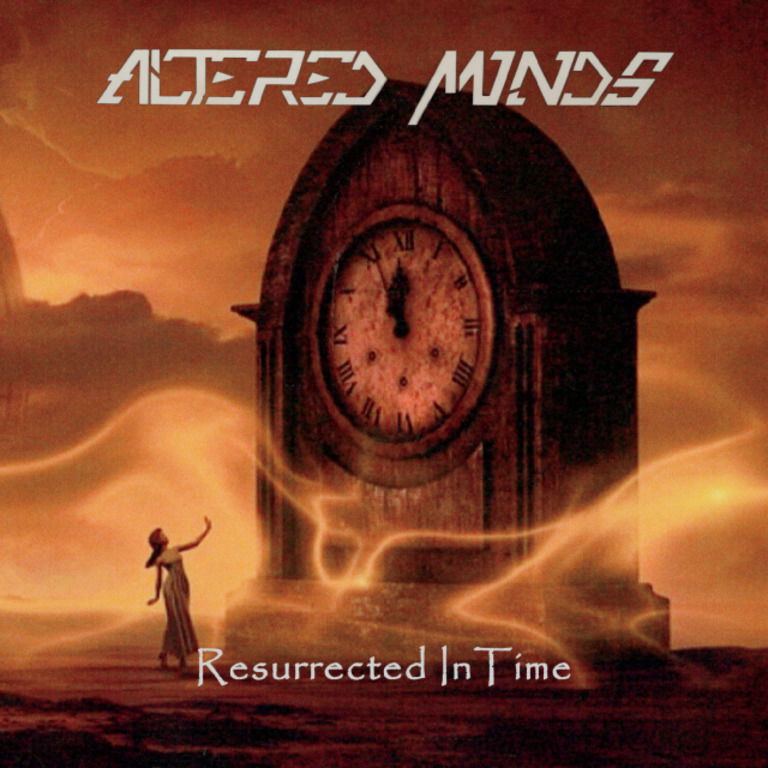 ALTERED MINDS - RESURRECTED IN TIME
Country: USA
Year: 2021
Label: Independent
ALTERED MINDS have been in the heavy metal scene for many years, but like many bands for several reasons they release their work after 25-30 years. You can read useful information about ALTERED MINDS from their founding member Ron Sandhu who had the kindness to answer our questions HERE.Their music is passionate, technical and written from the heart of people who have an appetite and mood for true and melodic heavy metal. ''Resurrected In Time'' arrived Today and it was like a Christmas present! From the first seconds, the listener understands the musical education that the members of ALTERED MINDS have! ''Alone In The Dark'' is a badass song! So passionate with an amazing refrain that sticks in your mind. Especially the guitar work is fucking great!! Melodic riffs with a killer solo (the sound is in the vein of IRON MAIDEN's 1986 era!) and all this is embraced by a wonderful and warm sound! ''King Of Deception'' is also a killer song. The song begins with an epic rhythm of bass and drums, guitars spitting fire and Mike's voice is incredible. His voice has a wide range and is so pleasing and warm to the ears of the listeners. Excellent and professional!! ''Somniat Occiditis'' is a song with many technical points, many melodies in the voice and progressive elements in the drums ala Mark Zonder. Most of you (and me of course!) will be back in the early 90's when QUEENSRYCHE released their amazing album ''Empire''. ''Planet of Crossing'' has a beautiful keyboard work in the beginning and a progressive drums part in the vein of FATES WARNING' s ''Parallels''! Mike Marrone's drumming will blow your mind off!!! As for the guitar solo...AMAZING.. your head will roll when you hear it!! In the album you can hear 3 cover songs from RITCHIE BLACKMORE'S RAINBOW ''Man In The Silver Mountain'' & 2 from IRON MAIDEN, ''Where Eagles Dare'' & ''Flight Of Icarus''. The playing is very close to the original versions of course under the veil and filter of ALTERED MINDS which gives it a new and freshy attitude! Well done, boys, I'm pretty sure that IRON MAIDEN and of course RITCHIE BLACKMORE will be very proud if they heard your cover versions!! ''Leaving It All Again'' is the ''ballad'' of the album! A very sentimental song, full of passion, sweet electro-acoustic guitars. I'm pretty sure that a lot of pairs of eyes will cry when they hear this song. It will give you goosebumps!! ''Destiny Calls'' is for me the hidden diamond of the album! Awesome and epic parts in the voice, terrifying riffs on the guitar that cut like razor blades & drums parts where together with the bass they can demolish houses, streets, highways and of course the ears (and the brain!) of the listener. Must listen to it as soon as possible! ''Resurrected In Time'' is one of my favourite album for the goddamn fucking 2021. The whole world has been going through dark and gloomy days for about 2 years, locked in the house most of the time, afraid to meet each other, anxious to go out and generally the fear of death to be everywhere and with everyone. Fortunately, I say it one more FORTUNATELY, I'm feeling very glad that there are bands like ALTERED MINDS out there, to offer to the world quality heavy metal music, with songs that spoke to the soul of every metalhead out there. I personally want to thank RON for this album, he made my mood to the maximum!! Fans, metal freaks and record labels out there, Support ALTERED MINDS cause they deserve it!!
ALTERED MINDS Lineup:
Mike Accurso - Vocals
Ron Sandhu - Guitars, Keyboards
Freddy Villano - Bass
Mike Marrone - Drums
Guest solo on track 1 by Dakota Amacker.
Guest solo on track 2 by Matias Baeza.
Guest solo on track 3 by Mike Kerr.
Guest solo on track 4 by Ben Higgins.
Guest solo on track 5 by Mike Flyntz.
Guest solo on track 9 by Joshua Miller.
Additional backing vocals on track 9 by Glenn DaGrossa.
Produced and engineered by Mike Marrone at The Cave.
CD Layout by Kaylee Sandhu.
By Steve the FILTHY DOG.

ALTERED MINDS CONTACT:
https://www.facebook.com/AlteredMindsMetal
https://www.instagram.com/altered_minds_metal/
https://open.spotify.com/artist/63WtNXd9dwrU1s51umP8GU