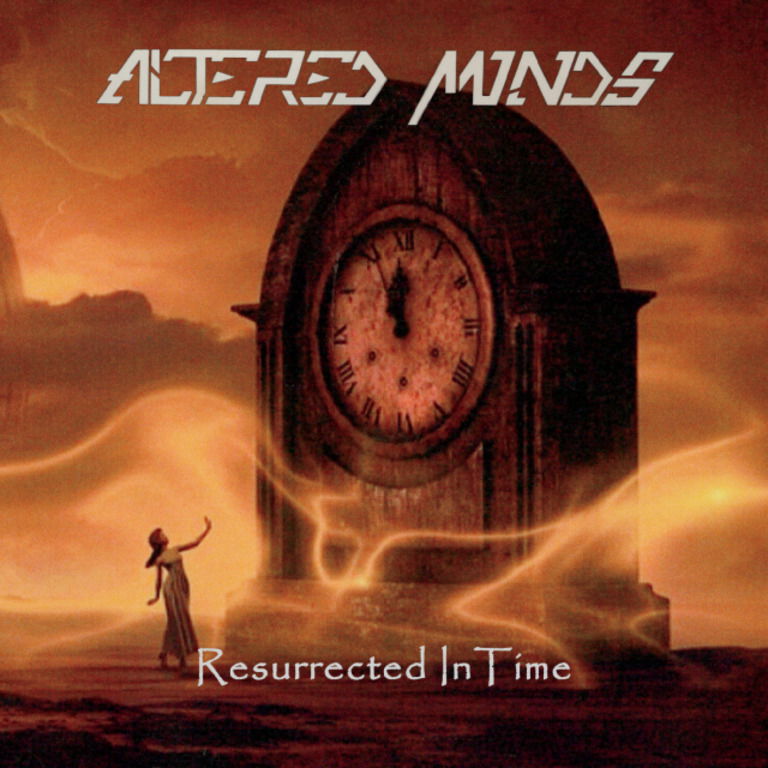 !!!OLD SCHOOL PROGRESSIVE METAL FROM LONG ISLAND, NY!!!
We had a conversation with Ron (Guitars). Enjoy!

Welcome to the FILTHY DOGS OF METAL Webzine.
Tell us a few things about ALTERED MINDS (Members, Starting Year etc).
Altered Minds was started by myself and Scott Estrada in 1992. We were childhood friends that started writing songs together in High school. In 1992 we got a hold of Chris Jusino ( Guitar ) Alex Wise (Bass) and Anthony Falco (Drums) .We started playing shows in and around the NYC area.We were soon signed by a management company known as JP Productions.They handled many NY/Long Island Acts. In 1994, Scott left the band and we introduced second singer and present vocalist Mike Accurso.Mike was recommended to us by a friend who was a local vocal teacher. We continued to write and tour but in 1995 we chose to go our separate ways. Myself and Scott still continued to write songs and Mike A and I continued to do various musical projects. This CD was not planned, it was really the brainchild of drummer Mike Marrone. He is the drummer of the Progressive metal band "Awaken", a Pure Steel records Artist. Mike just built a studio and asked if I wanted to record a few songs.I called Mike Accurso and we recruited an old friend and fantastic bass player ,Freddy Villano.Freddy has toured and recorded with many major acts such as Quiet Riot,Dee Snider's "Widowmaker" and done numerous session work along with being a contributing editor for Bass Player magazine. So we thought lets recorded 3 or 4 songs for fun. Well That turned into 9 songs and the rest is pretty much history. I wanted to have original Guitarist Chris Jusino involved but do to the covid lockdowns and schedules, it was not possible.This whole CD was recorded remotely ,each of us recording our own parts in our owns studios and then putting them together at Mike Marrone's studio in NY.Since Chris was not available to record, I reached out to some friends and asked a few to drop some solos on songs along with my own.The cover songs were actually recorded for 3 different tribute albums.They came out so well that we decided to keep them on the CD !
The Players are :
Mike Kerr of FirstBourne - 2nd solo on Somniat Occiditis
Mike Flyntz of Riot - Outro solo On Man On The Silver Mountain
Dakota Amacker of Awoken Infinium - Middle solo on Alone In The Dark
Matias Baeza an Ibanez guitars artist - 1st solo on King Of Deception
Ben Higgins a famous Youtube guitarist famous for his videos and lessons - 1st solo on Planet Of Crossings. I play all guitars and solos on the CD aside from these few guest spots Chris Jusino is now back working with me and will be on the next album for sure.
You have recently released your album ''Resurrected In Time''. What is the feedback from your audience as well as from the press?
The album was released on November 1st 2021 but was actually completely finished as of January 2020 .The pandemic forced a major delay in finishing the mixes and mastering. We did not have a timetable for a release because this was just done for our own enjoyment . Quite a few people knew that we were working on this so there was some anticipation building. Once we released the album and it was sent to all digital streaming platforms, the response was off the hook. We have been literally bombard with requests for CD's, t-shirts and any other "swag" that we have. Thanks to Youtube channel "NWOTHM FULL ALBUMS" posting of the album, we have really taken off.Amazing positive feedback from the press ,friends and fans alike.We are almost out of CD's and we are sold out of T-shirts and yet people keep contacting us to buy. We have gotten wonderful write ups and reviews on many webzine and podcasts from the US and internationally. The European market has really welcomed us with open arms to the point that we have been contacted by several record labels interested with working with us fro European distribution and future albums.Its really quite amazing and humbling to know that there is such a glamour for Altered Minds across the globe right now.The US market is lighting up but the response we have gotten from Europe and South America in particular is mind blowing !
Label or DIY and why?
We did this all DIY because we did it for ourselves with no intention of shopping it.It was a project for fun. There was no pressure so it was easy to do since we didn't worry about impressing anyone or by working with time tables.Now that we have label interest, it doesn't change. We are all professional musicians and we know how to get things done without stressing about it.We are excited to be connected to a label and get the bands name out ,especially in Europe .
Do you prefer Vinyl, Tape, CD or Digital Format and why is that?
Well vinyl has made a huge comeback for sure. it has become a purists medium.It will be nice to get this and our next album on vinyl for sure. The CD is still a wonderful thing because of the packing and layout.Its still a great feeling to open up a CD and take a look at the insert and liner notes.Digital streaming is a must. The fact that we are streamed on all major platforms is major contributor to our overall "success" if you will. Its not about the money for us. It really is about the product and to get recognition from people to know thatchy enjoy what we have made. In this day and age digital streaming is a must if your band expects to be heard. Look what it has done for us !
Your music style is Progressive Heavy Metal. Which are your main influences (Favourite Artists / Bands etc.)
I write all the music and most of there melodies for all our songs. All 4 of us that recorded this CD have similar and yet vastly different influences. My love for twin guitars and harmony guitars start with Iron Maiden.They are my all time favorite band ,I never try to emulate them when I write but the 2 guitar harmony attack is what shapes my writing. I am a fan of more classic Euro metal bands such as Judas Priest, Helloween, Thin Lizzy to name a few. My other 2 favorite US metal bands are easily Queensrche and Fates Warning. I think the songs on the CD carry a heavier Fates / Queensryche feel than they do a Maiden feel. Mike Accurso is more of a classic rock singer but he loves to sing the heavier stuff as you can hear from his vocals on the CD. Freddy Villano is a diverse bassist with styles ranging from Steve Harris ,Geezer Butler to Bob Daisley. Freddy and I share very similar influences. Mike Marrone is a monster drummer whose influences range from Mike Portnoy to lars Ulrich. So we all have different yet very similar influences.
Which things, do you think, a Band should sacrifice in order to succeed? Have you ever sacrificed anything in your life for a better future of your Band?
I don't know if a band should really sacrifice anything.I would say stay true to your form and don't let outside parties influence your decisions. The music business has changed so much that its not about playing a live show and having an AR guy come see you, its about getting heard by any avenues that you can.This is where digital steaming is HUGE !! As far as what did we as band ever sacrifice ? We chose to align ourselves with a management company back in the 90's .We thought that they knew what was right for us and they would lead us to fame and glory.All they did was take our money and cause us to disband.Now I'm older, wiser and have been through a lot in the music business.I will not sacrifice anything, if things happen and lead us to success, so be it.If it doesn't I'm fine with that as well. This is a second chance for our band and we are thrilled with the way things are going.
Describe your ideal live show as a performance Band. Have you already experienced that?
Every live show is great and every live show sucks LOL An Ideal live show to me is one where everything just clicks and the people in the audience get off on the same vibe that you are feeling. Ive played a lot of shows in my life.being from NY there was plenty of venues to play back in the day. One of my favorite shows was playing at the Marquee club. Full house and the sound and the band was on fire that night, even thought drummer forgot to pack his hardware in his road case LOL Fortunately one of the other acts let us use their gear.I don't know if I have experienced a better HIGH than that.
Which attributes, do you think, that a new Prog. Heavy Metal Band should have in order to gain identity and be unique?
That's a tough question.Is there really anything "Unique" in the music buss ? I noticed most prog bands either want to sound like Dream Theater, Rush or a mix of both.I don't know that to call us a prog metal band is accurate. I consider us to be an old school classic metal band with some prog influences. Nowadays its about getting a group of unreal musicians to gather and record an album that just shows off all the players. Every guitar player wants to be John Pettrucci and every Drummer wants to be Neal Peart or Mike Portnoy. Me, I always just wanted to be Ron Sandhu with a bunch of different guys styles melted into one. My favorite players are old school guys like Adrian Smith, Gary Moore, Wolf Hoffman, Michael Schenker and Ace Frehley…I still want tone Ace Frehley so much that I recently bought a Les Paul so I can learn all his Kiss Solos !
Do you believe that Digital Platforms help the new Prog. Metal Bands? Which, do you think, is the ideal way for a Band to promote its work?
This answer to this question is similar to my answer in question 4.Digital streaming is a must ! It makes your band heard all over the world and you can build a huge flooring even without having a label, Viral is the key ! If you have a tech savvy person that can build a nice website / social media page, you can reach countless numbers of people.
Tell us a few things about the New Underground Metal Scene from your area (Bands, Fanzines, Webzines, Metal Clubs etc.)
The metal scene in the US has pockets of fandom I think. Its obvious that metal still has a strong following stateside just by the amount of internet radio stations and podcasts along with satellite radio.In the 80's and 90's NY / Long Island had a very prominent metal scene but I think that may ave dwindled a bit . There are still some great venues in the NYC area whew you can catch some great acts but I noticed that a great deal of these acts are either Tribute or Cover acts.her in New England I think the metal scene is far more prevalent.In the Boston Massachusetts area there are quite a few clubs along with Berkley University that just puts out some unreal metal musicians. New Hampshire has also become a very big metal area with quite a few major acts coming through and playing. Lots of different webzines and podcasts as well. Dead Rhetoric is a fantastic webzine from right here in Connecticut and I was interviewed by a great podcast called " Robert Carrigan Album reviews" from the midwest of the US.Lots of local internet radio stations as well such as "Double Trouble Radio" out of Long Island NY. Some of the bands I recommend are guys like Seven Spires, The Stitched Up, Mourn The Light, FirstBourne, Awaken, Borgo Pass..the list can go on but these are just some stellar bands with good followings and various styles of metal
Do you know anything about the Hellenic Metal Scene?
I'll be honest, I'm not familiar at all with the Hellenic Metal Scene,I would love to listen to some bands if you can suggest. I'm still an old school metalhead but I listen to a lot of newer stuff that still carries that vibe.I love Arch Enemy, Evergrey, Nightwish, Dream Theater, Wintersun , the new Fates Warning is great and even the new "version" of Queensryche with Todd LaTorre on Vox although I don't think Queensryche was ever the same since Chris Degaermo left. The CD / band I listen to the most lately is definitely "Winter Ethereal" by Arch /Matheos.That is my blueprint for writing an epic metal album.I love the new Maiden of course but I really wish that had more harmony guitar work on this album. After all aside from the "Gallop" the harmony guitars are quintessential IRON MAIDEN !!
What are your future plans?
As far as future plans for "The Altered Minds Project" goes, we have another 7 original songs complete ,working on new ones as well. Right now the drummer Michael Marrone is in pre production for the next Awaken album as this is his main band and priority.The next album will include the same guys, Myself, Mike Accurso, Freddy Villano, Mike Marrone along with original 2nd guitarist Chris Jusino. We hope to have the album done by the end of 2022. We are not rushing it as the latest album has just dropped and we do not want to rush a sloppy project. So you can definitely look forward to a new Altered Minds release next year.No cover songs on this one and if you liked " Resurrected In Time" I am sure you will enjoy its follow up !
Thank you very much for your time & Keep up the good work! The closure is yours.
Thank you so much Stavros and Filthy Dogs Of Metal for the opportunity to do this interview and to spread the word of Altered Minds across the globe We are truly thankful and humbled. I'm sorry it took me so long to get this done for you and I greatly appreciate your patience and understanding ! Remember … Altered Minds Think Alike !!
By Steve the Filthy Dog.
ALTERED MINDS CONTACT:
https://www.facebook.com/AlteredMindsMetal
https://www.instagram.com/altered_minds_metal/
https://open.spotify.com/artist/63WtNXd9dwrU1s51umP8GU