!!!BRAZILIAN MANIACS!!!
We had a conversation with Eduardo (Bass).Enjoy!
Welcome to the FILTHY DOGS OF METAL Webzine.
Thank you for the invitation to the interview and for the opportunity to publicize our work at Vultör in other countries.
Tell us a few things about VULTOR (Members, Starting Year etc).
In mid 2017, Paulo (guitar and vocals) and Eduardo (bass) in a conversation that we thought of making a sound that was fast and dirty at the same time, direct and with a raw cadence of crust, d-beat… nothing new . For this we thought about inviting another longtime friend, Bruno Somalha to the drums, which, unlike the two of us, who came from metal, has its roots originally punk, so Vultör was formed and we immediately started composing the first songs.In the beginning, our intention was just to record some material, but over time, some shows appeared and we liked the idea.We have four previous materials, two of which are demos, the first "A Caçada Continua" on CD and "Lobos na Noite" on tape, in addition to these, we also released an EP on vinyl 7 "called Vultör. We also have a live tape at a show in Rio de Janeiro, where we recorded on a wild night.
You have recently released your album ''Visões Do Fim''. What is the Feedback from your audience as well as from the Press?
Visões do Fim is actually a compilation of the three materials recorded in the studio and released here in Brazil that will be distributed in Europe by Murder Records from the Netherlands in partnership with Hellproud of Portugal in K7 format.For us it is surprising, we always receive messages from outside Brazil, although the launch of "Visões do Fim" is recent. From what we follow in some quotes on the internet, Vultör has already played on some radio stations in Europe and we never imagined that this repercussion would reach beyond our own region, among our friends, even more because our lyrics are in portuguese.We recognized our limitations and were even more incredulous and satisfied with the acceptance of the underground community, we really had no idea. We always recorded all the songs live in the studio on a limited budget and without much adjustment, but in the end the result pleased us a lot, so maybe the songs sound even better this way, at least for us who appreciate a raw and natural sound.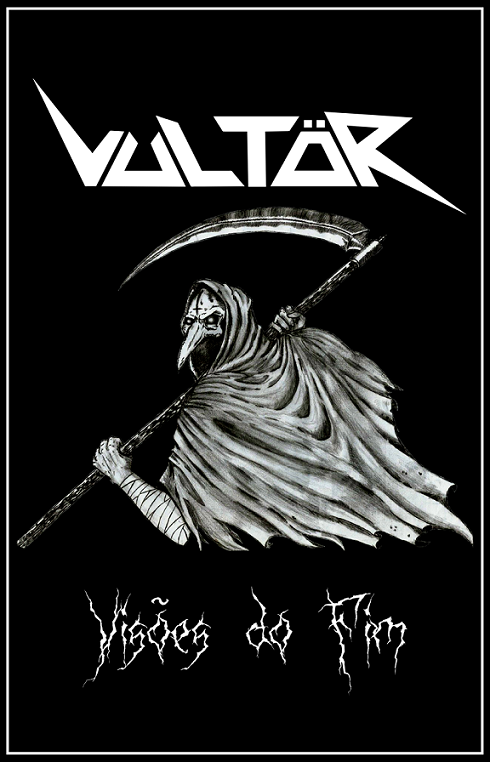 Label or DIY and why?
We like "do it yourself", although we depend on someone to record the musics, we cannot do it alone and as much as we wanted to, it is impossible.We always record in a friend's studio, and the distribution of these materials is up to the distros, which in partnership with us and between them, assist in the release of the materials.The cover art for the first demo "A caçada Continua" and the EP "Vultör" came from a great friend and artist from our region, Thiago Pena, who has also produced art for other bands, Chronic Ashes, Payback e outras.The demo "Lobos na Noite", apart from the recording, was entirely done by us, from the drawing (Eduardo) to the layout (Paulo) and even the distribution made by Bruno Somalha's label, who also makes the shirts, patches and buttons. Even so, we are not yet self-sufficient to record ourselves.The feeling of being independent is great, but for a better dissemination of the bands work, partnerships with the labels are indispensable and have their value inside the underground as much as the bands.
Do you prefer Vinyl, Tape, CD or Digital Format and why is that?
We prefer vinyl, although tapes are also great and even CDs are valid because they are more accessible to everyone. However, we like vinyl more for several reasons. The sound is more complete and true, generally, due to its larger format, it also brings great art on the covers and inserts with details that invite you to listen and join the lyrics. I also think that with vinyl you really listen to the sound as we did before the internet, not that the internet is not important, but it often diverts your attention from what you hear at the moment because it contains a lot of information at the same time. Most of the time we put the sound to play and do other things and with vinyl it is still different. For me, here was no better feeling of returning from school and listening to Iron Maiden and delirious on the covers accompanying the lyrics or listening to Death Metal classics admiring the works of Dan Seagrave and other illustrators.
Your music style is Speed Metal with Punk elements. Which are your main influences (Favourite Artists / Bands etc.)
The truth is that everything we hear ends up influencing us in some way. What defines our sound is the beat more focused on crust, but without being attached to it, not least because, we seek more elements of traditional Heavy Metal and Speed Metal of the 80's. Our influences range from Diamond Head, Picture and many others, such as Exciter, Acid, Tank, Warfare, Violent Force. We are also influenced by Anti-cimex, Discharge, and, of course, Motörhead and all their descendants of dirty guitar, such as Inepsy, Toxic Holocaust, Children of Technology and so many others from the 2000s until now.
Which things, do you think, a Band should sacrifice in order to succeed? Have you ever sacrificed anything in your life for a better future of your Band? What do you think a band must sacrifice to be successful?
The success is very relative, some bands crave fame, others just underground recognition, there are still those who want to continue performing in more and more places. As we said, we just wanted to produce some materials and we managed to do it within our limits, because it required some money, but it was not a real sacrifice, because we had the support of the distros that supported us in the release of EP 7", for example.I think that as long as we do it for pleasure, we will remain strong and united and, understanding the other's difficulties, we will be able to define the next steps. Being three people, it is easier to organize and with that, we just want to continue producing some material and playing.
Describe your ideal live show as a performance Band. Have you already experienced that?
We like a small stage and small places where we have close contact between us and people, for us this is the best format. In addition, like everyone, we appreciate a good sound system, although we have already done great shows with a precarious sound, but with great public participation, which is the biggest reason for us to try to do the best live as always, even if we only have two friends in front of us.We have already found the opportunity to play like this here, in Belo Horizonte, at Metalpunk Overkill, where we share the stage with the Força Macabra of Finland and many others, both from our region, such as Krushhammer and Tyranno from Rio de Janeiro.It must be really cool to participate in a big festival like this that takes place in Europe too. We have already played on a big, tall stage that left us lost. We are just three guys and we get used to playing close to each other with a lot of movement and on this stage we feel strange, distant, even from other people, but the experience was good too.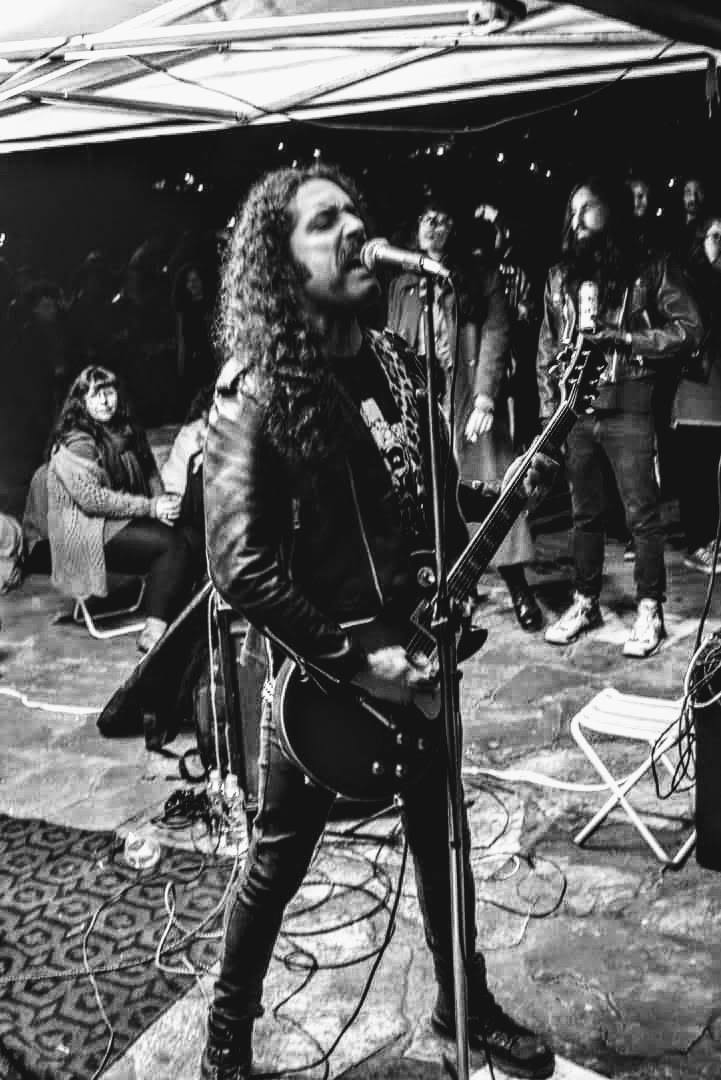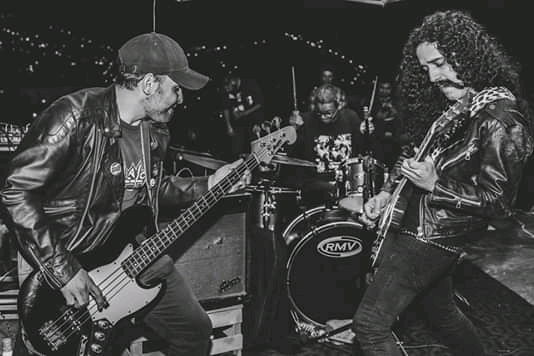 Which attributes, do you think, that a new Speed Metal Band should have in order to gain identity and be unique?
I think that, regardless of style, it is important to listen and enjoy the most of the underground that is rich in music around the world. It is like a writer who, to write well, needs to read a lot too.In the early 80's, the first Thrash Metal bands had a great influence not only on the sound of Punk and Hardcore, but also, using a more politicized theme about conflicts, violence, mixing this very well with the Heavy Metal musical elements.I admit that sounding very different, just trying to be or look different, can be a bad choice. The recipe has been around for decades, but if there is no creativity to use the knowledge of what has already been done, the band is in danger of losing its identity. Also, not least, you need to be humble and admit that you are not Tony Iommi in 1968. Neither he nor Lemmy, later at Motorhead, maybe they really didn't even intend to create something new.However, we don't worry too much about being different or similar to any band, we have no intention of inventing anything new, we are content to simply participate in keeping the underground alive, even with little.
Do you believe that Bandcamp and other Digital Platforms help the new Speed Metal Bands? Which, do you think, is the ideal way for a Band to promote its work?
Yes, of course ... for all styles it is quite valid. We are on Bandcamp, Soundcloud, Youtube, Facebook and even on Instagram, but we are not very active, in fact, we are quite ignorant in digital media. However, once, Chainsaw Distro posted a Vultör song on his facebook page and with that a guy from the USA saw it and liked it, got in touch with us and bought all our released materials. That's how we sent Vultör out of Brazil for the first time.There are other ways to publicize the bands, we older people have been there a little, but really the internet in this regard is unbeatable and helps even for us, who do not even know how to use it in the best way.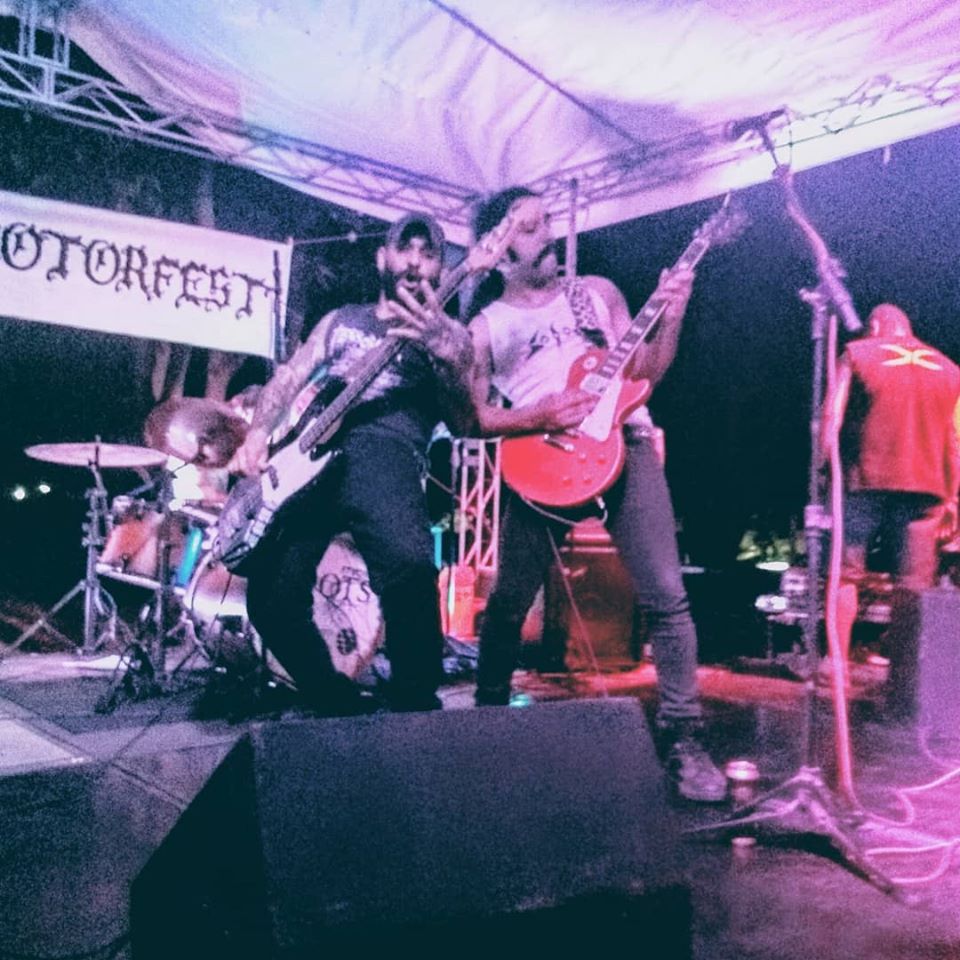 Tell us a few things about the New Underground Metal Scene in Brazil (Bands, Fanzines, Webzines, Metal Clubs etc.)
In Brazil the underground has always been very strong, many may even say no, but today it is even bigger and more diverse than before. As always, iconic bands appear and stand out on the national and international scene.Our region, Belo Horizonte, Minas Gerais, is one of the cradles of the Brazilian underground since the 1980s, mainly in extreme metal, and today is no different, with many new bands of all styles emerging and with great potential, as well as the Krushhammer, Payback, Hinarivm, Chronic Ashes with a perfect Death Metal classic and others. From 2010 until now, we still have Ossuário, Necromante, Bloody Vomit (who are even older, but will release material soon and are more active than ever) and bands that rescue traditional heavy metal like Witchkross, Punho Destruidor, now also Old Audrey's Funeral and Rocking Riders, newer bands.The truth is that it never stopped creating all kinds of sounds here and even old and classic bands are still active like Impurity and those that started in the 80's and came back, like Mutilator.Disclosures in fanzines and webzines are also present in Brazil, although webzines already dominate the information.Our biggest problem is the difficulty of finding places to hold events. There are very few concert halls and many have a high price to allow a good periodicity of the shows, although the effort of some in bringing bands and organizing has always been important for this and has helped a lot to keep the underground on fire, although many times there is a low response from the public, who generally prefer to stay home complaining.
Do you know anything about the Hellenic Metal Scene?
One of the first Black Metal bands I met was Necromantia and Varathron, through a friend who still has the vinyl "Black Arts Lead to Everlasting Sins". Then I met Rotting Christ who even went to their show here in Belo Horizonte in 2006.I don't know Metal Hellenic in depth, although I recognize that the scenario is great. I realize that they are rich in Black Metal and Death Metal bands, I really like Blessed by Perversion and Abyssus, although I only know one album of each.I also like some of the many new Thrash Metal bands from there, like Bio-cancer, Fadom, Acid Fury, but I also only know one material from each of them.I cannot fail to mention Omega and Slaughtered Priest, who, along with other bands, are very dear to us and in Brazil.I also need to comment on the Greek bands dedicated to Crust d-beat and among them, which are many, I like Dead Beat, Kataxnia and others that are very good, being a style that pleases even more Bruno Somalha, drummer of Vultör.In particular, I really like traditional and Greek heavy metal, I know Northwind and I appreciate Vice Human, for the rough guitars and a great bass line and still with the nostalgic sound that you can hardly do today. It's a band that is on my 80's heavy metal playlist.So, it is clear that the Greek scene is rich and I know there is a lot and now I am even more curious about it and with the internet, it becomes more accessible, because it was through it that I met the vast majority of these bands mentioned.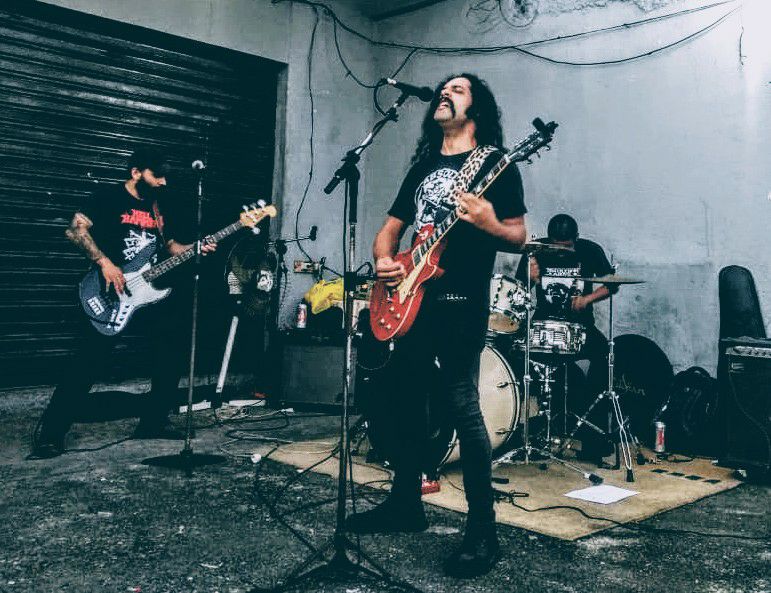 What are your future plans?
We had plans for other material this year, but with the COVID-19 pandemic, we were unable to consolidate. Therefore, we will register as soon as the situation improves. We have many songs ready and others to finish, who knows an album? a 12 "LP? We will need support, but it would be great, it was always in the plans.Our plans have always been to continue recording and releasing some new sounds regardless of the format, in addition to continuing to play whenever we are invited, always trying to do the best according to our possibilities.
Thank you very much for your time & Keep up the good work! The closure is yours
We thank you once again for the invitation and opportunity and we also invite everyone from Greece to seek and learn more about the furious Latin American underground, especially the Brazilian. Brazil is much bigger than Sepultura and Sarcófago and is swarming as always, resisting as it should be with great bands of all styles, old and new, great and horrible like us.
By Steve the Filthy Dog.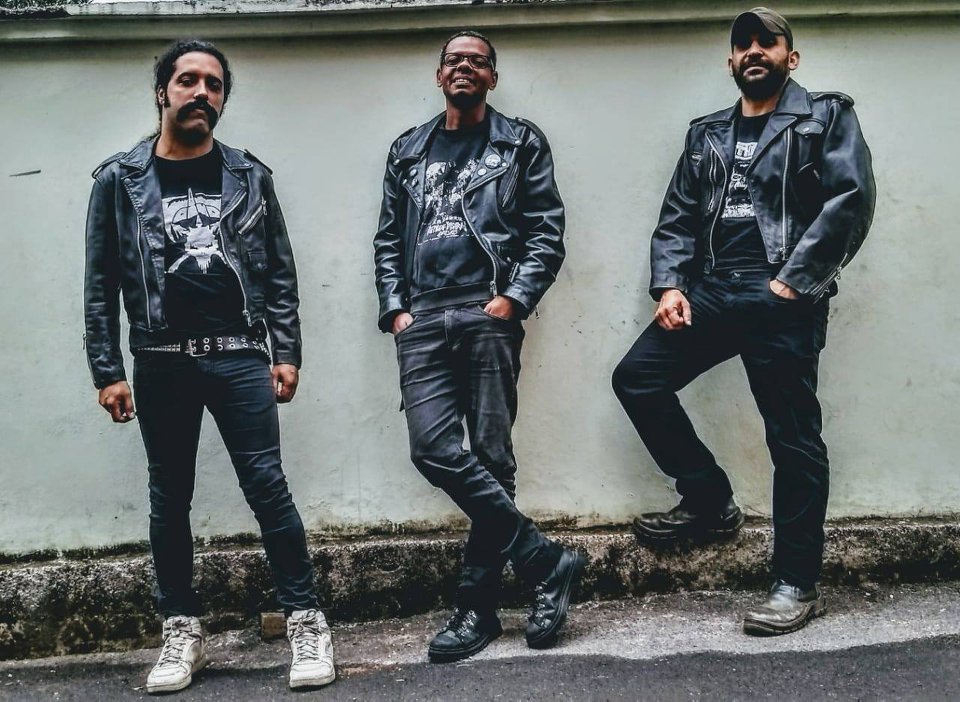 VULTOR CONTACT:
https://www.facebook.com/vultorr/