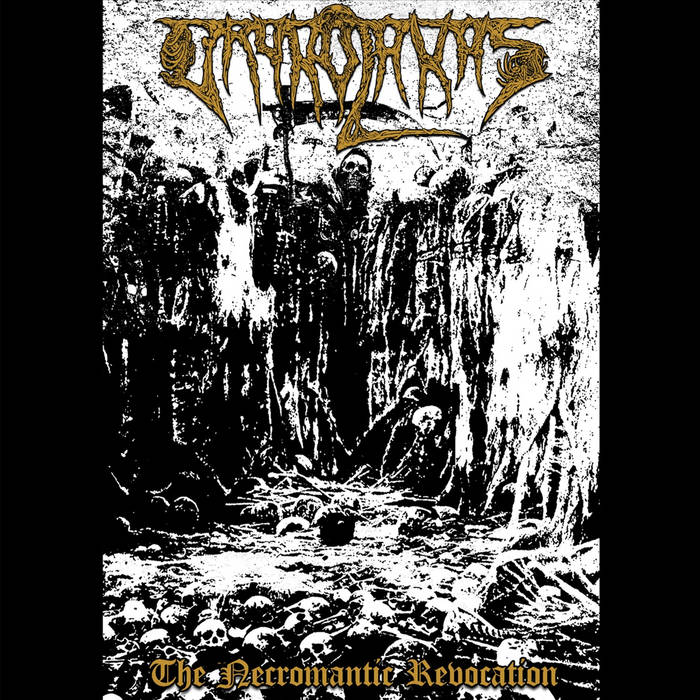 !!!DEATH METAL FROM SINGAPORE!!!
We had a conversation with Khairil (Guitars). Enjoy!
Welcome to the FILTHY DOGS OF METAL Webzine.
Tell us a few things about VRYKOLAKAS (Members, Starting Year etc).
VRYKOLAKAS was formed by former members of DEMONIAC and BESTIAL COLONY way back in July 1991. The first line-up was Shafiee Sathanas on guitars and Khairil Nefarious on drums. We didn't have a name and decided to use the name TUMULUS at first. We eventually chose the name VRYKOLAKAS which we found in a book about occultism and demonology. We liked how the word sounded and decided to use it. I remember forming the band not out of inspiration but because of frustration. Both of us were getting bored of the lack of activity and direction with our previous bands. Ironically, the band went through another period of inactivity and disappeared from the scene between 1993 to 1998. Shafiee had totally left the metal scene, concentrating on his day job. I felt the urge to play music again and got Iman, my cousin, to help me out. This was in 1995. It was Iman on guitars and me on drums. I then went to fulfil my national service in the army and when I ended my national service, I asked Iman, who was playing in NEUROTIC VILE, to help me reform VRYKOLAKAS. He pulled in Zainal, (from NECREOUS / XENOPHOBIA) to play drums and Andy (from OBSEQUIES / NEUROTIC VILE) on vocals. We quickly got to work and recorded 5 songs which appeared in the "Nuthfah" Promo 1999, "Buried In Filthy Vomits" Demo and EP, and the "Vrykolakas 2000" MCD. Zainal left after these recordings and 2 shows, replaced by Edi (from HOMICIDE / CASTIGATE). Iman left the band in 2006, after the recording of "Unleashing Vrykolakas Upon Mankind". We had friends from other bands to help us out on guitars when we play shows. Currently, and since 2007, the Eternal Trinity consists of Andy (Vocals), Khairil (Guitars) and Edi (Drums).
You have recently released your album ''The Necromantic Revocation''. What is the feedback from your audience as well as from the press?
It depends on the fetish of the listeners. There are a number of listeners who really liked the raw and filthy production of this album. At this moment, we think, listeners of the band are a bit confused because within a space of 2 years, we released our 3rd album "And Vrykolakas Brings Chaos And Destruction", reissued our 1st album "Spawned From Hellfire And Brimstone" and 2nd album "Unleashing Vrykolakas Upon Mankind", and songs from a split release which became the "Into The Shadow of Death" EP, and all having very different approaches to death metal. "Necromantic" sounded very black death compared to "And Vrykolakas Brings…" We haven't really spread the album to the press this time round, preferring to approach our listeners directly. What's important for us is, the label THE GATE RECORDS, really liked the album as well as those listeners who told us they enjoyed the album.
Tell us a few things about the split CD with the death metallers NUCLEAR CHRIST.
This was interesting tale to tell: Originally, NUCLEAR CHRIST wanted to do a split 7" with us. So we started recording a song for that duration in December 2021. It was in February 2022 when Andy, manager of VRYKOBLAST PRODUCTIONS, also our vocalist, announced a split ALBUM instead of 7". So we had to quickly write 3 more songs to come up with material lasting slightly more than 20 minutes. We are a band who pays tribute to our influences by trying very hard to sound like the bands we love. For this release, we tried to emulate the sounds of DEICIDE, OBITUARY, MASSACRE avoiding blast beats altogether. Hopefully listeners will notice the tribute and enjoy this approach.
Label or DIY and why?
Each has its merits. When we started VRYKOBLAST PRODUCTIONS, it was an attempt to produce quality releases ourselves. Which in a way is a DIY approach. But it is challenging for us to focus on both VRYKOLAKAS and VRYKOBLAST PRODUCTIONS. So as a band we would always prefer for other labels to release our material. When I was doing VRYKOBLAST PRODUCTIONS with Andy, I always preferred to release Singaporean bands. It is a way we can help fellow Singaporean metal bands. But nowadays, there are a lot of accessible resources for bands to go DIY. So it depends on how wide and far a band wants to spread its music. Perhaps we should redefine DIY to PIY (Pay It Yourself) because bands who go DIY pay for everything out of their own pocket.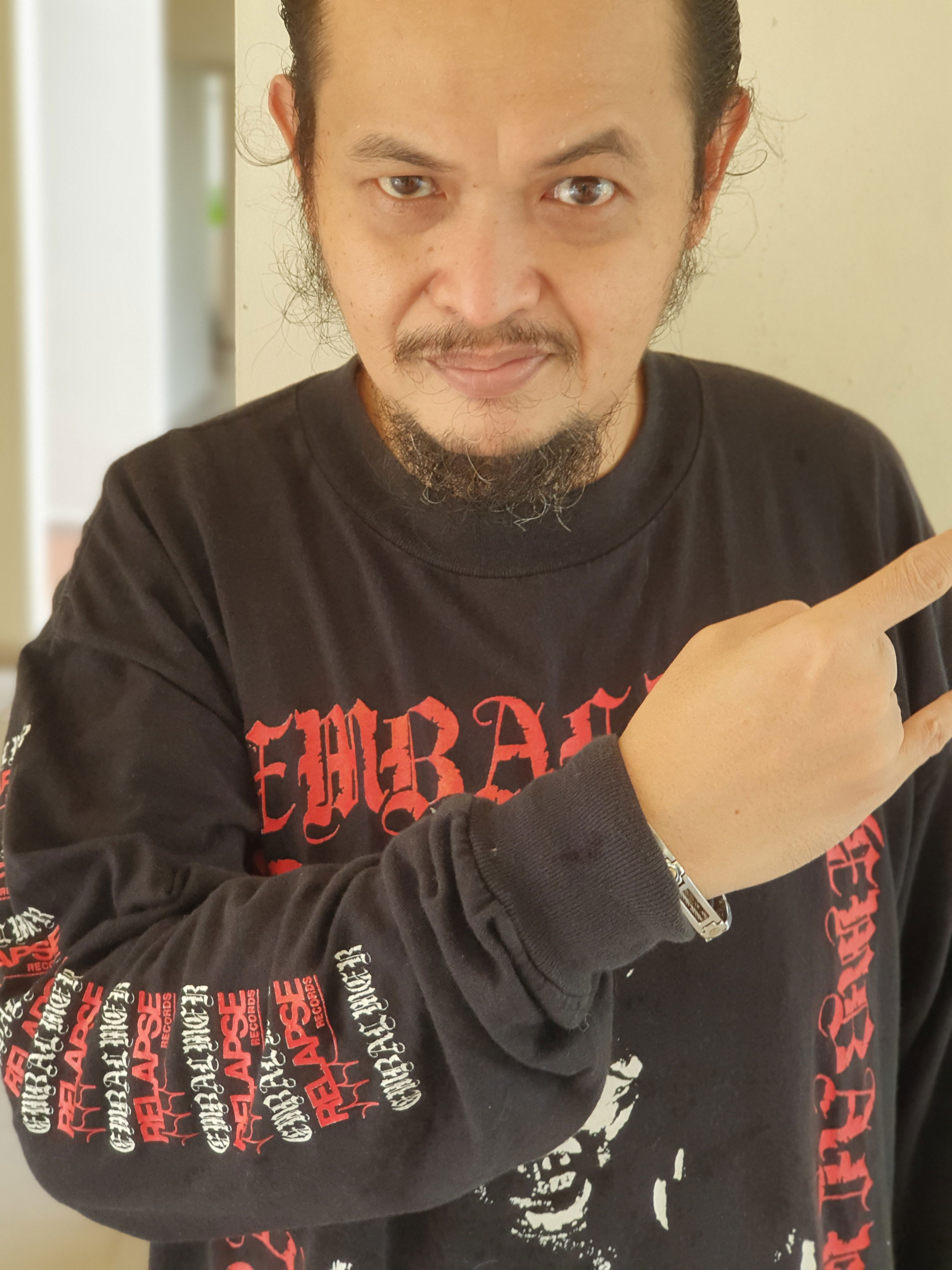 Andy - Vocals
Do you prefer Vinyl, Tape, CD or Digital Format and why is that?
I am at the phase of my life where I prefer vinyl. I enjoy the experience of leaning back on my seat as I hold up the big sleeve and listen to the music while at times looking at the vinyl spinning. I like tapes as well because of the cover layout. I am unlucky with CD. I am obsessed with keeping my CDs mint, so I can't stand it when I see lines and scruffs no matter how tiny they may be. I go for digital only to have an idea of how a band sounds like. I prefer Bandcamp as bands will provide links to buy the physical version of their releases. But like I said, I prefer vinyls nowadays especially of Singaporean bands. It is probably a fetish I have now. Hahaha!
Your music style is Death Metal. Which are your main influences (Favourite Artists / Bands etc.)
I will start with ABHORER! In terms of standards for Singaporean bands back in the late 80s, ABHORER really set the bar high for Singaporean bands with their song writing, sound and lyrics. VRYKOLAKAS have been influenced by American and European death metal bands, mainly GRAVE, FUNEBRE, PHLEGETHON, INCANTATION, IMMOLATION, VADER, SUFFOCATION, INCUBUS (both FL & IL) and a few others. If any listener says we sound like any of the mentioned bands, we would feel extremely honoured!
Which things, do you think, a Band should sacrifice in order to succeed? Have you ever sacrificed anything in your life for a better future of your Band?
I am sure we know of 2 diligently touring bands from Singapore, IMPIETY and WORMROT. We know these 2 bands since their early days and we are proud of their achievements representing Singapore at the international arena. However, when we look at what they had to sacrifice, we really do not envy them. We love what we do and how we have been doing things. VRYKOLAKAS is a serious hobby which only begins when we are done with our daily grind. We will work hard in terms of song writing, recording and promoting to the audience and selling our releases. But we will stop at touring because we really cannot commit to such an extensive exercise, travelling across the globe to play our songs. To begin with, we get bored of our own songs quite fast. We get very excited throughout the song writing and recording phases, dying to know how these separated ideas blend into songs would turn out. Once the songs are released, we quickly jump into the next cycle of writing and recording new songs. Going back to the question, I guess we have to sacrifice whatever time we have left after work and then with family, and money as things and services are really expensive nowadays.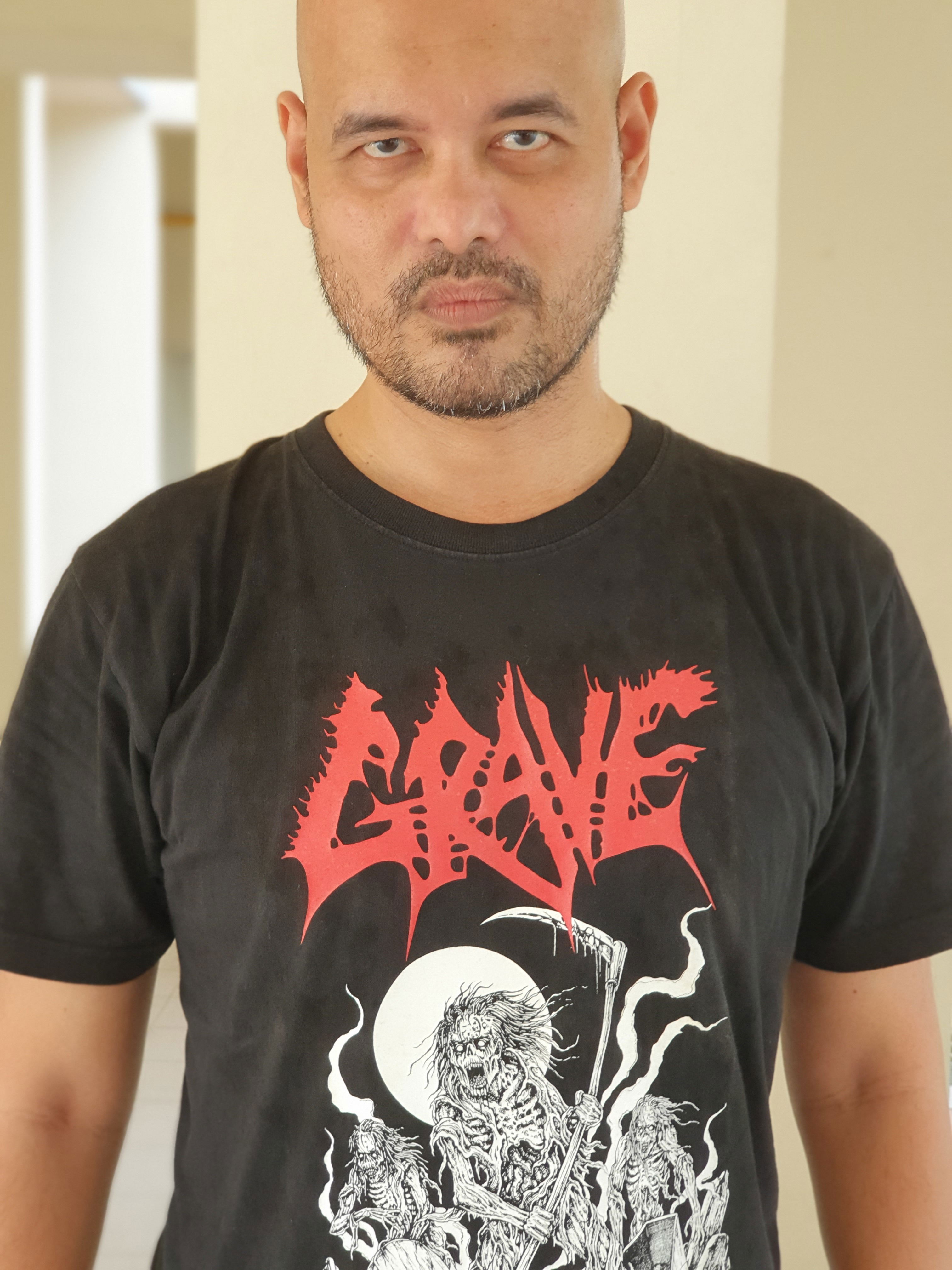 Khairil - Guitars
Describe your ideal live show as a performance Band. Have you already experienced that?
We didn't play many shows. The best one was probably our 2nd show. It was the Halloween gig, because it was held during the Halloween weekend back in 1999. Our songs were brutal but quite straightforward, something like GRAVE and INCANTATION with blast beats and multiple riffs and tempo changes. We had a small group of friends who enjoyed our songs and would form the first few rows of headbangers in front of stage. This gig was held in a pub, so the place felt like it was packed to the corners. We can see the faces of every single audience and we could feel the energy and that they enjoyed what we were presenting. So that was the most ideal show for us. Also, the sound was nicely entrapped in that small space and we could hear every instrument as though it comes from a CD. We played with IMPIETY and this is during their "Skullfucking Armageddon" days. We also played with a very obscure death grind band called DESOLATION. And the most ideal reason is – the pub shared with us their profit sales of the day! So it was the only time we get paid to play a gig!
Which attributes, do you think, that a new Death Metal Band should have in order to gain identity and be unique?
Honestly, it is already 2022, so it is very difficult to be unique. I feel that new bands should first aspire to write original material instead of playing covers. They can then write songs which give listeners an idea of their influences. I think another way bands can be unique is to write and sing lyrics in their native language. I was always attracted to bands like MASTER'S HAMMER (Czech Republic), FRAYEURS (France) and STUKAS (Singaporean) because they sang in their native languages over metal songs. And unique does not necessarily mean good. Some bands tried too hard to be unique but ended up being awkward and weird.
Do you believe that Digital Platforms help the new Death Metal Bands? Which, do you think, is the ideal way for a Band to promote its work?
It is a good way to get the news across far and wide. But the listeners take advantage of the generosity of these bands and demand the bands put their songs on Spotify or YouTube and never support by buying physical versions. The habit of collecting physical versions are now a gradually dying tradition as listeners nowadays lose attention easily therefore don't see the need to keep a whole album, or don't have the commitment to keep vinyls, CDs and tapes in an orderly manner.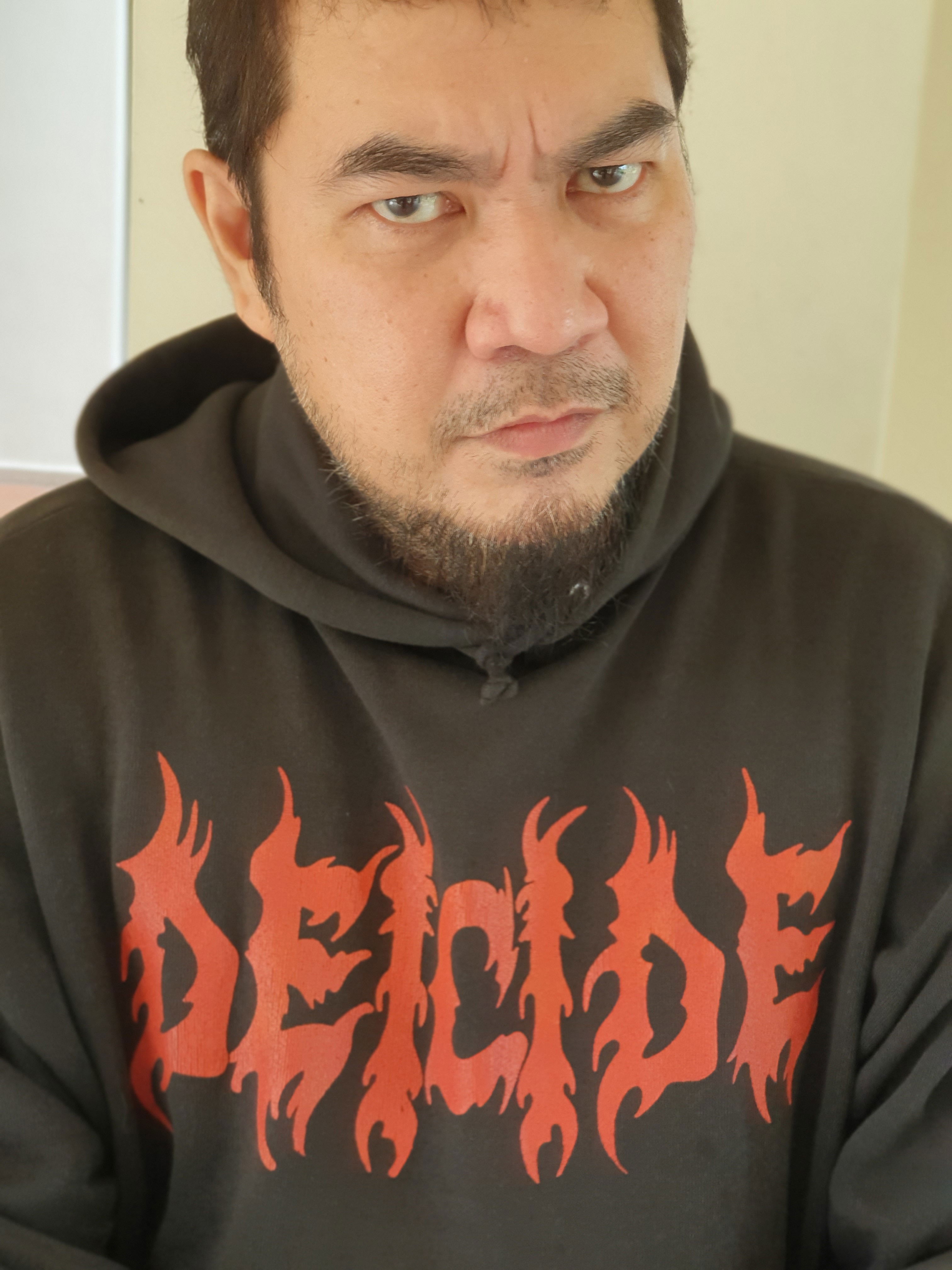 Edi - Drums
Which are your memories about those great Singaporean black/death metal bands from the past: ABHORER / IMPIETY / PANITRATOR / REALM.
I used to write letters regularly to ABHORER's guitarist, Exorcist. He is a very cool guy and always share information about other Singapore bands especially when they were about to release demos. I used to meet up IMPIETY's Shyaithan, the former drummer Fauzzt and still hang out with Xul, their former guitarist. IMPIETY's guitarist, Nizam Aziz, produced our 3rd album, and will be producing our next album. Me and our previous guitarist, Iman, were very close with Fauzzt. We enjoy discussing drum patterns played by drummers of the bands we enjoy listening to. I am still very much in touch with Xul. Back in the day, we always seriously discuss about girls! I tape traded with PANITRATOR for their "Mortifications Of Life" demo. I don't really know the member(s) of REALM but I managed to get their demo a few years back.
Tell us a few things about the New Underground Metal Scene in Singapore (Bands, Fanzines, Webzines, Metal Clubs etc.)
A few years back we had many good show organizers. So between 2005-2019, a lot of international bands played here in Singapore. Not many printed fanzines, especially recently. There were many bands, recently a big wave of hardcore bands appeared. A lot of metal bands reformed but at this moment there are very few new death metal bands, which is a concern if we think about carrying the torch forward.
Do you know anything about the Hellenic Metal Scene?
Not the current scene. We know FLOGA RECORDS! We used to contact a few Greek bands such as TWILIGHT and SANCTORUM, but that was way back in the 1992-1993. In the early 2000s, we constantly corresponded with FLESHART. Brutal Greeks! Of course, we were always listening to ROTTING CHRIST from their grindcore days, and then VOMIT, NECROMANCY, VARATHRON, NECROMANTIA, SADISTIC NOISE and others. We managed to read good fanzines such as GENITAL NECROSIS and others.
What are your future plans?
To record as many songs / albums as we can while we still have the energy and physical ability to do so. We are investing our time and money into multiple recordings and keep them until a time when we are ready to release them. However, that proved to be difficult because Andy is always promoting our recordings and managed to get interest from labels. So while he does promotion of the band name, me and Edi will continue to produce songs until we are not able to do so anymore.
Thank you very much for your time & Keep up the good work! The closure is yours.
\m/ Thank you for doing this interview with us. We felt we did the right thing by choosing a Greek name for our band. We made a lot of contacts with the Greek metalheads because of this name. Thank you for doing this webzine and interviewing bands. It gives opportunities to listeners to learn more about the people behind the music they listen to. We hope we have provided satisfying responses to the questions. Metal to death \m/
By Steve the Filthy Dog.
VRYKOLAKAS CONTACT:
https://www.facebook.com/vrykobrutaldeath
https://www.instagram.com/vrykolakas_sg_1991/
https://vrykolakas666.bandcamp.com/
https://www.facebook.com/vrykoblast666/
https://www.instagram.com/vrykoblast666/
https://vrykoblastproduction.bigcartel.com/