!!!OLD SCHOOL DEATH METAL FROM LITHUANIA!!!
Welcome to the FILTHY DOGS OF METAL Webzine.
Tell us a few things about STORMGREY (Members, Starting Year etc).
Hails, We are STORMGREY, old school Death Metal band from Vilnius, Lithuania. STORMGREY was formed in 2010. We have our roots in the Death/Thrash Metal scene of early 1990's when it's current members played in Lithuanian Death Metal bands such as DISSECTION, CONSCIOUS ROT, ANOMALY, BURYING PLACE and DAHMER. The debut album "Pray. Crawl. Suffer." has been released by Vic Records (Holland) in 2015 and received many favourable reviews. Since then a new vocalist and the drummer joined the band, making it the most solid and stable line-up. Current line-up is: Andrius Šaulys (vocals), Arūnas Mikolajūnas (guitars), Raimondas Kieras (guitars), Arūnas Staugaitis (drums), Liudas Remeika (bass).
You have recently released your promo ''Promo 2021''. What is the Feedback from your audience as well as from the Press?
We just put out a 2 song promo from the upcoming 2nd album "DNA of Chaos". The album consisting of 8 new tracks was recorded at Muzlab Studios in Vilnius, mixed by Dennis Israel at Clintworks Studios (MISERY INDEX, SIEGE OF POWER, etc.) and mastered by Jens Bogren at Fascination Street Studios. Feedback from the audience so far has been very good. People have been contacting us to say that they like the sound and the tracks on the promo, complementing it for solid old-school approach.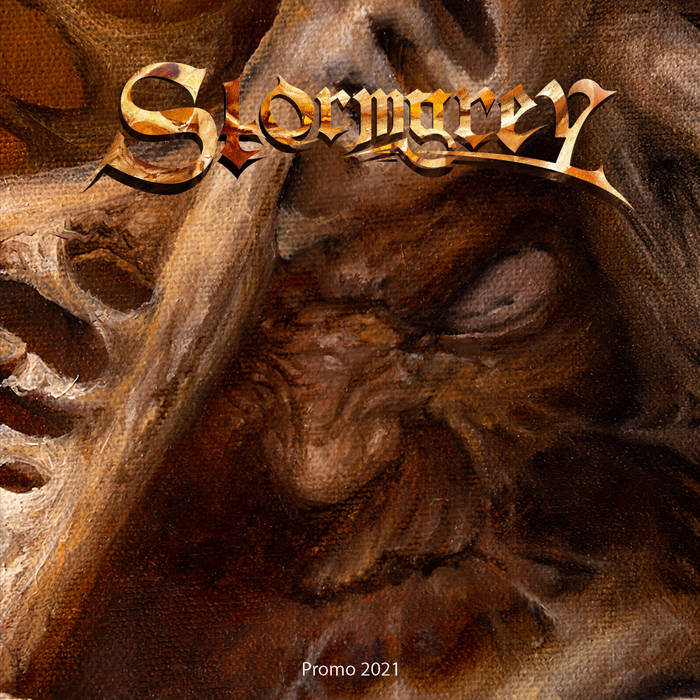 Label or DIY and why?
We prefer to have a label release, because we are looking for the synergy for distribution and promotion. WE are looking for an underground label to release our second album DNA Of Chaos.
Do you prefer Vinyl, Tape, CD or Digital Format and why is that?
We like vinyl and tape, but CD and digital formats are important too. Each format has its own audience.
Your music style is Death Metal. Which are your main influences (Favourite Artists / Bands etc.)
Since early 1990's our main influences have been CELTIC FROST, OBITUARY, NAPALM DEATH, MASSACRE, SEPULTURA, DEATH, BOLT THROWER and many other classic death bands.
Which things, do you think, a Band should sacrifice in order to succeed? Have you ever sacrificed anything in your life for a better future of your Band?
The most important thing for us musically is to stay true to the style that we genuinely like and enjoy. We have never done and will not do any compromises on that front. Also, equally important is to enjoy what we are doing in the band. We would never want to sacrifice any of these things.
Describe your ideal live show as a performance Band. Have you already experienced that?
An ideal show involves good sound front of house, good sound for the musicians on stage and lots of moshing ad stage-diving. And yes, we have experienced such live gigs here in Lithuania, both in clubs and open-air. The last gig before quarantine in October 2020 in Vilnius was exactly that type of gig, we enjoyed it a lot.
Which attributes, do you think, that a new Death Metal Band should have in order to gain identity and be unique?
With more than 30 years of experience in the death metal scene playing in different bands, we have come to a conclusion a long time ago that identity and uniqueness is not something that you can create on purpose or artificially. So, in order to create your identity you must focus on the music which you like and believe in. Otherwise it becomes just a circus for show.
Do you believe that Bandcamp and other Digital Platforms help the new Death Metal Bands? Which, do you think, is the ideal way for a Band to promote its work?
We think that the best platform to promote your band and your music is through live performances and also fanzines. Bandcamp is also a useful tool for promotion, and it can be used in conjunction with other digital platforms.
Tell us a few things about the New Underground Metal Scene in Lithuania (Bands, Fanzines, Webzines, Metal Clubs etc.
The underground metal scene in Lithuania is alive and kicking – we have several death, thrash and black metal bands which are actively recording and gigging. Two or three fanzines are also being published regularly. As regards metal clubs, we have one each in Vilnius and Kaunas, the two biggest cities in the country (population 2,7 million), as well as several other venues.
Do you know anything about the Hellenic Metal Scene?
Of course, we know the excellent music of Rotting Christ, Dead Congregation and Septic Flesh. We look forward to getting to know more bands from your scene!
What are your future plans?
First of all, we are now working on finding a label for our second album DNA Of Chaos. At the same time, we are already writing the material for the next album. We are waiting for the quarantine to end because we are sick and tired of this fucked-up situation and can't wait to get back on stage to play some kick ass gigs!
Thank you very much for your time & Keep up the good work! The closure is yours.
Thank YOU, Filthy Dogs of Metal for getting in touch! Watch our space on bandcamp and other platforms for news about our new release, and we hope to meet you one day at our gig, perhaps in Greece!!!
By Steve the Filthy Dog.
STORMGREY CONTACT:
https://stormgrey.bandcamp.com/
https://www.facebook.com/StormgreyOfficial