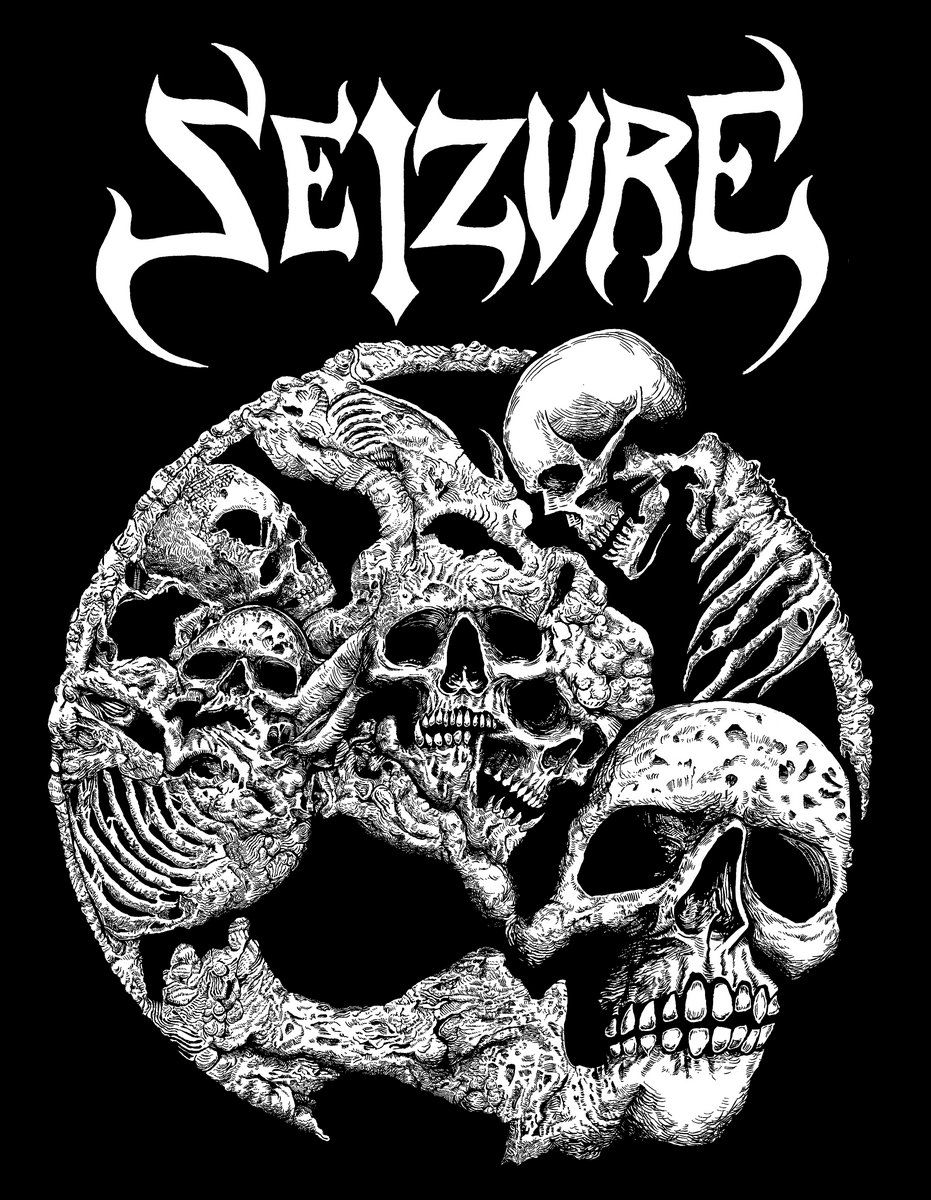 !!!THRASH/DEATH METAL MANIACS FROM PHILIPPINES!!!
We had a conversation with James Esguerra (Guitars / Drums). Enjoy!
Welcome to the FILTHY DOGS OF METAL Webzine.
Tell us a few things about SEIZURE (Members, Starting Year etc).
Seizure was formed late 2019 in the Hardcore Punk dominated area of Bulacan, Philippines. We are composed of Dom Estrella on Bass/vocals duties, JB Caparas on Guitars, Chester Ramos on Drums and James Esguerra on Guitars and some drum duties on studio recording. We formed with the intent to play something different, darker and grittier to come out of Bulacan. And another goal is to put the Philippine metal scene on notice about Bulacan's homegrown talents.

In 2020 you have released your album ''Convulsive Perseverance''. What was the feedback from your audience as well as from the press?
The comments about our debut album were very positive and the support we are receiving is overwhelming and was way beyond our expectation. A CD format under Hells Vomit Production(NZ) is on the works and will be released by November/December of this year.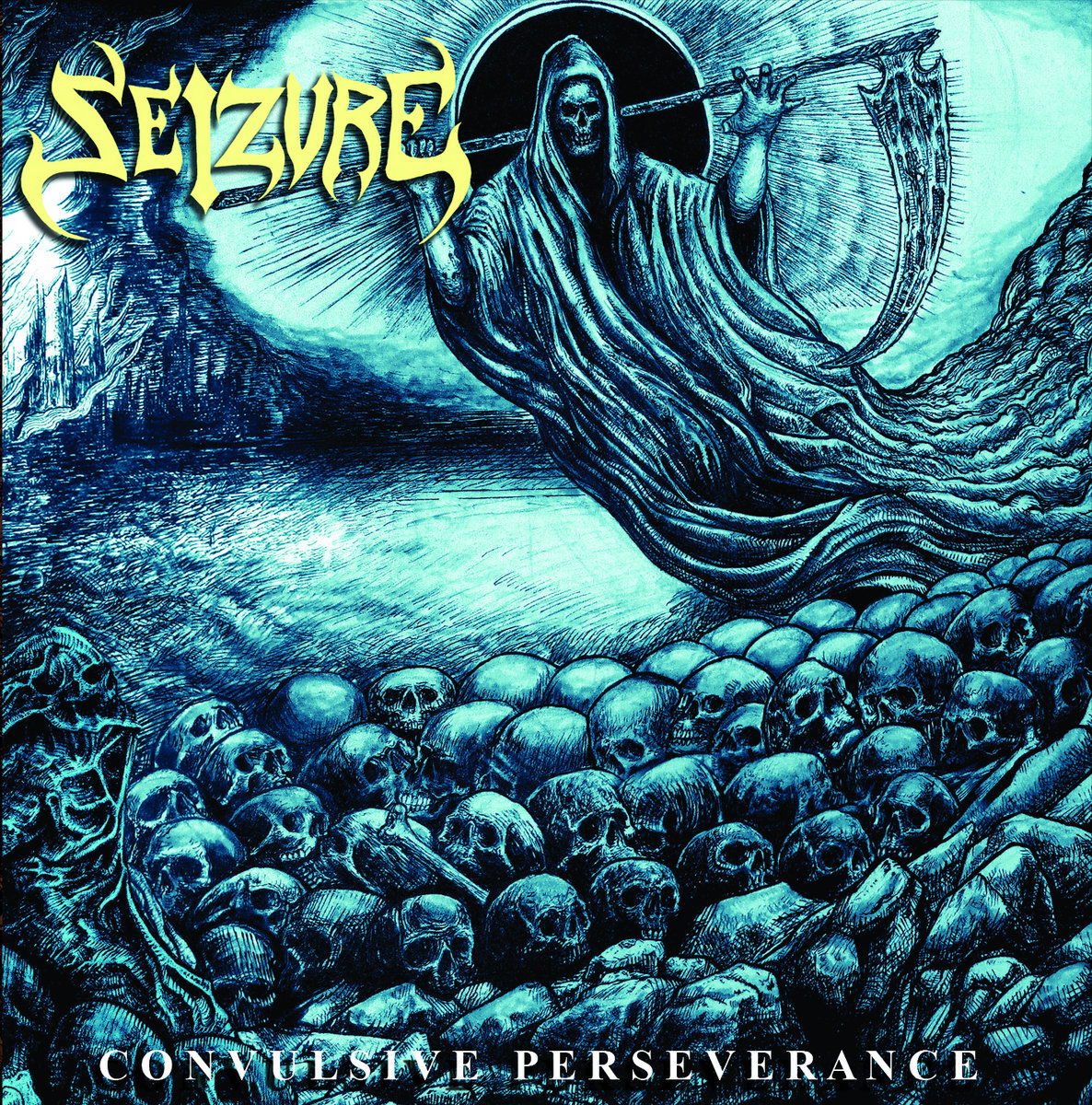 Label or DIY and why?
We tried both and they worked well for us. With a label, the release will be distributed better and have a higher production quality. Chances of it reaching more people into this kind of music are higher. With DIY, there's just really something magical about it. The raw feel, the gritty production and the personal touch to it. I guess it's got a more personal feeling with it as it was done purely by the band. Since it's a self release, we handle everything so we get to know who buys our stuff and have a conversation with them. That way, we can truly know who our supporters are. Cons are, distribution is limited as you can only go as far as your resources allow you to.
Do you prefer Vinyl, Tape, CD or Digital Format and why is that?
Honestly, all formats are welcome. Physical copies are so much better of course, Vinyl has that certain sound to it and is always considered the holy grail of formats and the nostalgia factor it offers, I'd say vinyl is for serious collectors and not for average consumers. Same with Cassette tapes it has that nostalgic 80s/90s feel that caters a certain audience. CD is considered the standard and most accessible physical format. Most people have CD players at their home or in their car but only a small fraction has cassette or vinyl players. Oh and goodluck with finding a car stereo with a cassette player nowadays. Obviously you can't play vinyl on the go. As for Digital format, it's pros are obviously convenience. Though for digital, I'll only upload or release it once the physical copies has been exhausted. With all that said, you can't beat the experience of holding the actual album in your hands rather than having it stored on your computer, smartphone or what have you. Pros and cons really so better to have both.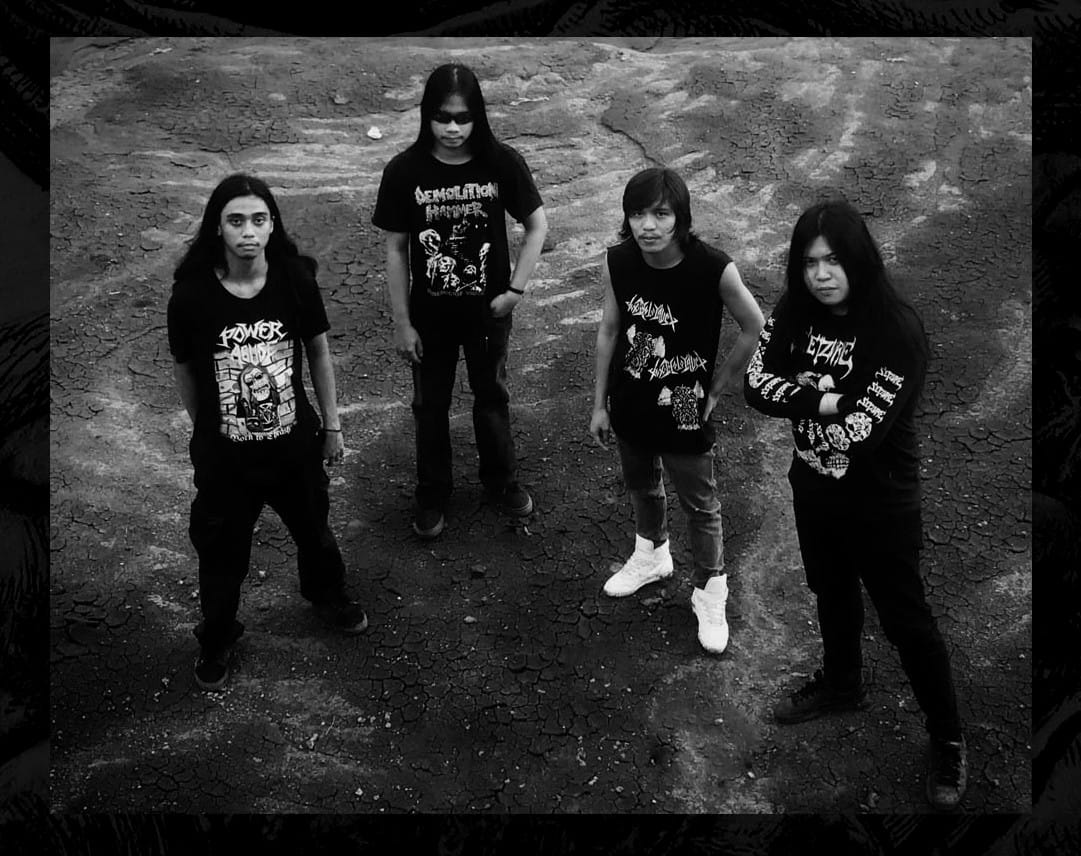 Your music style is Thrash/Death Metal. Which are your main influences (Favourite Artists / Bands etc.)
We draw inspiration from Teutonic, Brazilian, Canadian and some Bay Area Thrash Metal. Our influences are classic Sepultura, Sodom, Sadus, Kreator, Demolition Hammer, Merciless, Incubus (Opprobium), Invocator, Dark Angel, Death, Morbid Angel, Grave, Bathory, Protector, Morbid Saint, Deicide, Vio-lence, Entombed, Dismember, Hellhammer/Celtic Frost, Venom and Motorhead. Aside from that, Slayer, Testament, Exodus, Metallica and Megadeth are obvious choices for any Thrash Metal band!
Which things, do you think, a Band should sacrifice in order to succeed? Have you ever sacrificed anything in your life for a better future of your Band?
Interesting and difficult question to answer. First and foremost a band that lacks passion will never succeed. The lack of perseverance and band chemistry come into factor as well. But even if you have both, if your songs are shitty imitations, lacks quality and originality you most likely will not succeed as well. What I'm saying is music comes first, no matter how much you sacrifice if you're not sacrificing it for anything it would all be for nothing. It's a combination of both, you can't rely purely on passion, you have to be innovative and work hard for it. Personally, I have sacrificed time and I'm not even sure if it can be called a "sacrifice" because I did it wholeheartedly. Plus anything great will also cost a great amount of time. Anyway, it all boils down on how one would define success. It could be about financial success (touring the world, selling millions) or reaching your own personal goal which for me is writing songs and releasing albums!
Describe your ideal live show as a performance Band. Have you already experienced that?
I have experienced different kinds of gigs and it's hard to pinpoint which is ideal because they all have their own unique experience to them. I have played in a filthy small space with lots of people inside, the equipment was shitty, place was hot as hell but it's a pleasant experience. One that I enjoyed very much. I also played in a punk gig at a mountain , equipment suck but I loved and enjoyed every bit of it! That's what made the gig punk! Everyone was friendly and genuinely into our music. They showed solidarity much to our delight. I have also played in a big production gig wherein everything was really professional. The equipment is great, our sound was so clear and audible, the venue is big enough to house 700 to a thousand people and I must say that I also enjoyed it. Like I said, hard to pinpoint. But who knows, the best is yet to come.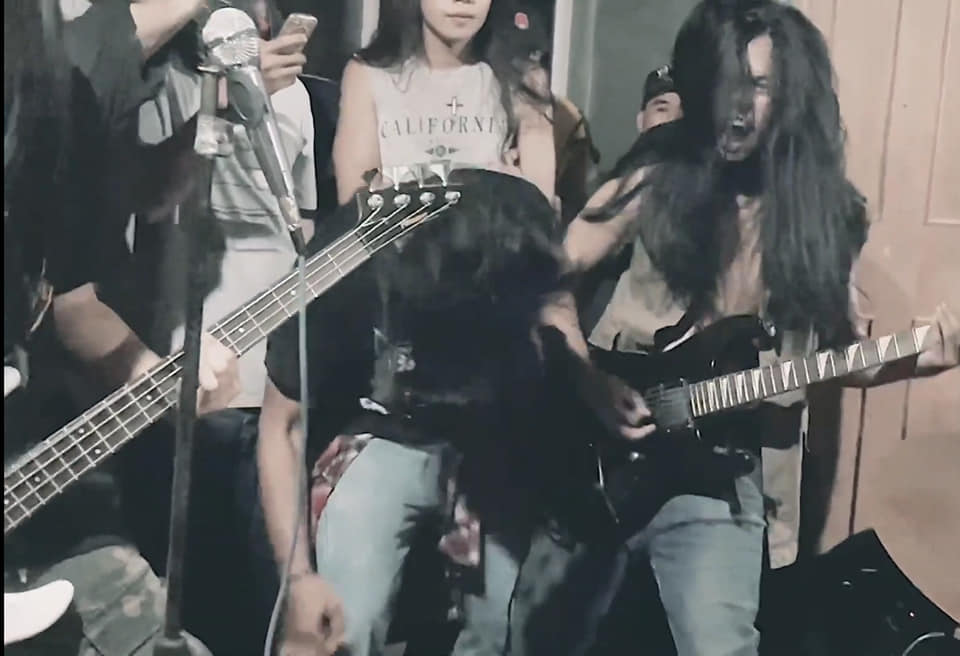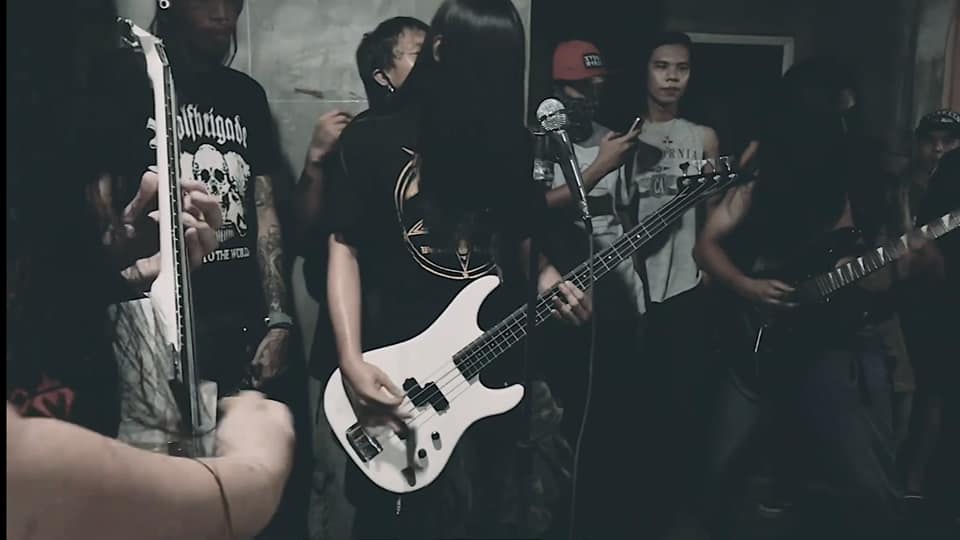 Which attributes, do you think, that a new Thrash/Death Metal Band should have in order to gain identity and be unique?
Nowadays, being unique is difficult. Almost all of the things you can think of has already been done one way or the other. Since both Death and Thrash metal has been around for more than 3 decades now. Every riff, every progression, themes you can think of has been done - you just have to do it better or do it with a different approach. My honest take is stay true to yourself, do it for your own good and not worry about your image. I think that's one of the biggest, if not, the biggest problem for most bands nowadays. They care a lot about imagery, focusing on it rather than the music. They always tend to sound and in some ways look like somebody else. I personally have no problem with that, but I just don't want to fall into that dilemma they are having. Music should always come first. Always. With that kind of mindset, you will never be unique and will always be in someone else's shadow. A band that is honest with it's own sound and identity, one that perseveres and does not follow trend - that is a band that will gain identity, uniqueness and respect.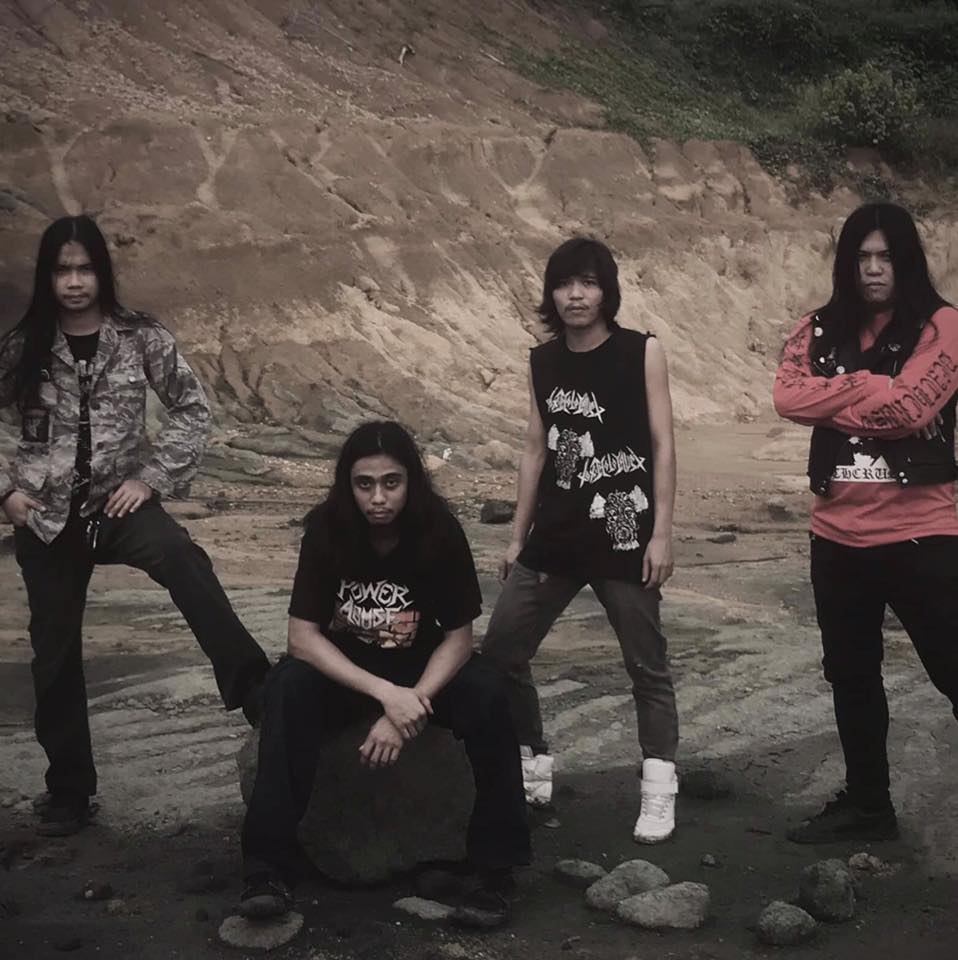 Do you believe that Digital Platforms help the new Thrash/Death Metal Bands? Which, do you think, is the ideal way for a Band to promote its work?
I would be a hypocrite to say NO. Most people including myself check for new music online. (Youtube, bandcamp, soundcloud, etc.) It's a good way to gauge something if you like it or not. Gone are the days wherein you have to rely to reviews to help you decide in purchasing an album. This time, you review it on your own. There was even a time wherein I would guess a band's sound/genre based on the album cover then ask about the guy selling it what's it about, if it's good or not and who does it sound like etc. It's a hit and miss which is fun, some are real great discoveries, real nice hidden gems and some are just straight garbage that I loathe and regret purchasing. We are open for a digital release as it's much easier, convenient, cheaper and faster to promote and spread your music but I will never consider in releasing an album digitally before a physical format. Maybe upload a song or 2 from the upcoming release to serve as some sorts of a teaser/preview.

Tell us a few things about the New Underground Metal Scene in Philippines (Bands, Fanzines, Webzines, Metal Clubs etc.)
Since the pandemic broke out, bands are either busy or are in hiatus. New bands like us have been formed(and some - reformed) that has released demos, EPs and albums during the course of the pandemic. There have been new materials from Pathogen, Absit Omen, Incarion, Maniak, Lapida, Embalsamo, Omenfilth, Paraphrenic, Formless Oedon and Exitus to name a few. My other band Mass Hypnosia are currently recording our 4th album as we speak. Underground metal scene here is very much alive though not exactly "thriving", with labels such as Dethrone Records, Anugal Audio Terror, Davao Hellbangers, Metal Choice Cut, Vala Ulmo, Thresthold and Kamatayan Records all help the Philippine metal scene prosper. Zines like Demoniakal Possession, No Bullshit Zine, Betzine, In Dark Purity, Trident Nation (R.I.P. Cyclonus), Blackbox and Metal Havoc also play their part. Clubs/bars here come and go, they dont really profit much even before the pandemic so most has closed down with the pandemic restrictions being the final nail to the coffin.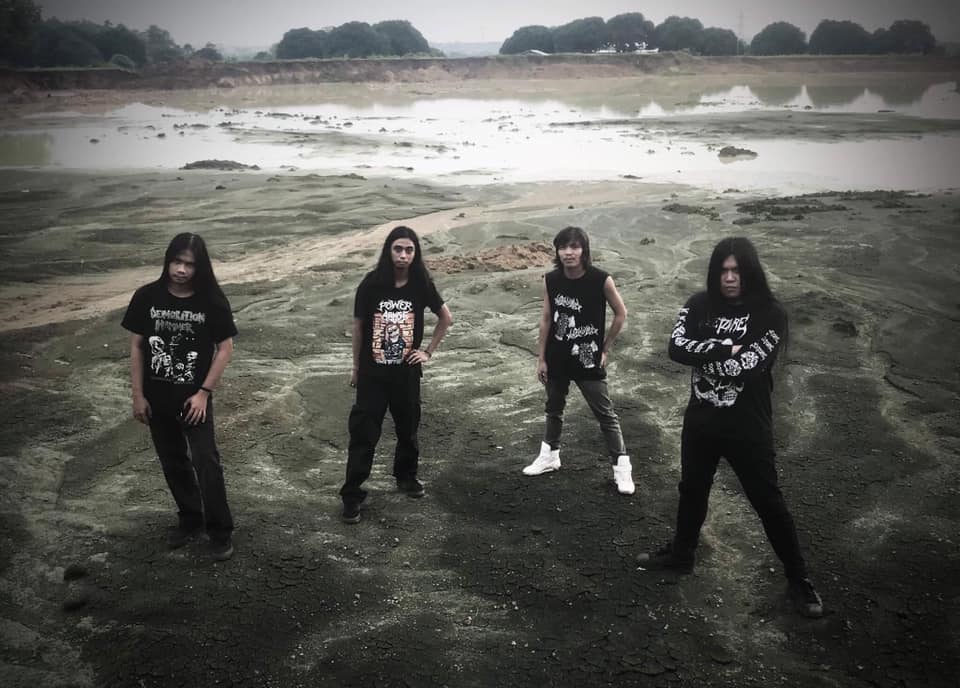 Do you know anything about the Hellenic Metal Scene?
Of course, though I must admit I don't know much about it. It would be a mortal sin to not know anything about one of the most celebrated Metal Scenes. Influential bands like Necromantia and Varathron are a standout. But whenever I think of the Hellenic Metal Scene, first band that comes to mind is of course the mighty Rotting Christ. Firewind is probably one of the well known Greek metal bands that I came to know. For the more recent bands, Bio Cancer and Ravencult left a great impression on me.
What are your future plans?
We have recorded 3 songs for the upcoming album. We plan to finish recording the rest of the songs by the end of the year so we can release it by early to mid 2022. For now, an EP containing new songs and some live recordings will be released by late 2021/early 2022. Hopefully, our debut album Convulsive Perseverance will be released in Vinyl format by 2022.

Thank you very much for your time & Keep up the good work! The closure is yours.
Thank you for your support and interest in Seizure. Watch out for our upcoming releases and we promise to deliver the same goods only this time with a much more violent intent! Hails to the Hellenic Metal Hordes stay filthy like hell!!

By Steve the Filthy Dog.
SEIZURE CONTACT:
https://www.facebook.com/seizurethrashmetal/
https://seizurethrashmetal.bandcamp.com/