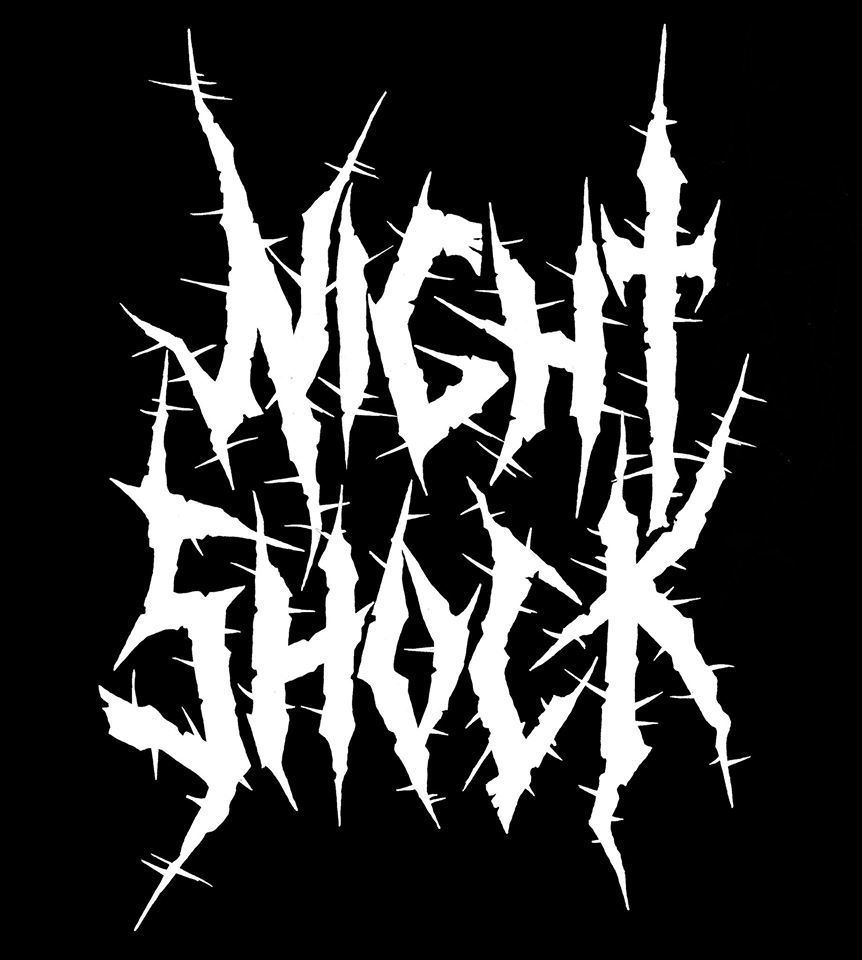 !!!ITALIAN BLACK/SPEED METAL!!!
We had a conversation with NIGHTSHOCK.Enjoy!
Welcome to the FILTHY DOGS OF METAL Webzine.
1. Tell us a few things about NIGHTSHOCK (Members, Starting Year etc).
L.B.: We began playing together in October 2013. We knew each other since a long time, the bass player is my sister and the drummer is a friend of both of us. They were playing together in a band that disbanded, I was not playing much at that time, one night we were attending a show together and I asked them if they would like to form a band.
Line up:
Lorenzo Bellia - Guitar/Vocals
Giulia Bellia - Bass

Simone Perchiazzi - Drums

2. You have recently released your EP ''Battlefield Necromancer''. What is the feedback from your audience as well as from the press?
L.B.: So far the response has been positive.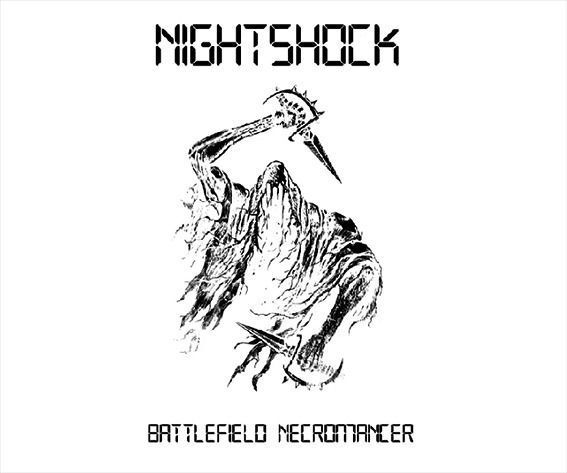 3. Label or DIY and why?
L.B: Having a label is good because you don't have to spend money to print your albums and hopefully the label will promote it and distribute it better. Other than that I like self production because you are more independent.
I want to thank Thomas "Duck" Dargel of Iron Shield records for having released our first album, he did a great job of promoting the record and gave us a great deal.
G.B.: Diy is easier than searching a label in my opinion, you have more freedom in many ways and it gives more satisfaction when you have the final result.
4. Do you prefer Vinyl, Tape, CD or Digital Format and why is that?

L.B.: I listen to all formats. If I want to listen music while I'm doing something CD or tapes are better, if I'm out the mp3 player is better, if I just want to concentrate on the music I prefer vinyl, as long as the audio is properly mastered for vinyl and is not an overcompressed cd master put on vinyl, which then sounds like a concert of spray cans.
G.B.: I listen to music in all formats, both digital and physical, I don't have a preference, it depends on the moment and situation.
S.P.: I'd like tapes a lot, cause it reminds me of the first time I started to listen music, but digital format are way to useful and easy to have.
5. Your music style is Speed/Thrash Metal. Which are your main influences (Favourite Artists / Bands etc.)
L.B.: I have many favourite bands, also non metal bands, I'll pick those that maybe you can hear on our songs: Motorhead, Venom, early Metallica and Discharge are evident influences but also bands like Exciter, Tyrant (GER), Exploited, Type O Negative, Carnivore, Aura Noir are very relevant .
G.B.: I listen to many different genres of music, I think the main influences in this record are metal but also punk and d-beat, bands like Wolfbrigade, Disfear, Exploited.
S.P.: I have a punk hardcore background, classic American hardcore bands like Black Flag, Minor Threat, Bad Brains or Misfits, some English punk like GBH, Buzzcocks or Wire, and of course some classic metal like Black Sabbath, Metallica or Motorhead.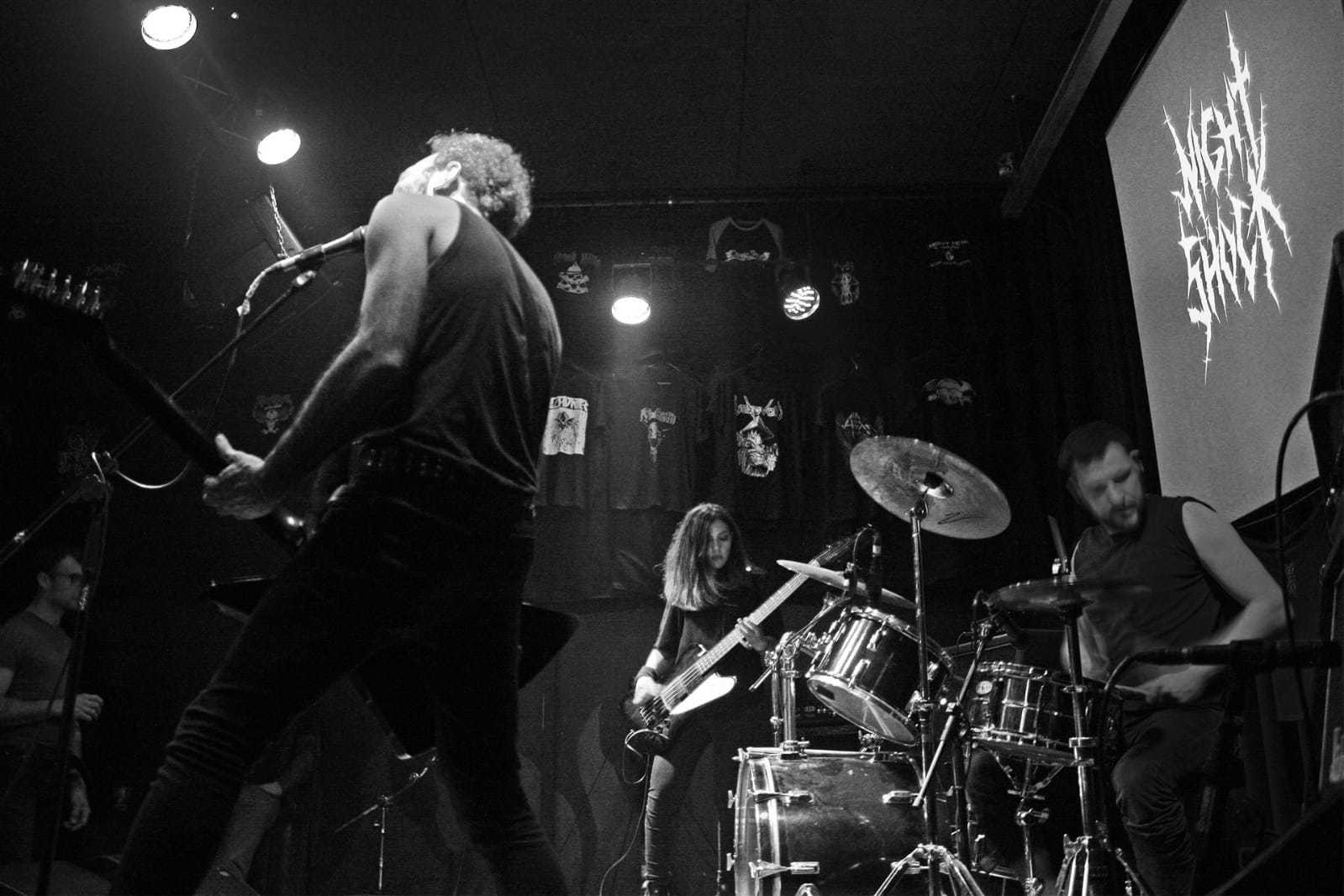 6. Which things, do you think, a Band should sacrifice in order to succeed? Have you ever sacrificed anything in your life for a better future of your Band?
L.B.: I don't think I've sacrificed anything for music, I love doing music related activities. If playing music would be a sacrifice I would not do it or I would just leave the band that causes my "sacrifices"at some point.
G.B.: We simply play the music that we like, we never think about "success" honestly. Each of us play also in other bands so i think time is an important thing.
7. Describe your ideal live show as a performance Band. Have you already experienced that?

L.B.: A show without mobile phones in the air.
S.P.: I guess my favourite kind of shows is in small venues packed of people, no big stage, no more than three or four band playing, free (decent) beer for the band members.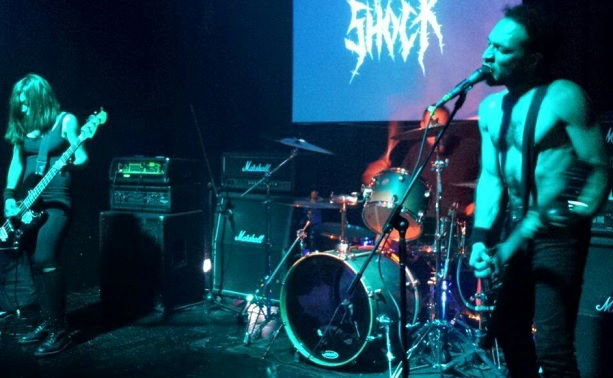 8. Which attributes, do you think, that a new Speed / Thrash Metal Band should have in order to gain identity and be unique?
L.B.: It's hard because traditional metal has little space for "evolution" without becoming something else. To me Aura noir, for example, has a very distinctive atmosphere while still being traditional, also Bunker 66 has a distinctive yet classic style. I also think that identity is not required that much nowadays, I see that many new bands, those formed in the last 10/15 years, are more oriented to fit into a specific genre than to have an identity. I don't care so much, I buy records of such bands anyway because they remind me of the good albums that my favourite bands used to do and there are still some original yet traditional bands coming out from time to time.
9. Do you believe that Bandcamp and other Digital Platforms help the new Metal Bands? Which, do you think, is the ideal way for a Band to promote its work?
L.B.: Yes, since it happened that you don't need to buy records to listen to music and digital music download became "a thing".
G.B.: Digital platforms can help but it's not enough, if you want reach as many listeners as possible you have to increase the "strong points" of your music and don't overlooked the important of details in my opinion.
10. Tell us a few things about the New Underground Metal Scene in Italy (Bands, Fanzines, Webzines, Metal Clubs etc.)
L.B.: Metal scene in Italy is very strong, there are a lot of great bands. Let's go with the list! Bunker 66, Necromorbid, Violentor, Sofisticator, Doomraiser, Voids of Vomit, Hatred, Altar of Perversion, Profanal, Casket Garden, Sickening and many many others. Some legendary bands which are still strong like Sabotage, Strana Officina, Schizo, Mortuary Drape, Dark Quarteter, Bud Tribe... the list goes on forever.My favourite club is Circus Club here in Florence owned by the drummer of Sabotage, they bring cool bands to play here and there is a great atmosphere.
11. Do you know anything about the Hellenic Metal Scene?

L.B.: Sure, I love Greek metal. From legendary bands like Rotting Christ, Necromantia, Thou Art Lord, Zemial, Varathron and Agatus to newer bands like Ravencult, Dead Congregation, Battleroar, Diabolos, Acrimonious, Cult of Eibon and many others. Hail to Greece.
12. What are your future plans?
L.B.: At the moment we have no future plans, we'll see in the future.
13. Thank you very much for your time & Keep up the good work! The closure is yours.

L.B.: Thank you very much for being interested in interviewing us!
By Steve the Filthy Dog.
NIGHTSHOCK CONTACT:
https://nightshock.bandcamp.com/releases
https://www.facebook.com/nightshocknoise