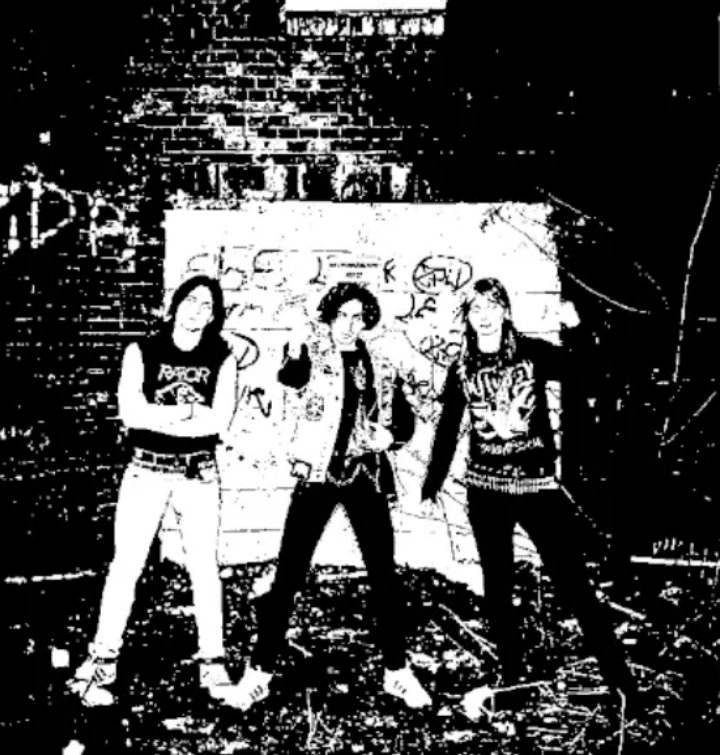 !!!BLACK/SPEED METAL FROM POLAND!!!
Welcome to the FILTHY DOGS OF METAL Webzine.
Tell us a few things about NEKKROLUST (Members, Starting Year etc).
Vomithammer: Nekkrolust is Vomithammer (Vocals, Drums), Angelslaughter (Guitar) and Equinox (Bass). In the early days of the band I used to write all of the music by myself, later I met Kamil (Angelslaughter) we started jamming together in a filthy garage. Later Igor (Bass) joined us and since then the whole idea of the band and it's goals became more serious.
Equinox: Funny thing is I joined Nekkrolust basically minutes after lads released the single "Souls of the damned" on youtube. Kamil who is a friend of mine that I have known for almost 3 years sent me the song and asked me to give a review. I gave my opinion and jokingly I said "If you are looking for a bass player then I am your guy" without any hope of joining the band. Angelslaughter straight up went with something like "Yea? Send some of your bass playing". I searched for some random videos that are kinda old because nowadays I rarely record myself playing the instrument. Sent two videos and instantly I was in the band. And here we are, playing this blasphemous crap.
You have recently released your demo ''Night of the Whore''. What is the feedback from your audience as well as from the press?
Equinox: You know, in the Polish underground scene there are tons of bands who play the same music and it's hard to become well known in a short period of time. Especially when you are way younger than most of the guys in the scene with zero experience. To our surprise our demo became somewhat known, views began to rise up and our social media pages kept getting more and more followers. For someone who has been in the scene for some time it's basically nothing. For us it's kinda huge and we are pleased with what we have now.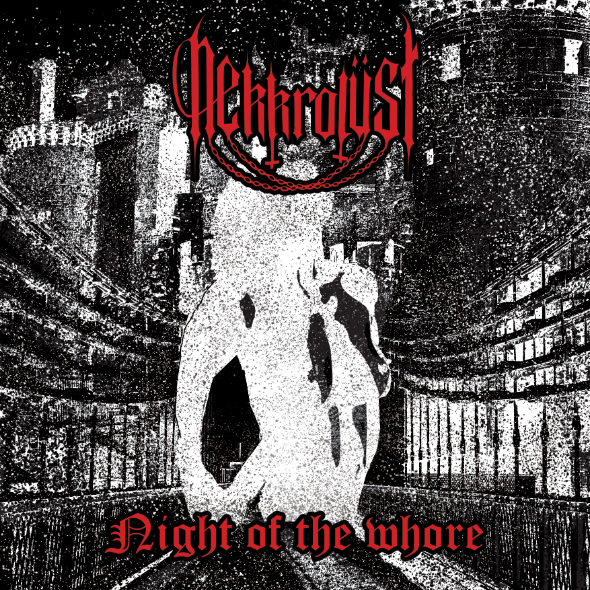 Label or DIY and why?
Vomithammer: Right now we do everything on our own, but obviously we hope that there will be someone to have us on his label.
Do you prefer Vinyl, Tape, CD or Digital Format and why is that?
Equinox: Good question, but it's really fucking hard (at least for me) to pick just one. Most of the times when I listen to music is in my car or when I am going to lectures, then I choose digital format because it's simply comfortable and portable. But honestly, my favourite format is either Tape or CD. I have plenty of CDs and tapes in my collection. Some of goods from my collection is something motherfuckers would kill each other for. Yeah, I would choose tapes or CDs because us, old school maniacs support the bands and collect their shit because maniacs support maniacs and that's the bottom line.
Your music style is Black/Speed Metal. Which are your main influences (Favourite Artists / Bands etc.)
Vomithammer: It's no fucking secret that our music is nothing unusual and revolutionary. There are tons of bastards like us who have the same goals like us. One thing that we all have, is that we are maniacs of old school. Our music is basically going fucking apeshit as a tribute for 80's Black/Speed bands who are the biggest inspiration for us. And of course, we find some inspiration in younger bands who are simply dumb, beer drinking maniacs, just like us. If I have to name some of the bands who are an influence to us.. I'd say Tormentor, Nifelheim, Treblinka or Bathory. And of course bands from our homeland like old KAT , Thrasher death and many, many more.
Equinox: When thinking about this interview today I was thinking to myself " what is that one fucking band that made me who I am?". The answer is fucking simple as that. Sodom, early Sodom. Fuck, "In the sign of evil" is my favourite Sodom release. This shit has an enormous meaning for me, because it was my first extreme metal record I listened to, and the moment I heard Angelripper yell about masturbating to kill himself is the day I became who I am today.
Which things do you think a Band should sacrifice in order to succeed? Have you ever sacrificed anything in your life for a better future for your Band?
Angelslaughter: First of all, a band is a group of mates who hangs out, drinks booze and is fascinated with the thing we love, which is music. Nowadays, the music industry is ruled by money. No fucking money will compare to the time we sacrificed for the band.
Equinox: Don't be fucking late for a band practice, do not come wasted if you want to write material and prepare fo an upcoming gig. Of course, beer and drugs are 100% necessary in the scene, it's not a place for pussies who don't drink. But I personally thing that if you want to practice and write music in the best way possible, slow down. Have fun, but don't vomit on your amp and your drummer's set.
Describe your ideal live show as a performance Band. Have you already experienced that?
Equinox: I fucking hate big arena shows with expensive tickets, that's just awful. My ideal performance is in a small club with a bunch of drunk maniacs who came for the same thing as we did, bringing blasphemous music and going nuts. Mosh pits, fistbanging in the front row and drinking beer is the thing I would love to see while playing. We have yet to play a show, but soon you will hear BIG announcements, so stay tuned fuckers.
Which attributes, do you think, that a new Black/Speed Metal Band should have in order to gain identity and be unique?
Vomithammer: Today it's hard to come up with something unique in this genre, because in the past everything was already discovered. Of course, there are young bands who are significant and unique in this genre, but I don't think there's a formula.
Do you believe that Digital Platforms help the new Black/Speed Metal Bands? Which, do you think, is the ideal way for a Band to promote its work?
Vomithammer: I think that digital platforms are nothing compared to CDs, tapes or vinyls. What will satisfy us, is finally releasing our demo on tapes, nevertheless nowadays it's difficult to rely only on tapes and CDs.
Tell us a few things about the New Underground Metal Scene in Poland (Bands, Fanzines, Webzines, Metal Clubs etc.)
Angelslaughter: Me and the boys think that Polish underground is one the best in Europe. We have many great bands such as Armagh, Gallower, Black Hosts, Wielki Mrok, R.I.P or well promising Nightbound. Or there are bands that, unfortunatelly, are split up. For example Bestiality or Boltcrown.. You gotta admit that Black and Death metal bands made it to the top. Speaking of zins and all, I think there is plenty of shit like this haha, same goes for clubs. Mostly you have to manage to survive in extreme conditions.
Do you know anything about the Hellenic Metal Scene?
Equinox: I don't know about Michał and Kamil, but personally I fucking adore Bio – Cancer. When I heard these motherfuckers 2 years ago, I was fucking speechless. Their music for me is something unique. It's because for many people, Greece is not a country with a lot of metal bands, but only posers think so. You guys have tons of great bands. Previously mentioned Bio cancer, Suicidal Angels or let's not fucking forget about Necromantia. My girlfriend is a huge fan of them. And of course Septicflesh or Rotting Christ are well known.
The last 3 years worldwide we have faced many dark, strange & new situations with our everyday life (covid, lock-down etc.) Did all of this affect you positively or negatively?
Equinox: For me, that time was me developing my music taste and level of knowledge about music. You see back then, I was a big poser who would not shut the fuck up about the most basic thrash metal albums. When lockdown happened, I would just sit in front of my computer and discover more and more bands, which led to a point of being a maniac right now. So I would say that lockdown was a good thing for me when talking about music.
What are your future plans?
Angelslaughter: We have just released our demo and we are thinking about more stuff. My hand needs to be back in shape, some gigs with absolute fucking maniacs and psychopaths and then we will see.
Thank you very much for your time & Keep up the good work! The closure is yours.
It was a pleasure. Take care and remember. Only first wave is real!
By Steve the Filthy Dog.
NEKKROLUST CONTACT:
https://nekkrolust.bandcamp.com/
https://www.facebook.com/profile.php?id=100090568506213
https://www.instagram.com/nekkrolust_silesia/