!!!METALPUNK FROM BRAZIL!!!
Welcome to the FILTHY DOGS OF METAL Webzine.
Tell us a few things about ESCALPO (Members, Starting Year etc).
Hi Stavros; first of all thanx for the opportunity to talk about us at the Filthy Dogs of Metal, it's a honour for us. With the ESCALPO, we're friends from a long time and we already play together in other bands, but last year we decided former a new band to screaming against all the actual political statements in the world, specially in Brazil, where we have the worst government for the past 40 years. For this we decided back to our roots, write new songs full of fury and angry and singing in Portuguese to make our message go straight to our mates here in Brazil, making clear our message and our position front of all this bizarre moment of we live.

The band is : Neri Orleone . Drums/Vocals / Allisson Big Bull . Guitar / Netão Lombada . Bass/Bck Vocals and Rejão DeNyah . Guitar/Bck Vocals.

You have recently released your EP ''Retrocedendo''. What is the Feedback from your audience as well as from the Press?
The reception is great in Brazil and overseas. We have working hard to promote this tunes and insert the ESCALPO name at the heavy scene in this hard moment for the music in all over the world. How is not possible hit the road for now, we still promoting the EP in websites, magazines, social medias, etc... In the next month we will work in our first video clip to intensify the promotion.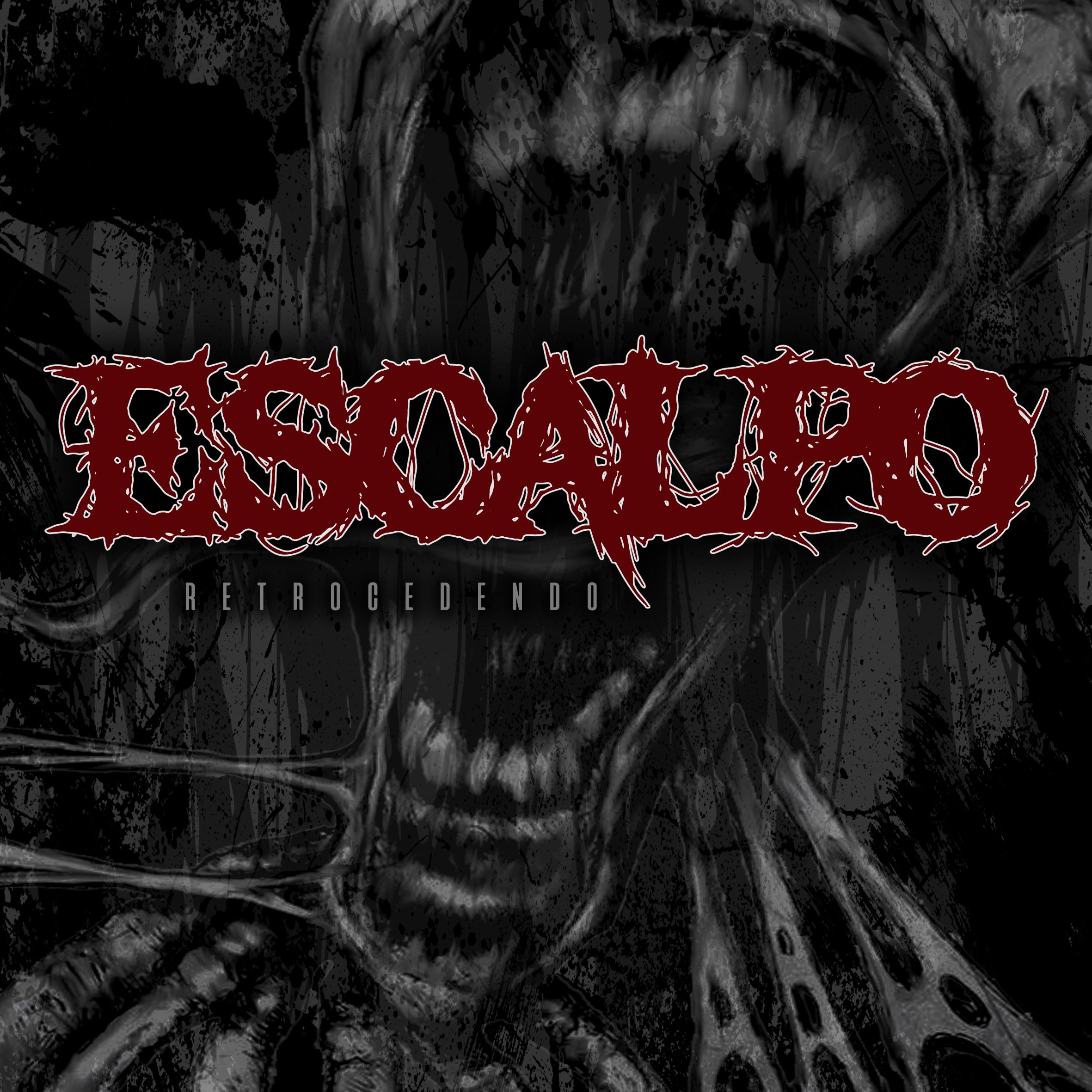 Label or DIY and why?
I believe in both things together. For us is very hard give our music, our ideas and all the sweating in the hands of other people and don't be part of this. The band is a collective dedication, we really do our best to make the best songs as possible for us, we talk about the ideas, riffs, construction, where will record the tunes, artwork, the promotion and all the details... The ESCALPO is part of us, for this we prefer the partnership. Would be great have a label giving support for us, helping us to play as much as possible, having a good distribution, etc... But we will never will seat in the chair and will waiting the things happens. We're ready to work together with any people able to stay with us, like you guys that open this space for us talking about our ideas, music, Brazilian scene, etc... Partnership is the only way.

Do you prefer Vinyl, Tape, CD or Digital Format and why is that?
Oh man... We're old dudes... I grow up hearing tapes and vinyls, big artworks, full of details, insert with lyrics, pictures... When we didn't have money to buy and was hard to find a release, we made copies on tape to hear every fucking day... For this reason, vinyl and tapes are my favourites formats, but the internet make all more "easy" to promote, to make our music cross the borders and running the world. Today we need to use all this promotional tools, but in my home normally I listen vinyls and tapes. We're from the time of the music was something really special.

Your music style is Metal Punk. Which are your main influences (Favourite Artists / Bands etc.)
Yeah man, the ESCALPO's music is a big mix with lots of influences we grow up hearing. Metal and punk bands who helping us to make our own musical personality, like Venom, Discharge, Motörhead, Anti-Cimex, English Dogs, Exodus, Sodom and a lot of Brazilian bands from the 80's, amazing bands like Anthares, Taurus, Lobotomia, Ratos de Porão, Vírus, Dorsal Atlântica, and others... For the ESCALPO sonority, in special the brazilian bands who singing in portuguese. We reviseted our discography hearing all the records again and finding a way to sing in our original language but trying make the vocals being part of the music, no something weird for who don't understand of we talk in the lyrics. Was a crazy process but we're very happy with the result.

Which things, do you think, a Band should sacrifice in order to succeed?
Have you ever sacrificed anything in your life for a better future of your Band?
Hum... Success for us is keep playing with our friends and still meeting good people and making party on the road. I'm not sure about what a band should to succeed, because each one have your own dreams and we need to respect this, but this is not our target. Normally when you former a band and share the time between keep with the family and stay on the road with the dudes, the people of you love need to "pay the price" with you. Not about be famous or make lots of money, but only about do your best to make the things happens, make the work and time spended make sense (also drinking 3 or 4 beers every day....maybe more....), but this is a kind of "sacrifice" and we're able to do, never about concessions or changing our ideas about the Escalpo's concept.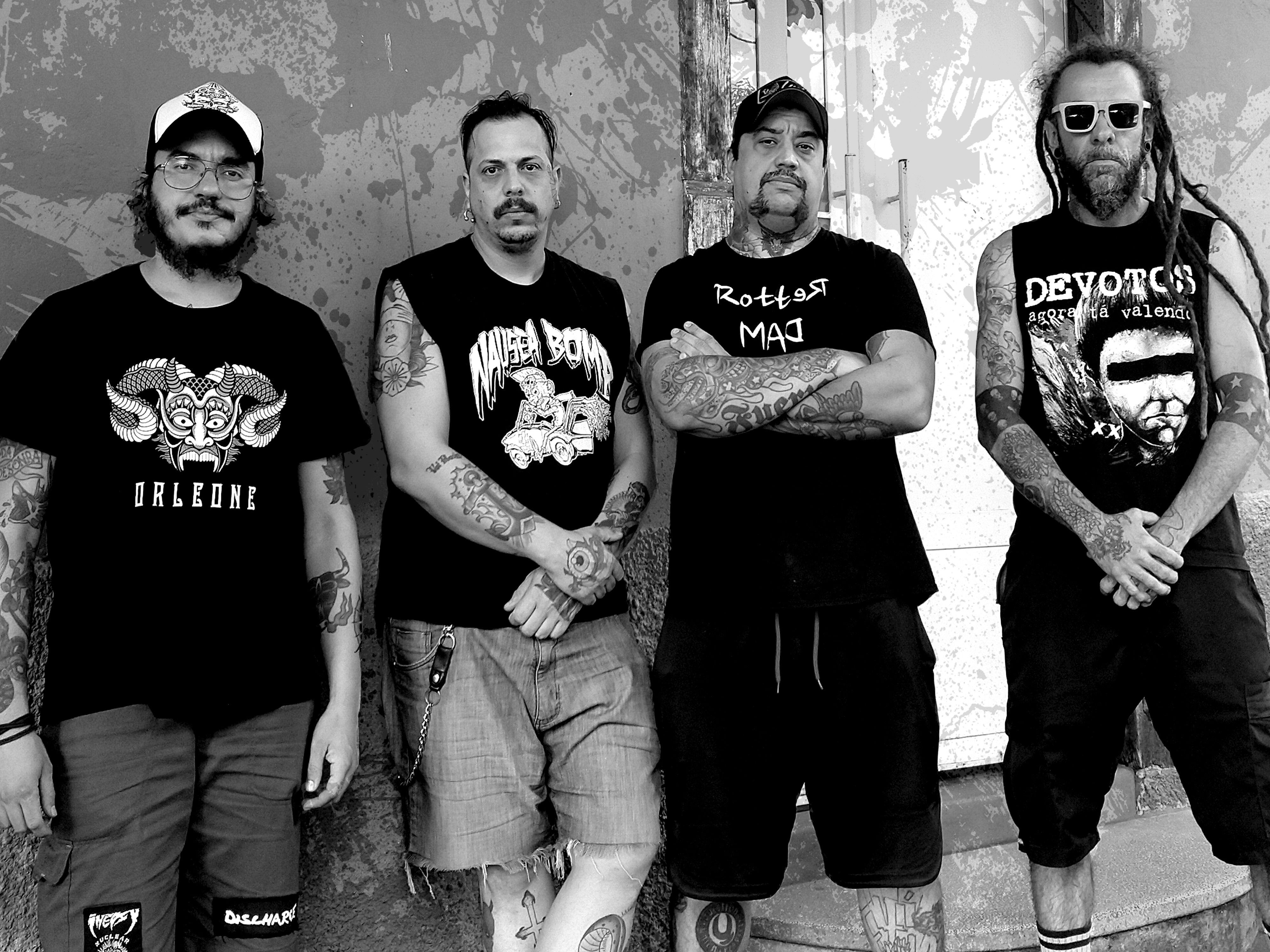 Describe your ideal live show as a performance Band. Have you already experienced that?
Yeah man a few times... Some bands on the stage have the power to make you fell alive. It's crazy because besides living in South America, Brazil it was seen as a fucking far place for the tour routes, specially in the '80's - 90's, but I did the opportunity to saw Metallica in '89 "...and Justice for All..." tour, Destruction in '94 promoting "Release from Agony", Nuclear Assault at the "Survive" tour, Morbid Angel in a fucking small place for less than 20 people at the "Altars of Madness" tour,.... Ufff.... lots of amazing gigs... We also did part of the growing of Brazilian metal scene at this time, I saw Sepultura countless times, Explicit Hate, The Mist, Necromancia, Witchhammer, Hammerhead, Revenge, dawn... thousand shows man.... I'm a live music freak!!!
Which attributes, do you think, that a new Metal Punk Band should have in order to gain identity and be unique?
Be honest. You need to be honest with you, with your references and with your band mates. Actually is really hard make something really "new", because have new bands every day and the information is on the air, easy to find. Every day is more hard hear a band and say, this is from Finland, or this sounds like a Brazilian band... Maybe the main think is be honest and make your best all the time. Also is good hear the main heads of the style.
Do you believe that Bandcamp and other Digital Platforms help the new Metal Punk Bands? Which, do you think, is the ideal way for a Band to promote its work?
Yes man, all the streaming services help in the promotion. Exist a big discussion about rights on the web, how much money each band need to receive by downloads, etc... We understand and respect all the opinions about that but is not our reality, we're here to show our music, promote our ideas and share all this with more people as possible. We wanna hit the road, meet people, make crazy gigs and have fun. Actually is really hard you think in promotion if you don't use the online tools, we need to use all the options in the promotion.
Tell us a few things about the New Underground Metal Scene in Brazil (Bands, Fanzines, Webzines, Metal Clubs etc.)
Brazil always have a strong heavy scene, from the beginning of the 80's we have amazing bands, Sepultura it's just a name that came out at the right time and explode in the world, but at that time we did have a lot of bands in same level (or better) than they. Actually we keep with a massive scene, with a lot of good names like Violator, Nervosa, Krisiun, Vulcano, Chakal... my favourite ones are Rastilho (Crust/D-Beat), Delinquentes (HC), Podridão (Death Metal), Deathraiser (Thrash) and Agrotóxico (Punk/Hc).
Fanzines we have a new grow up with pressing magazines like Raro Zine, Cangaço, Roadie Crew and a lot of websites and pages dedicated to the heavy scene, if you get to our FB page, is possible find a lot of this channels there.
About places to play, before the pandemic we did have a lot of venues in whole country, cool festivals and a nice route, but now we're not sure about the "new normal" after all this shit. I have a booking agency here and we already bringed a lot of bands to hit the road in our country in the last 16 years. For now we still waiting all this nightmare ending to come back strong a full of gas to hit the road again.
Do you know anything about the Hellenic Metal Scene?
We know the main bands I think... Amazing bands like Rotting Christ, Necromantia, Varathron, Septicflesh, Suicidal Angels (my favourite!!!), Macabre Omen, Firewind, Kawir, Sacral Rage (love the '80's feeling)... I also have good Greek friends in the local Surf Music scene, a band called DIRTY FUSE, amazing instrumental band, great dudes!!! I bringed the guys for touring in Brazil in 2018 and we had a really good time together on the road. We make 10 gigs in 11 days if I'm not wrong...
What are your future plans?
For now we still locked in home trying to keep safe and healthy waiting all the covidshit ending. When is possible we will work in our first video clip and go back to the studio to closing the songs for our first full length. We had plans for touring in Europe next September but unfortunately we don't believe will be possible, this way we will remake our plans and be ready to make a large tour in Brazil, South America and Europe next year to promote our first record.
Thank you very much for your time & Keep up the good work! The closure is yours.
Thank you so much one more time. For us is a big pleasure talk about the band, especially with people interested in music like us. Take care, keep safe and healthy and we hope meet you guys on the road as soon as possible. Cheers from the 3rd world.
By Steve the Filthy Dog.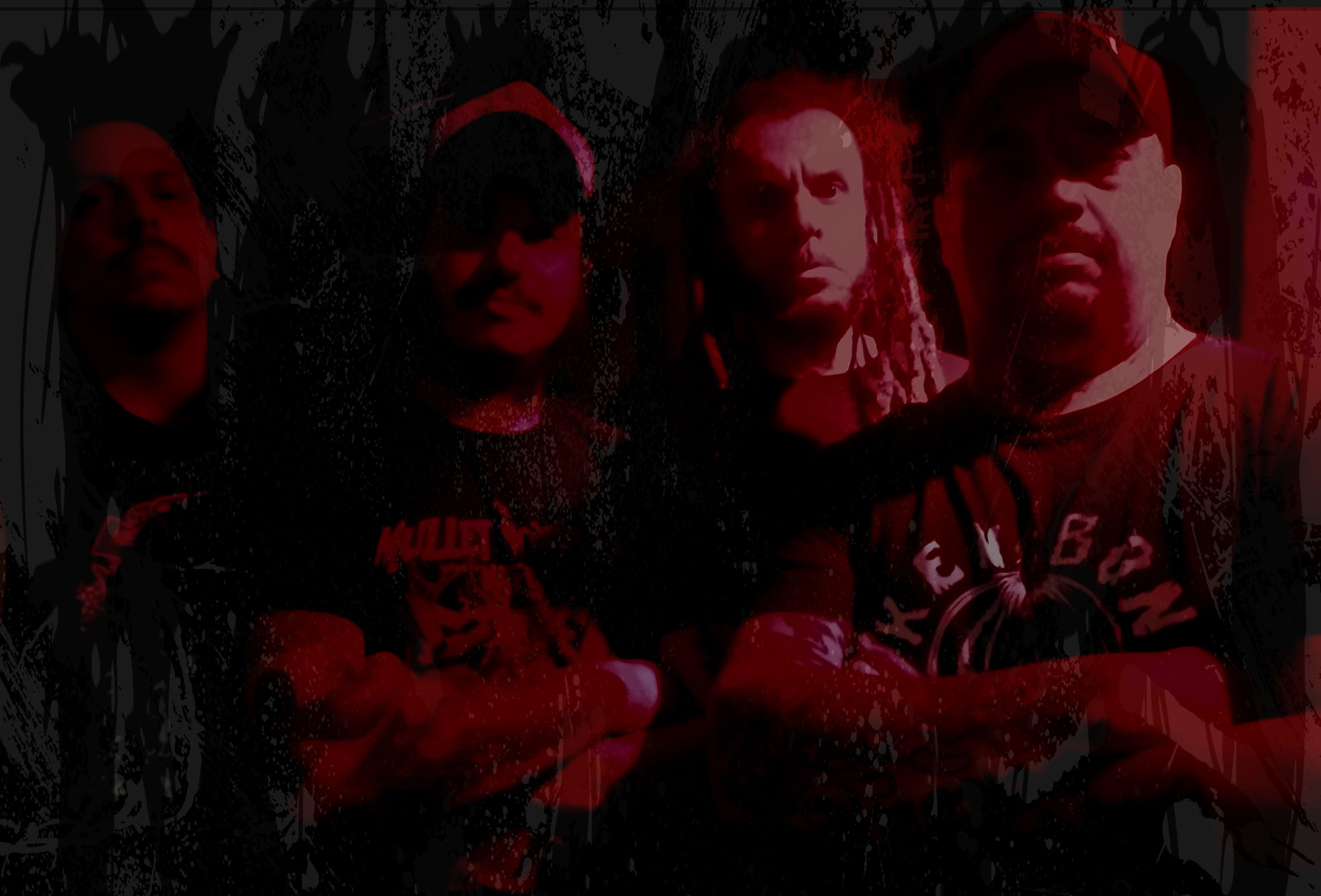 ESCALPO . "Retrocedendo EP" is available in all streaming digital services.

Bandcamp:
- https://escalpometalpunk.bandcamp.com

Spotify:
-https://open.spotify.com/album/4vPBu0UP9Akap4fUwhwwXZ?si=S_Ndy_QFT7mbiDnxtiZvnw

YouTube:
-https://www.youtube.com/playlist?list=OLAK5uy_nwn4vY7dmsIhby6DVj32GPDOquFM61Msg

Onda de Estupidez (Lyric vídeo)
- https://www.youtube.com/watch?v=QnNl3nCg5S8&t=1s
-https://idioteq.com/brazilian-metal-punk-band-escalpo-brings-raw-tunes-in-their-first-ep-retrocedendo/
- https://www.facebook.com/escalpometalpunk
- http://instagram.com/escalpometalpunk