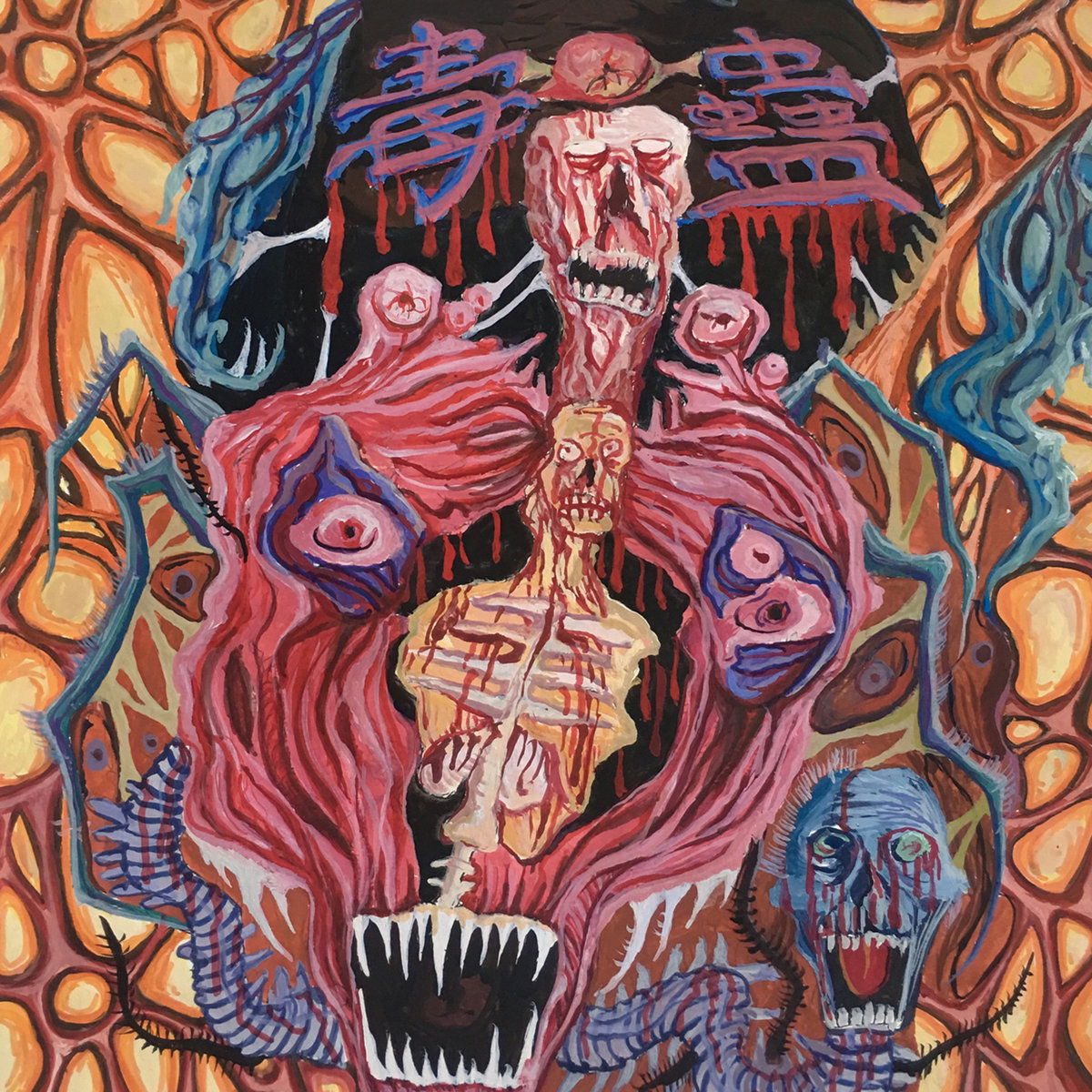 !!!DEATH/THRASH METAL MANIACS FROM CHINA!!!
We had a conversation with DUGU (毒蠱). Enjoy!
Welcome to the FILTHY DOGS OF METAL Webzine.
Tell us a few things about 毒蠱 (Poison in English?) (Members, Starting Year etc).
Gut: I started 毒蠱 with guitarist Tormentor and drummer Speed Scum Dog.

Tormentor: In fact, Gu doesn't have any English name. In Pinyin, it's called "DUGU". Lead singer GUT and drummer SPEED SCUM DOG and I started this project in 2018 ,we are enthusiastic thrash and extreme metal fans. The other two members are good friends of ours and guitarist IRONFINGERHO is the drummer's wife (hahaha). DARREN, the bass player, joined us last year.

IronfingerHo: I'm honored that the guitarist Tormentor asked me to be a part of the team in 2019.

Darren: I can't remember whether I joined the band last year or the year before. I was in another brutal death metal band with the drummer SSD. I am very happy to join my brothers and show me the charm of underground extreme music.

Speed Scum Dog: Every time Tormentor writes a new song, he writes on the guitar tab and sends it to me. Me, I will choose a quiet evening drink and listen to the chaotic, evil riff, my head will appear some moment corresponding rampaging rhythm, I'll write them out, finally performing recklessly. I enjoyed the process very much.

In 2019 you released your compilation album ''Nausea Skeleton Abyss (腐臭尸骨深渊)''. What was the feedback from your audience as well as from the press?
Gut: Fans say it's a very pure underground brutal Thrash album, like a vintage 250-engine motorcycle blasting through the dirt

Tormentor: This album contains all the songs from our previous demos, and I'm personally happy with the production. As for the fans' response, you'll have to ask the label company's sales.

IronfingerHo: Everyone thinks the riff and drums in this mix make people want to headbang or fight , including myself!

Speed Scum Dog: This is the first time that we issued to CD as the carrier, the cover as always by the lead singer Gut creation, content is very rich, I like it very much.
How did your cooperation with Awakening Records occur & what do you prefer most Label or DIY and why?
Gut: Awakening records discussed the production plan with us, and we thought it was good enough to let it release it.
Tormentor: There are not many record companies in China that focus on underground metal production, awakening and Huangquan records (our vocalist's label) are the best among them, and awakening's manager also knows us.
Do you prefer Vinyl, Tape, CD or Digital Format and why is that?
Gut: I like CASSETTE best, because the particle of tape is strong, the recording is more real. CDs are easier to listen too.
Tormentor: Cassette is probably the best medium to capture the details of our kind of music, and vinyl is more suitable for collection.
IronfingerHo: Cassettes and CDs. The authenticity of the cassettes gives me the most authentic rapids metal sound, like I'm watching a basement show
Darren: Of course. That thing satisfies my old asshole set!
Speed Scum Dog: The vinyl's cover is big enough, while the rough, realistic cassette is more like our real product and is also my favorite.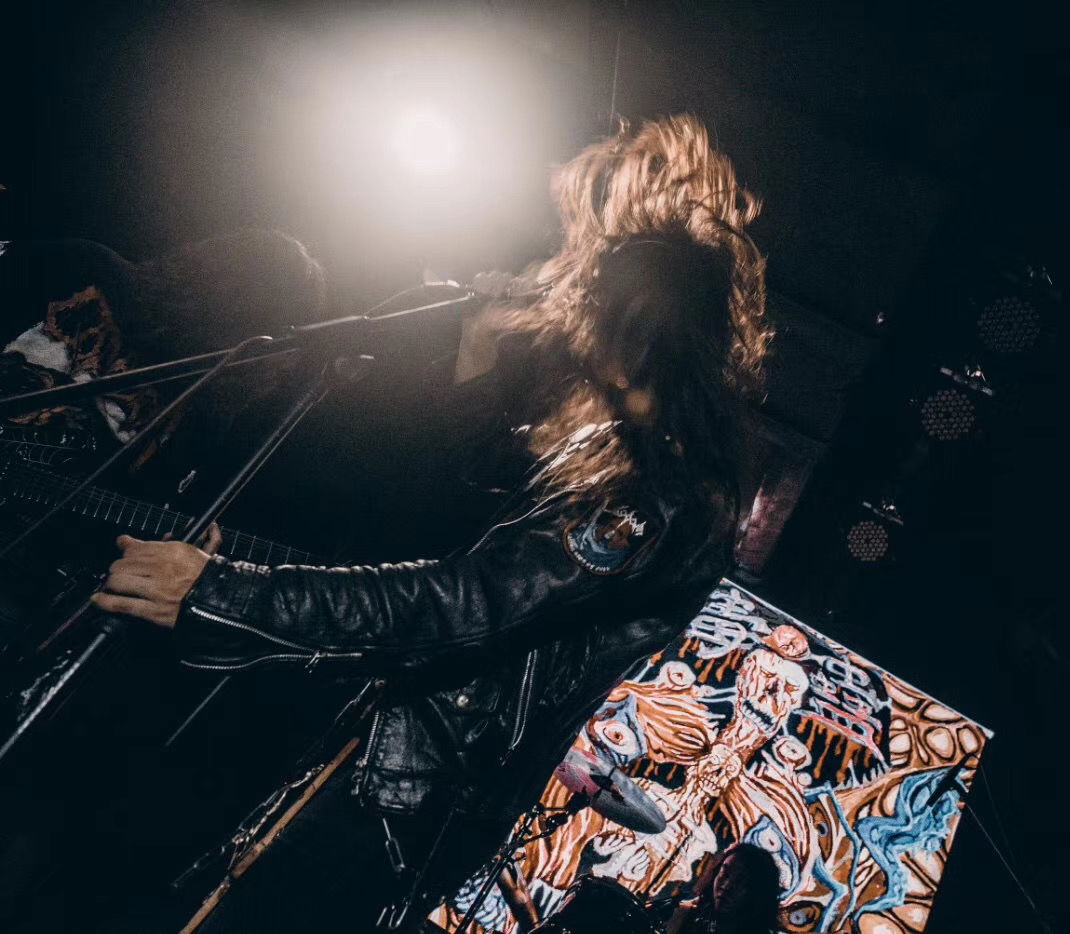 Gut (Vocals)
Your music style is Death/Thrash Metal. Which are your main influences (Favourite Artists / Bands etc.)
Gut: Sadus, a super crazy band, And Incubus, another crazy band.

Tormentor: INCUBUS (OPPROBRIUM). MORBID SAINT, PESTILENCE (first 3 albums).

IronfingerHo: Sepultura and Sadus(llusions).

Darren: Suffcation's Human Waste. Morbid Saint. And兀突骨,It was the biggest band I ever saw in high school, and I had a blast watching it as a kid.

Speed Scum Dog: What affected me most were the crazy screams of SheepDog, lead singer of RAZOR (1984-1988), and Michael Hasse, drummer of PROTECTOR (1986-1991), with his crazy two-stroke and over drum playing that pulled people into the deep.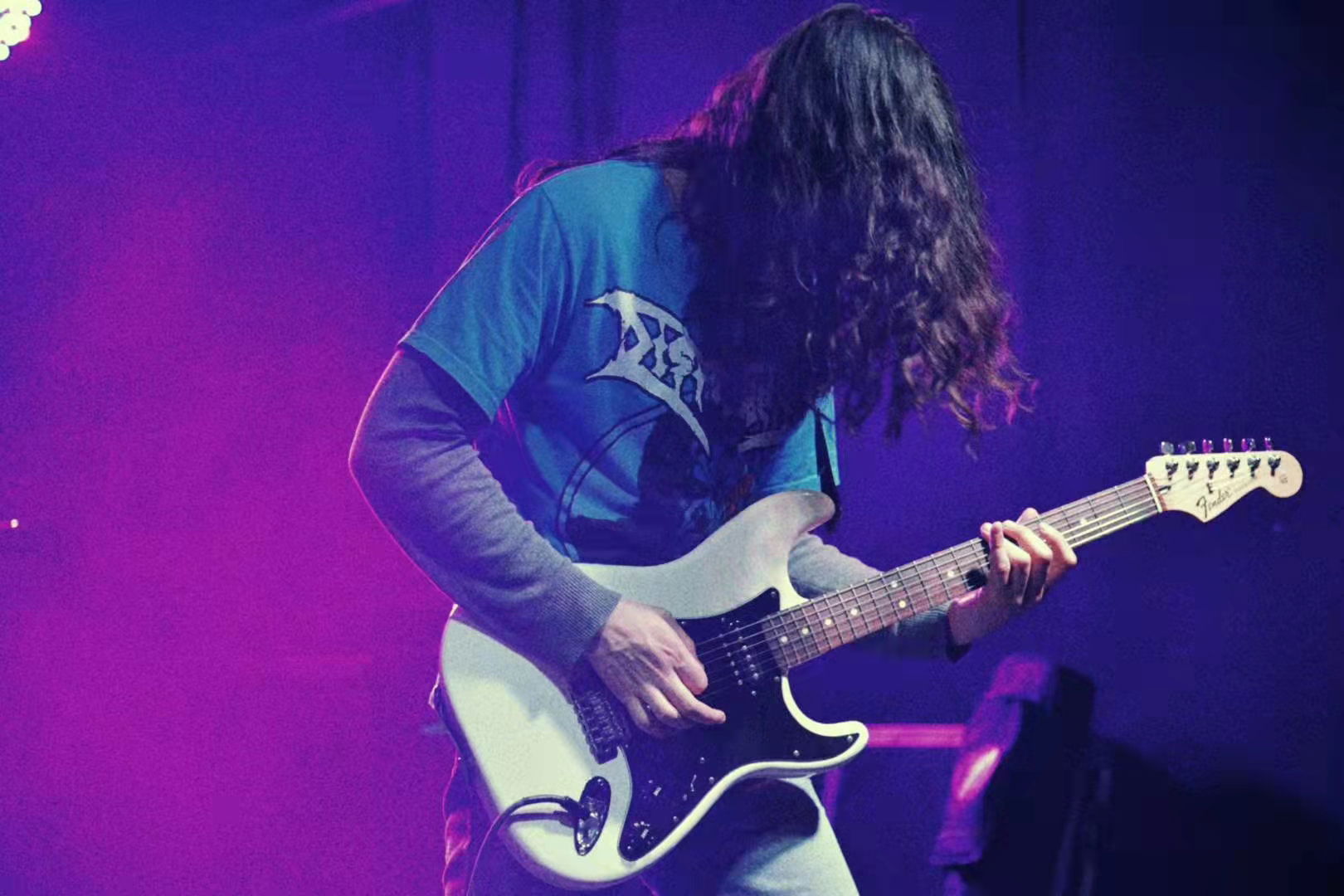 Tormentor (Guitar)
Which things, do you think, a Band should sacrifice in order to succeed? Have you ever sacrificed anything in your life for a better future of your Band?
Gut: There was no sacrifice, we just made music that we thought was extreme because of our common tastes.
Tormentor: The band is the common effort of all of us,. For example, the LOGO and cover design were created by GUT, the song arrangement was done by me and my drummer SSD, and the recording was also done by each member. Since we were in different cities in China, we had a great time getting together for rehearsals and performances. We were not a band that could tour. It's great for us to be able to perform once or twice a year. It's hard to do that when you're young.
IronfingerHo: There is no sacrifice. We are happy just to perform together. If I had to talk about the sacrifice, it would have taken some of my work time and energy to give to the band, but it was totally worth it.
Darren: Looking for a woman to make love will sacrifice time to chat, sacrifice money to date, but we still keep looking for a woman, a period of time without a woman is uncomfortable. That's what being in a band should be like.
Speed Scum Dog: I sacrificed the chance to watch a performance of DUGU and drink like crazy, XD.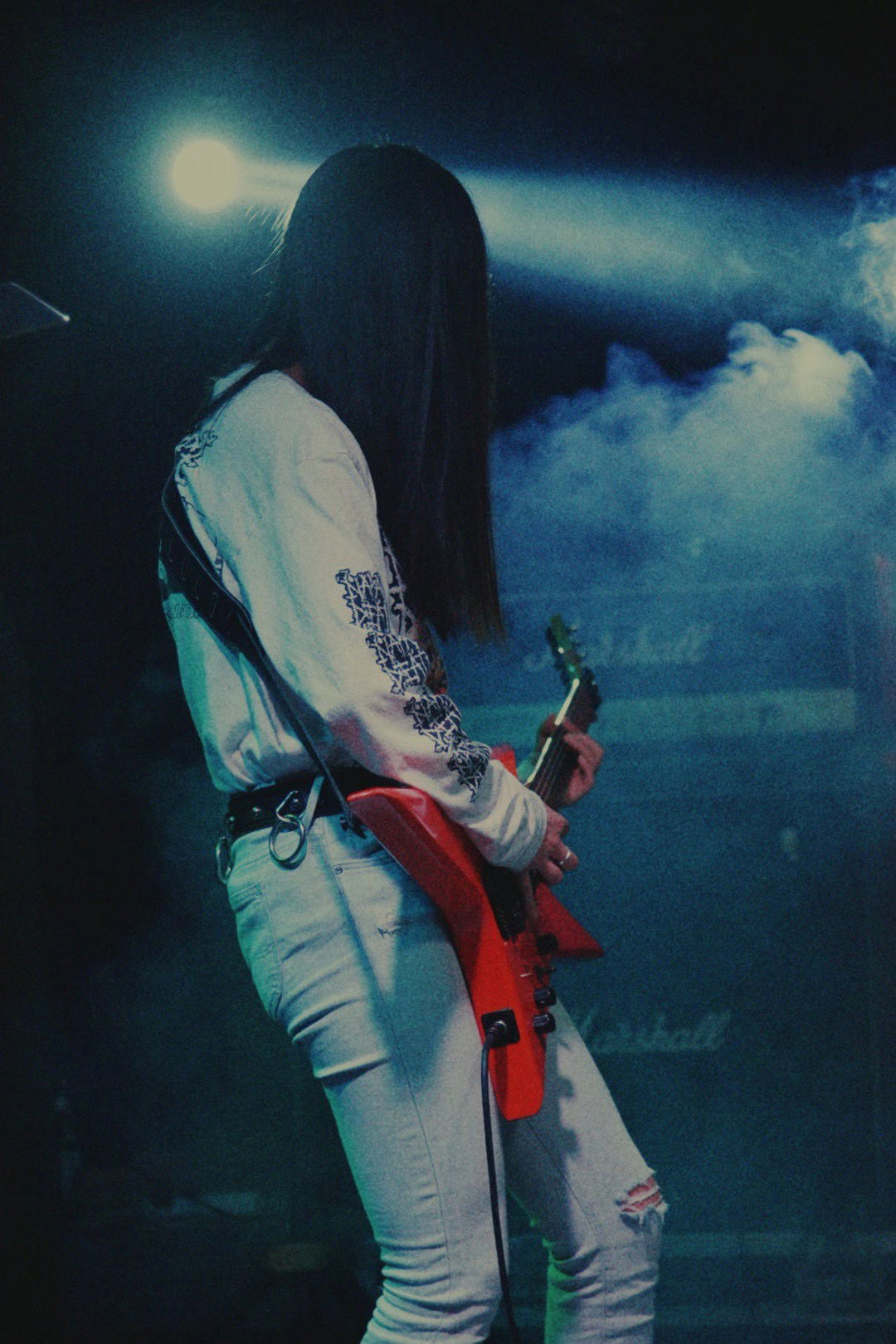 IronfingerHo (Guitar)
Describe your ideal live show as a performance Band. Have you already experienced that?
Gut: Of course the show I want to do is crazy, and if there is a chance, we can do a show in 1989 in a city that would be great!
Tormentor: My ideal performance would be a bunch of crazy people throwing their heads and punching each other with the music, because that's how we used to do it, like EXODUS BONDED BY BLOOD says: Murder in the front row, crowd begins to bang and there's blood upon the stage. Instead of doing morning exercises in middle school,

IronnfingerHo: Going crazy!

Darren: More concerned with the performance itself, how seriously the brothers take rehearsal, put on the craziest show. There's nothing better than getting approval from yourself and your friends.

Speed Scum Dog: As long as the speakers are loud enough, and the whole place goes crazy. I'd love a tequila boom before I go on stage.

Which attributes, do you think, that a new Death/Thrash Metal Band should have in order to gain identity and be unique?
Gut: Pure is the most important, our style is a combination of some southeast Asian witchcraft things, from the cover design and theme also have our own style, in the arrangement of music also reflect the taste of Nanyang witchcraft

Tormentor: First of all, the music must be pure, and secondly, some new ideas can be incorporated into it.

IronfingerHo: Have your own style and taste.

Darren: Many of my friends are no longer keen on thrash metal, preferring more extreme, more crazy music. At the same time, not giving up the hooligan, staying rough, cult, underground.

Speed Scum Dog: Pure enough style, crazy enough playing.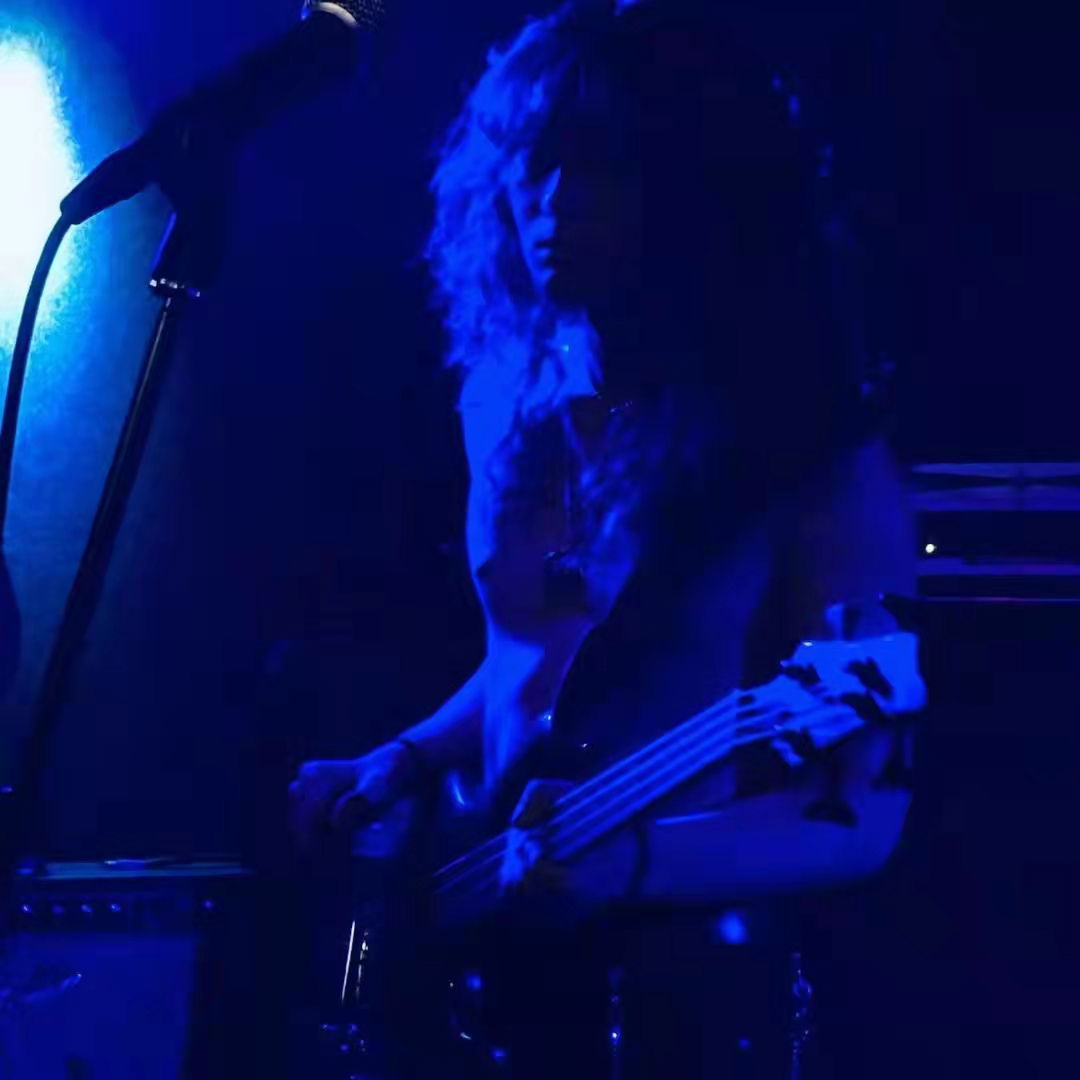 Darren (Bass)
Do you believe that Digital Platforms help the new Death/Thrash Metal Bands? Which, do you think, is the ideal way for a Band to promote its work?
Gut: Digital platforms are a great thing, allowing music to reach the world.

Darren: Digital platforms are the main way I get to know music. As for the promotion of works, there are four words: listening or not listening.

Speed Scum Dog: Agree, digital platforms are convenient and spread quickly. And performing is the ideal way for me to promote it.

Tell us a few things about the New Underground Metal Scene in China (Bands, Fanzines, Webzines, Metal Clubs etc.)
Gut: Underground performances are rare in China.

Tormentor: I don't know. Is there such a scene in China? I don't really talk to other people. I'm too busy at work.

IronfingerHo: Do not know much about.

Darren: Not really. In the city I live in, it's weird to be drinking in the streets and walking in the streets with my young friends with their speakers.

Speed Scum Dog: We don't really like "scenes", we just drink with good friends, listen to music, bang our heads and hit people at the same crazy shows.

Do you know anything about the Hellenic Metal Scene?
Gut: Nope.

Tormentor: I've heard some Greek thrash metal before, FLAMES, EXARSIS, RAPTURE all played well.

Darren: Greek Death Metal - Abyssus. I love it. It's stylish and dynamic.I like to listen 《once Entombed》.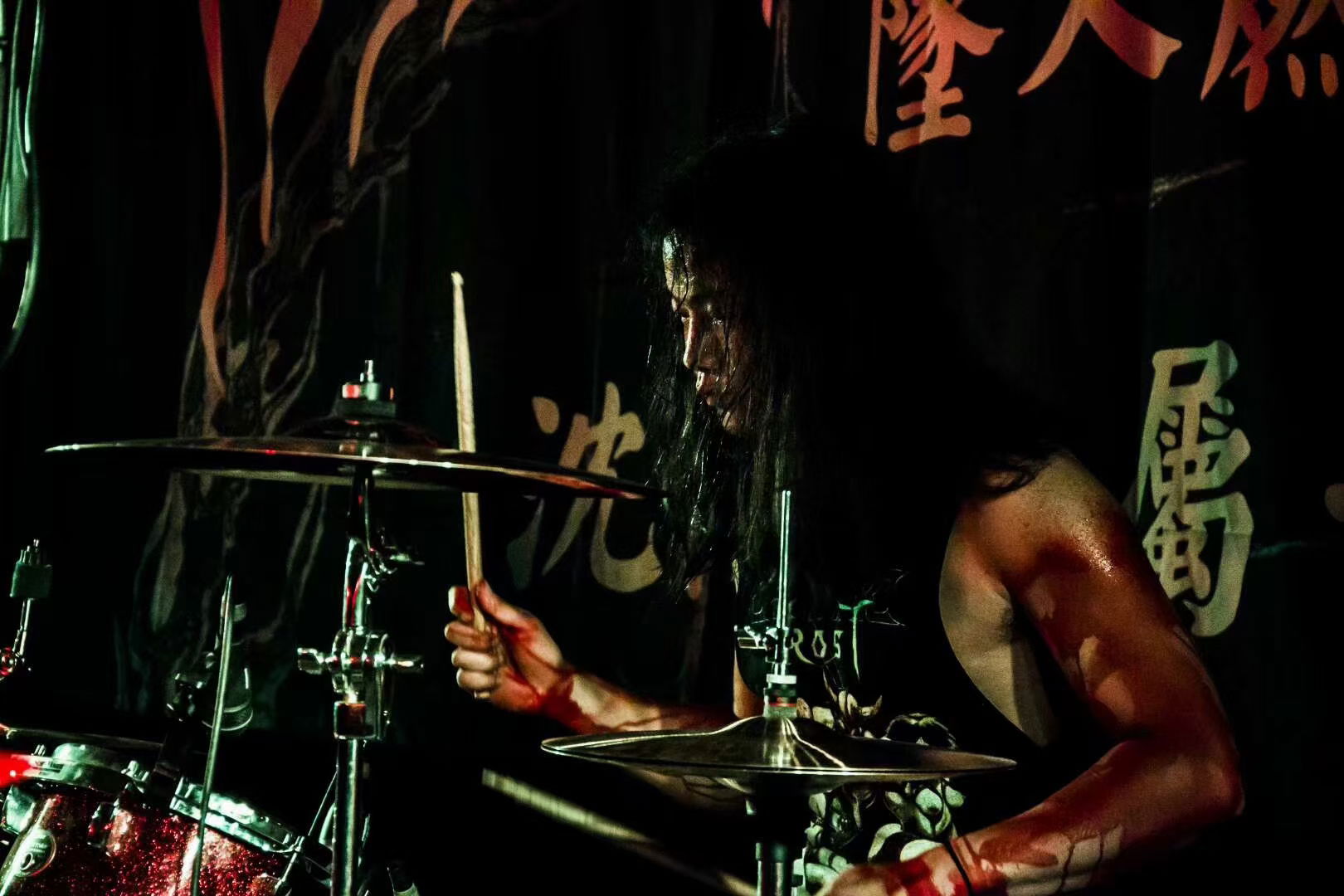 Speed Scum Dog (Drums)
What are your future plans?
Gut: Our plan is to prepare a 12 "vinyl release by Huangauan Records, which is also my record label. I hope there will be a performance this year.

Tormentor: It is expected to be released next year on 12-inch vinyl, with about 10 songs, all recorded by real drums. It may be the best work recorded by DuGu, old songs and new songs will be available, please look forward to it!

Darren: I want to go to Chuzhou (a city in China) for banquet next year. This could be the most old school wedding I've ever been to.

Speed Scum Dog: I'm going to marry IronfingerHo next year, and my other three brothers are going to be my best men.

Thank you very much for your time & Keep up the good work! The closure is yours.
Tormentor: Thank you very much. I am very glad to participate in this interview and hope to cooperate in the future.

Darren: Thank you for the interview and wish you happiness.

Speed Scum Dog: Thank you for your interview, which reminded me of a lot of interesting things.

By Steve the Filthy Dog.
DUGU CONTACT:
https://dugusixsixsix.bandcamp.com/
https://site.douban.com/dugudugudugu111/
AWAKENING RECORDS:
http://www.awakeningrecords.cn/
https://awakeningrecordscn.bigcartel....
https://awakeningrecordscn.bandcamp.com/
https://www.facebook.com/awakeningrec...
https://www.instagram.com/awakeningre...