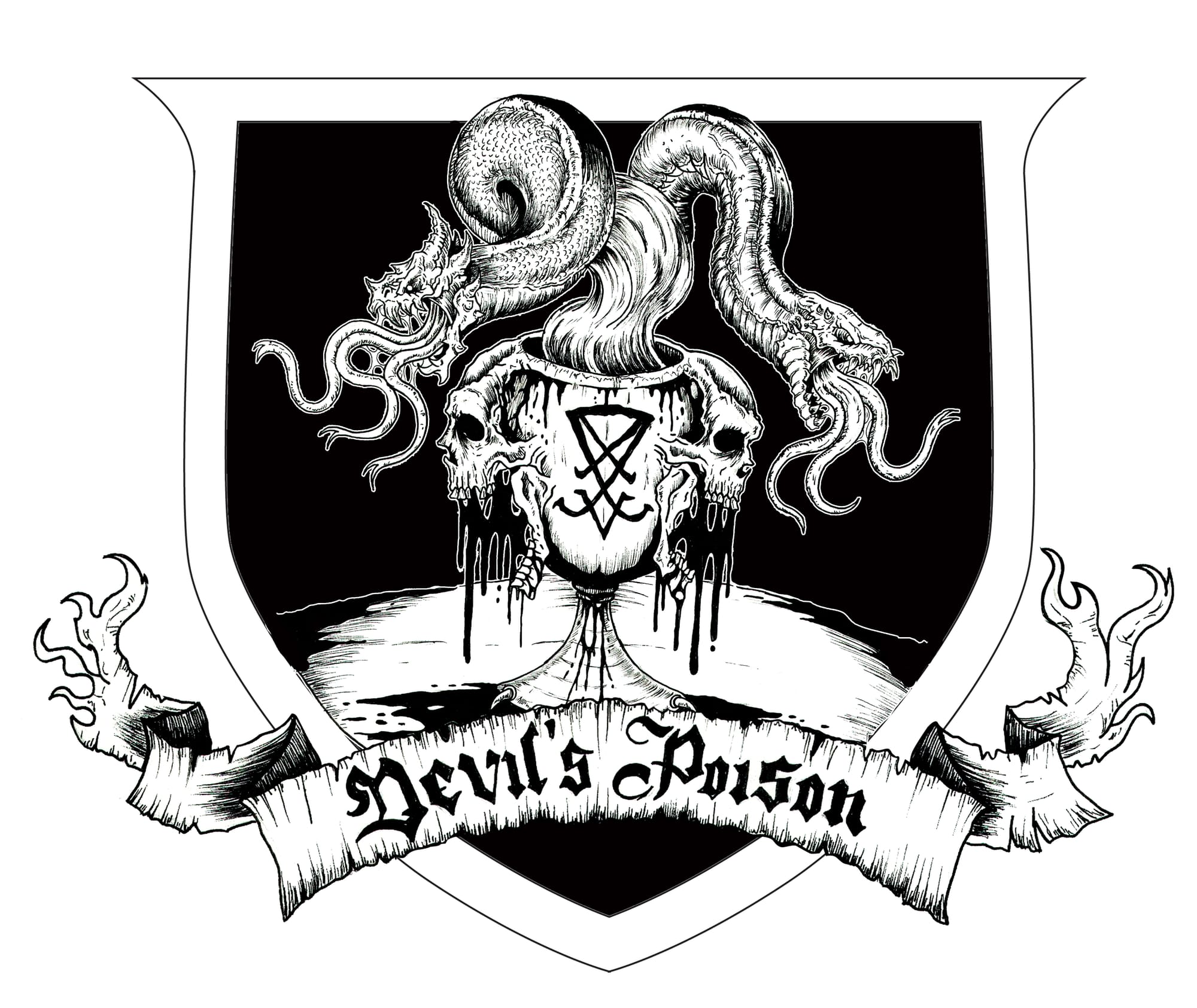 !!!BLACK/SPEED METAL ATTACK FROM CHILE!!!
We had a conversation with Black Goat Sodomizer (Bass/Vocals). Enjoy!
Welcome to the FILTHY DOGS OF METAL Webzine.
1. Tell us a few things about DEVIL'S POISON (Members, Starting Year etc).
Devils Poison was born in 2015 as a personal project, recording the single "Satan Metal" and spreading it throughout the Underground, fanzines, distros, labels, etc.After receiving good comments from that single, I recruit a couple of damn to start recording demos, EP, split, Album... and now here we are, with life destroyed by excesses and bad habits.
Current members:
-BLACK GOAT SODOMIZER: Bass, Vocals
-NUCLEAR DRINKER: Guitars
-PVRIFICATOR: Drums
2. You have recently released your album ''Street Metal Attack''. What is the Feedback from your audience as well as from the Press?
That's right, in March 2020 we released the Album.So far there have been very good comments from the underground circuit, both headbangers and Metalpunkers, I have also read some reviews and I have seen that they have written good shit.Something that repeats is that everyone tells me that the album makes them thirsty, and they want to get drunk, and that was the objective heheh.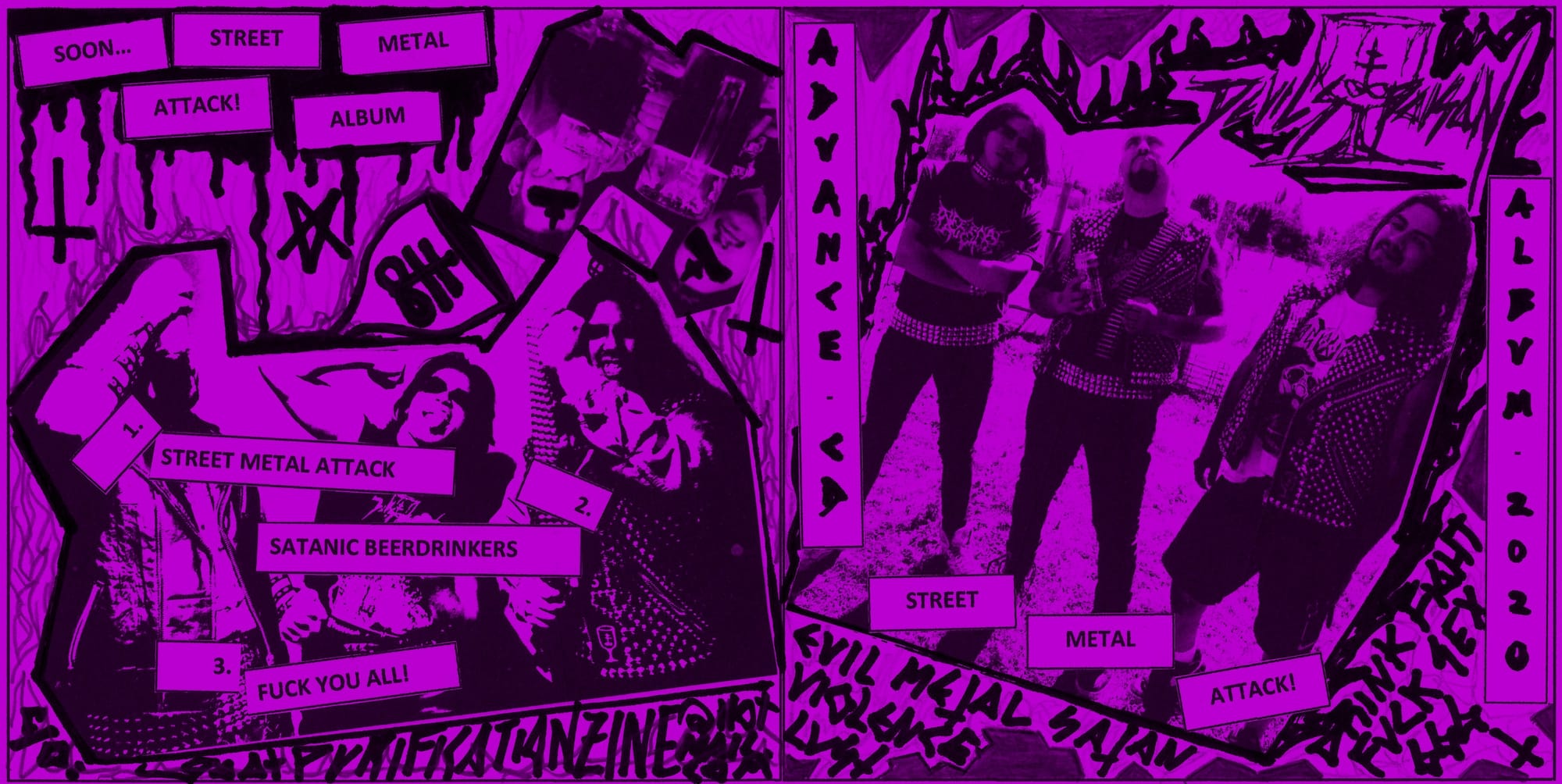 3. Label or DIY and why?
Both.A label can help a band a lot, especially when it is just starting out and needs to spread and spread its material.The problem is that if you do not get a good deal you only get crumbs of copies, and you can not recover anything from all the expense invested in recording, master, rehearsals, and of course, all the beer.DIY allows you to do things the way you want, with the design, color, content, there are no rules, only yours, and your terms. The problem is that if you do not have a good network of contacts, your effort will not be worth much and will not be able to reach the target audience.How do we do it? Both ways. The works as singles, promos, Demos, or Reharsals we have done DIY. The EP and Album accept the support of Labels.
4. Do you prefer Vinyl, Tape, CD or Digital Format and why is that?
Each format has its advantage, the important thing is that the metal materializes in something physical, tangible Vinyl par excellence is the best format in terms of sound quality, art, etc., the problem is that it is very expensive (to produce and buy) The Cassette has a special magic, a magnetic magic, it is quite an experience to play a cassette and review the content (just like the vinyl).The problem is that it can break very easily or get damaged very quickly, even due to weather conditions.CD is the easiest format to play anywhere, as it is the most modern format, but the sound quality is not the best.Also when you are drunk you put your beer glasses on top and you damage them very quickly.By the way, when there is money and I have the option, I get the same launch in the 3 formats hehehehe. The "heavy metal hunters" will understand me ... hehehe
5. Your music style is Speed Metal. Which are your main influences (Favourite Artists / Bands etc.)
Many many influences, musicals, lyrics, personal experiences, much influences the creative process.Venom, Bathory, Slayer, Hellhammer, Discharge, Omega, Midnight, Eskorbuto, Black Uniforms, Darkthrone, GISM, Sodom, and many many more. Erotic and pessimistic literature, anti poems, stories of frustrated writers, criminal investigations, interviews with rapists and murderers.But what most influences are the personal experiences that we members have, always of excesses, perversions, and situations on the edge. Fights, violence, alcohol, problems with the police, lost jobs, furtive loves, the good life.

6. Which things, do you think, a Band should sacrifice in order to succeed? Have you ever sacrificed anything in your life for a better future of your Band?
Interesting question, I had not been asked in fanzines or webzines.I think that the little time you have free for your family, you should divide it with rehearsals, and that sometimes causes conflicts with your girl, or complications to go out with your children, in reality it is a problem of time.We are from Coyhaique, Chilean Patagonia, we are in the south of the country (and the continent) and every time we have to go to a concert we must travel for 2-3 days, although it is a plane trip of a couple of hours, we are 2-3 days away from home, and that when it is very often causes some problems with our families, also in employment they no longer believe you every time you say that your grandfather or grandmother died hehehe.
7. Describe your ideal live show as a performance Band. Have you already experienced that?
An ideal show for us is with violence, alcohol, high volume, and good bands!We have had several high-level dates, where the sound is devastating, the audience very fired up and violent, and the accompanying Bands are evil! To name a few dates,- "666% MetalPunk Fest" in Santiago, with bands like Toke de Keda, Suicide Club, Invierno Nuclear, Los Duros, among others.Demolishing sound, lots of beer, plenty of people, Bangers, Metalpunxs, and a binge of several days.- "Penumbra Inminente" Hellpack, Repugnantory, Iron Satan, lots of noise, speed, and a cursed hangover.- "Mandos de Mverte 7" the most recent and so far the most brutal. A reception with oceans of liquor and drugs, sleep was not allowed, the show with many level bands like Ignorant, Iron Bones, Sadistic Rites, violent and wounded people with sharp weapons, chaos and lack of control. Pure madness.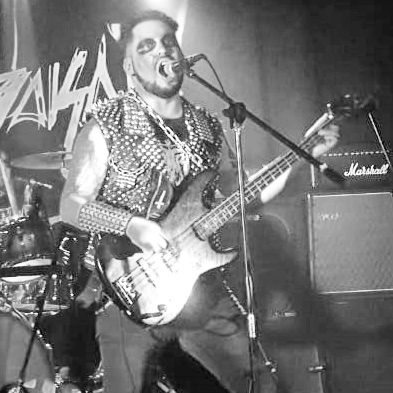 8. Which attributes, do you think, that a new Speed Metal Band should have in order to gain identity and be unique?
Nowadays it is easy to sound similar to another band since the best of Metal was already defined in the 80's and that There is no doubt, especially regarding Traditional Metal.The most important thing I think to win a space in a scene, is to have things clear from the beginning, to know What do you want to do, how do you want to sound, and try to keep that line and little by little you will generate a sound, an identity.In addition to the sound, it is important to be clear about the staging, the live performance, the way you present the music and how the band performs on stage.Finally, the format in which you present your physical material is important, be it a promo CDr, a cassette, CD Pro or 12". It must be consistent, keep a line, a format, and little by little your band will take on an identity.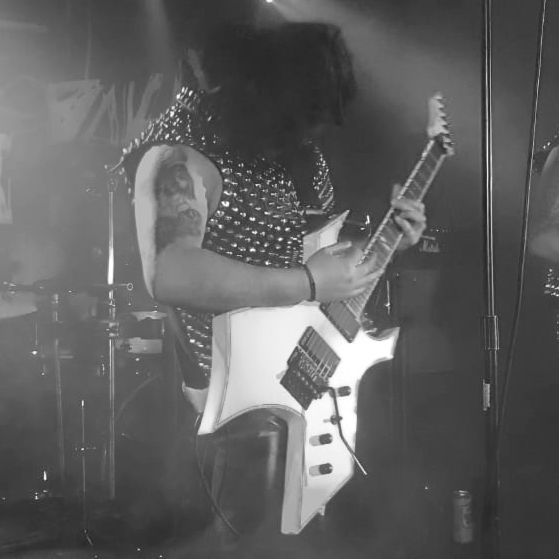 9. Do you believe that Bandcamp and other Digital Platforms help the new Speed Metal Bands? Which, do you think, is the ideal way for a Band to promote its work?
Clearly, digital platforms are of great help to disseminate to bands, especially new ones, considering the large number of new proposals. from many countries and of a high level and a lot of essence. In addition, now with the COVID-19 problem, spreading music on the web is a sure way to publicize the new releases of the bands.In fact we use various digital platforms, but our priority has always been to spread physical material. We are always spreading and sending promos, singles, of our new material to labels, distros, fanzines, bangers and metalpunkers.What is the best way to promote a band? Spread physical material, hopefully hand in hand, and clearly, perform live in many different cities. We have won a large part of our music consumers in live performances.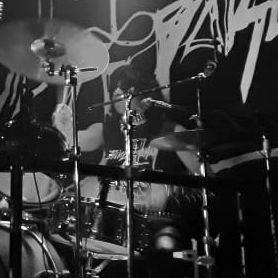 10. Tell us a few things about the New Underground Metal Scene in Chile (Bands, Fanzines, Webzines, Metal Clubs etc.)
In Chile there is a lot of Metal since the end of the 80s.Bands that friends of Greece should listen to, I recommend the following:Atomic Aggressor, Necrosis, Pentagram, Totten Korps, Cancerbero, Ammit, Death Living, Executor, U. Kulten, Disaster, Kratherion, Force of Darkness, Hades Archer, In Nomine, Praise the Flame, Hellpack, Sadistic, Slaughtbbath, Miserycore, Unholy Force, Chainsaw, Torment, Sadistic Rites, Attacker Bloody Ax, Infernal Slaughter, Invierno Nuclear, Toke de Keda, Suicide Club, Scumdogs, Ignorantes, and many many more, but before all those bands, you must listen first of all to DEVILS POISON heheheheh ...There are also many fanzines, I can recommend Pogromo zine, Derrame de Odio zine, Infernal Thrashing zine, among others.Labels: Apocalyptic Prods, Mushantufe Prods, Underground Defenders, Street Metal Blasphemy, Veins fulls of wrath, among others, they have serious and quality jobs.Metal Clubs? I don't know if they don't exist or I don't know them. Bar: we have all been expelled.The only thing we have left: The streets and apothecary drinks!
11. Do you know anything about the Hellenic Metal Scene?
Yes of course, we like Extreme Metal from all sides, from Greece we know some bands like Dead Congregation, Necrochakal, Unholy Arcangel, Embrace of Thorns, Ravencult, Slaughtered Priest, Satan´s Wrath, Cult of Eibon, Naer Mataron, Ithaqua, and the classics as Thou Art Lord, Rotting Christ, Necromantia, etc.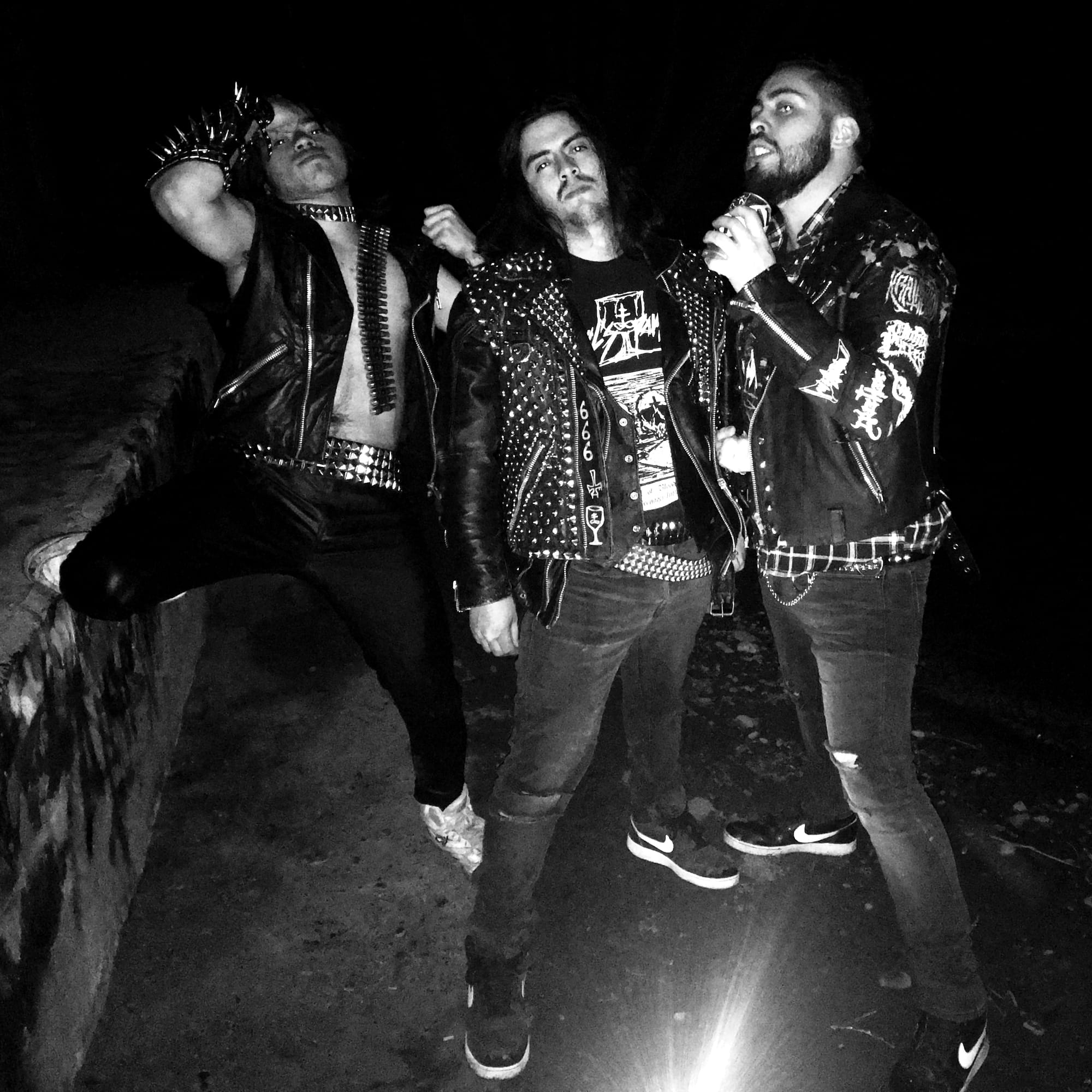 12. What are your future plans?
The following is currently in process:
Devil´s Poison -"STREET METAL ATTACK" Album 2020. CD version. Rotten Leather Prods (Colombia) In Process.
Devil´s Poison -"POSSESSED BY LUST AND FIRE" EP 2018. CD version. Iron Goat Commando (Colombi) In Process.
Devil´s Poison -"Camino al Infierno" Promo Single 2020. CD-R DIY. In Process.
Devil´s Poison / XX XXXXXX (Chile) - SPLIT CD. In Process.
What we have scheduled to record and release for 2020/2021 is as follows:
Devil´s Poison -"Sacrifice" Single 2020. Cassette. soon.
Devil´s Poison / XXXXXXXXXX (USA) - SPLIT CD. soon.
Devil´s Poison - EP 2020 - CD. soon.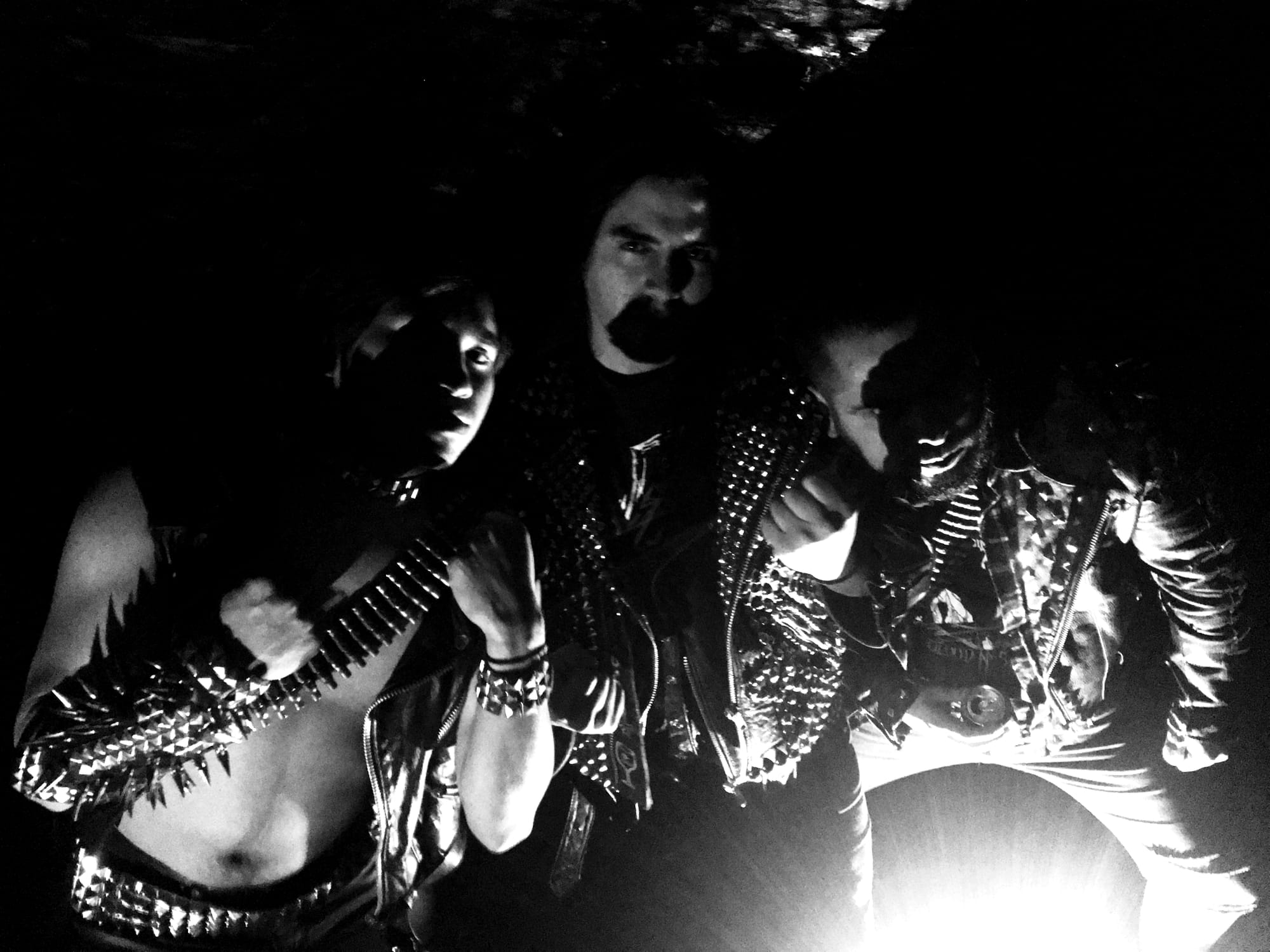 13. Thank you very much for your time & Keep up the good work! The closure is yours.
Thank you very much for the space at FILTHY DOGS OF METAL Webzine.I have seen interviews with many bands that we like, it is an honor to be part of this.Greetings to all the bastards who will read this interview, you can contact us through the following means:
E-mail: devilspoison1@gmail.com
Facebook: Devil´s Poison Chile
Instagram: devilspoisonchile
Bandcamp: Devil´s Poison
Consume vices, hold on to blows, make noise, and listen to heavy metal!
PD/ Sorry our shitty English and our high drunk level. 666!
Atte. BLACK GOAT SODOMIZER.
By Steve the Filthy Dog.